Get warm and cozy with this Instant Pot Beef Stew with Root Veggies- a hearty, comforting one-pot meal that is keto-friendly, easy to make, and full of depth and flavor.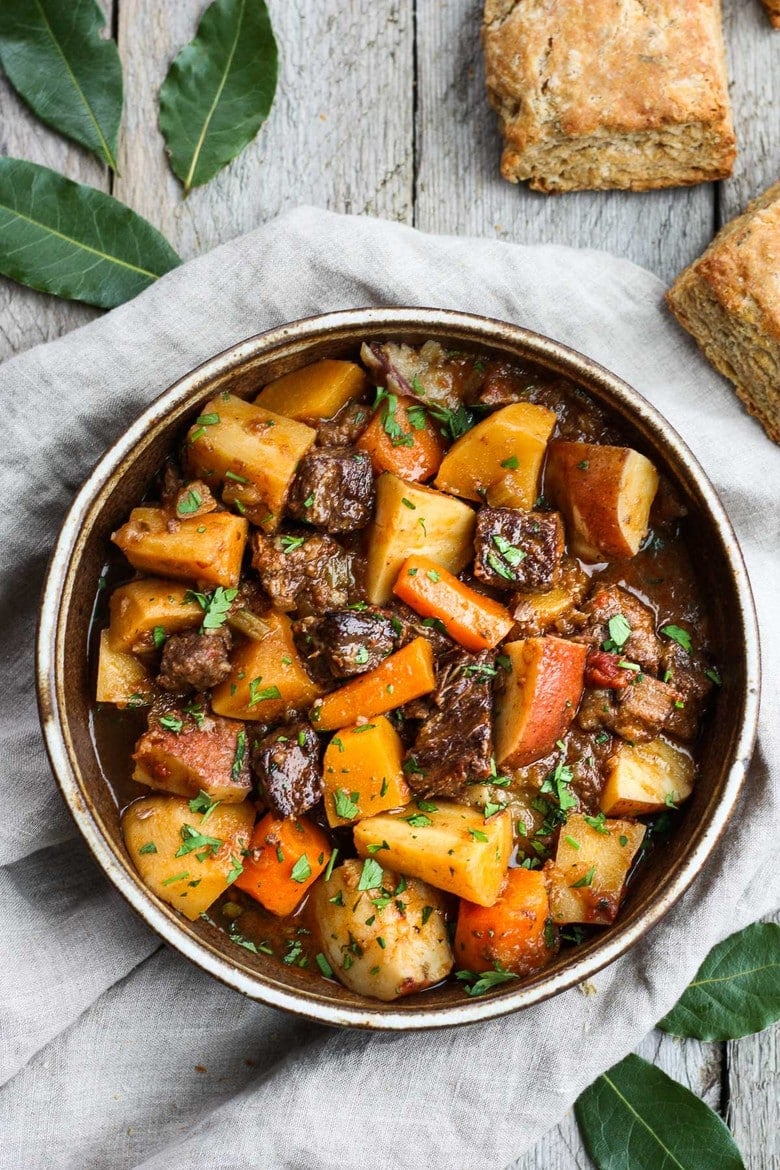 I realize there's something incredibly honest about trees in winter, how they're experts at letting things go. – Jeffrey McDaniel
Incredibly tender and savory Instant Pot Beef Stew – a cozy one-pot meal. The instant pot makes this quick and easy without sacrificing texture or flavor. The meat is cooked first adding the veggies at the end of cooking, making for melty beef with perfectly tender cooked root vegetables.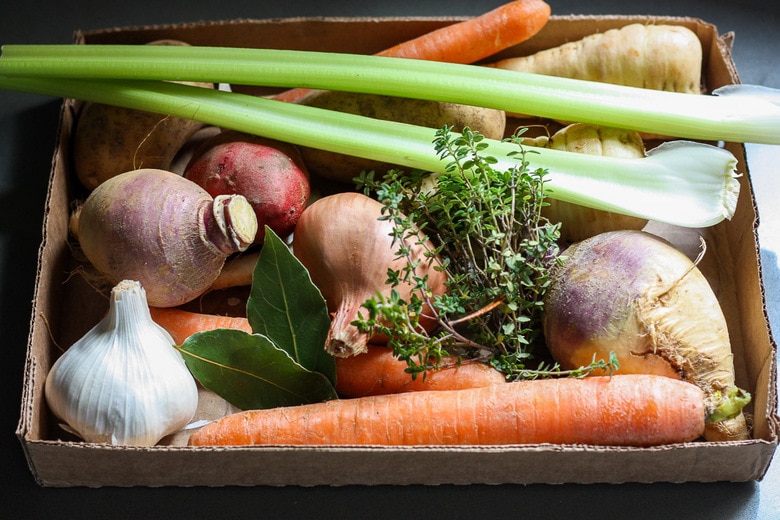 Root vegetables are plentiful this time of year, and in the coming of winter, our bodies are ready for a bit of grounding and hunkering in. Eating root vegetables is a beautiful way to nourish our bodies in sync with the season, letting ourselves ground in and receive the moments as they are, making it easier to embrace the chill and take time to nourish our own roots.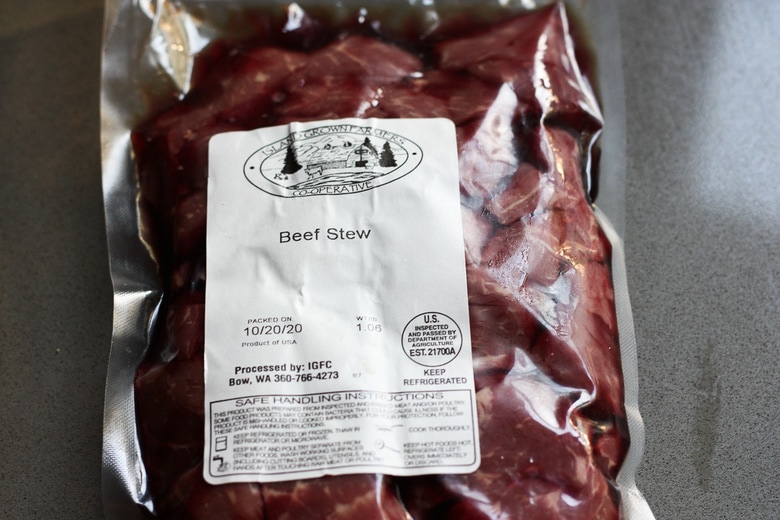 Cubing your own meat assures that you know for certain what cut of meat you are using. I often opt for stew meat already cut from my friend who raises grass-fed beef here on San Juan Island. I know for certain from him I am getting the good stuff.
Chuck roast is a good choice if cubing your own.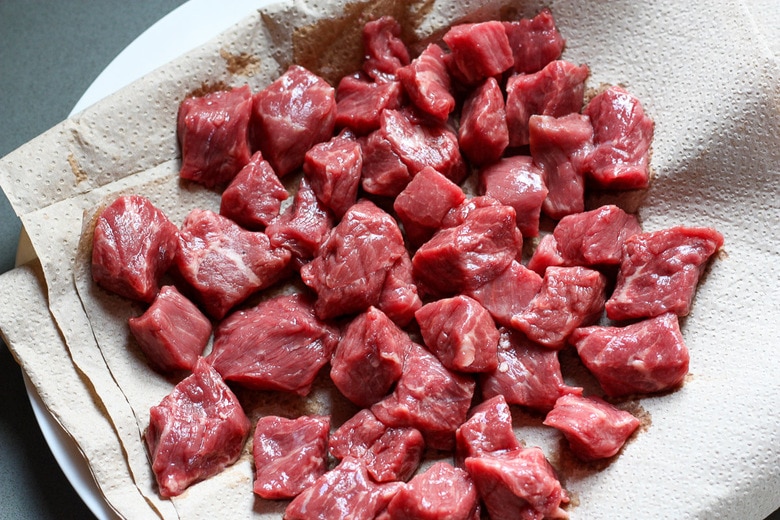 Make sure your beef stew meat is not much larger than 1-inch chunks. Of course, they are not going to be perfectly square, but you get the idea, right?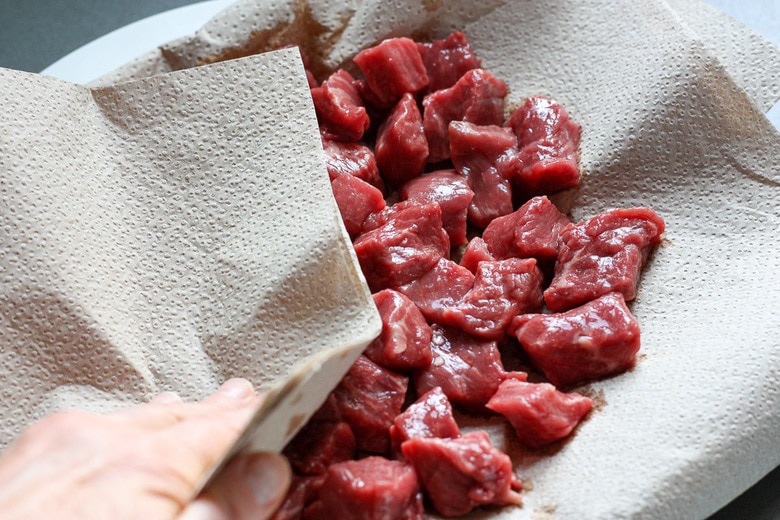 Put a couple of layers of paper towel on a plate, spread meat chunks out on top in a single layer. Thoroughly pat dry with another double layer of paper towel, removing as much moisture as possible. You may need to change out the bottom layers. (Alternatively, you could use a cloth towel, making sure it is smooth and has no fuzzy bits- laundering in hot water when finished.)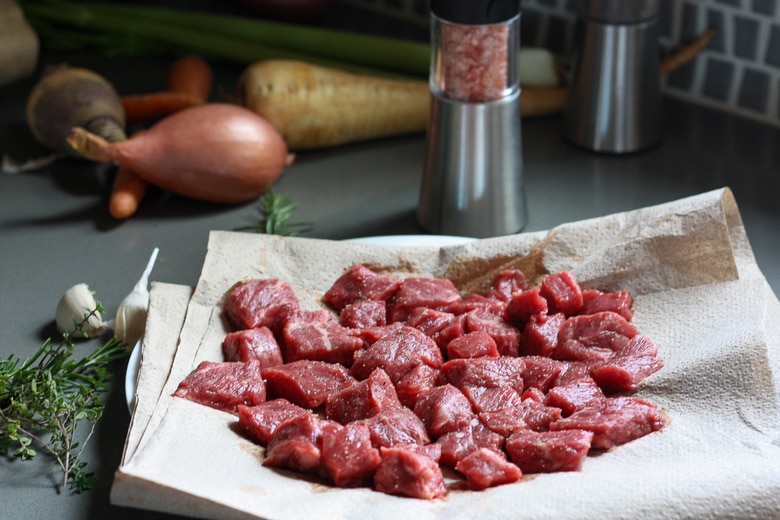 Season the stew meat with salt and pepper just before searing.
If you do it too far ahead it can draw out too much moisture.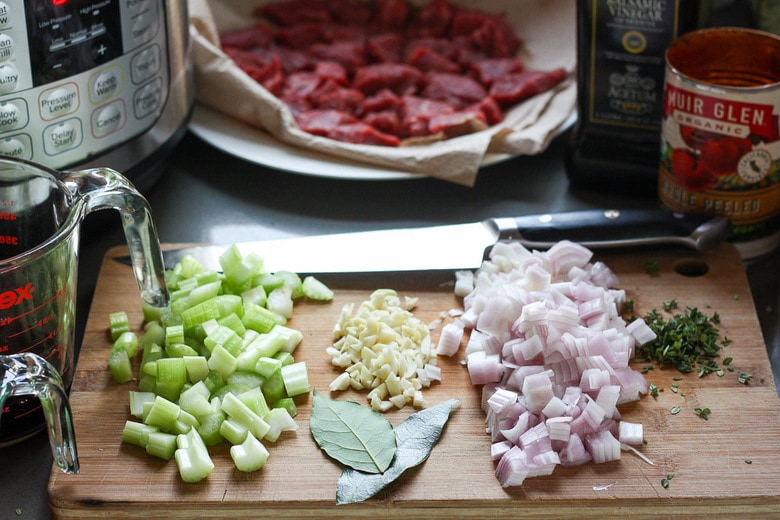 Get stew components chopped and measured.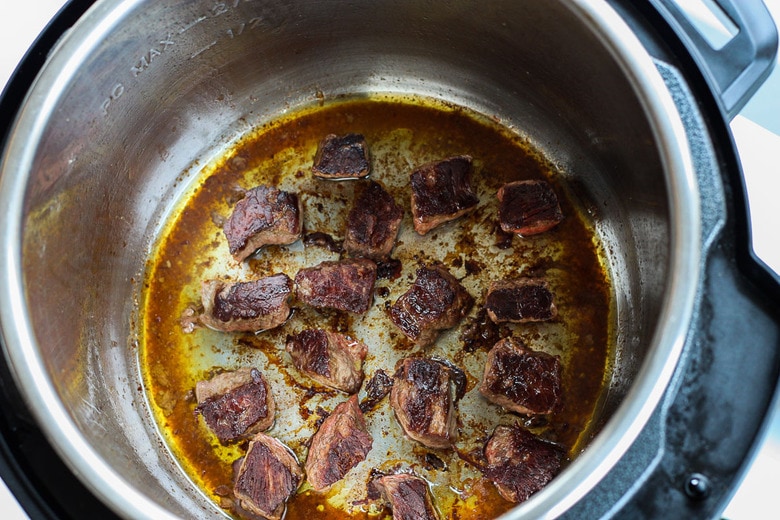 You will most likely need to cook the meat in two batches. You want to give space, crowding can result in the meat releasing too much moisture and you may not get the sear to fully develop. The oil can tend to collect on the edges of the instant pot, it is good to lift it up the inner pot with hot pads and give it a swirl to redistribute during the cooking process. You can sear all sides of the meat though I find two sides be sufficient.
why is searing stew meat recommended?
There is this thing called the Maillard reaction that occurs during high heat cooking. Basically, it is the chemical transformation of sugars and amino acids resulting in rich deep color, heightened flavor, and a more palatable texture.
Even simpler ~ caramelizing intensifies the flavor.
You really don't want to skip this step. It makes the difference between a so-so stew and an amazingly delicious stew!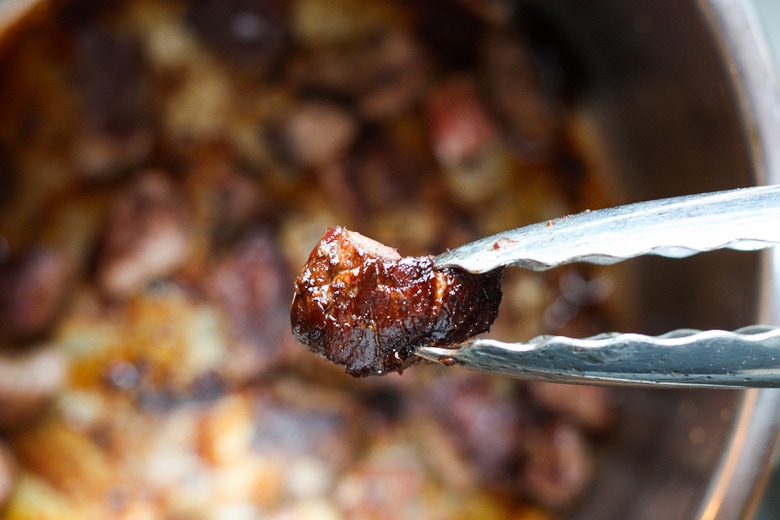 how to get a good sear on stew meat:
Make sure your meat is patted dry of all moisture.
Salt and pepper just before searing.
Use a high heat oil with a low smoke point, like grapeseed or avocado oil.
Have your pan fully heated to medium heat before you put the meat in.
Give the meat space, don't crowd.
Once you place meat in the pan – do not move around- let it be for a least 4-5 minutes. It may seem like it is sticking to the pan, but once it develops a good crust, it will lift right off.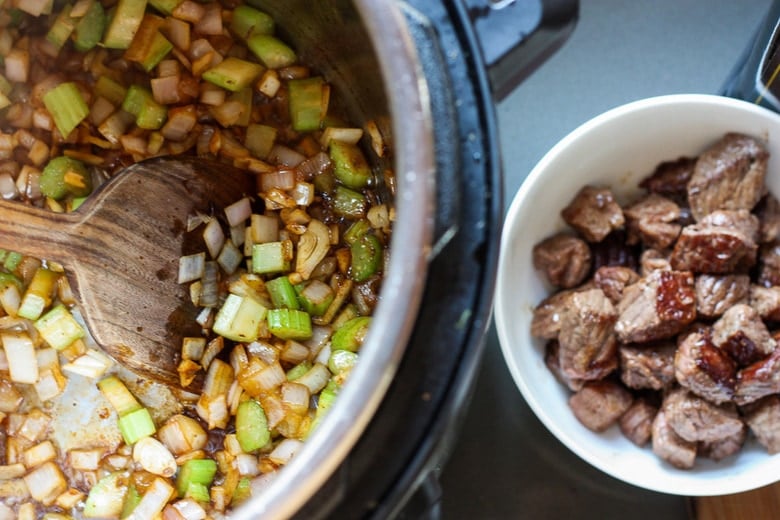 Set meat aside. Saute celery, shallot and garlic in the leftover meat juices.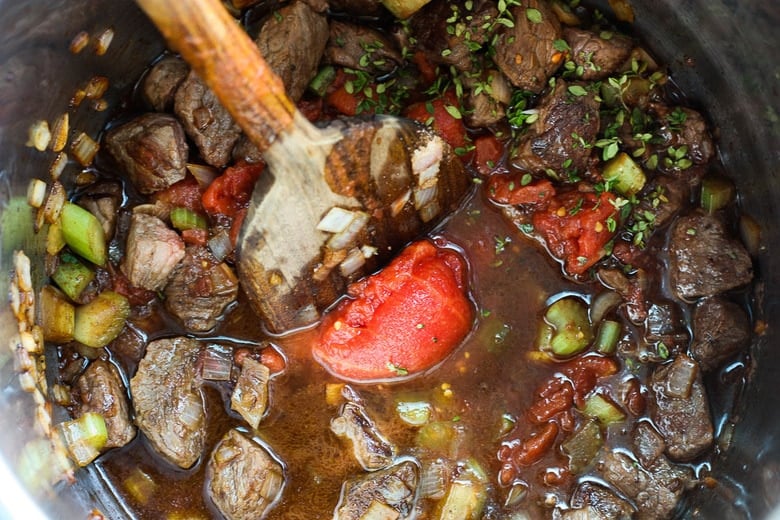 Add liquids, smashing tomatoes up a bit. Pressure cook for 30 minutes.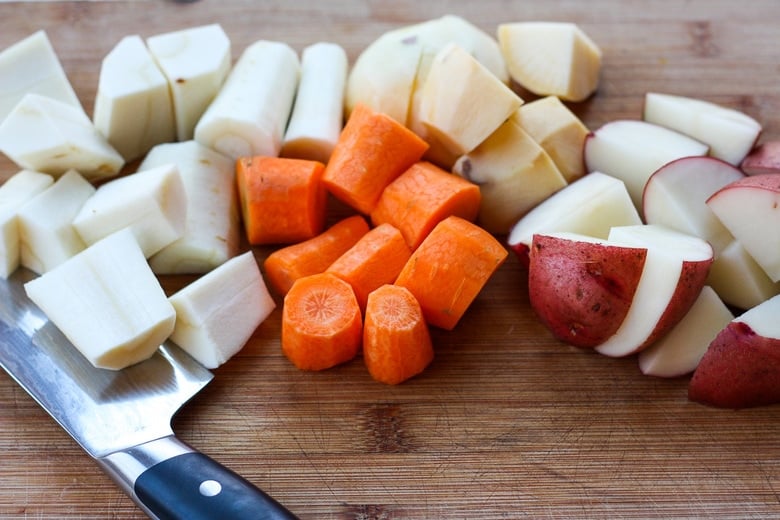 While the beef stew is pressure cooking prep the root veggies.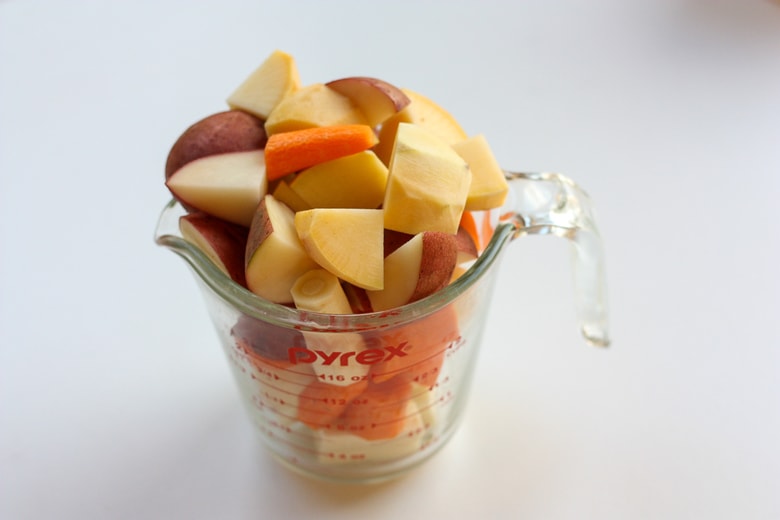 You'll need about 4 cups total: Carrots, parsnips, rutabaga, potatoes, etc.
These will go in the instant pot, after the beef cooks, for another few minutes so they are tender but not mushy.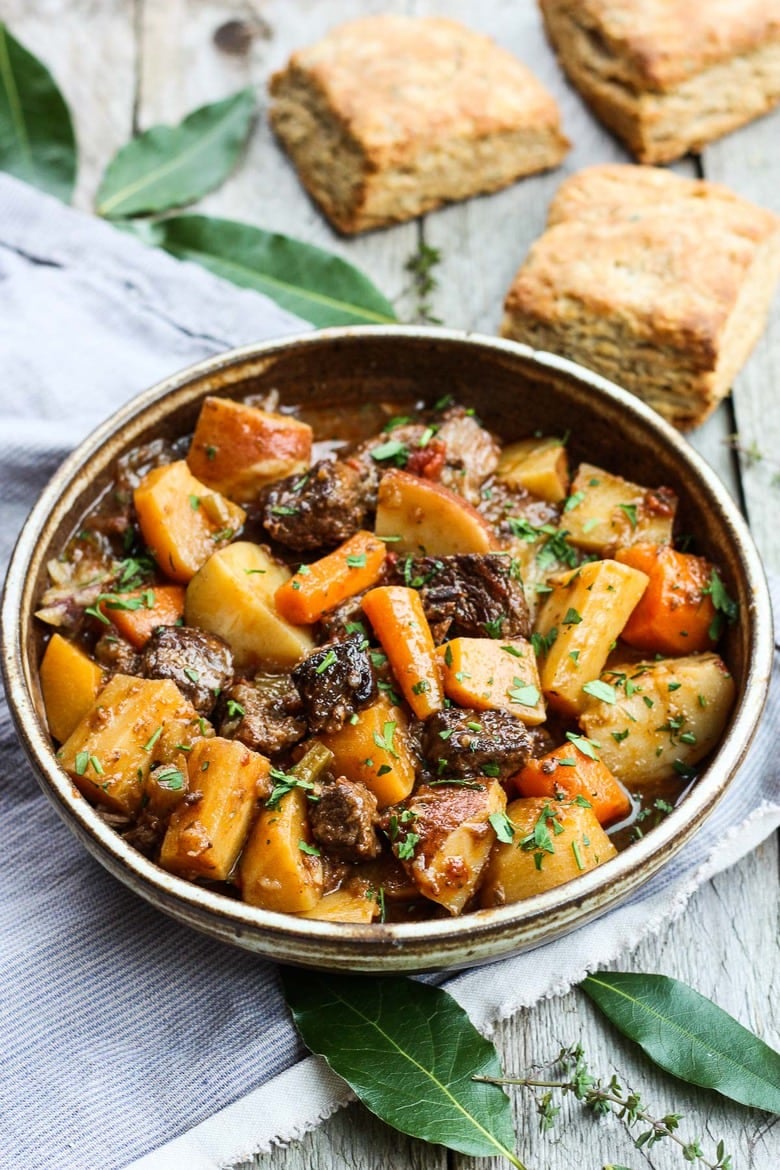 Tender and savory Instant pot Beef Stew with Root Vegetables is rich, satisfying and nurturing with all the ease of a one-pot meal. A bit of searing, chopping, and a little time… add sourdough biscuits or Popovers and dinner is served!
Enjoy this delicious Beef Stew and let us know what you think in the comments below.
Wishing you so much health and vitality!
Tonia
Print
Through this article, we hope to help you understand Beef stew with parsnips and turnips
Detail: 🔗