Need a quick and easy Instant Pot Dinner the entire family will love and beg for seconds? Instant Pot Beef Stroganoff is your answer! A delicious, mouthwatering mixture of tender stew meat, garlic, onion, mushrooms, egg noodles and more. Did I mention the creamy sauce?
It's a hearty, comfort food dinner that is super simple to make. We love to pair it with a simple tossed salad or roasting vegetables to go with it. It reheats great in case you have any leftovers, which is doubtful!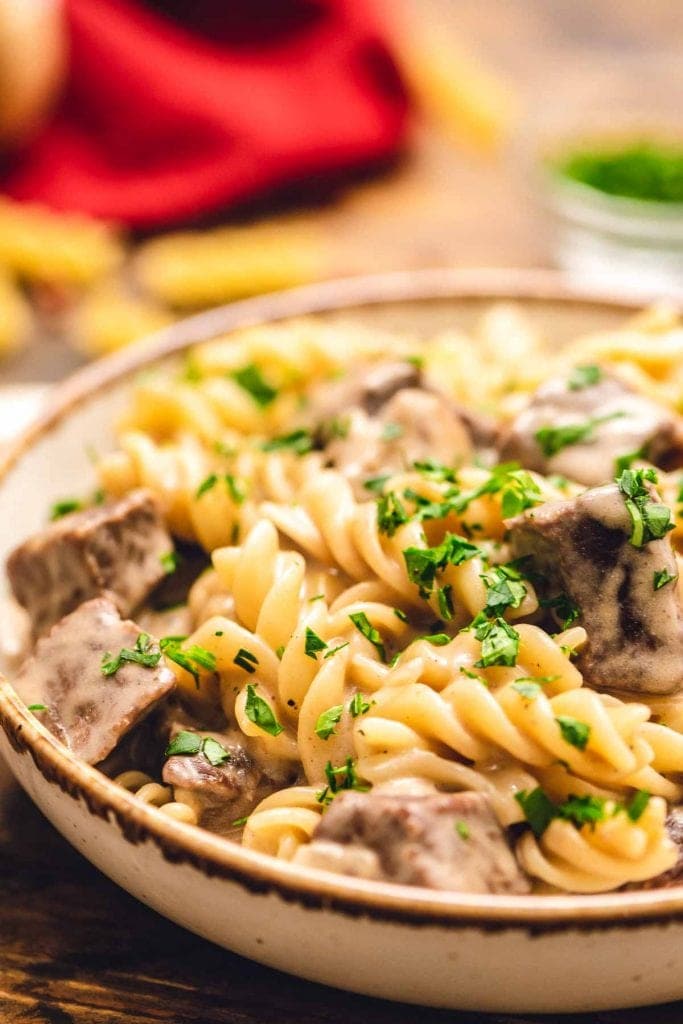 If you've been looking for a new Instant Pot recipe to add to your dinner rotation, might I introduce you to this creamy Beef Stroganoff? It's easy, it's hearty, it's absolutely delicious!
This Instant Pot Beef Stroganoff has mushrooms, onions and garlic in a rich and savory sauce and the beef cooks in no time at all thanks to the pressure cooker. Trust me, your family is going to love it! My family can't get enough of it. They love it so much I have two other variations you might like to try, too – Hamburger Stroganoff and Taco Stroganoff!
What is Beef Stroganoff?
It's a dish that originated in Russia but like a lot of classic recipes, it's been reinvented over the years. Some recipes call for beef that can be sauteed on the stove and others use stew meat that is slow-cooked in the oven or slow cooker.
The one thing that ties a lot of the modern recipes together is the sauce – it's generally made with mushrooms, onions, and garlic in a creamy and savory sauce along with sour cream that gives it a tangy flavor and richness.
My Instant Pot version is very simple to make and you can have it on the table in about 30 minutes. It's loaded with mushrooms and tender beef and the sour cream sauce… ugh, so good! Oh, and did I mention the noodles cook right in the Instant Pot? You are going to love this hearty and filling dinner!
Ingredients
Butter
Minced garlic
Chopped onion
Sliced mushrooms
All-purpose flour
Low-sodium beef broth
Worcestershire sauce
Cubed stew meat
Salt and pepper
Dijon mustard
Egg noodles
Sour cream
How to Make Beef Stroganoff in Your Instant Pot
It's so easy in just four simple steps! For this recipe, you'll use the saute feature and the high pressure setting to make this delicious dinner.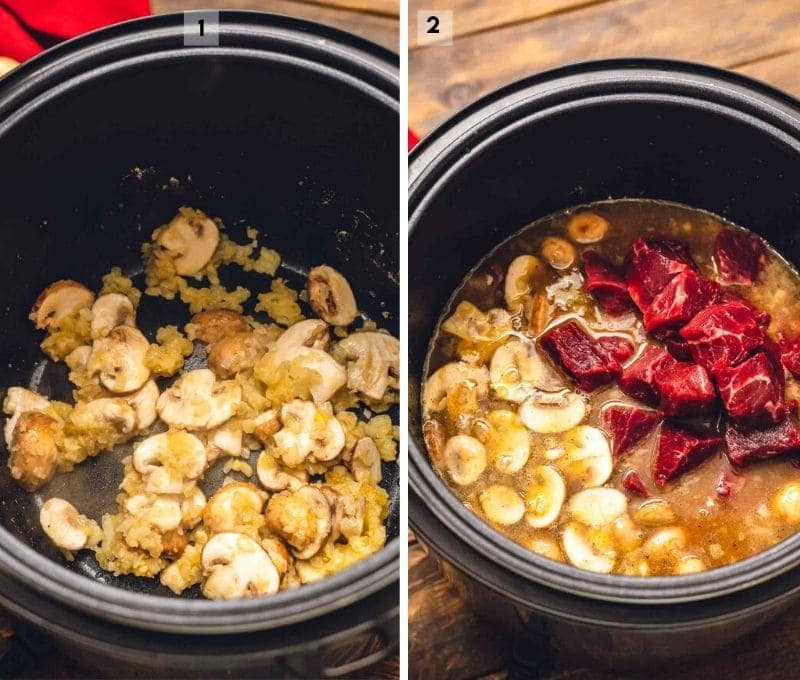 First, you will turn on the saute feature and place the butter, garlic, onion and mushrooms in the pot. Once the butter is melted, add the flour and stir so it mixes with the butter and coats the veggies. The flour is what helps thicken the sauce once you add all the liquids. (Image 1 Above)
Once you've cooked the vegetables (the onions should be translucent) add the beef broth, Worcestershire sauce, stew meat, salt, pepper, and mustard. Stir it all together until it's well combined. Secure the lid, close the steam vent, and set the manual pressure setting to high for 15 minutes. (Image 2 Above)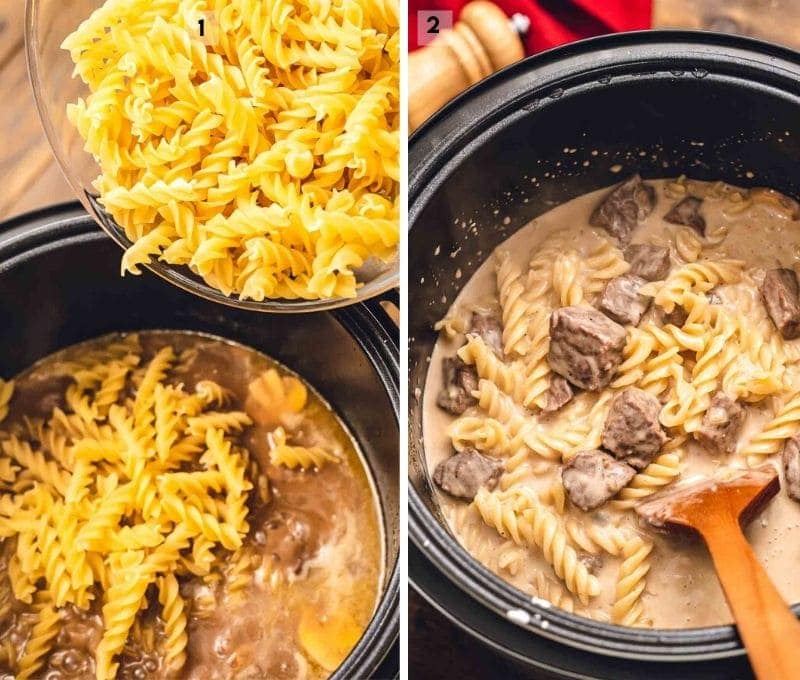 When the timer goes off, do a quick release (carefully!) and once the pressure has released open the Instant Pot. At this point, add the uncooked noodles and place the lid back on and close the valve. Set the manual pressure to high for five minutes. Once the timer goes off do another quick release and then take off the lid. (Image 1 & 2 Above)
Stir in the sour cream and dinner is ready to serve! The sauce will thicken up as it stands.
What cut of beef is best?
We really like to use stew meat in this recipe, but we also have a Instant Pot Hamburger Stroganoff we love too.
Other options for this recipe include cubing up boneless rib eye, boneless sirloin, sirloin steak tips and beef tenderloin.
It really comes down to what I have on hand and want to use up!
What goes with Beef Stroganoff?
We recommend pairing this with a quick and easy vegetable or salad. Simply steam green beans, roast vegetables, toss together a side salad etc.
The egg noodles cook right in the Instant Pot so you only need to add the vegetable to make it a meal.
If you get really wild throw the vegetable in the instant pot with the stroganoff to cook!
How to Store the Leftovers
One thing I love about Beef Stroganoff is that the leftovers taste as amazing as when it was first made! Well, if we have leftovers – my family tends to clean their plates and ask for seconds when I make it! But, if you have leftovers just know that it tastes great warmed up the next day.
Store the leftovers in an airtight container and they will keep well up for up to three days in the refrigerator.
You can also freeze the leftovers! Make sure it's cooled and then keep them in a freezer-safe container for up to a month.
When I reheat Beef Stroganoff I sometimes add a splash or two of beef broth or water to loosen the sauce. It thickens up quite a bit when it's chilled and adding a little more liquid will help it turn creamy again!
This is one of my family's favorite dinners – it's always a hit! I hope you love it as much as we do!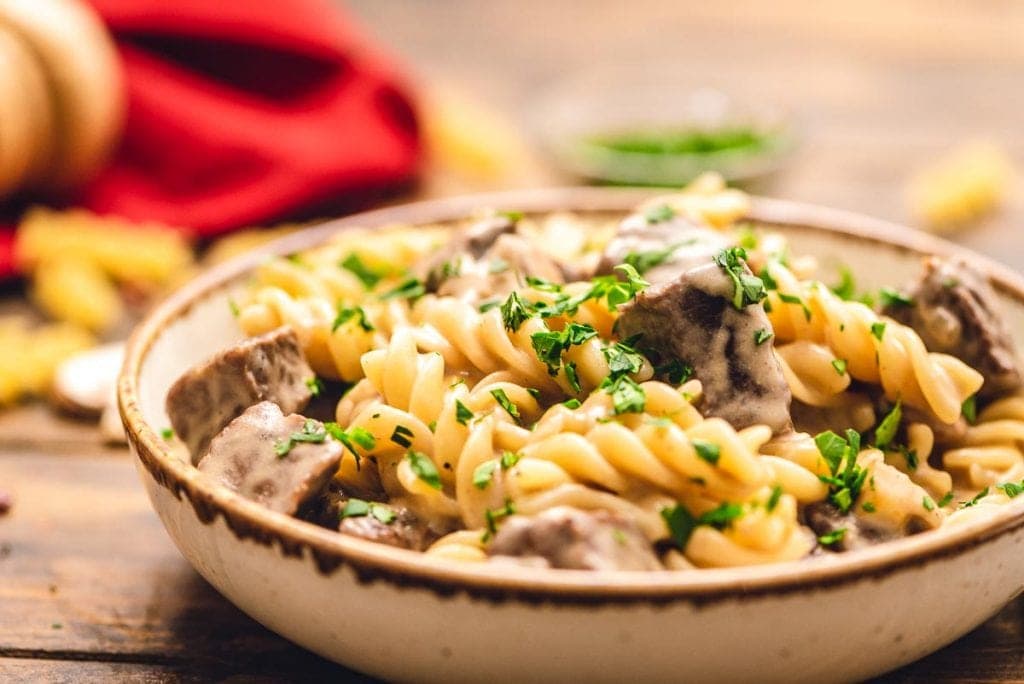 More Instant Pot Dinner Ideas
Want even more recipes to make in your pressure cooker? I think you will love these, too!
Ham and Penne Pasta is a quick and easy dinner that takes less than 30 minutes to make!
Your Instant Pot is great for making side dishes, too, and my Baked Beans recipe is one of my favorites! They are perfect for potlucks and BBQs!
This quick and easy Instant Pot Beef Taco Soup is such a hit and perfect for a quick dinner. It makes a big batch so you have plenty of leftovers that are great for easy lunches!
WATCH THE STEP BY STEP VIDEO FOR THIS RECIPE BELOW:
If you enjoy watching these videos make sure you subscribe to my YouTube Channel and click the bell icon to be notified each time I post a new video!
Try it and love it? Rate it, please!!!? Seriously though a five-star rating below will make my day! If you snap a photo, please be sure to tag me on Instagram at @julieseatsandtreats or #julieseatsandtreats so I can see your yummy treat!!
For more information please see the list of Instant pot beef stroganoff with stew meat
Detail: 🔗