Instant Pot Beef Stroganoff is a mouthwatering one pot meal that makes for an easy weeknight dinner! Made with wide egg noodles, tender beef stew meat, earthy mushrooms, and topped with a cream sauce, this stroganoff is the real deal. Made even simpler with the Instant Pot, this is the best comfort dish for those cozy nights in.
Looking for a side to serve with dinner? Try my simple Green Beans Almondine or easy Creamed Peas. These soft and fluffy Dinner Rolls complete any meal!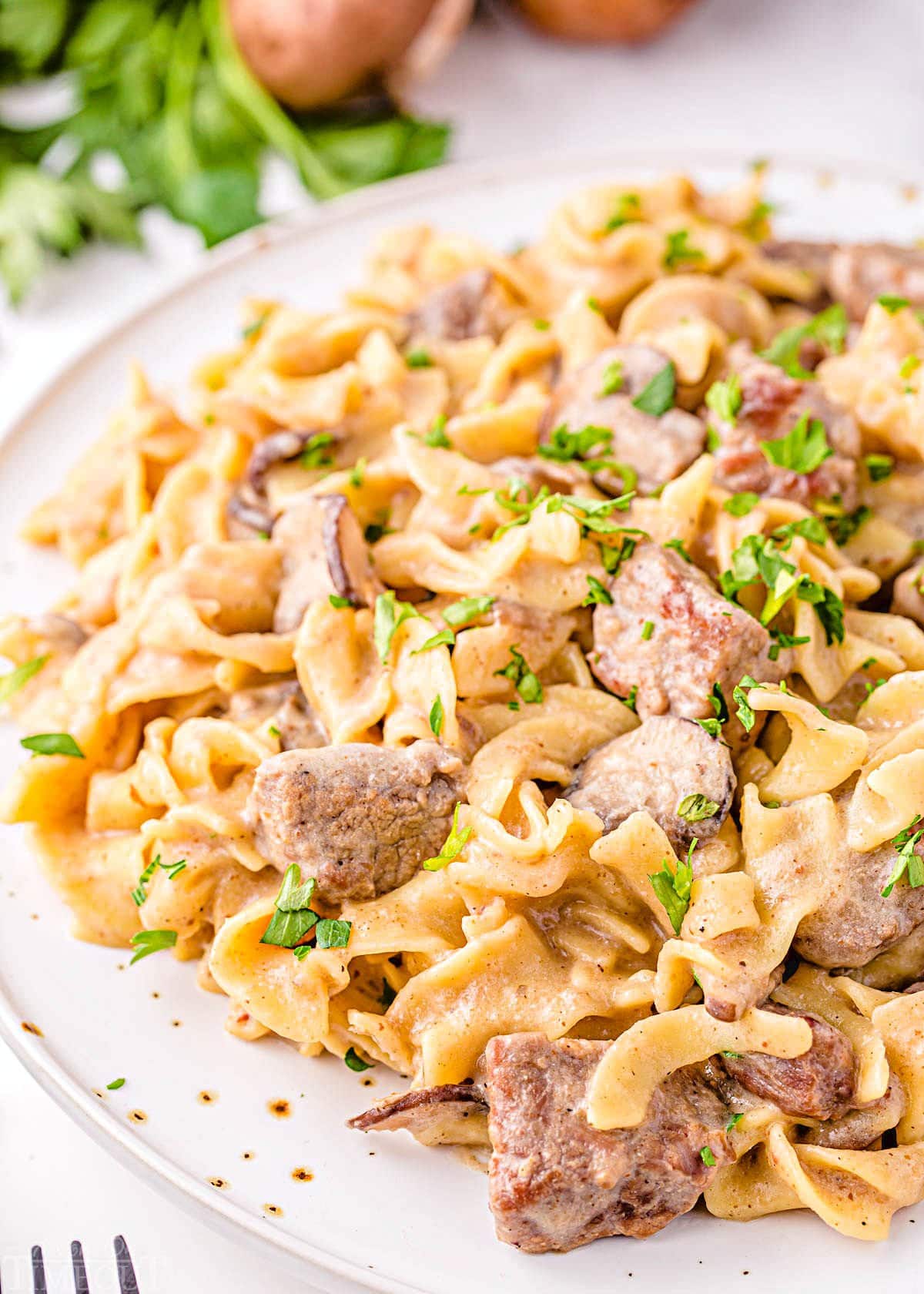 Instant Pot Beef Stroganoff
Classic Beef Stroganoff is made so much easier in the Instant Pot! No more worrying about getting the beef to that just right tenderness or agonizing over the cream sauce. Now you can get juicy, flavorful beef, savory mushrooms and tender noodles, all smothered in a dreamy, creamy, tangy sauce in under half an hour. Now that's a meal I can get behind!
I've shared a Slow Cooker Beef Stroganoff recipe as well as a Mushroom Stroganoff recipe before and this is a great addition to that stroganoff recipe line up.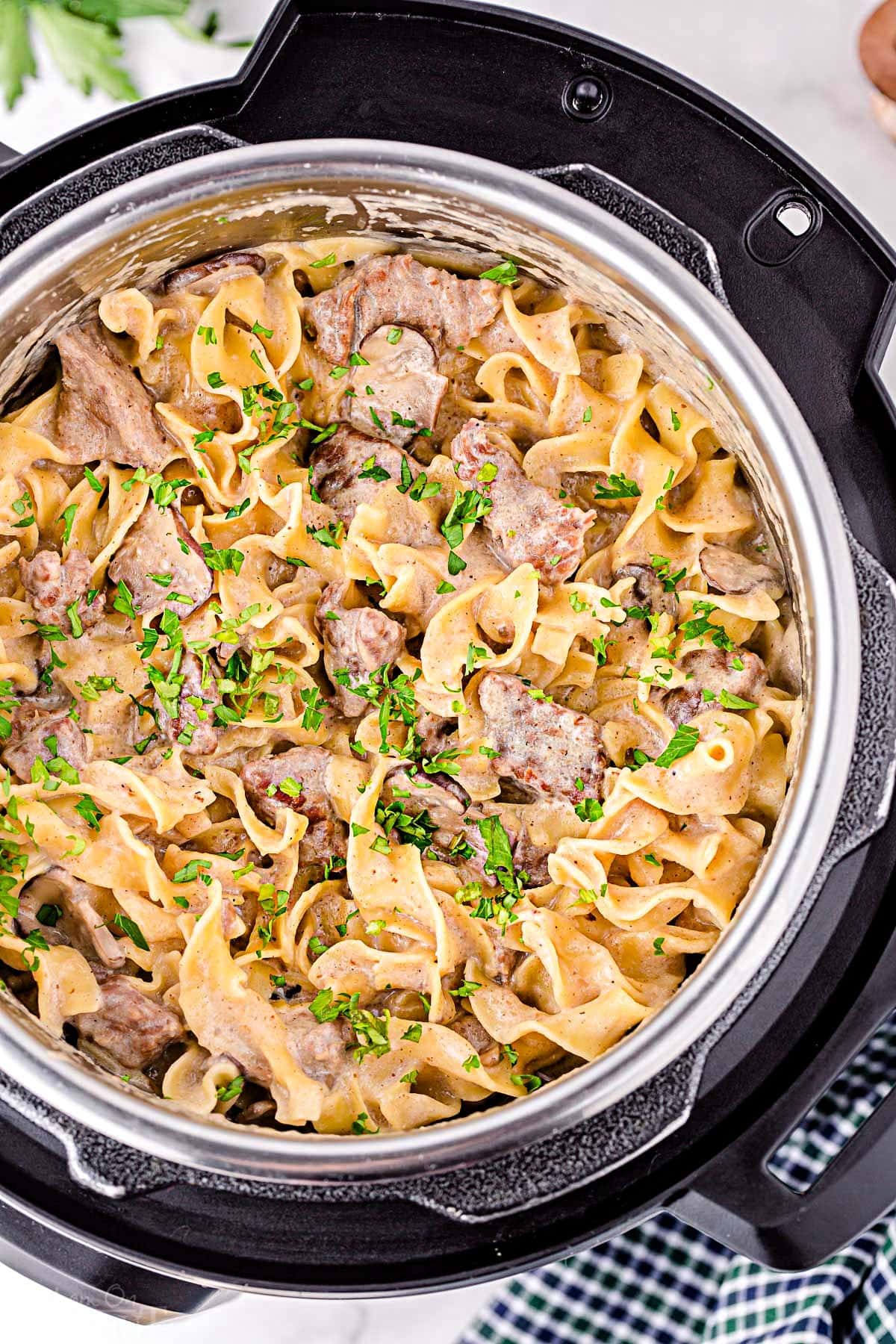 Why I Love This Recipe
I love this easy beef stroganoff recipe for so many reasons!
It's just such a breeze to make. It's comfort food made quick and easy without sacrificing taste. We love a one pot meal in this house and this instant pot stroganoff is a family favorite!
You can cater it to your tastes. You can customize this recipe and add in extra veggies like onions or peas. Play with the flavor profile by switching out the type of mustard and vinegar used. Or even add in some Worcestershire sauce for an added dash of flavor! From Instant Pot to table in 25 minutes, this comfort food will have you full and cozy all winter long.
The kids love the creamy sauce! It's such a nice change of pace from typical pasta dishes.
More Beef Dinner Recipes
Got beef on the mind? Check out these beef dinner favorites:
Salisbury Steak
Beef and Broccoli
Crockpot Chili
Steak Kabobs
Slow Cooker Philly Cheesesteaks
Chili Mac and Cheese
Tater Tot Casserole
If you're looking for an alternative cut of meat, chuck roast is a great option! You can slice or cube it before cooking like you would the stew meat. Ground beef is another option (the cook time and instructions will vary since you don't have to sear the meat and it cooks much faster).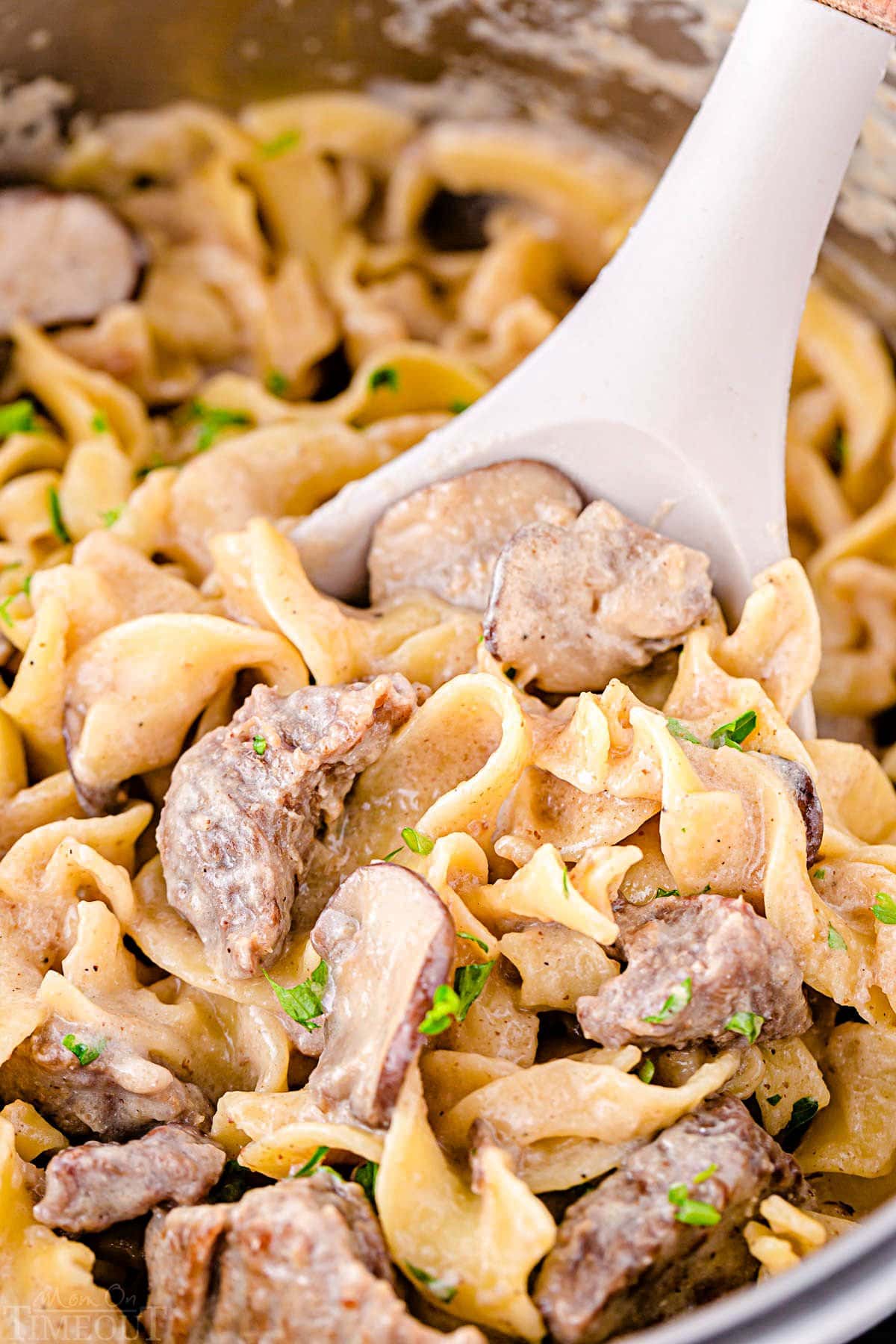 What You'll Need
Classic ingredients and flavors come together in an easier than ever way to make Beef Stroganoff Instant Pot style. As always, you can find the full printable recipe with complete instructions in the recipe card at the end of this post. Talk about comfort food, here's what you'll need…
cornstarch – You can substitute flour if needed.
salt and pepper – To taste.
stew meat – Chopped into 1-inch cubes.
salted butter – Unsalted works but you may want to adjust the salt when seasoning the dish.
baby Bella mushrooms – Of course you can use white mushrooms or your favorite type of mushroom.
beef broth – You can swap this for chicken or vegetable broth. It does alter the flavor slightly.
apple cider vinegar – Some like to use red wine or rice wine for their flavors.
Worcestershire sauce – I love the depth of flavor this ingredients adds to beef recipes.
spicy brown mustard – A Dijon mustard would be delicious too!
garlic powder – A dash of onion powder compliments this flavor profile too.
wide egg noodles – These are the traditional noodles used but you can swap them for whatever you have on hand, be mindful of the cook time though.
sour cream – Or a plain Greek yogurt.
fresh parsley – This is an optional garnish but makes for a nice finishing touch on this instant pot stroganoff.
How To Make Instant Pot Beef Stroganoff
Combine the cornstarch, salt, and pepper in a small mixing bowl. Toss in the beef stew meat and thoroughly coat.
Set your Instant Pot to sauté mode to melt the butter.
Lightly sear each side of the stew meat. We want it browned but not cooked all the way through. You can do this in batches to make sure each piece is done without overcrowding the pot. Remove the meat for now and set aside until ready to finish cooking.
Sauté the mushrooms for about 2-3 minutes then turn off sauté mode.
Return the seared beef to the pot with the mushrooms. Add in the beef broth, apple cider vinegar, Worcestershire sauce mustard, and garlic powder. Stir to combine.
Seal and cook on high for 5 minutes. Use a quick release to release the pressure once the 5 minutes is complete.
Add in the egg noodles and set your Instant Pot to sauté mode once more. Cook the noodles for about 4-6 minutes, stirring often. Turn the heat off once noodles are al dente.
Stir in the sour cream and top with fresh parsley as a garnish.
Serve warm and enjoy.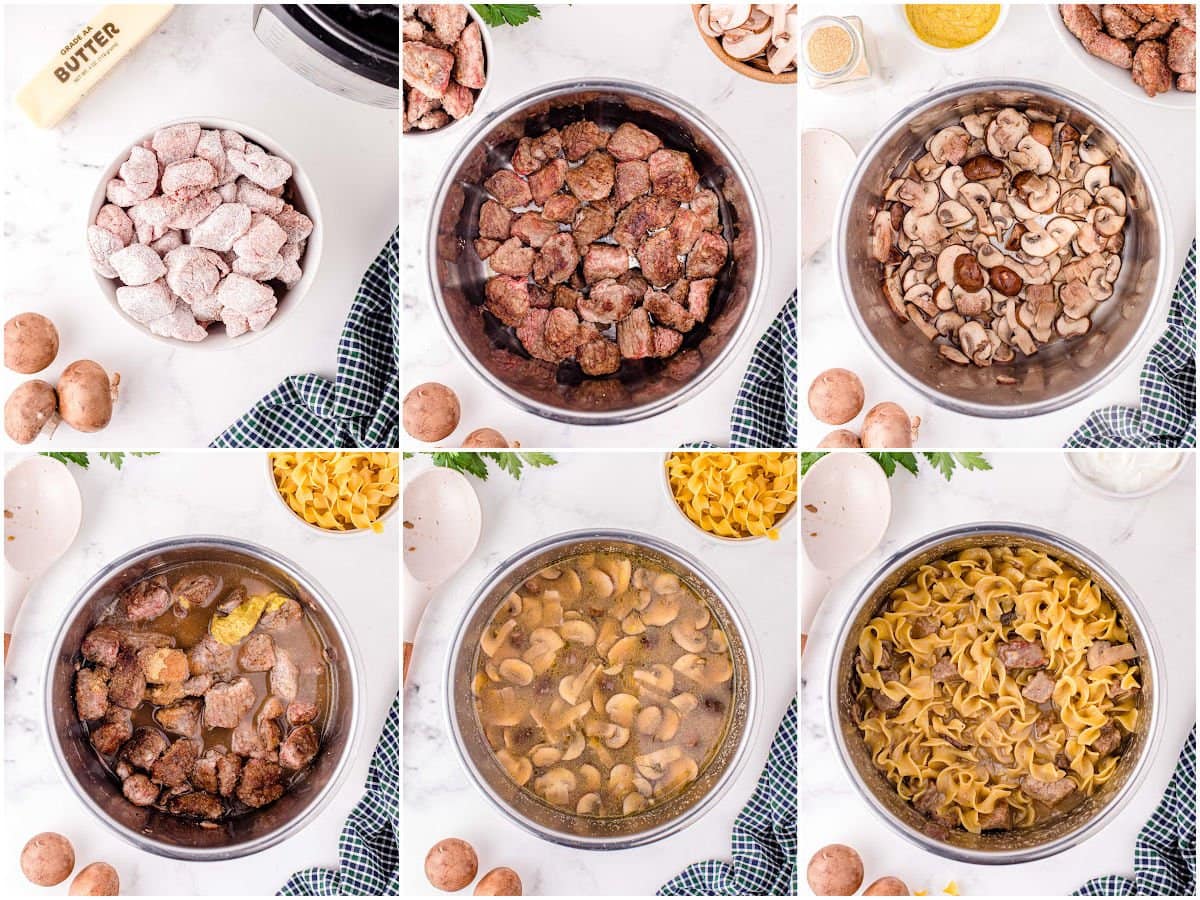 Storage Information
Refrigerator: Store any leftover stroganoff in an airtight container in the fridge for up to 4 days.
Freezer: You can also freeze this beef stroganoff instant pot recipe for up to 3 months! Let cool and then transfer to a freezer safe, airtight container. Let it thaw overnight in the refrigerator before reheating. To reheat beef stroganoff, pop it in the microwave or on the stovetop over low heat and heat until warmed through.
Beef Stroganoff Instant Pot FAQs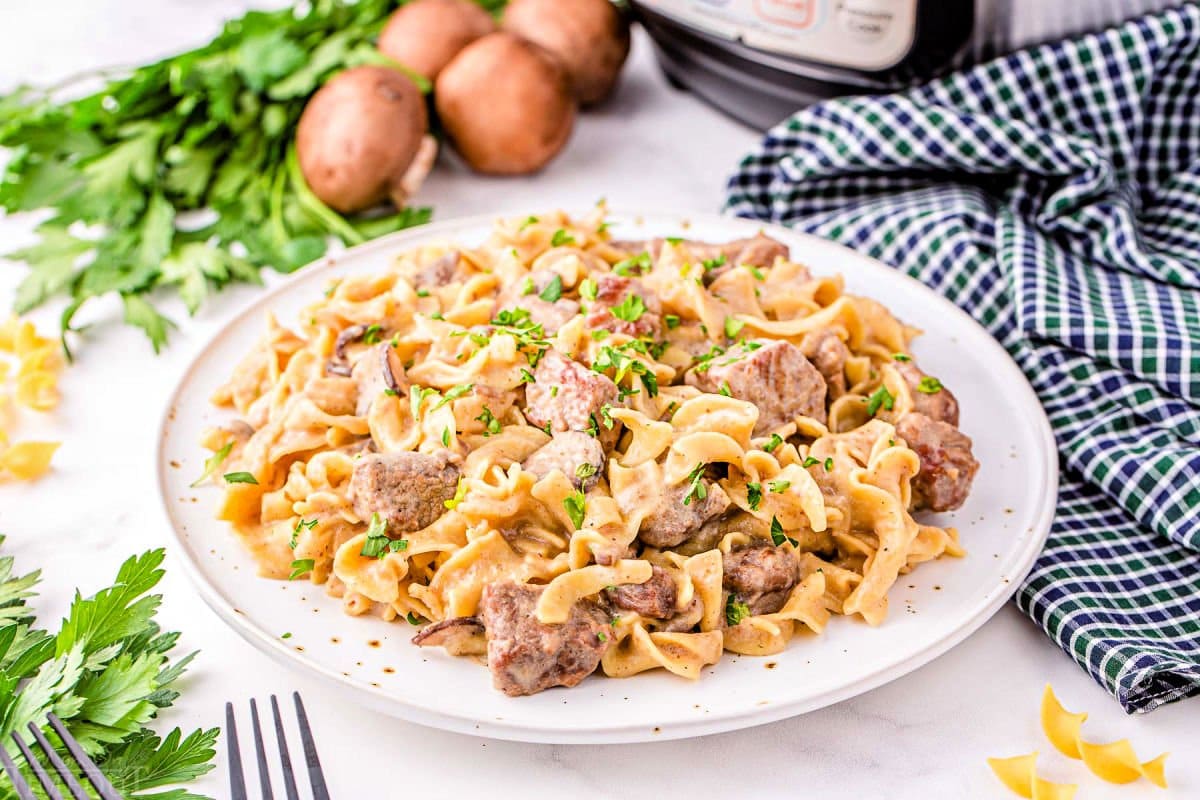 Trish's Tips and Tricks
This easy beef stroganoff recipe is pretty simple to make especially if you're familiar with instant pot cooking. Here are a few tips to keep in mind:
When coating your beef in the cornstarch mixture, make sure each piece of meat is evenly coated. This helps ensure even browning and thickens the sauce as well.
As you brown the meat, don't overcook it. We want a light sear on each side.
Don't leave your sauté mode on for too long. With the Instant Pot things cook more quickly than a traditional stovetop and you don't want the ingredients to burn.
Always have enough liquid to cover the egg noodles as they cook to ensure they don't turn out hard but not too much liquid that the sauce is runny. It's a delicate balance.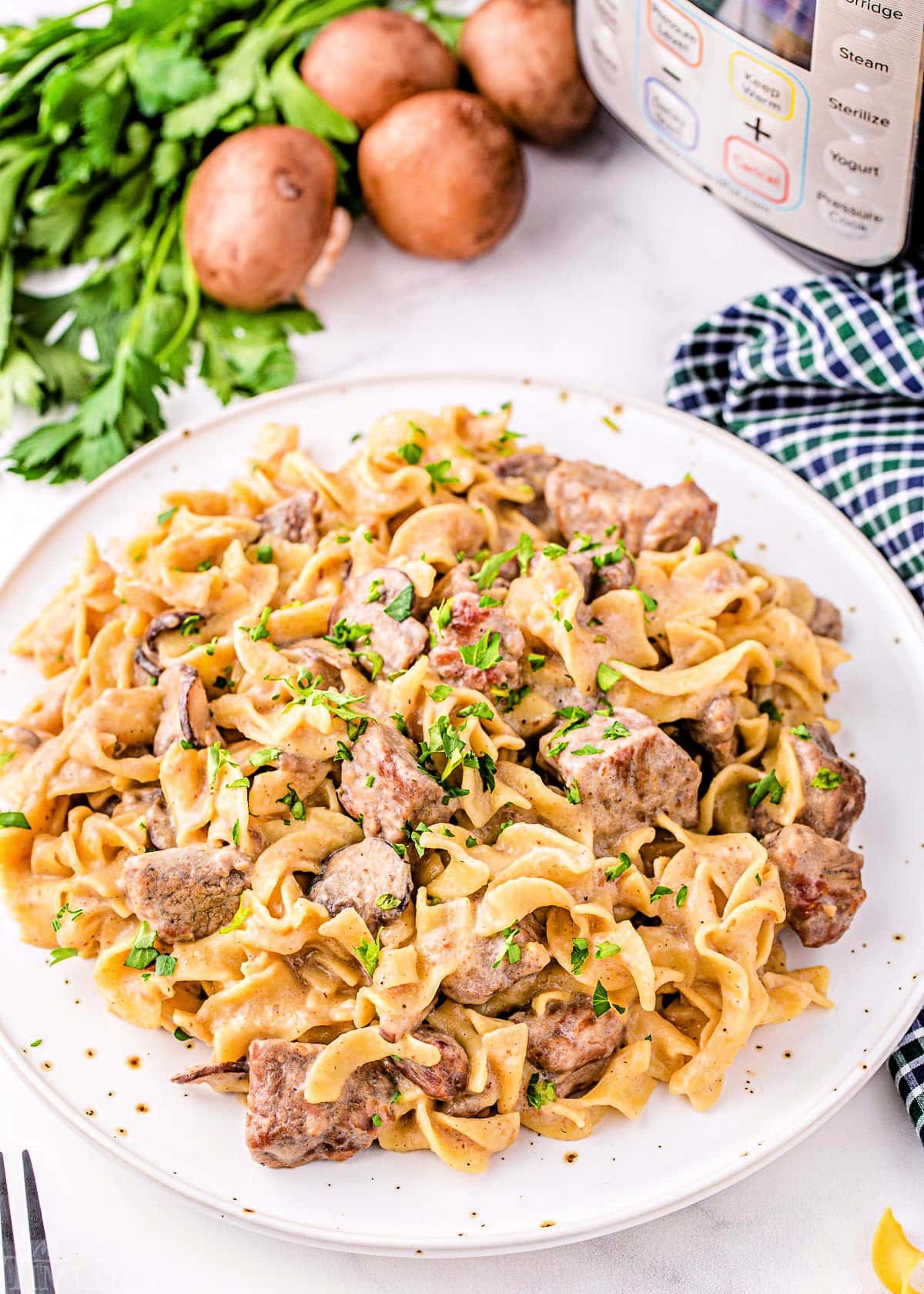 More Instant Pot Recipes
Instant Pot Chicken Noodle Soup
Instant Pot Steel Cut Oats
Ham and Cabbage Soup (Instant Pot)
More Easy Dinner Ideas
Chicken Stir Fry
Mac and Cheese
Chicken Piccata
Zuppa Toscana
Chicken Fricassee
Sheet Pan Shrimp Fajitas
How To Make Instant Pot Beef Stroganoff
For more information, please see more information about Instant pot beef stroganoff with stew meat
Detail: 🔗