Learn how to make Instant Pot Brunswick stew with leftover pork or chicken or both for that old-fashioned, comforting Southern dinner. With the addition of corn, lime beans and tomatoes, this pressure cooker stew is nutritious, tasty and super tasty for the whole family. Serve with cornbread, or biscuits, dinner rolls, rice or potatoes. This recipe is gluten-free friendly.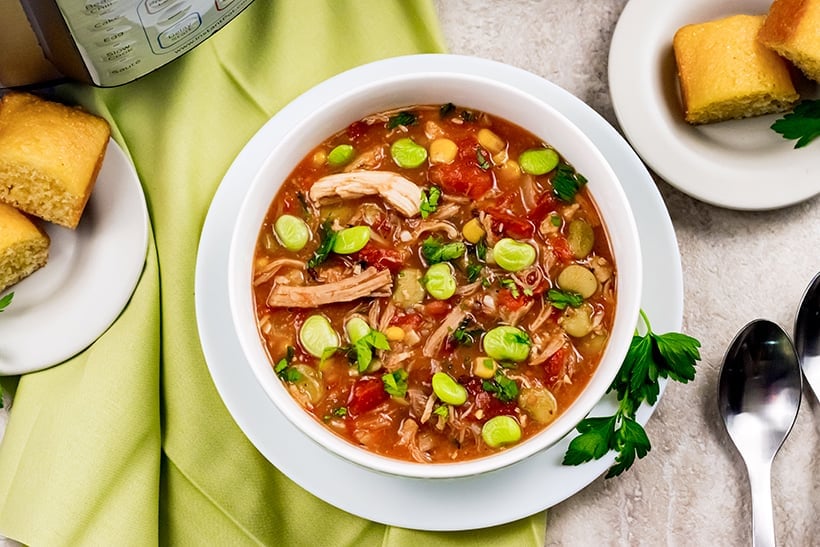 What is Brunswick stew?
If you've never heard of Brunswick stew before, let's cover a few basics to get your familiar with this comforting dish. This stew is a Southern dish made with beans, vegetables and meat cooked in a tomato base. The stew is usually finished with barbecue sauce and has a touch of cayenne pepper or chili to give it a rich flavor and sweetness. It's a great recipe for using up leftover meat (often from a roast) and vegetables, as well as some ingredients in your pantry.
The origin of this stew is unclear, although both Brunswick County, Virginia and the city of Brunswick in Georgia claim to have created it. In any case, it's a popular dish in the Southern states that is worth trying in your own kitchen.
INGREDIENTS IN THE BRUNSWICK STEW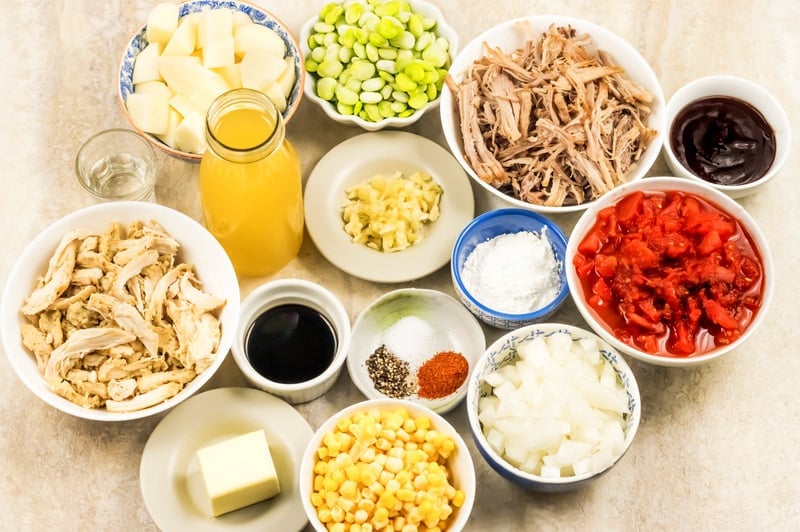 This Instant Pot Brunswick stew is made with cooked pork shoulder or leftover pulled pork, along with shredded or chopped cooked chicken, corn, lima beans (usually frozen are used) and some potatoes. It can also be made with leftover turkey meat after Thanksgiving or Christmas. The stew base is done with chicken stock and chopped tomatoes and flavoured with Worcestershire and barbecue sauces as well as a few seasonings. The starch in the potatoes thickens the stew as does the added four and water mix at the end of cooking. The are many variations to this stew, some people make it very thick and others a bit soupier. Ours is somewhere in between.
How to make Instant Pot Brunswick stew
You will find the full list of ingredients, instructions and nutritional breakdown in the recipe card below. Here are some basic steps and photos to guide you along.
Step 1. Once you've prepared your ingredients, turn the Instant Pot on and set it to Saute function. Once hot, add the onions and butter and cook for 2 minutes to soften. Add the vegetables, leftover pork and cooked chicken, potatoes (and any other veggies you like).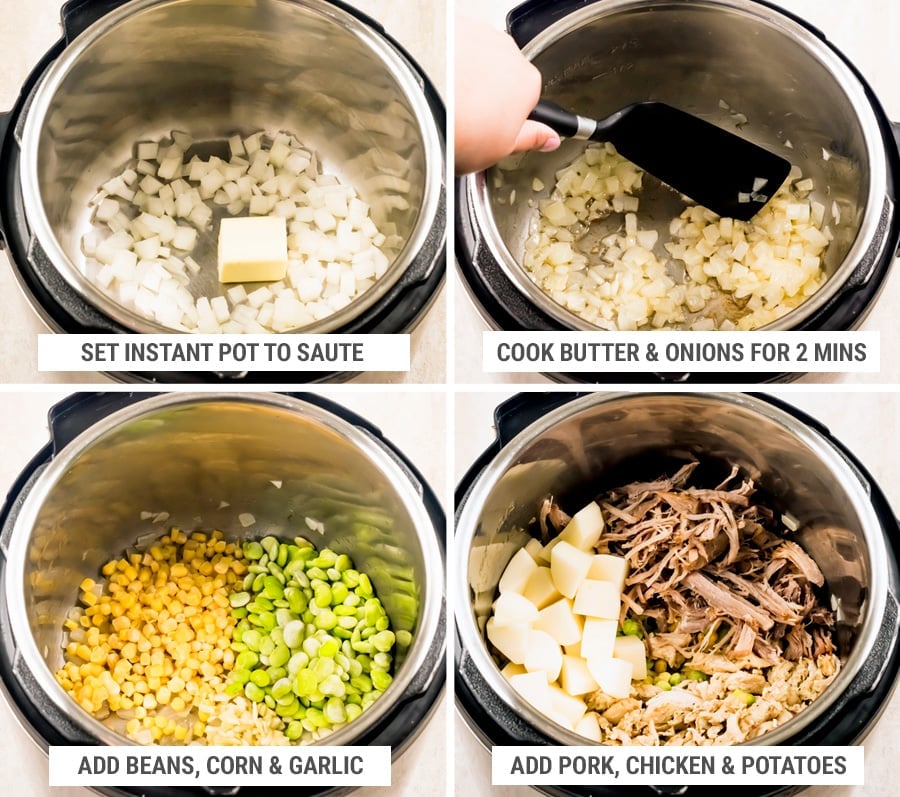 Step 2. Add the Worcestershire sauce, canned tomatoes, chicken stock and stir through. Press Cancel to stop the Saute process.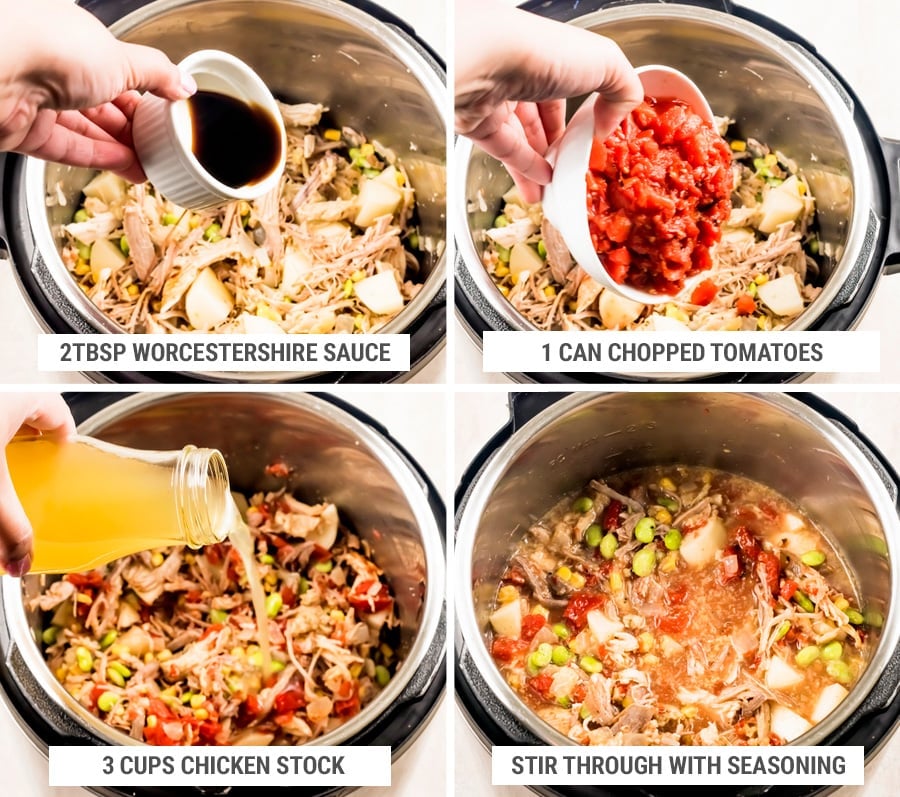 Step 3. Secure the lid and press Manual/Pressure Cooke and adjust the timer to 1 minute on HIGH pressure. This is correct because we are using leftover cooked meat, so the only things that need cooking are vegetables and they don't take too long. Plus, once the ON sign comes on, the Instant Pot will take 10-15 minutes to come to pressure before the timer kicks in and during the pressurizing phase, cooking already begins. Once the timer is done, release the pressure naturally for 10 minutes and then use the quick release to let out the remaining steam.
Step 4. The final phase is to stir in the barbecue sauce and a little brown sugar (optional, depending on how sweet the sauce is). Finally, mix together a little flour (or gluten-free alternative) and water to make a slurry and stir that into a hot stew to thicken the liquid even more. Taste for salt and pepper.
WHAT TO SERVE WITH BRUNSWICK STEW?
Being a Southern dish, this old-fashioned Brunswick stew is often served with a side of cornbread, pickles and slaw but you can butter some dinner rolls, slice up some sourdough or dish it over rice, potatoes or pasta.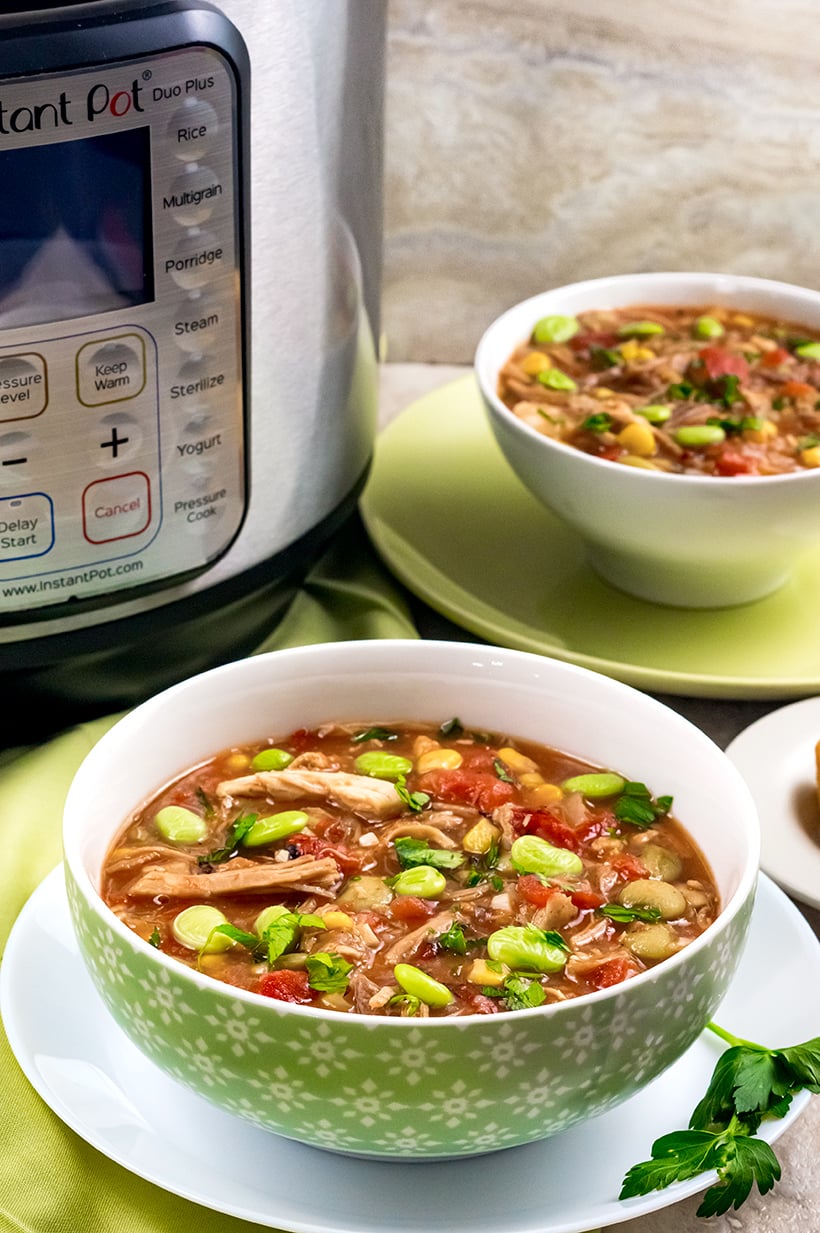 MORE INSTANT POT STEW RECIPES
Smokey Lentil Stew (Instant Pot & Stovetop Recipe)
Ground Turkey & Potato Stew (Whole30, Gluten-Free)
Instant Pot Pork Stew With Beans & Tomatoes
The BEST Instant Pot Vegetable Stew (with VIDEO)
WATCH OUR TOP 10 VIDEO RECIPES HERE
Print
SAVE THIS BRUNSWICK STEW RECIPE TO PINTEREST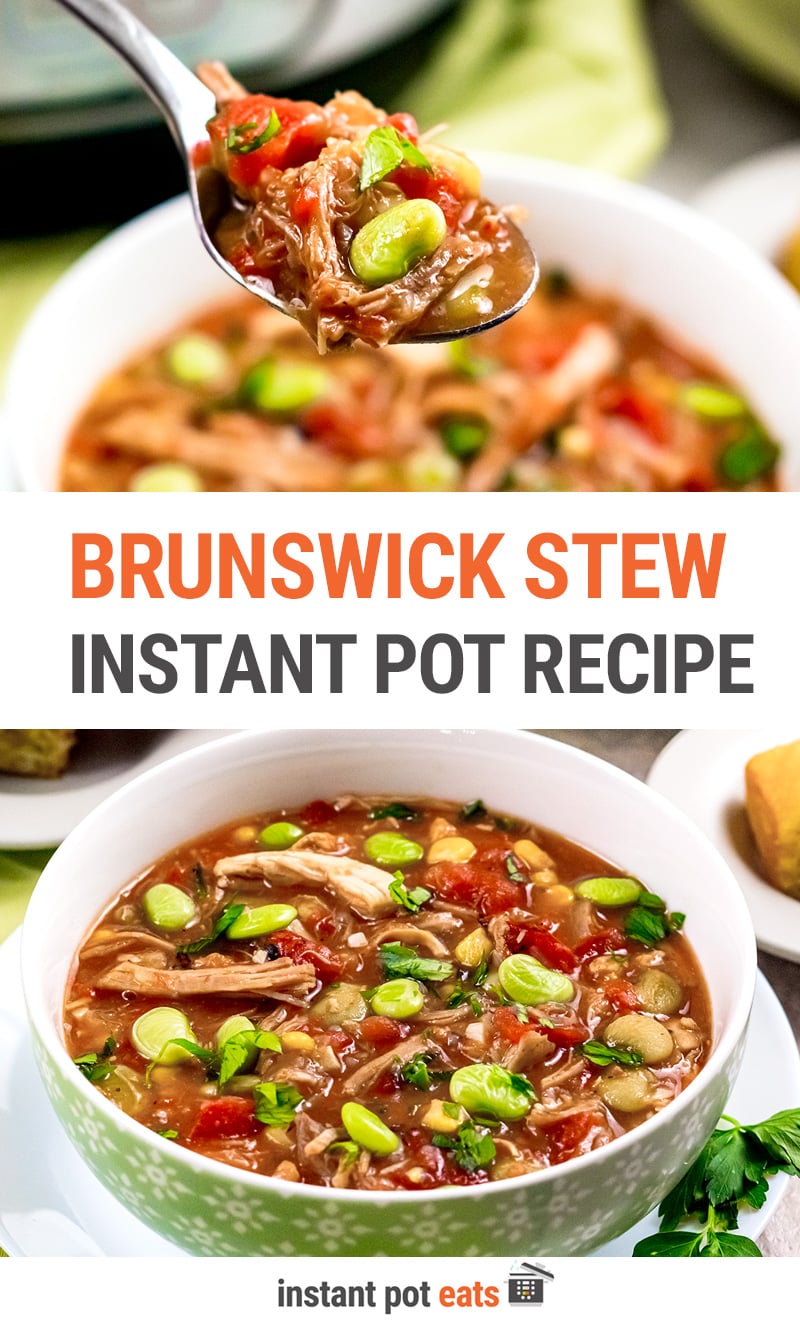 For more information please see the list of Bbq stew meat instant pot
Detail: 🔗