Tender, juicy pork loin that is seasoned, seared and prepared in your pressure cooker! This Instant Pot Pork Loin is a delicious dinner recipe that's quick enough for busy weeknights, plus it's fancy enough to serve to guests for a stress-free dinner you host! The flavor is unbeatable from a rub that is made with pantry staples.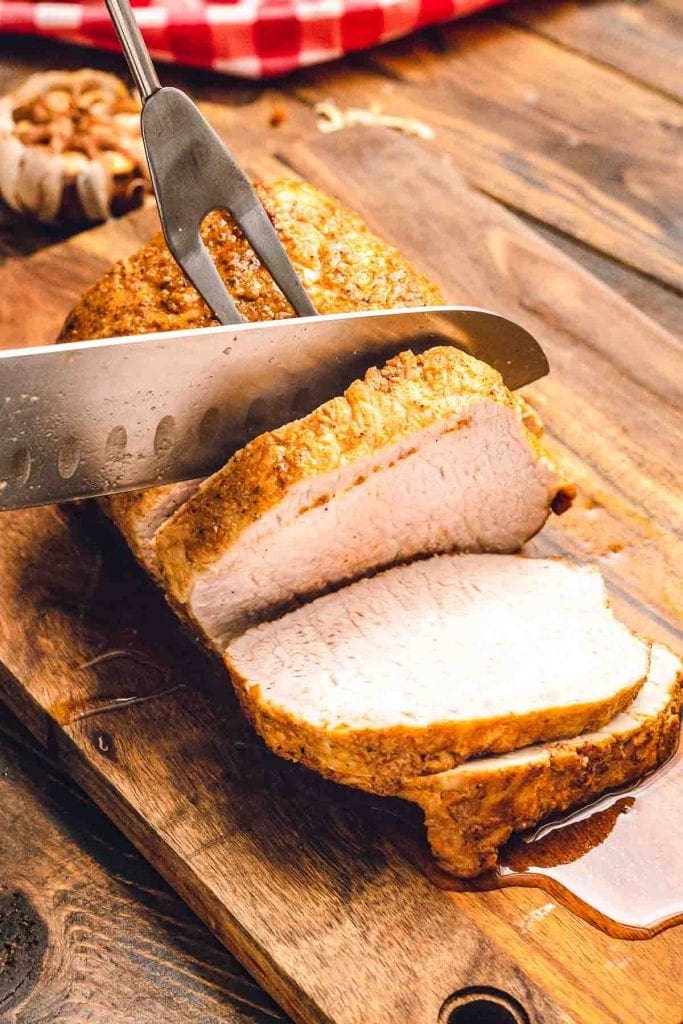 Weeknight pork loin roast for you today! Yes, this one is so easy – if you cook it in the oven it can take up to an hour, but in the Instant Pot it's ready in 20 minutes! I love making it during the week when we're craving a hearty comforting dinner. You only need a handful of ingredients to make it and there's plenty of time to make a side dish to go with it. We love it with some Parmesan orzo or garlic butter noodles.
I also have delicious recipes for crockpot cranberry pork loin and oven-roasted apple pork loin, but this Instant Pot version is the fastest yet. It's so quick and easy you don't have to wait until the weekend to make it.
Ingredients
You don't need a lot of ingredients for this recipe and most of them are for the spice rub – I bet you have them in your cabinet already!
Boneless pork loin roast
Garlic powder
Onion powder
Salt and pepper
Paprika – Switch it up with Smoked Paprika!
Olive oil – You could use any oil, like avocado or vegetable oil.
Vegetable broth – If you don't have vegetable broth feel free to use chicken broth.
Difference Between Pork Loin and Pork Tenderloin
Sometimes it gets confusing, right? With so many different cuts of meat its good to know the difference!
For this recipe, you will want to use a pork loin which is a larger cut than a tenderloin. As you can see in the above photo, once it's cooked you can slice it into large pieces. You can get it with the bone-in or boneless and I recommend getting a boneless one. It's a lean cut of meat and it's perfect for cooking in the Instant Pot.
Pork tenderloin is thinner and longer and cooks quicker. It's also lean and tastes similar but for this recipe, I don't recommend using it because it needs a different cooking method.
Once you have your ingredients all you do is mix up the spices and rub them all over the meat. That's it!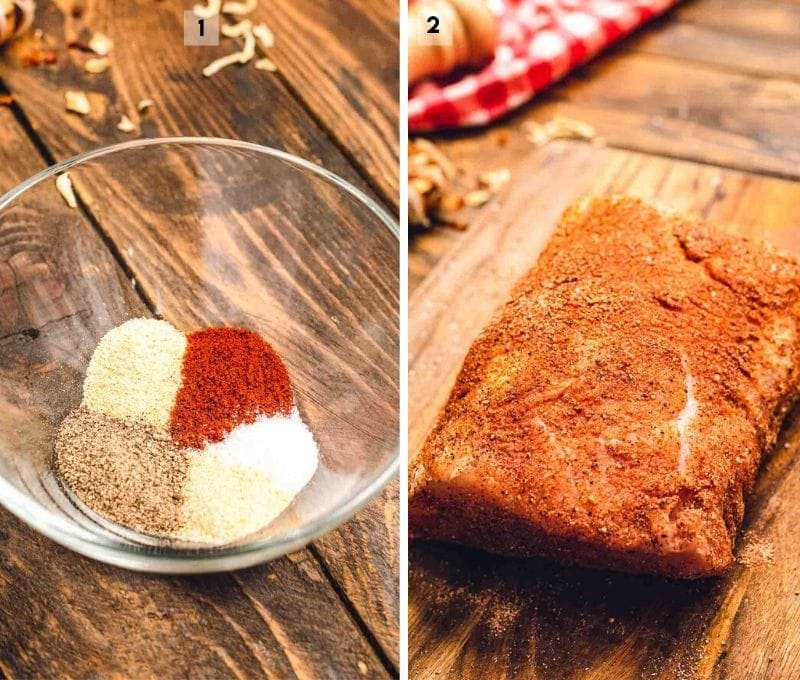 How to Cook Pork Loin in an Instant Pot
First, I like to brown the meat. The nice thing is you can do this right in the pressure cooker. Just turn on the "saute" setting and, once it's heated, add the oil and heat it up. Brown the meat in the oil so it develops a golden crust on all sides. Doing this will add a nice texture and amazing flavor!
At this point, turn off the "saute" setting and remove the pork. There will be all kinds of browned bits on the bottom of the pot. Add the vegetable broth and you should be able to scrape up all of those bits, which is called degalzing a pan. This will prevent them from burning and will give the broth even more flavor.
Cooking the pork with the vegetable broth will also help make it so juicy!
Now it's time to cook the pork! Place the meat back in the pot and secure the lid. Close the steam vent and set the "manual" option for 20 minutes.
Once the timer goes off, allow the steam to release naturally for five minutes. Then, open the steam valve to release any remaining pressure.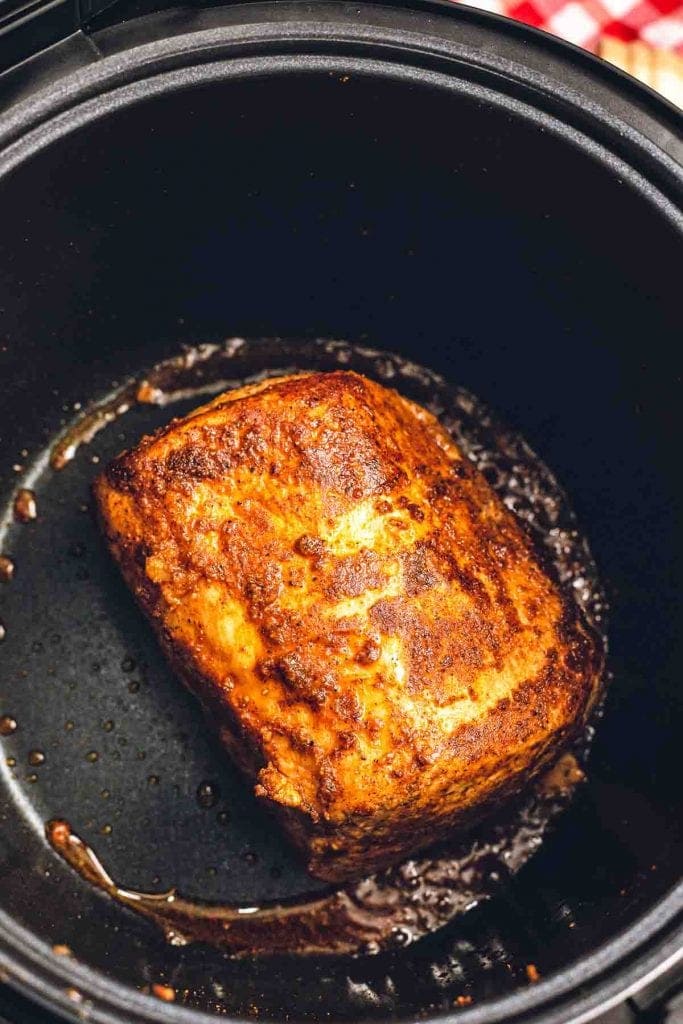 What Temperature Should You Cook Pork Loin?
When you take the meat out of the Instant Pot you will want to check the internal temperature. This is very important and the easiest way to test it is with a meat thermometer.
Pork should be cooked to an internal temperature of 145 degrees F. Insert the thermometer in the thickest part of the meat to ensure it's cooked all the way through.
It's also a good idea to let it for a few minutes before you slice it. This allows the juices to redistribute so they don't run out when you slice it.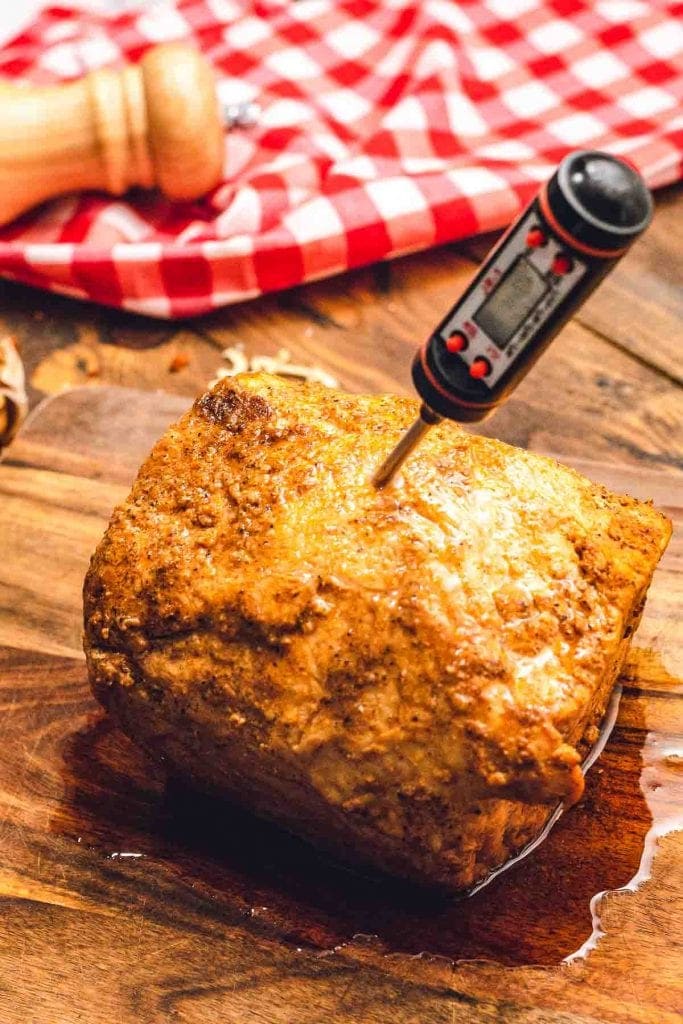 Isn't that easy? Using an Instant Pot is such a quick way to cook it! It would take double the amount of time to roast it in the oven – I don't know about you, but I don't have time for that on a weeknight!
Expert Tips!
Cook it fat side up.
Pork is "done" at 145 degrees F. Do not over cook it or it will be dry and chewy.'
It is safe to consume pork if it has a pink center as long as it has an internal temperature of 145 degrees F.

Medium-Rare – 145 to 150 degrees F.
Medium – 150 to 155 degrees F.
Medium-Well – 155 to 160 degrees F.
Well-Done – 160-165 degrees F.

Remember to let the pork rest before slicing into it, so the juices can redistribute and you get the juiciest pork loin ever!
Cut the slices thick, about 3/4" to 1" slices.
What to Serve with Pork Loin
You're going to want some delicious side dishes to go with it! Here are some of my favorite quick and easy sides:
Glazed carrots are a simple side dish – they are coated in a buttery brown sugar topping that goes perfect with the meat!
If you love potatoes, my smashed potatoes are super easy! They're crispy on the outside and soft and creamy on the inside.
For a real comfort food dinner make some mashed potatoes with gravy!
How to Store and Reheat the Leftovers
When I have leftovers I store the sliced pork in an airtight container. It keeps well for a few days in the refrigerator. You can also freeze it for up to 3 months.
To reheat it, just warm the slices in a pan on the stove over medium heat. Cover the pan with a lid so the meat doesn't try out and just turn it a few times while it warms up. It only takes a couple of minutes!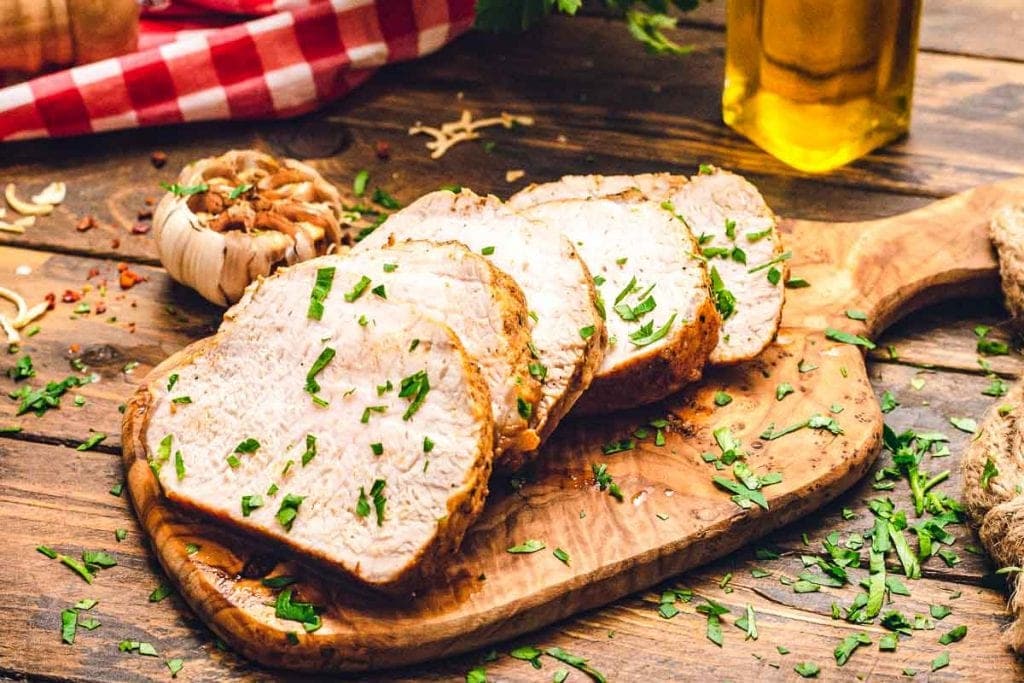 I hope you love this pressure cooker pork loin recipe! It's just another reason to love your Instant Pot!
WATCH THE STEP BY STEP VIDEO FOR THIS RECIPE BELOW:
If you enjoy watching these videos make sure you subscribe to my YouTube Channel and click the bell icon to be notified each time a post a new video!
Tried it and loved it? Rate it, please!!!? Seriously though a five-star rating below will make my day! If you snap a photo, please be sure tag me on Instagram at @julieseatsandtreats or #julieseatsandtreats so I can see your delicious dinner!!
Through this article, we hope to help you understand Pork loin roast recipes instant pot
Detail: 🔗