This perfectly tender and easy-to-make Instant Pot pork loin recipe is great for when you need to make a wholesome dinner fast! The pressure cooker makes this pork loin golden brown without taking hours in the oven and my super savory pork gravy whips up in a flash!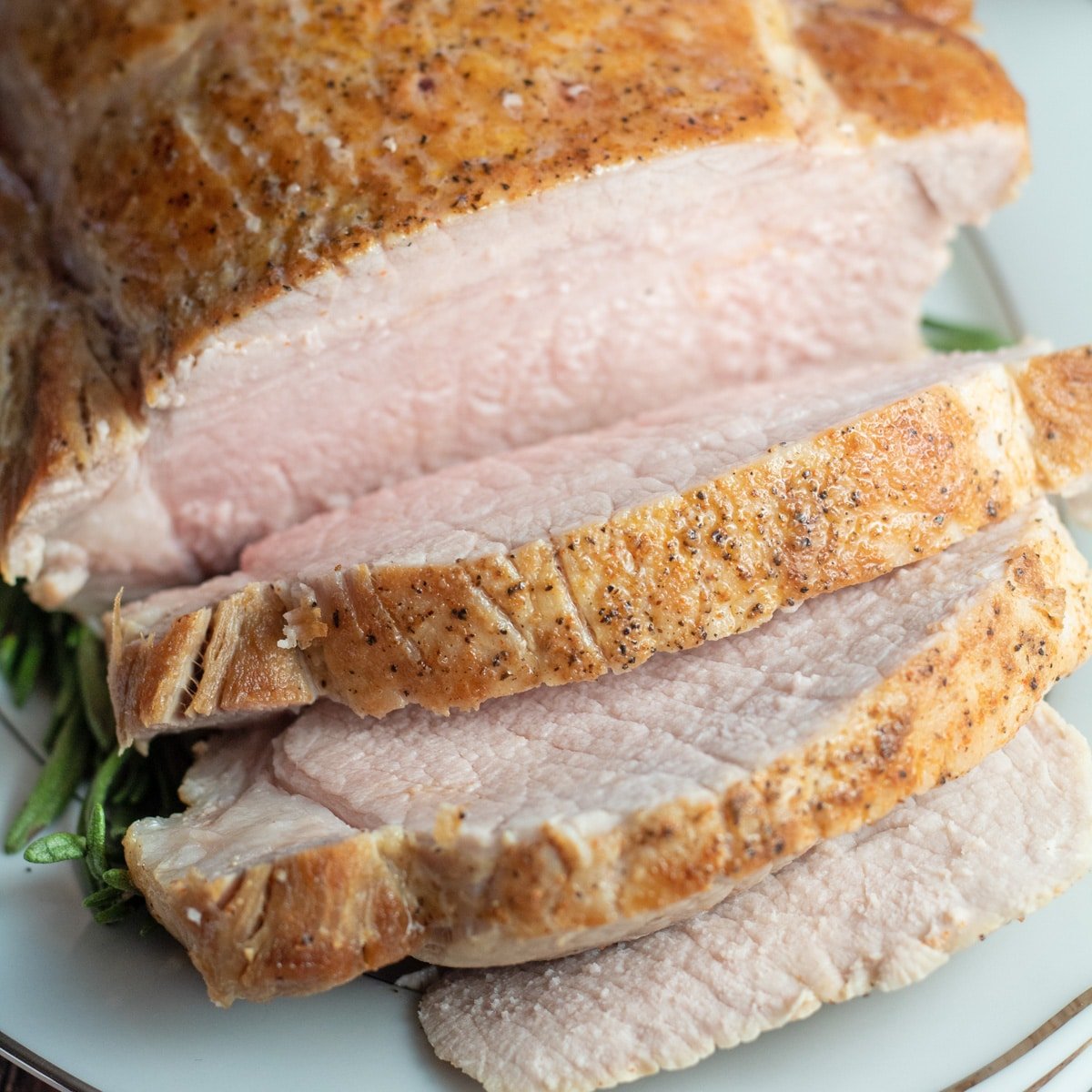 This simple Instant Pot pork loin is tender, juicy, and extra flavorful with the easy pork gravy!
Reading: Instant pot recipes with pork roast
Make dinner easy tonight with my Instant Pot pork loin recipe! I sear a beautiful lean pork loin and pressure cook it in flavorful chicken broth, so it cooks up super flavorful and tender!
Then, I use those flavorful pork juices to make a creamy, luscious gravy that's perfect for pouring on top.
Jump to:
❤️ Why You'll Love This Recipe!
🥘 Ingredients
🔪 Step-By-Step Instructions
💭 Angela's Tips & Recipe Notes
🥡 Storing & Reheating
🐷 More Delicious Pork Recipes!
❓ FAQ
📋 Recipe
Not only is this recipe super easy to make, but you can also customize it to fit your needs! You can season with whatever seasonings you like and serve with your favorite sides so it's a meal you and your family will love time and time again!
❤️ Why You'll Love This Recipe!
It's super simple! This recipe is simple but has no shortage of flavor! The seasoning and sear make this pork loin absolutely delicious.
Read more: Top 15 pot roast with red wine
It's so easy! Making a pork loin has never been easier! The Instant Pot uses half the time to produce a pork loin that tastes like it's been cooking the oven for hours! You'll be amazed at how tender this pork loin is.
It's versatile! I love the simple, delicious flavor of this recipe, but you can easily adjust the seasonings to make this pork loin taste exactly as you want it!
🥘 Ingredients
This easy pork loin recipe uses just 4 ingredients! These few simple ingredients turn the pork loin into a tender, delicious roast that will please everyone!
Pork Loin
2 tablespoons Olive Oil – I prefer extra virgin olive oil (EVOO) for its taste. It also has a higher smoke point which is great for searing the pork.
4 pound Boneless Pork Loin Roast – I like to use a pork loin because it's lean, yet flavorful. Be sure to use a pork loin roast and not a tenderloin.
½ teaspoon Salt & Pepper – You can add here, according to taste. Add additional seasonings too if you prefer (see variations).
1 cup Chicken Broth – This deglazes the pot and adds moisture to our pork loin as it cooks in the pressure cooker! Use homemade or your favorite store-bought broth here.
Optional Pork Gravy
1 tablespoon Cornstarch – This thickens the gravy. I like to use cornstarch because it makes a smooth, lump-free gravy.
1 tablespoon Cold Water – The water will mix with the cornstarch to make a slurry, which will thicken our gravy without creating lumps!
Try adding a sprinkle of Cajun seasoning, BBQ seasoning, or you can even try adding garlic powder and herbs to the pork loin!
Be sure to see the recipe card below for ingredients, amounts & instructions!
🔪 Step-By-Step Instructions
The Instant Pot makes this pork loin recipe so easy! The pork is perfectly cooked in just over an hour instead of taking hours in the oven!
Pork Loin
Heat Instant Pot. To start the pork loin recipe, heat your Instant Pot using the 'SAUTE' function. Add 2 tablespoons of olive oil to the pan and heat until hot and shimmering.
Sear pork loin. While the Instant Pot heats, pat your 4 pounds of boneless pork loin roast dry. Then, season both sides well with ½ teaspoon each of salt and pepper. Next, place the seasoned pork loin into your heated Instant Pot and sear the first side for 4 minutes, then flip and sear the reverse for an additional 4 minutes.
Finish sear. Using tongs to hold the pork loin upright (on its end), sear both ends for 2 minutes each. Then, remove the seared pork loin and set it aside on a plate.
Deglaze pot. Pour in 1 cup of chicken broth into the Instant Pot. Then, use a wooden spatula to scrape all the browned bits from the bottom (See Tips & Recipe Notes).
Seal Instant Pot & pressure cook. Place the Instant Pot trivet into the broth so that it is upside down, then place the seared pork loin on top. Seal the lid securely, then set the vent to 'SEALING'. Next, set the pressure cooker to 'MANUAL COOK' for 8 minutes and start the heating cycle.
Release pressure. When the 8-minute cooking cycle has been completed, make sure that your Instant Pot is on 'KEEP WARM' during the natural pressure release (NPR) cycle. Allow the Instant Pot to NPR for 30 minutes for a pork loin that is 2 inches thick, or 40 minutes for a pork loin that is 2 ½ inches thick.
Finish pork loin. Once time has elapsed, carefully finish venting the Instant Pot and remove the pork loin. Set it aside, then tent loosely with a square of aluminum foil. Allow the finished pork loin to rest for 10 minutes before slicing and serving. Enjoy!
Easy Pork Gravy
Make slurry. To make your gravy, combine 1 tablespoon of cornstarch with 1 tablespoon of cold water to make the slurry. Set aside and heat your Instant Pot with the 'SAUTE' function until it reaches a low simmer.
Make gravy. Whisk the slurry into the broth and pork juice until smooth. Then, bring the gravy to a low boil and then turn off the Instant Pot. Adjust seasoning to taste and serve with your pork loin.
Read more: How do you tell if a roast is cooked?
Tender, juicy Instant Pot pork loin is a quick and easy dinner that pairs perfectly with my creamy garlic red skin mashed potatoes. Add on a green veggie like my simple roasted brussels sprouts and you've got an amazing, wholesome dinner!
💭 Angela's Tips & Recipe Notes
Make your pork as flavorful as possible by deglazing the pan with the chicken broth! Deglazing the pan after searing releases all the delicious golden-brown bits (also called the fond) into the broth so it's amazingly flavorful without much effort!
Melt a tablespoon of butter into the hot chicken broth and juices to make your optional gravy extra rich, smooth, and creamy!
Your pork loin needs to reach 140°F (60°C) before resting to reach the USDA recommended temperature of 145°F (63°C)at serving.
Opening and re-sealing your Instant Pot to check the temperature of your pork loin will not interfere with the cooking time of your pork if the 'KEEP WARM' is selected during NPR.
🥡 Storing & Reheating
My tender pork loin is great for lunch the next day! Be sure the cooked pork is fully cooled before wrapping it with plastic cling film or placing it into an airtight container. It'll keep in the fridge for up to 4 days for the best quality!
Freezing
You can also freeze leftover pork for quick lunches and dinners on the go! Wrap the pork loin tightly with plastic cling film, then place in a large heavy-duty freezer storage bag.
For the best quality, eat the leftovers within 3 months. When ready to defrost, let it thaw in your fridge overnight.
Reheating Pork Loin
The oven is the best way to evenly reheat the pork loin! Preheat your oven at 325°F (163°C). Put the pork loin in a baking dish and add a splash of chicken broth.
Cover with a sheet of aluminum foil, then place the dish into the oven. Bake for 20 to 25 minutes, or until the internal reheat temp reaches 165°F (73°C).
🐷 More Delicious Pork Recipes!
Crock Pot Pork Chops
Baked Pork Steaks
Air Fryer Shake & Bake Pork Chops
Pork Tenderloin With Mushroom Gravy
Brown Sugar Dijon Crusted Pork
❓ FAQ
Do you love a recipe you tried? Please leave a 5-star 🌟rating in the recipe card below and/or a review in the comments section further down the page. Stay in touch with me through social media @ Pinterest, Facebook, Instagram, or Twitter! Don't forget to tag me when you try one of my recipes!
Read more: 35 Recipes with Leftover Rotisserie Chicken
📋 Recipe
Please see more list about Instant pot recipes with pork roast