My Instant Pot Pot Roast with Carrots and Potatoes is a family-style classic! Rich and flavorful chuck roast cooks to tender perfection in a mouthwatering jus, surrounded by Yukon Gold potatoes and fresh baby carrots.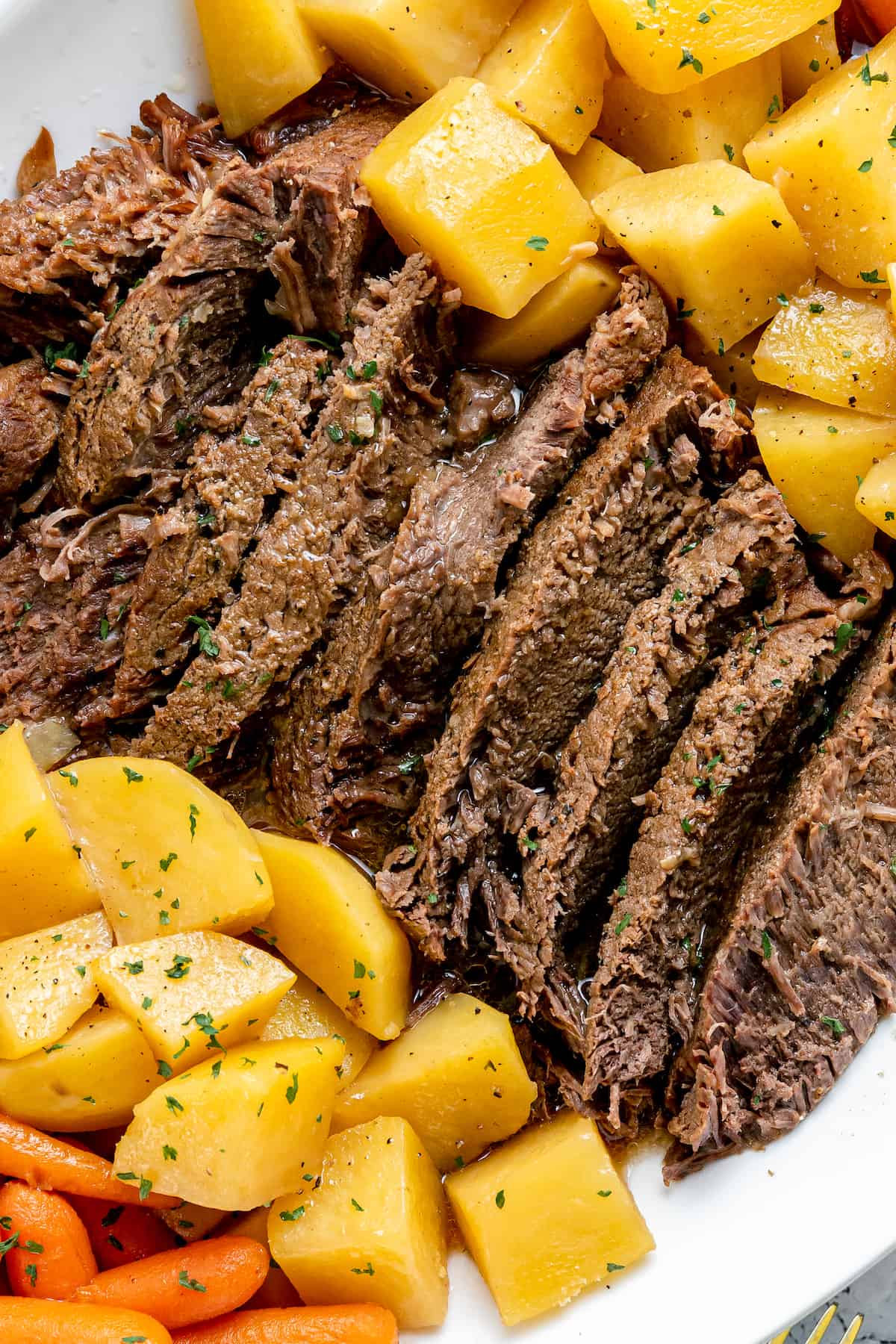 Tender Instant Pot Pot Roast
It might not be super-fancy, but I'm not gonna lie: I adore a good pot roast. I mean, grilling is great, and pan-frying is awesome, but the melting tenderness of a slow-simmered pot roast is such an underrated joy! And, with a lovely jus and perfectly cooked potatoes and carrots, it's a meal everyone will devour.
That's why I love, love, love this easy Instant Pot version of the classic. It allows me to serve a tender and juicy pot roast with all the trimmings, in a fraction of the time it would take in the oven, on the stove, or in the Crock Pot. Using the Instant Pot, I can make this Sunday afternoon slow-cooked roast any day of the week!
Why I Love this Recipe
I love this recipe because it's so simple and wholesome. Just having a basic meat-and-potatoes dinner is a way to say, "I love you," to my busy family! I know it will make the house smell homey and be a comforting, filling dinner that they'll truly enjoy.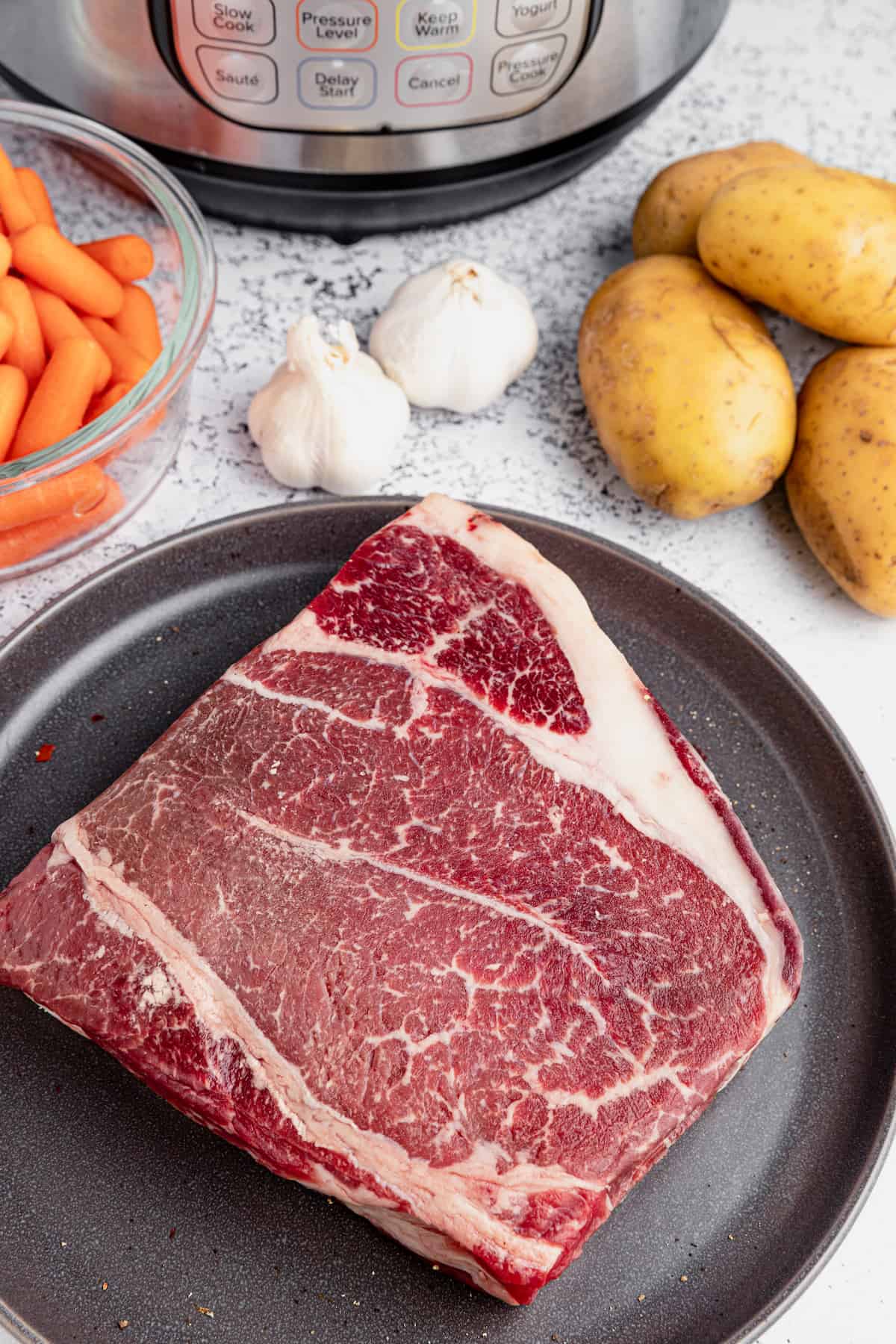 What You'll Need
This classic recipe uses simple seasonings and fresh garlic for a clean, homespun flavor.
Oil: You'll need 1 tablespoon of olive oil for sautéing.
Pot Roast: I use a 3 to 4 pound beef arm roast or chuck roast; don't use a lean roast or it will be tough.
Sea Salt and Pepper: One teaspoon of each.
Onion Powder: This gives a savory, intense onion flavor with ease!
Fresh Garlic: Mince two cloves of fresh garlic.
Beef Broth: You can use store-bought, homemade, or bone broth here; you'll need 3 cups.
Baby Carrots: I like to use pre-washed and cut baby carrots, but you can also peel and cut fresh whole carrots into 2-inch sections.
Potatoes: I use about 5 large Yukon Gold potatoes, peeled and chopped. Feel free to substitute red potatoes, fingerling potatoes, or any other waxy potato.
Parsley Flakes: For garnish.
How to Make Pot Roast in the Instant Pot
The secret to a perfect dish is to cook the meat for a while before adding the veggies. This way, the meat gets nice and tender, but the vegetables don't overcook.
Prep the Veggies and Beef. Peel and chop the potatoes into roughly 1-inch pieces. Peel and mince garlic cloves. Set them aside, and then pat dry the beef roast with paper towels, and place on a clean plate. Season generously with salt, pepper, and onion powder on both sides.
Brown the Beef. Drizzle a tablespoon of olive oil into the bottom of the Instant Pot. Set the Instant Pot to "Saute." Add the garlic to the pot and saute for one minute, stirring continuously so that it doesn't burn. Then place the beef roast in the Instant Pot and brown on all sides. Set the browned beef roast aside on a clean plate, and turn the Instant Pot to "Off."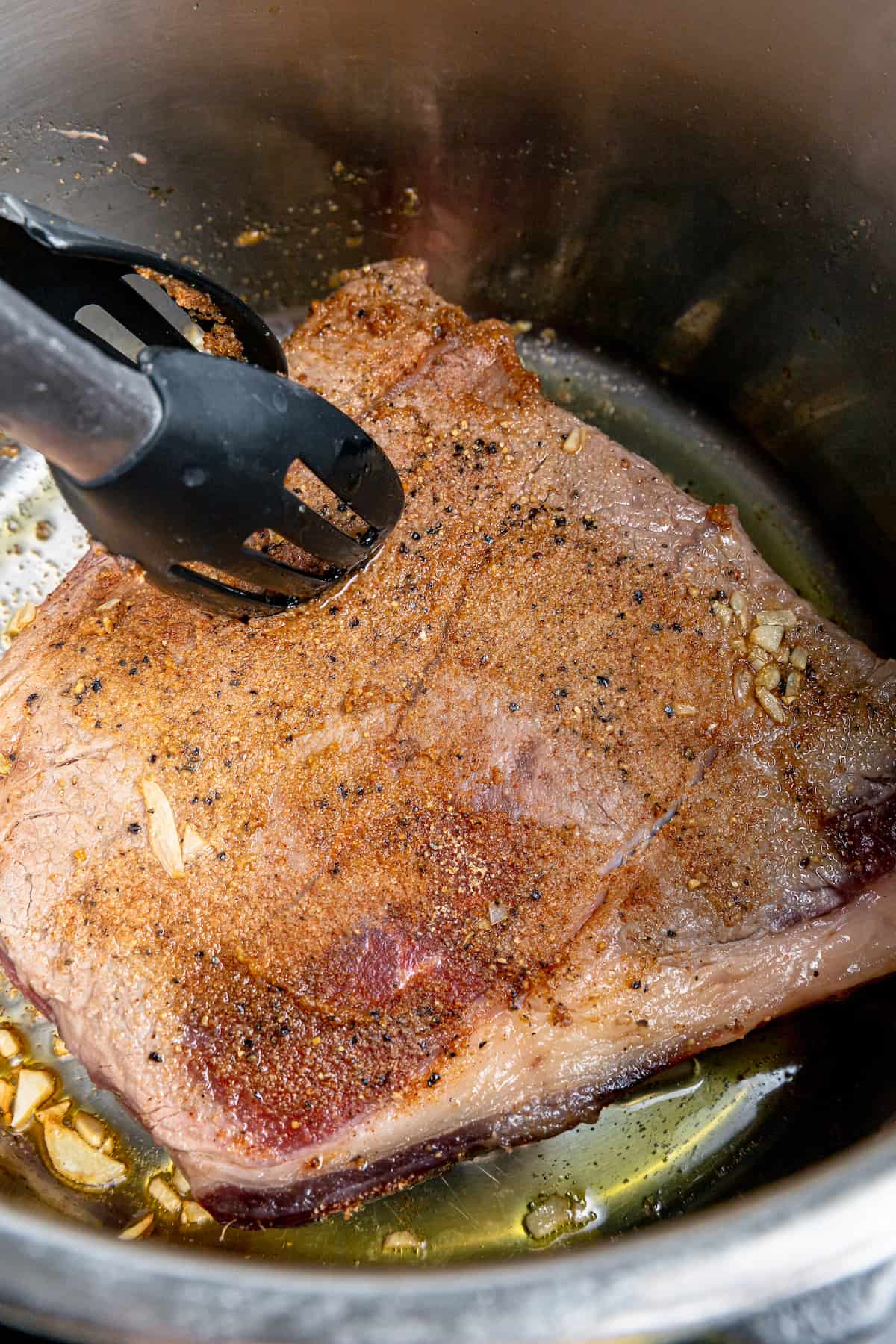 Deglaze and Pressure Cook the Beef. Pour the beef broth into the Instant Pot to deglaze the pan, stirring well and scraping up any browned bits from the bottom of the pot. Place the beef roast back into the Instant Pot, lock and seal the lid, and slide the valve to "sealed." Cook on High Pressure for 40 minutes, and Quick Release the pressure afterward.
Add Veggies and Pressure Cook Again. Remove the lid. Arrange the carrots and potatoes around the roast. Lock and seal the lid and valve once again. Cook on High Pressure for 10 minutes, and then allow the pressure to naturally release for 15 minutes.
Serve and Enjoy! Arrange the roast and vegetables on a serving platter. Gently slice the beef roast and place the au jus into a gravy boat or other serving dish.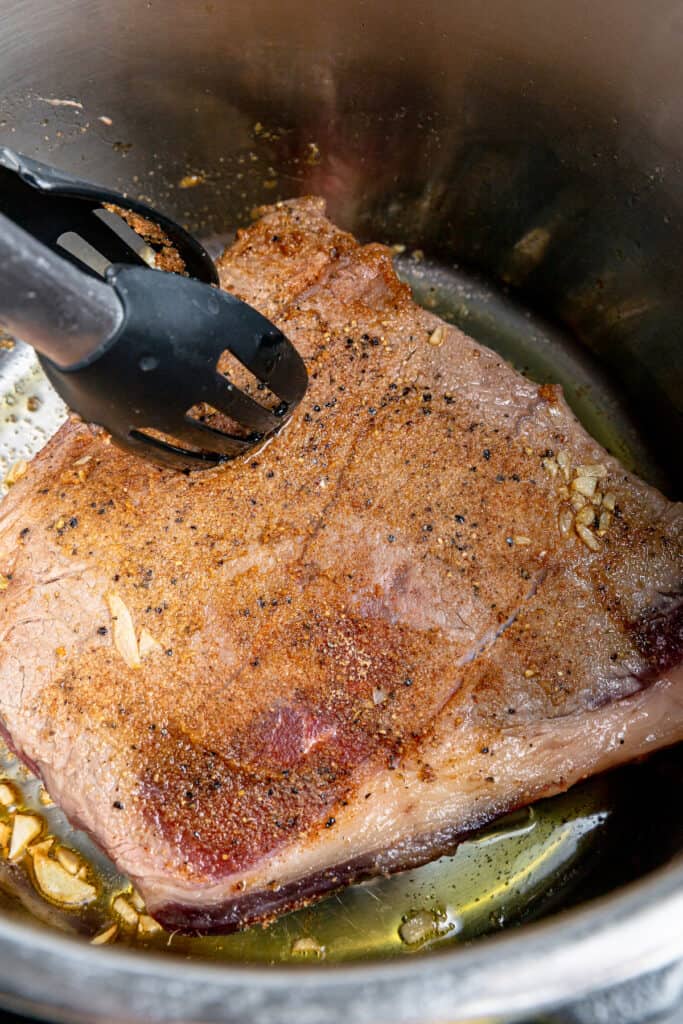 Tips for Success
Making a good pot roast is super easy, and these handy tips can make it even easier. Read on for my best advice in making this dish awesome!
Don't Skip the Browning: While you could make this dish without the browning step, making sure to brown the meat before pressure cooking it is the way to go. Browning the outside seals in juices, adds extra flavor, and gives a prettier presentation!
Cut to Fit: If your roast doesn't quite fit into the Instant spot, feel free to cut it into two or even three large pieces. Brown one piece at a time and then proceed with the recipe.
Optional Add-Ins: You can make this dish your own by adding in some of your own ingredients. From pearl onions to roasted red peppers to a spoonful of tomato sauce, there are lots of great options!
Serving Suggestions
You can serve this savory pot roast dinner as-is, or whip up one of these easy recipes to go with it. Yum!
Biscuits: These Air Fryer Red Lobster Biscuits are so delicious and so easy to make, I guarantee your family will want them at every meal!
Green Beans: Although this recipe is a meal in itself, I sometimes like to add a touch of "green" to the table. These Sautéed Garlic Butter Green Beans are perfect!
Something Peachy: For a note of sweetness, how about a summery Peach Daquiri, or a Peach Dump Cake?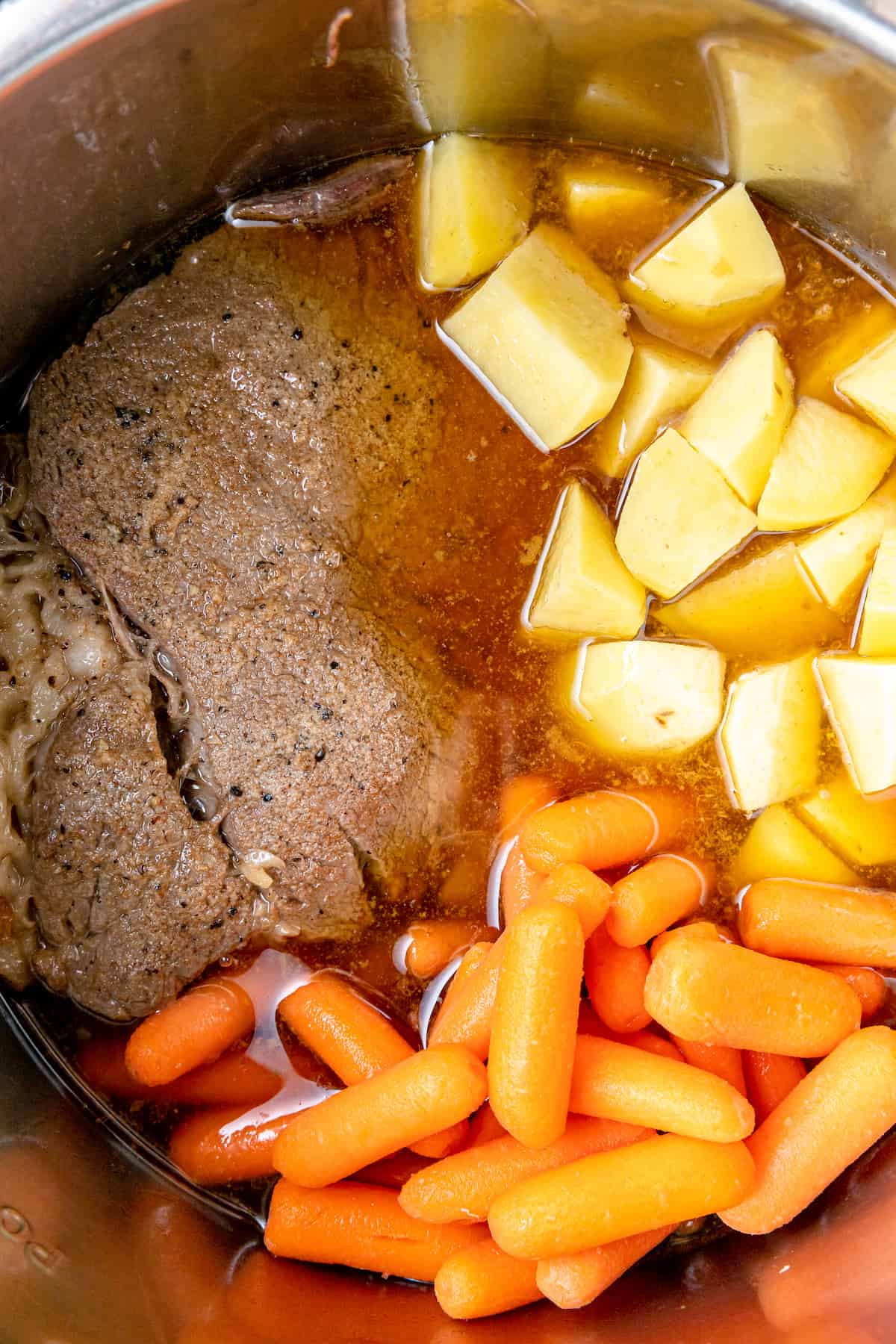 How to Store and Reheat Leftovers
Store any leftovers in the remaining jus, using airtight food storage containers. Keep in the fridge for 3 to 4 days.
To reheat, place the meat, vegetables, and jus in a covered skillet or saucepan over low heat. Allow to heat slowly until the meat and vegetables are hot all the way through. Do not overcook or the meat will dry out.
Can I Freeze Extras?
Yes, you can! Just place leftovers in shallow food storage containers, or even better, into heavy-duty freezer bags so that you can press out most of the air before freezing.
Freeze for up to 2 months and thaw in the fridge overnight before reheating.
More Instant Pot Recipes to Try
Mongolian Beef
Instant Pot Hard Boiled Eggs
Honey Garlic Chicken and Rice
Through this article, we hope to help you understand When to add potatoes to pot roast
Detail: 🔗