This Instant Pot Pot Roast is everything that a tender, hearty, pot roast should be… and more! The beef roast is tender and juicy, the veggies are cooked to perfection (not mushy at all), and the gravy is rich and so delicious. This is sure to be your new go-to Instant Pot Pot Roast Recipe!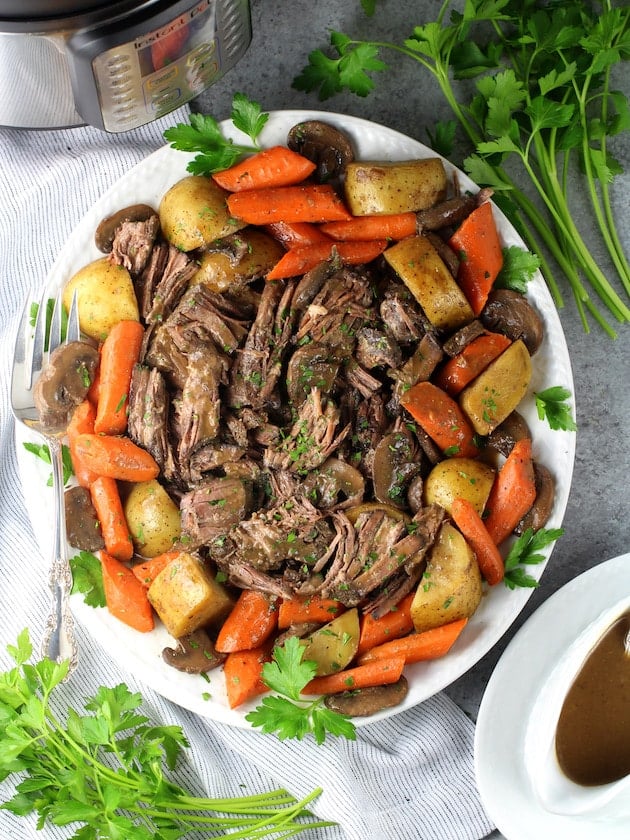 Heyyya my friend! Today is a special day over here at Taste And See! I'm excited to report I've mastered the Instant Pot Pot Roast and it's a great recipe!!
My quest for an Instant pot pot roast recipe:
You may remember back a few months I was sharing my "pot roast fails" with you while introducing this absolutely mouth-watering Instant Pot Beef Thai Red Curry.
I told you how my first shot at a pressure cooker pot roast came out tough and rubbery, mushy veggies? Well, I'm happy to report, after trial and error, my latest Instant Pot recipe win – Instant Pot Pot Roast with Veggies and Gravy!

My new instant pot beef roast:
This instant pot roast is fall-apart tender, full of comforting flavors, and super-easy to make! The carrots and potatoes are perfectly cooked – sans mush. And the gravy is so rich and flavorful. Truly just like mom's recipe but even better because it cooks in a fraction of the time in the Instant Pot – aka Miracle Pot. (Whatcha think?? That's my new name for it.:D)
Overall I'm giving this pressure cooker roast beef a 9.5 on the IP recipe scale. (What can I say? I'm a hard critic and you gotta leave a little room for improvement – right!?)
Since I know you're on the edge of your seat with anticipation over there let me jump right into this pressure cooker roast recipe.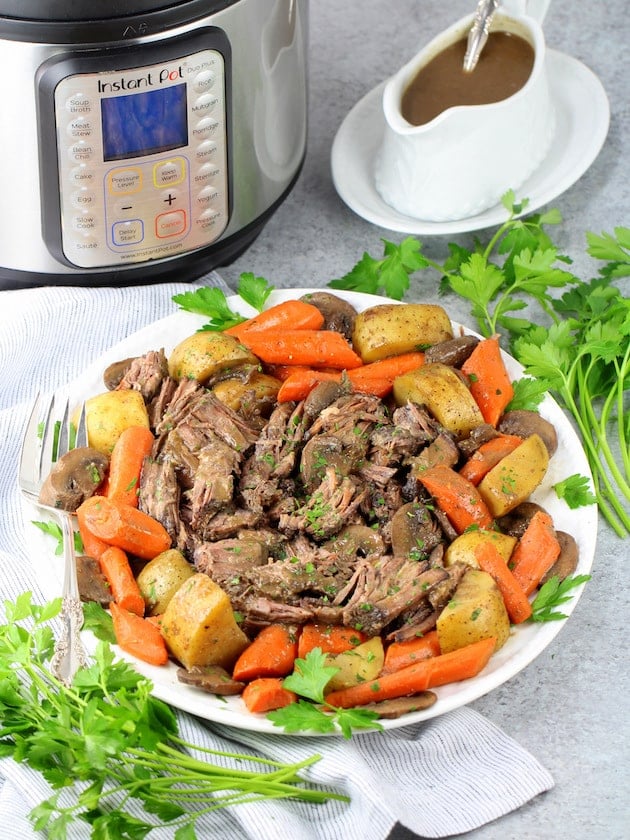 How to make instant pot pot roast:
I used a 3lb beef chuck roast for this recipe. It has some nice marbling but not too much fat. I seasoned the chuck roast with 1 teaspoon salt and pepper.
Next, I started browning the roast on both sides on the (high) saute mode of my DUO 6 quart IP. I like to add the oil, then let the IP get nice and hot, then add my roast. I let it brown for 5 minutes per side, then removed it, put it on a platter, and set it aside.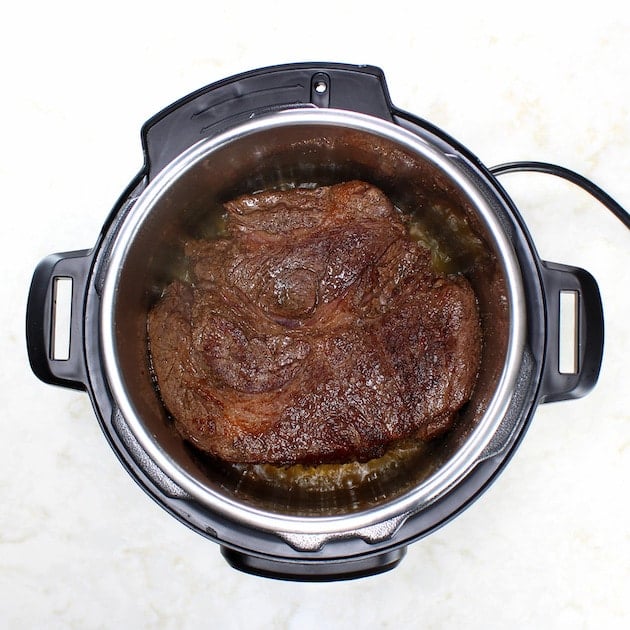 Next, I added the onions and garlic and sauteed them for 3 minutes. I added a few tablespoons of beef stock to the pot to help remove the browned bits off the bottom of the pot.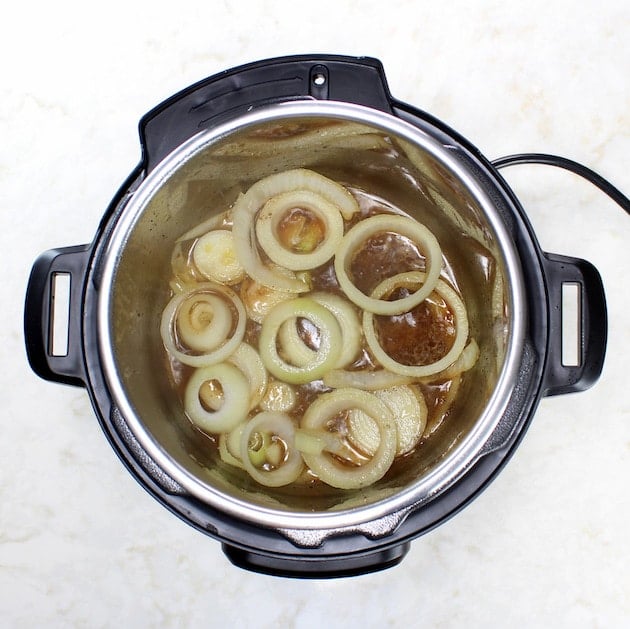 Next, I added the sliced mushrooms and let them saute for about 5 minutes, stirring once or twice.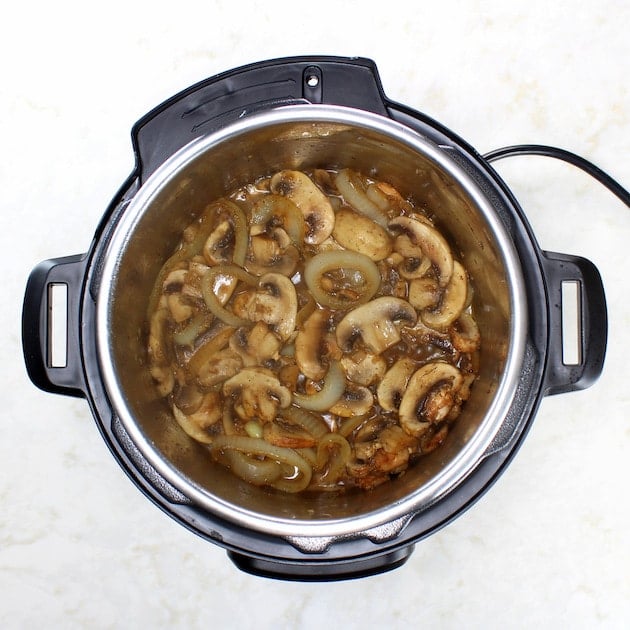 Then, I stirred in the red wine (I used a Cabernet), beef stock, Worcestershire sauce, fresh herbs, salt and pepper, and turned the saute mode off.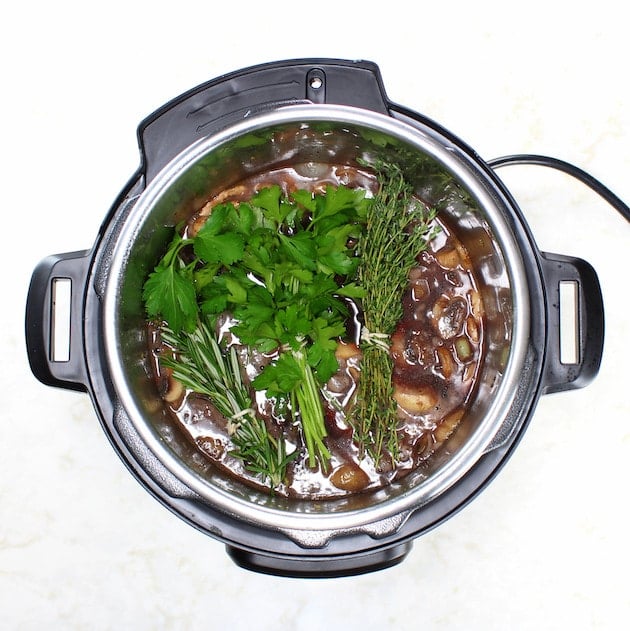 Finally, I added the roast to the pot (it was almost submerged in the liquid), locked the lid in place, and selected the meat/stew setting for 60 minutes (the general rule for pot roast is 20 minutes of pressure cooking for every pound of meat).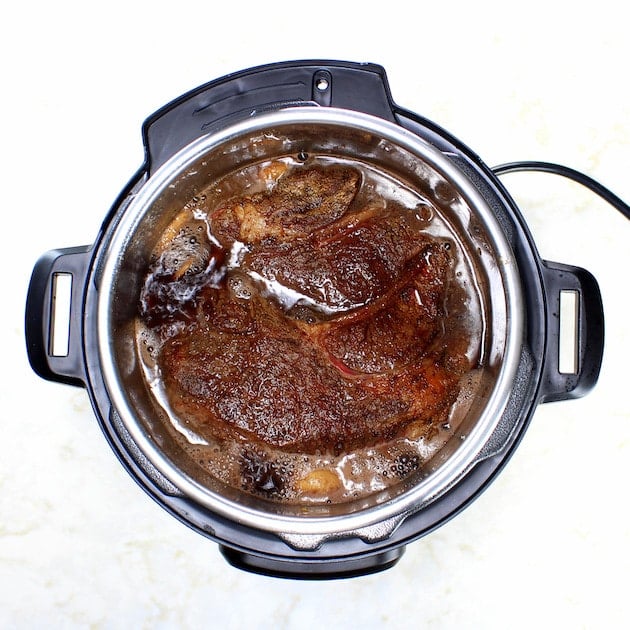 After the pressure cook time completed, I allowed the pressure to natural release for 15 minutes. Then I turned the nozzle to "Venting" to manually release any remaining pressure.
Next, I carefully unlocked and removed the lid, then gently removed the pot roast, setting it aside and covering it with tin foil.
I added the cut up potatoes and carrots to the pot then locked down the lid and pressure cooked them for 4 minutes. (It took about 15-20 minutes for it to come back to pressure.)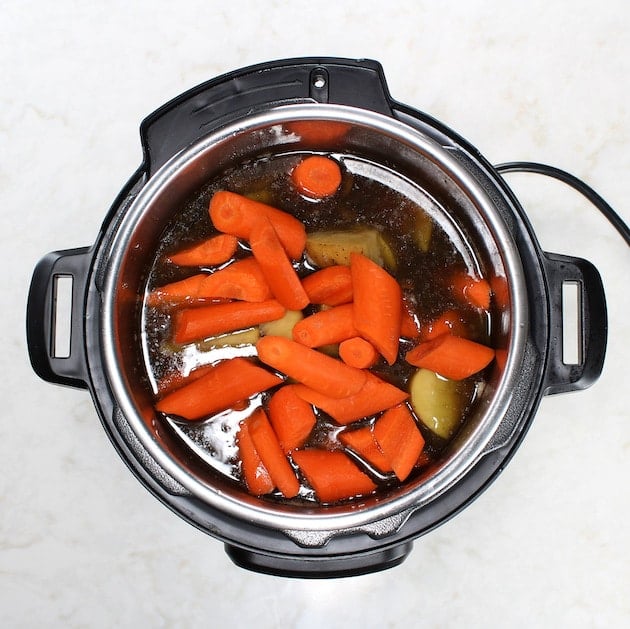 Then I did a quick release and removed the lid.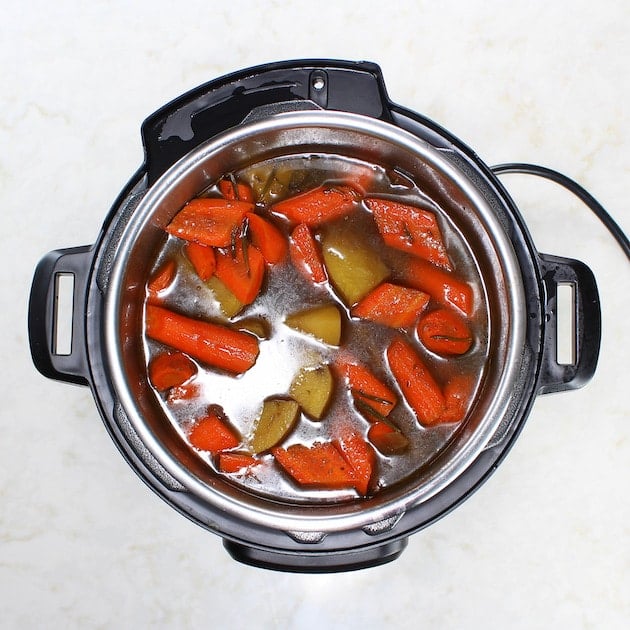 I poured the rest of the liquid and veggies through a strainer and captured all the liquid in a large bowl underneath.
Then I spooned my veggies and mushrooms onto a platter and tented them with foil. I poured the strained liquid back into the Instant Pot, added a mixture of cornstarch and water, and stirred it in. Then I sautéed and reduced it for 10 minutes, adjusted my seasoning and stirred in some half and half to make it a little creamy.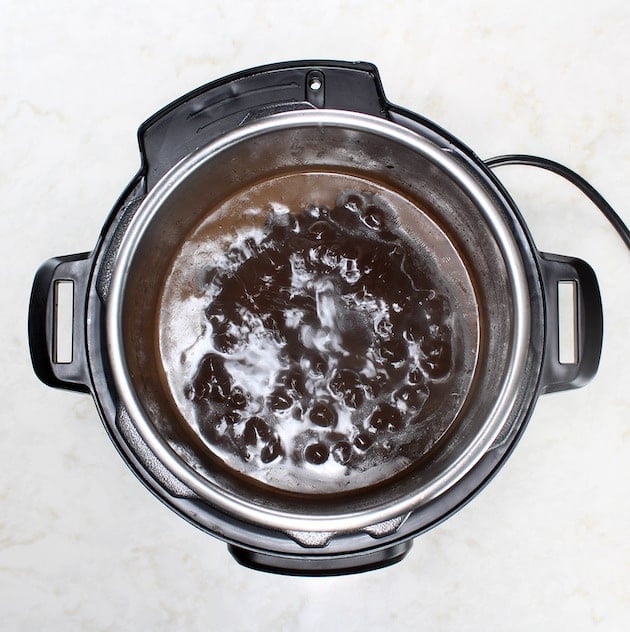 I tasted it and adjusted my seasoning, stirred in some half and half to make it a little creamier… then declared it a delicious masterpiece!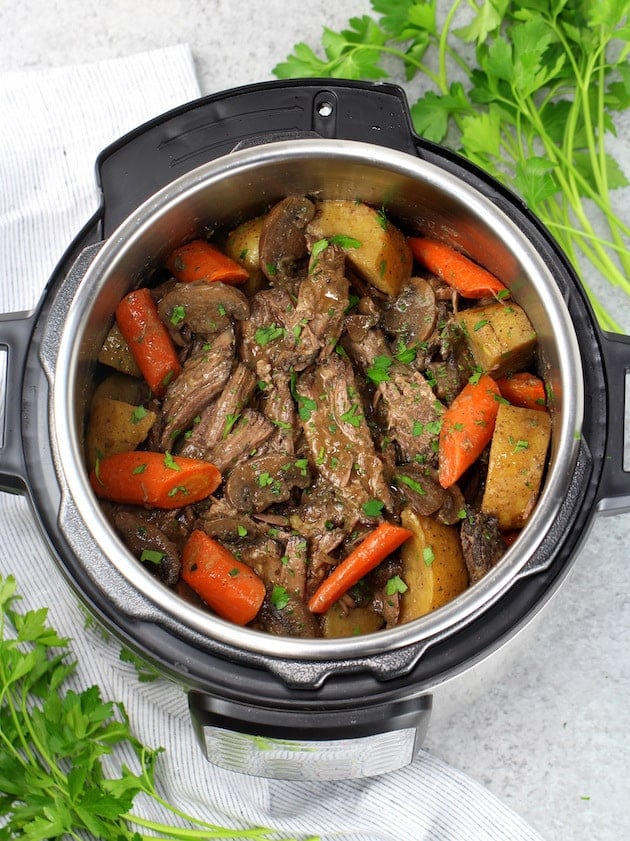 Can you cook beef roast and veggies together in an instant pot?
After many variations and attempts of cooking the roast and veggies together, I decided it just wasn't meant to be. The meat needs a much longer cook time than the veggies and I wasn't willing to eat mushy carrots or a rubbery undercooked roast. So this was the best method I found… it produced tender meat and perfectly cooked carrots and potatoes.
Plus, the veggies had some nice flavor from cooking them in the beef broth. And the gravy took on a hint of sweetness from the carrots.
This Instant Pot Pot Roast is a delicious and comforting meal the whole family will surely love!
Instant Pot Chuck Roast Recipe
MY FAVORITE INSTANT POT RECIPES!
Instant Pot Mexican Chicken Instant Pot Buffalo Chicken Spaghetti Squash Instant Pot Chicken Noodle Soup Instant Pot Chicken Thighs with Risotto
If you're still considering your first instant pot purchase, be sure to check out my latest Instant Pot Review!!
Please see more list about Instant pot roast and vegetables
Detail: 🔗