Instant pot pot roast is a melt-in-your-mouth, tender, savory, and hearty pot roast made in half the time using an instant pot.
Learn how to make a delicious and easy Instant Pot Pot Roast that you can serve to your family or dinner guests – they will all be impressed by this homestyle roast with carrots and potatoes, all topped with a silky homemade gravy.
Reading: Can you cook a pot roast in an instant pot
Try our Low Carb Meatloaf or Chicken Fried Steak recipes if you love homey and homemade comfort food dinners. This Instant Pot Whole Chicken is also simple to make and full of flavor.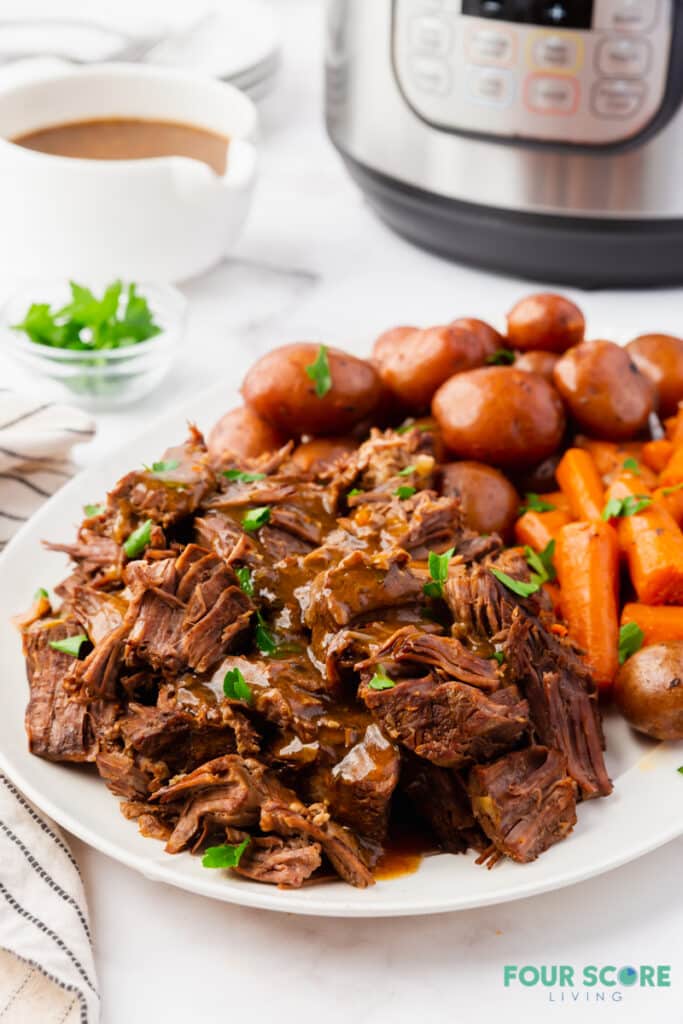 INSTANT POT POT ROAST RECIPE
Making Pot Roast in the Instant Pot is a huge time saver. Instant Pot Roast is ready in half the time that it takes to cook the same meal in the oven. You can even enjoy pot roast on a weeknight if you want to using this recipe. No need to wait for a Saturday or Sunday to make this easy instant pot recipe.
Here's a recipe for Instant Pot Beef Short Ribs that I think you'll enjoy too.
Plus, pressure cooking a chuck roast makes a normally tough cut of meat so tender and extra flavorful. The meat just falls apart after being cooked in the instant pot, and the resulting juices create the most amazing beef gravy.
To make this recipe even better, we are cooking the meat along with the potatoes and carrots, so that everything is cooked at the same time and ready at the same time. You won't find an easier Instant Pot Pot Roast recipe anywhere!
This recipe has a long list of ingredients, but they are all simple ones that you probably already have. Most of them are seasonings that will create the most delicious Instant Pot Pot Roast.
Love using your Instant Pot? Or maybe you are a new Instant Pot User? Try our Instant Pot Salmon Recipe or Instant Pot Keto Cauliflower Soup!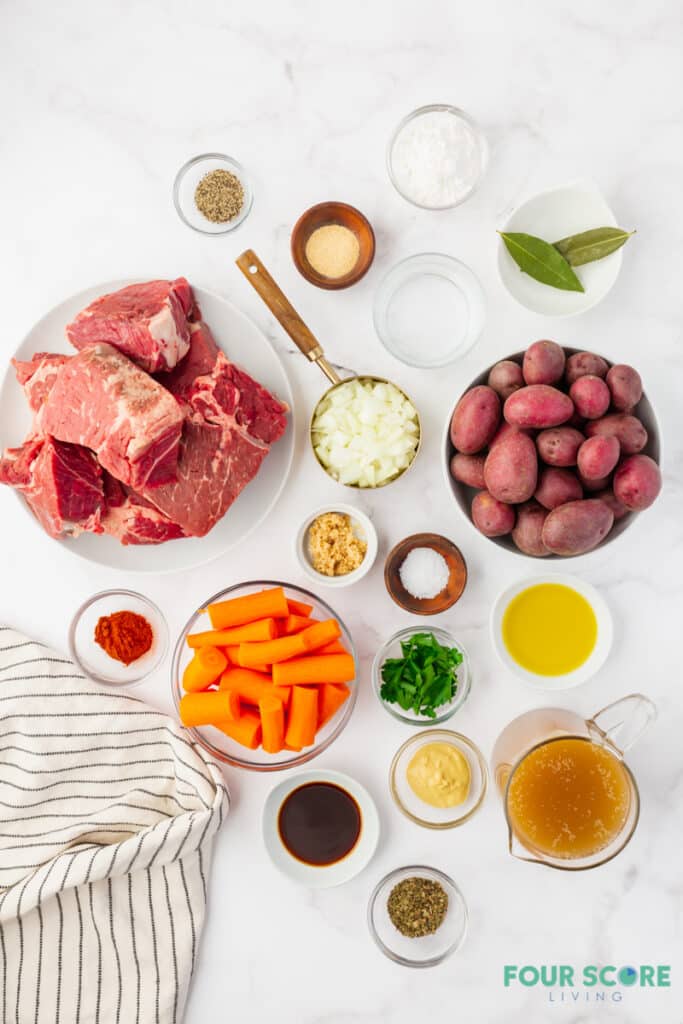 INGREDIENTS IN INSTANT POT POT ROAST
Boneless Beef Chuck Roast – Pick up a roast that is between three and four pounds. Before adding it to the Instant Pot, cut it into smaller chunks, about 6 or 8 of them. This helps the meat to cook quicker and allows you to get more flavor into every bite.
Salt and Pepper – We will season the beef before searing it with these basic seasonings.
Garlic Powder – A bit of garlic powder added to the meat gives warm, delicious flavor.
Olive Oil – This helps us sear the meat and sauté the onions in the instant pot without anything sticking.
Yellow Onion – A cup of diced onion adds so much amazing flavor to the roast. Small pieces disappear into the gravy.
Read more: Lemon Chicken with Croutons Recipe | Ina Garten – Food Network
Garlic – Three fresh cloves of garlic are minced and tossed in with the meat. This adds another layer of homestyle flavor.
Beef Broth – I generally choose low-sodium beef broth for cooking, since I like to add my own salt. You'll use some to de-glaze the pot after searing the meat, and the rest will be added to the instant pot to cook with the roast and vegetables.
Worcestershire Sauce – My secret ingredient whenever I'm cooking beef, Worcestershire somehow makes beef taste beefier. Use the gluten free version if you are gluten free or keto.
Dijon Mustard – This subtle mustard flavor is delicious here.
Italian Seasoning – Dried Italian Seasoning is a great herb blend to keep on hand. It's generally a mix of oregano, basil, thyme, and rosemary.
Paprika – Paprika adds a deep color to the pot roast gravy and a subtle layer of warmth.
Bay Leaves – I add bay leaves to soups, stews, and roasts like this one. Adding a bay leaf makes this taste like it was cooked slowly all day long.
Baby Potatoes – Add 1 ½ pounds of whole baby potatoes to the mix. Wash them well first and trim if needed.
Carrots – Whole carrots, peeled and cut into large chunks will cook along with the beef and potatoes. Don't cut them too small or they will overcook.
Cold Water and Cornstarch – To create a silky pot roast gravy, make a slurry from cornstarch and water. You can also use tapioca starch or arrowroot powder if you prefer.
Fresh Parsley – This bright green herb makes a beautiful garnish when plating the Instant Pot Pot Roast.
If you have any questions about this instant pot pot roast recipe, please leave a comment below and I will get back to you.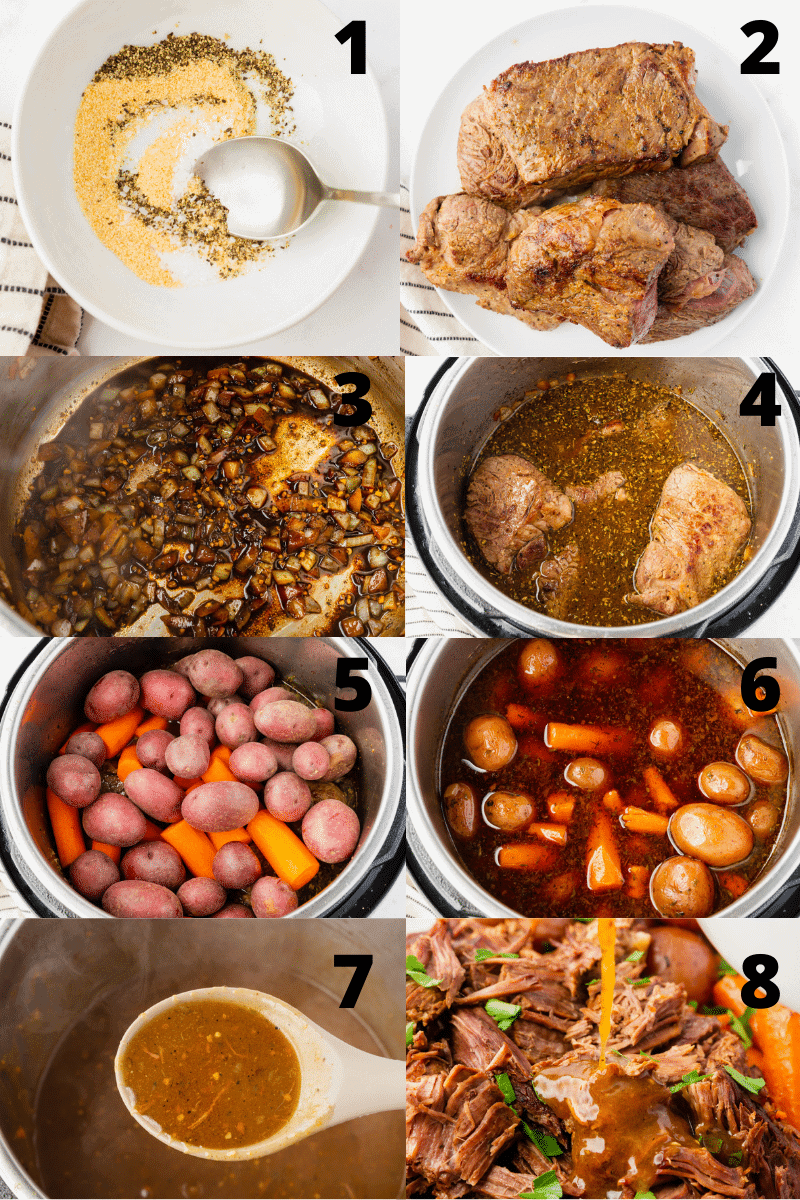 HOW TO MAKE INSTANT POT POT ROAST
Create a seasoning blend for the meat by adding salt, garlic powder, and black pepper to a bowl and mixing to combine. Then use the mixture to season the beef chuck roast pieces.
Set the instant pot to SAUTÉ. Once the display reads "HOT", add one tablespoon of olive oil. Then sear the beef pieces for 3-4 minutes on each side, working in batches if need be. Once seared, transfer the meat to a clean plate.
Add the additional tablespoon of olive oil to the pot. Add the onions and saute for 1-2 minutes. Add ½ cup of beef broth to the pot and stir. Scrape up any brown bits from the bottom of the pot. Let the onions cook in the broth for 2-2 minutes, until translucent, then add the garlic. Cook for an additional minute, stirring often.
Press "CANCEL" to turn the instant pot off the SAUTÉ setting. Then add the beef roast pieces back into the Instant Pot.
Place the carrot chunks and baby potatoes on top of the roast. Do not stir. You want the carrots on top of the roast so that they do not get mushy during the cooking process.
To pressure cook the pot roast, place the lid on the instant pot and seal the vent. Set the instant pot to MANUAL. Select HIGH and set the time to 60 minutes. The instant pot will take some time to build pressure and then will start counting down the time once pressure is built. Once done, let the instant pot naturally release for 10 minutes. Then, carefully turn the vent to the "venting" position to manually let it release pressure. Once no more steam remains and the steam valve has dropped, you can remove the lid. Do not remove the lid until that happens.
Remove the potatoes, carrots, and beef from the pot. Shred the beef and add it to a platter along with the vegetables. Then make a gravy from the broth in the bot. Set the instant pot to SAUTÉ on the REGULAR setting. In a small bowl, whisk together the corn starch and cold water until smooth. Pour the cornstarch slurry into the pot. Let simmer, whisking until the gravy thickens.
Pour the gravy over the Instant Pot pot roast and garnish with fresh parsley.
These numbered steps match the numbered photos above and are for illustration purposes. For the complete list of ingredients and instructions, please see the recipe below.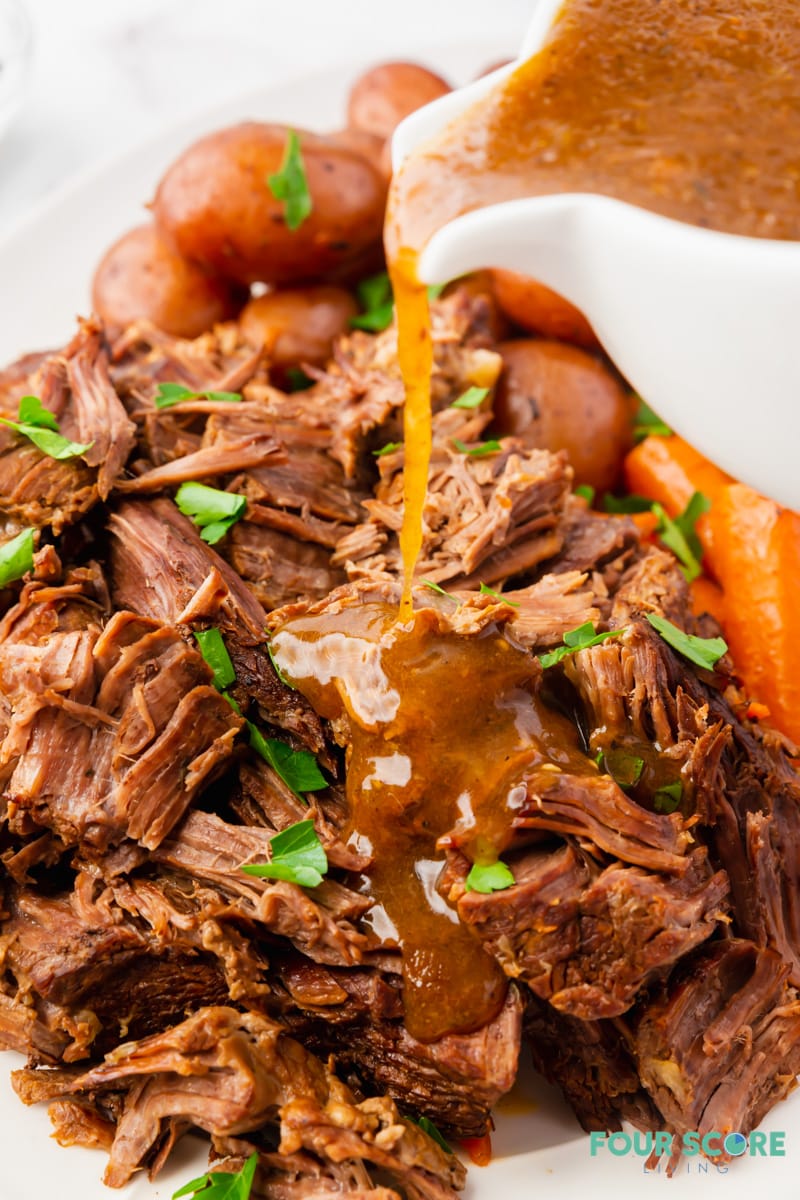 HOW LONG TO COOK ROAST IN INSTANT POT
Using this recipe, it takes 60 minutes at high pressure to cook a 3-pound pot roast in an Instant Pot. Add to that the time that the pot takes to come to pressure (this depends, but could be around 20 minutes) and the time needed to release the pressure, and you'll need approximately 90 minutes to make a roast in the instant pot.
Read more: Roast Pumpkin Spinach Feta Salad
In the oven, a pot roast cooked low and slow takes from 3-4 hours, and a slow cooker pot roast takes at least 5 hours. Using the Instant Pot to make pot roast is so much quicker!
If your roast is larger than 3 pounds, you should cook it at high pressure for 20 minutes per pound.
MORE RECIPE TIPS
Be careful not to burn the garlic! In this recipe, we add liquid to the pot before adding the minced garlic, since direct heat on garlic can cause it to burn. Burnt garlic is not tasty with pot roast.
Leave the carrots on top. When making Instant Pot Pot Roast, keep the meat on the bottom under the liquid, and the potatoes and carrots on top. This keeps the vegetables from overcooking under pressure.
Consider mashed potatoes. If you would like, you can remove the potatoes from the pot and mash them with some butter and milk. You'll have beautifully flavored pot roast mashed potatoes to go with your gravy!
Try another roast. Chuck roast is an inexpensive cut and cooks beautifully in this Instant Pot Pot Roast recipe, but other cuts of beef roast can be used as well. Try this with a rib roast, top sirloin roast, or tri-tip roast.
Try other root vegetables. Instead of carrots, try parsnips!
Store leftover pot roast in an airtight container in the refrigerator for up to 4 days.
IS POT ROAST LOW CARB?
On it's own, pot roast is a low carb meal, since it's just a slow cooked beef roast. This recipe includes potatoes and a thick and silky gravy, which makes the recipe a bit high in carbs due to the starch needed to thicken it.
If you'd like to reduce the amount of carbs in this Instant Pot Pot Roast, you should not include the potatoes. You can also either skip the gravy, use keto gravy, or enjoy the broth without thickening it, like an au jus.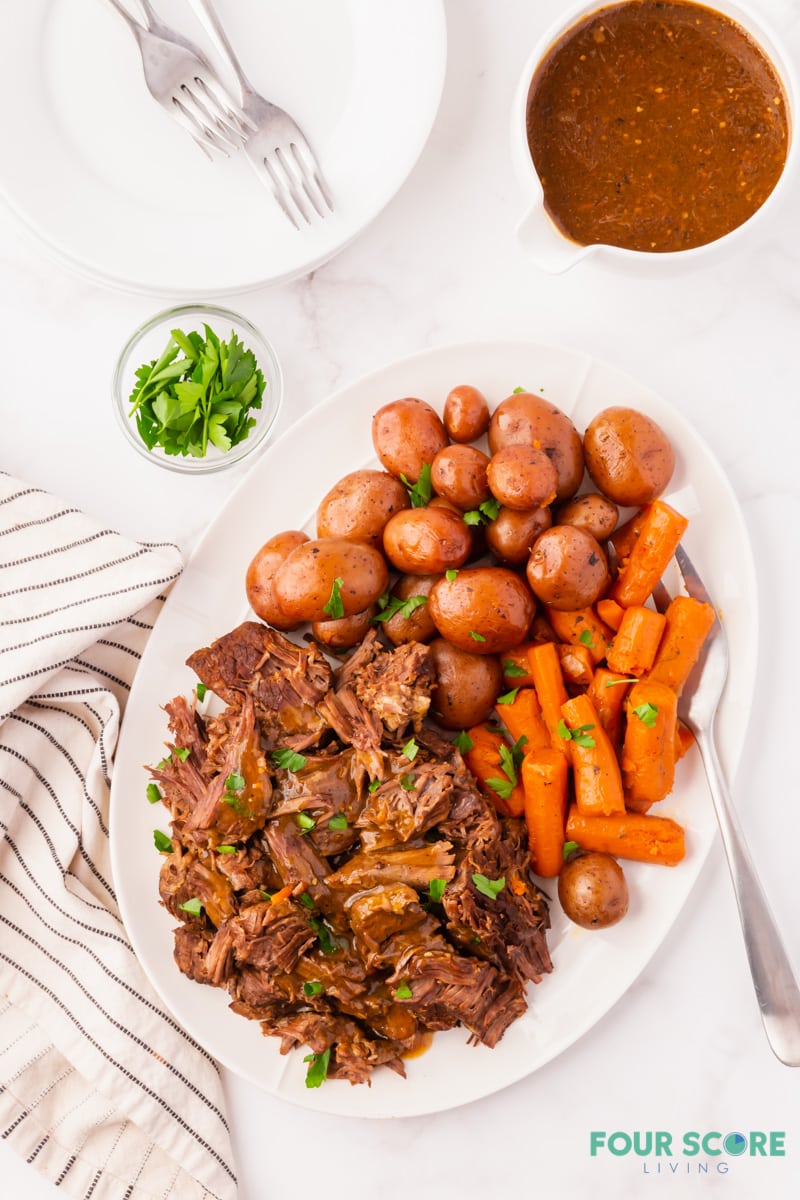 WHAT DOES IT MEAN TO NATURALLY RELEASE THE INSTANT POT?
After pressure cooking in an Instant Pot, the pressure has to be released from the machine before you can safely open the lid. Some recipes call for "quick release" which means that you manually open the valve and let all the pressure out at once. Here we'll let the roast manually release, which means that we just let it sit, undisturbed for 10 minutes.
Natural release lets the pressure slowly dissipate from the Instant Pot.
WHAT TO SERVE WITH INSTANT POT POT ROAST
The great thing about this recipe for pot roast is that it already includes all of the makings of a full meal. Meat, potatoes, and carrots can be enough!
I like to serve pot roast with bread or rolls to sop up any leftover gravy. Your oven will be free, so you can bake Keto Rolls or these delicious Keto Cheddar Biscuits.
Did you make this Instant Pot Pot Roast? Please leave a comment below letting me know what you thought.
Read more: Slow Cooker Balsamic Roast Beef
Please see more list about Can you cook a pot roast in an instant pot
Source: https://www.fourscoreliving.com/instant-pot-pot-roast/