Pressure cooker chicken and rice casserole recipe made in our Instant Pot, Crockpot Express or Ninja Foodi is the best creamy dinner ever! Family favorite and so easy to do.
I love cooking everything together at once. Makes it easier on days when I am just spent and allows us to eat together more often which I appreciate as a mom, a total win win.
Adding vegetables to this chicken recipe gives it great flavor, texture, and the more I include them in our dinners the more my kids like them. Of course you can omit if you wish. 😉
Seasoned with just some salt and black pepper, it's so easy to throw together. I use frozen vegetables to make things easier.
Now I generally use boneless skinless chicken breasts diced into bite size pieces. It's the best way for this version, or our Instant Pot teriyaki chicken and rice dish.
If I find chicken thighs on sale I would use those instead. I find that thighs have more flavor and are more tender than the latter.
I get lazy though and if bone-in is all I can find I will opt for whatever is boneless and a decent price.
As far as rice, I like Jasmine personally. It has a better texture than just the cheaper long grain version and less expensive than Basmati.
If you are totally opposed to adding vegetables, just leave those out. Only like frozen peas? Just add those and omit the others.
Cheese is a really great add in but of course if you need it to be dairy free, then leave that out too.
Campbell's chicken and rice
If you have ever make this, the one you see here is very similar. BUT this is cooked in my Instant Pot so timing and a few more ingredients were added to it.
I ate something similar A LOT growing up with everything just dumped in a pot on the stove top. I really loved it and was made often because it was cheap. Pretty healthy Instant Pot dinner recipe too.
It has everything in a comfort food you'll want including a bunch of mixed vegetables that cook in no time.
Add any other spices you enjoy, I add just a few myself. If you want to use fresh green beans and baby bellas follow the directions here for our Instant Pot chicken mushroom casserole.
The first step is to add your meat and set to saute. All multi cookers have the function except some are labeled brown/saute instead. It is important that your meat is diced into bite size pieces so it cooks evenly and remains tender.
If you don't have one of these multi cookers and are a busy mom I would HIGHLY recommend it.
It's a pressure cooker with 6 other functions so you can replace a lot of your other kitchen appliances too. I have a Crock Pot Express and Ninja Foodi. I use all three to make this.
I've made lots of other dishes in my Instant Pot because it makes dinner time quick and easy.
Do yourself a favor and just use fresh diced boneless skinless breasts or chicken thighs to make this pressure cooker chicken and rice recipe.
Instant Pot chicken rice
Mine came out really well but several people had issues with them not cooking through. Or their pot did not reach pressure so I have revised this recipe.
Now the recipe reads with the chicken cut up into cubes so there shouldn't be any issues any longer! A problem you may experience if you don't follow the directions EXACTLY as they're stated below is with the rice.
Making Instant Pot white rice is the exception to this rule since there are no other ingredients other than water.
At first I was intimidated because I had never used one before. Now that I've tinkered with it I use it every day and share new pressure cooker recipes each week. They are all yummy and super simple to do like this one.
Pressure Cooker Chicken and Rice
Cup of rice (not instant white rice, we like Jasmine rice)
Chicken breasts

could use chicken thighs
if you want to use pork, follow our pressure cooker pork and rice recipe
using precooked shredded chicken is possible too, just skip step 1 since it's already cooked

Frozen mixed vegetables
Cream of chicken soup

cream of mushroom could be used instead
Chicken broth – can use water but broth is so much better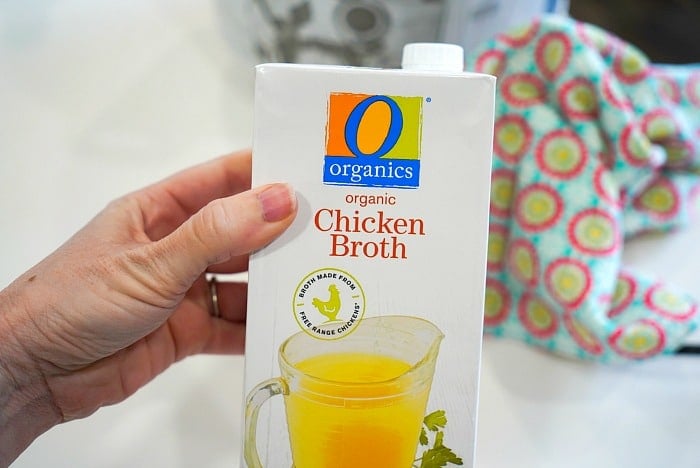 1 – 1/2 cup Cheese (optional but so good, we like sharp cheddar).
Season the chicken with salt and pepper
Onion
Olive oil
Instant Pot or pressure cooker – I have a 6 qt.

I HIGHLY suggest you get a non stick pot too!
Variations of this Instant Pot chicken and rice recipe
I have used rotisserie chicken vs. raw chicken – just use 2 breasts and dice the chicken up, then skip the first step where the chicken is browned, just put it into the bottom of the pot
You can amp it up with a bit of spice and veggies with Instant Pot Mexican chicken and rice.
Added vegetables and share it in our Instant Pot chicken broccoli rice recipe.
Just naturally release steam for 3 minutes, lift the lid, and the cooked rice is so tender! Chicken is always tender, flavorful, and who doesn't love a one pot meal??
I haven't made it with brown rice yet but others have, comments for that method are below.
I modified the recipe I found here but adjusted some ingredients and the time as well for it to come out moist and ensuring the rice was done perfectly.
If you love this easy dinner idea try our other easy Instant Pot chicken recipes here are a few
Cheesy Instant Pot chicken parmesan casserole is a family favorite
Spicy honey Instant Pot chicken is a popular dinner idea
Pressure cooker frozen whole chicken
Instant Pot white rice goes great with our Instant Pot spicy teriyaki chicken on top
Want to make this in your Ninja Foodi too? Of course we've done that. Just follow this Ninja Foodi chicken casserole recipe for that pot.
If you want to make this using noodles instead of rice follow our pressure cooker chicken noodle casserole directions.
Ready to make our cream of mushroom chicken and rice dish? Yes you can throw in quartered fresh mushrooms too!
I suggest using baby bellas vs. button so they don't get so soft. Bellas will keep their shape and maintain their texture better.
Just make sure you throw them in at the very top and don't submerge them.
So once you sprinkle in your rice and gently submerge, then set mushrooms on top of that.
Want to make crockpot chicken and rice?? We have directions for a creamy Crockpot chicken method too!
Instant Pot chicken and rice
Here's a quick step by step but I also have a printable recipe card at the bottom of this post.
Add cheese now and stir so it melts (optional add in but it's good). Serve topped with more cheese for added yumminess!! If you want to use noodles instead, try our Instant Pot chicken and pasta recipe instead.
If you want to make this with a sausage link, try our Instant Pot sausage and rice recipe! Print the recipe below and enjoy!
For more information, please see more information about Pressure cooker xl chicken stew recipe
Detail: 🔗