Instant Pot Simple Pot Roast is a delicious tender pot roast, and the results are excellent! A tender, juicy Instant Pot pot roast with gravy, potatoes and carrots. This pressure cooker pot roast is the perfect meal for meat and potatoes loving folks! This is how to cook a chuck roast in the Instant Pot.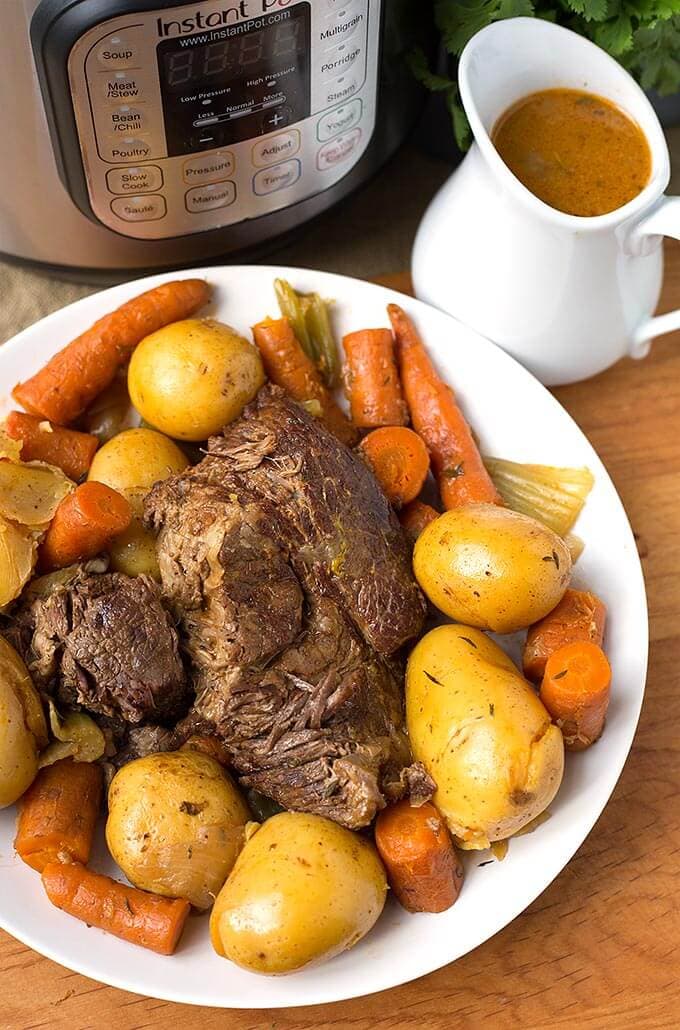 The flavors of this Instant Pot chuck roast are so delicious, and the gravy is amazing!Originally published on 10/1/17
Instant Pot Simple Pot Roast
The Pot Roast is the quintessential American family meal. A budget friendly dinner recipe that is so delicious.
This is how to cook an economical piece of meat to a point where it is tender and flavorful. Most importantly, it can feed the whole family!
Paired with root vegetables like onions, carrots and potatoes, this meal has become a staple in millions of American homes. Now the Instant Pot beef roast is our go-to!
What is The Best Cut of Meat for a Pot Roast?
Any of these cuts of beef will work. It just depends on your preference, or what you have on-hand.
For a classic pot roast, a chuck roast is the most common because of how tender and flavorful they are. Chuck roasts are fall-apart tender when cooked as a pot roast.
You could also use a brisket, a fattier cut that has a lot of connective tissue that gets very tender when cooked down. Briskets will be sliceable for easy serving.
Round: A bottom round or top round roast is a lean and sliceable cut. It makes a decent pot roast, but is not fall-apart tender.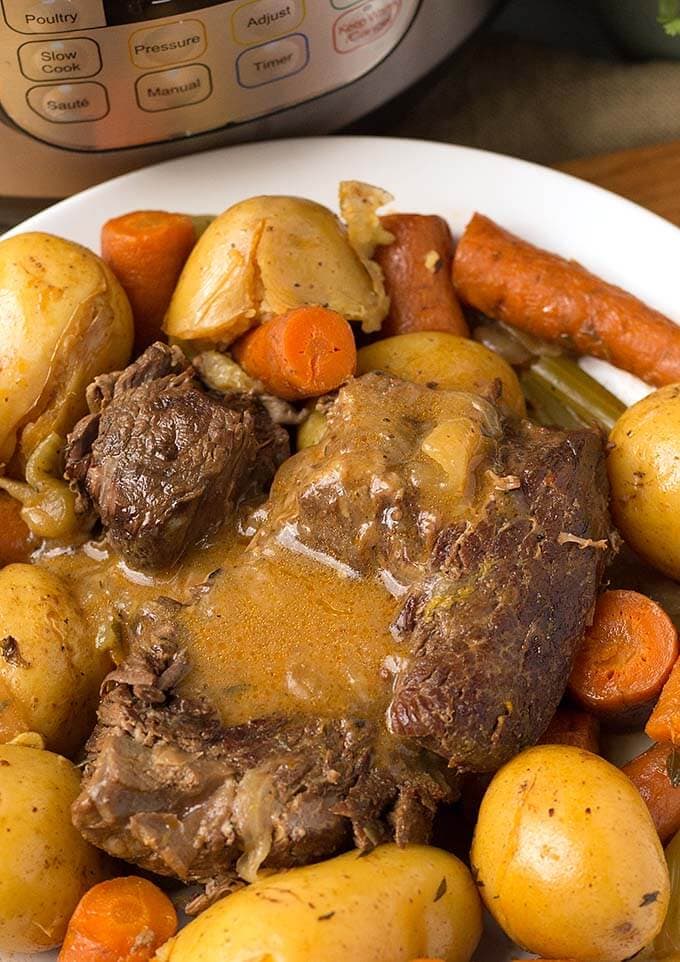 Can I Use a Frozen Beef Roast for This Recipe?
Yes you can! Just rub a little oil on it so the seasonings stick (rub them on the roast), and put it in the pot on top of the onions. Add about 10-30 minutes extra cook time, depending on how large it is. **I still prefer to thaw the roast as much as possible before pressure cooking for the best results**
Can I Cook The Veggies With the Pot Roast?
Yes, you can cook the vegetables along with the pot roast. The trick is cutting the veggies larger, they will be nice and soft, but won't disappear!
You can also use a 2-step process where you cook the pot roast until there is about 8 minutes cook time left. Then depressurize the pot and add the veggies, then pressurize the pot and cook about 5-8 minutes so the veggies don't get too soft. That is a great option for those of you who prefer firmer carrots and potatoes. It just takes a little longer.
Can I Make Gravy With This Pot Roast?
Yes you can! The drippings make the BEST gravy, and it would be a shame to miss out on it! I included the instructions for making gravy in the recipe card below.
What if My Pot Roast is Still Tough After Cooking?
If the meat is still tough after cooking your pot roast, it just needs to cook longer. Chuck Roasts and Briskets especially need time for the connective tissues in the beef to break down. That is what makes the roast tender!
How to Avoid a Dry Pot Roast
• Please don't do a Quick Release of the pressure after the cook time is finished. The meat needs that 10-20 minutes of Natural Release time to rest, and the contents of the pot need to come down in temperature. • If you Quick Release, the intensity of the venting can pull the moisture from the roast before the juices can redistribute into the meat fibers and can produce a dry roast!
Instant Pot Mississippi Pot RoastInstant Pot Barbecue BeefInstant Pot French Dip SandwichesInstant Pot Turkey Breast
Sunday Pot Roasts used to be cooked in the oven low and slow all day long. Now you can have a tender, flavorful pot roast in less that 2 hours!
This pressure cooker Pot Roast recipe isn't fancy, but it cooks up tender, juicy, and so very delicious.
If you make this easy pressure cooker Pot Roast recipe, please let me know! Just leave a comment below with a star rating. I'd love to know how you liked it!
RESOURCES TO MAKE This Recipe and More
We are a participant in the Amazon Services LLC Associates Program, an affiliate advertising program designed to provide a means for us to earn fees by linking to Amazon.com and affiliated sites.
For more information please see the list of Instant pot roast and vegetables
Detail: 🔗