An Italian Caprese Salad is simplicity at its best: juicy tomatoes, creamy and fresh Mozzarella slices, and sweet basil leaves. Top it all off with olive oil, a drizzle of balsamic vinegar, and a sprinkle of salt and pepper for a delicious side salad or even meal, depending on what you're after. This sweet, simple salad is incredible any time of year, but is especially yummy with ripe, juicy tomatoes that are in season.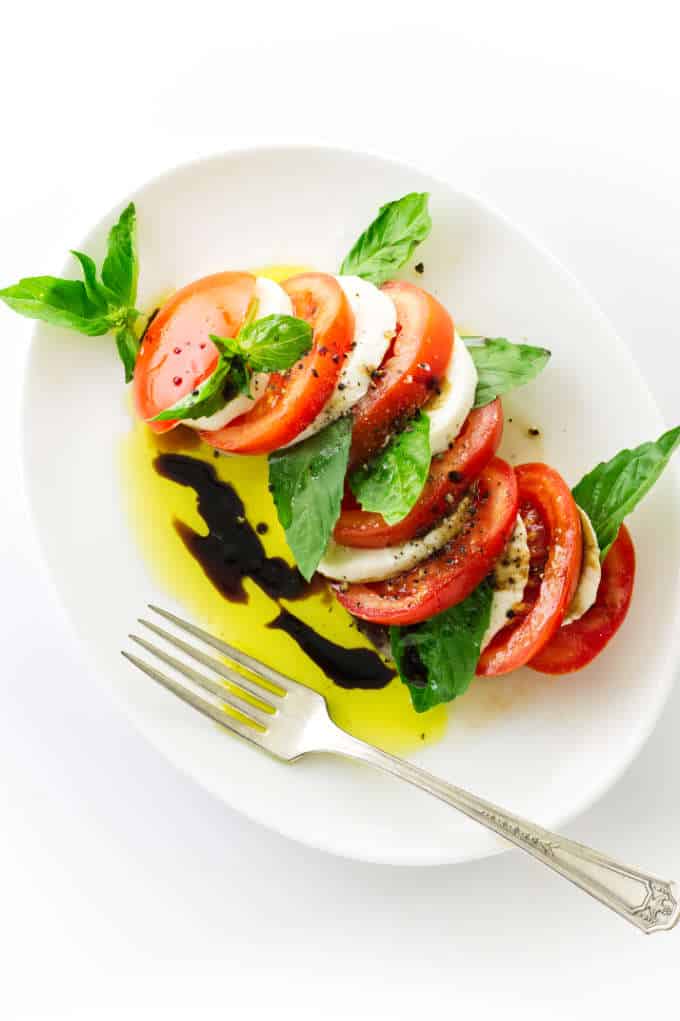 There's so much to love about an Italian Caprese salad! It comes together so quickly (a whopping five minutes!), and the flavors are unbeatable! You can use any type of tomato for this recipe, but just know that the more ripe they are, the tastier the salad will be.
how to make Italian Caprese salad
I enjoy an Italian Caprese salad as a starter to a main course meal, or as a main course on its own (especially good with some crusty sourdough bread). It's a no-fuss recipe you can easily make after a long day out in the sun- you know, those lazy, summer afternoons when you just can't seem to muster up the energy to start dinner? Enter this delightful and easy salad. 😉
One of the things we love about an Italian Caprese salad is that you really can't go wrong! As long as you have all of the right ingredients, the flavors of the tomato, basil, and mozzarella will shine!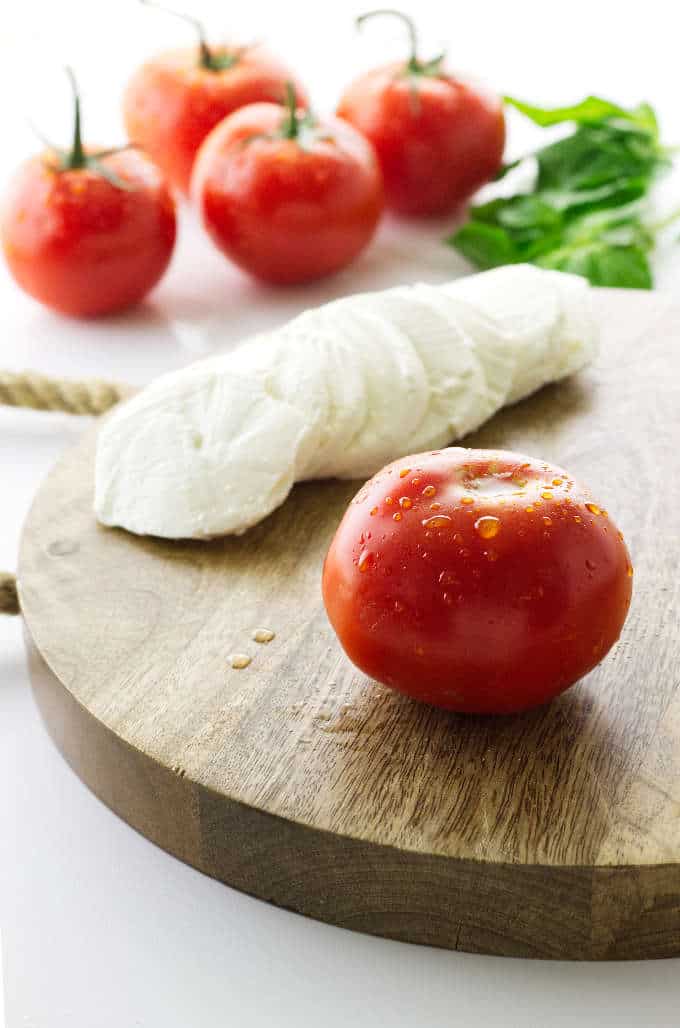 You might also like this roasted beet salad with fried goat cheese disks.
Here's what you need to make an Italian Caprese salad:
ripe tomatoes
fresh Mozzarella cheese
fresh basil
olive oil (one of our favorites is Cobram Estates)
balsamic vinegar
salt and pepper
To assemble the Italian Caprese salad, you'll just need two simple steps (check out our recipe at the bottom of the page for all the details!):
Arrange the cheese and tomatoes. Slice the tomatoes and Mozzarella cheese into 1/4-inch slices and arrange them on two chilled salad plates. Tuck the basil leaves between the tomatoes and cheese.
Drizzle the oil and balsamic. Drizzle the olive oil and balsamic vinegar over the top of the salad, sprinkle it with salt and pepper, and serve!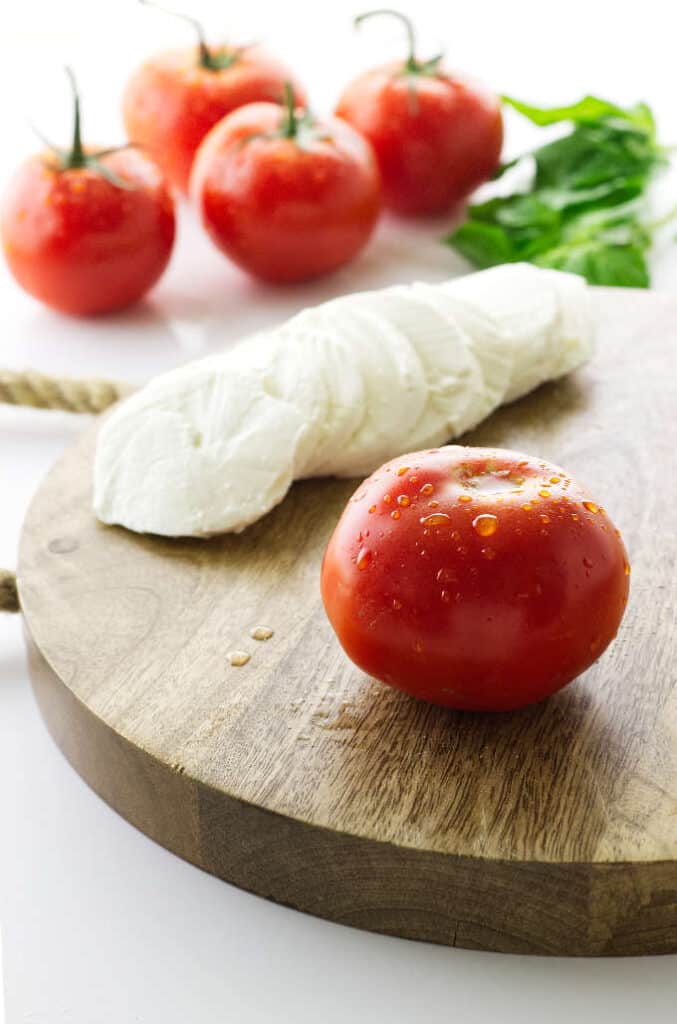 pro tips for caprese salad
For the BEST Italian Caprese salad, follow these tips:
Use fresh tomatoes that are about the same diameter as the cheese ball.
You can choose to use red wine vinegar (the traditional choice) or balsamic vinegar (or balsamic glaze).
You can prepare this salad in advance, just cover each salad plate and refrigerate. Add the oil and vinegar when you're ready to serve the salads.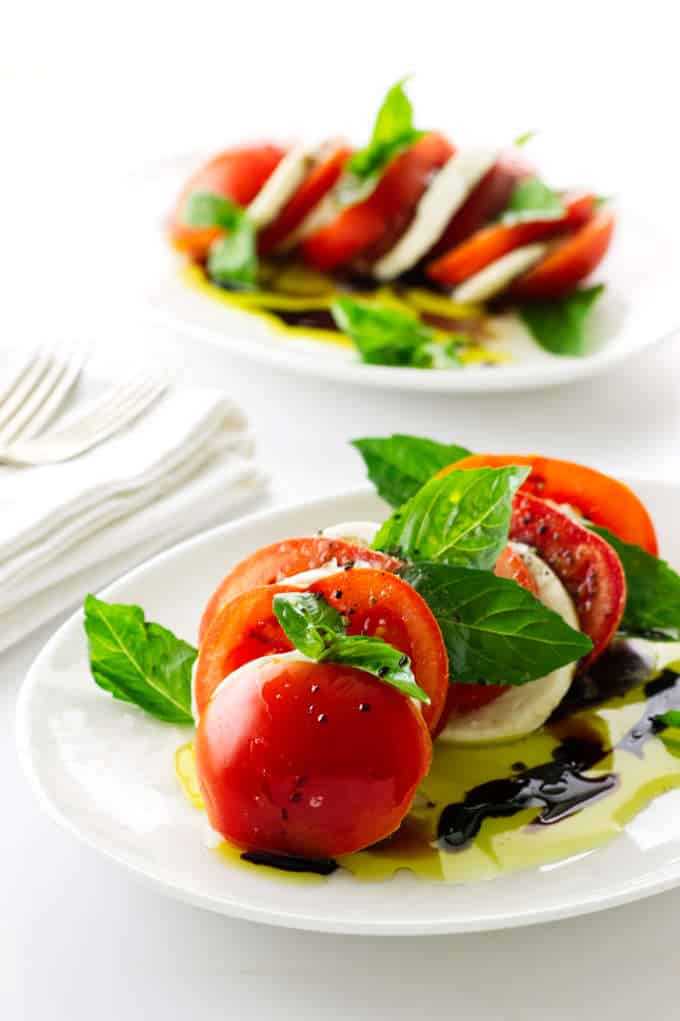 Make use of peak tomato season with this Italian Caprese salad! The flavor combination is simply irresistible and allows fresh and juicy tomatoes to take center stage. Enjoy!
For more ways to use your fresh tomatoes, try this creamy roasted tomato soup, or this spicy tomato fennel soup.
SOME OTHER RECIPES WE ARE SURE YOU WILL LOVE:
Who does not love the fragrance and taste of freshly picked tomatoes?! This Heirloom Tomato Salad with Aged Goat Cheese has the taste of summer. With just a few components of tomatoes, goat cheese and crisp prosciutto, you can toss it together in minutes. Try it, you will like it!
Panzanella is a classic summertime salad in Italy as they produce so many tomatoes. And of course the Italians are famous for their fine bread-making skills so there is always a lot of bread there. This is a wonderful salad that will use all those extra tomatoes and day-old bread.
This week make a Meatless Monday meal with a Tomato Casserole! This dish features Vibrant ripe tomatoes, creamy fresh mozzarella cheese, garlic and rosemary. Bread crumbs and Parmesan make a crunchy topping.
CONNECT WITH SAVOR THE BEST!
Be sure to follow us on our social media accounts
Facebook * Instagram * Pinterest * Twitter * Youtube
Did you make this recipe? We would love to hear from you. Drop us a comment below.
Please see more list about What's in a caprese salad
Detail: 🔗