These creamy and caramelized roasted sweet potatoes are a staple in Japanese cuisine and even easier to make at home. Satsuma-imo (Japanese sweet potatoes) are rich in flavor, but also have plenty of health benefits.
I grew up with my grandma cooking sweet potatoes for breakfast and this recipe will show you how to get ultra-soft and nutty roasted sweet potatoes for any meal.
What are Japanese sweet potatoes?
There are different types of Japanese sweet potato varieties and I love them all, just look at some of my favorite sweet potato recipes: sweet potato fries, ginataang bilo bilo, and even taro milk tea.
Also read: Baked Sweet Potato Slices – Renee Nicole's Kitchen
Some of the most popular varieties are:
Okinawan purple sweet potatoes — have white skin encasing deep purple centers. Okinawan sweet potatoes have a milder flavor than traditional garnet sweet potatoes
Satsuma-imo sweet potatoes — have reddish skin with white centers. They are creamier and denser than traditional orange sweet potatoes too.
Murasaki sweet potatoes — have deep purple skin and white centers that turn golden once it's cooked. They are just as dense and creamy as other Japanese sweet potatoes.
Japanese sweet potatoes vs Japanese yams
It's important to note that Japanese sweet potatoes differ from Japanese yams (or yams in general) because yams are tubers that originate from Asian and African countries. True yams have scaly brown skin and white centers that aren't as sweet in taste as sweet potatoes.
However, in America there are many grocery stores that mislabel yams and sweet potatoes so that's where the confusion comes from.
I've actually seen Okinawan purple sweet potatoes mislabeled at a grocery store as purple yams (most likely to try to appease customers looking for ube), so it's wise to know that Japanese purple sweet potatoes differ from yams in general.
How to cook Japanese sweet potatoes
Also read: Baked Sweet Potato – The Forked Spoon
What's great about using these denser and starchier sweet potatoes is that they cook to a creamy consistency and can be roasted at high temperatures. For this recipe, I am roasting satsuma-imo sweet potatoes that caramelize slightly on the skin as it cooks.
This method is the roasting method since we cook it in the oven at a high temperature at 400 °F (any temperature below 375 °F means you are baking).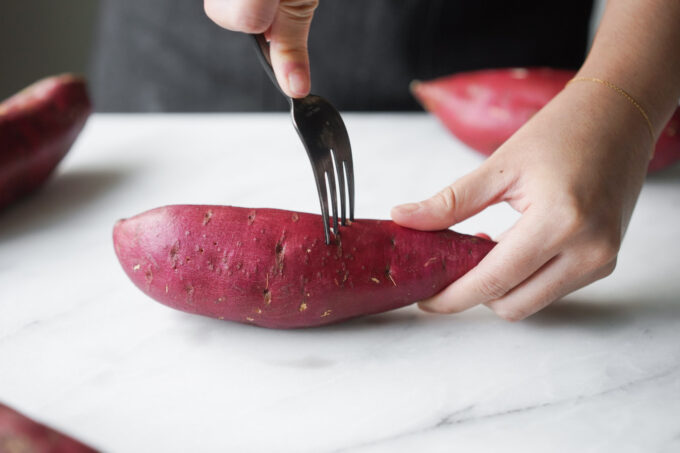 After cleaning the sweet potato under running water, pierce it about five times with a fork and place it directly on the oven racks, and roast for anywhere between 40 to 60 minutes based on the type of oven and the size of the sweet potato.
Also read: Baked Sweet Potato Slices with Rosemary
I typically test the sweet potatoes for doneness around 30 minutes just in case. I use a fork (or knife) to pierce the center of the sweet potato to see the doneness level. If it easily pierces, then the sweet potatoes are finished.
This easy method gives me tender and creamy center with a slightly caramelized skin (due to the sugars seeping out of the indentations).
Other popular methods of roasting or cooking Japanese sweet potatoes is below:
Wrapped in foil: wrapping the sweet potato in foil and then piercing it. This method gives you a moist sweet potato, which is also tasty, but I prefer the slightly roasted and creamier version.
Wrapped in paper towel in the microwave: wrapping the sweet potato in a wet paper towel, piercing it with a fork, and microwaving until it's tender. This is similar to the method my grandma uses because it's fast, but I still prefer waiting for that perfectly roasted flavor in the oven.
Storing
If you have extra roasted sweet potatoes leftover, you can wrap them in foil or an airtight container and keep them in a fridge. They last for a few days in the fridge and I like to microwave them in a damp paper towel to reheat them quickly. These are great to prep for breakfast the next morning.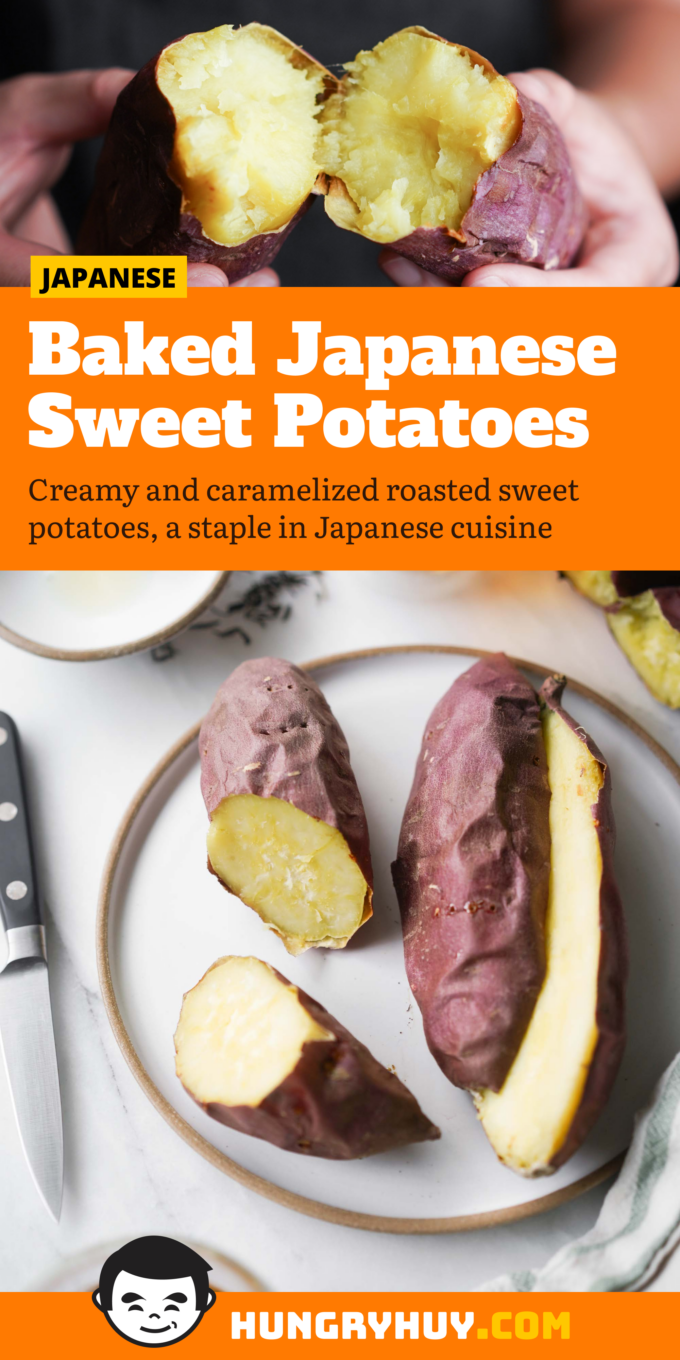 For more information please see the list of How long to roast sweet potatoes at 375