Freshly brewed espresso and mouthwatering dark chocolate chunks blend together to create a tantalizing flavor in this Java Chip Ice Cream recipe. Indulge in the creamy, rich, and sweet goodness that resembles your favorite coffee shop treat. What's more, this recipe is naturally gluten-free, egg-free, and nut-free, making it accessible to a wide range of dessert enthusiasts.
If you've always been a fan of coffee ice cream but desired an extra punch of chocolate, try our French Silk Ice Cream recipe. For a smooth finish of coffee flavor, our Coffee Flavored Ice Cream is also a fantastic choice. And if you're up for an Italian classic, give Affogato a try. The possibilities are endless with this versatile ice cream, as it can even be used to create a delightful coffee milkshake.
Why You'll Fall in Love with this Java Chip Ice Cream Recipe
It's flavored with espresso beans
Instead of using coffee or artificial flavorings, our recipe takes a more authentic approach. We steep whole espresso beans in the milk and cream, infusing the ice cream with a clean and fresh espresso kick. The result is an exquisite blend of flavors that will leave you craving for more.
Chocolate Chunks for Maximum Indulgence
Rather than opting for generic chocolate chips, we elevate the texture and flavor by using chopped dark chocolate. The uneven chop creates a delightful contrast and intensifies the chocolatey goodness in every spoonful.
Egg-Free Creaminess
Unlike some churned ice cream recipes that require egg yolks for a creamy custard base, this Java Chip Ice Cream achieves perfect creaminess without any eggs. The absence of eggs makes it a hassle-free recipe without compromising on taste or texture.
Ingredients in Homemade Java Chip Ice Cream
Heavy Cream: The foundation of any great ice cream, rich and velvety heavy cream sets the stage for a delightful frozen treat.
Whole Milk: A combination of heavy cream and whole milk creates the perfect balance, resulting in a smooth and creamy texture.
Granulated Sugar: Essential for sweetness and texture, granulated sugar enhances the overall flavor profile of the ice cream.
Whole Espresso Beans: These beans are steeped in hot milk to extract their robust flavor, ensuring a true coffee experience.
Vanilla Extract: Vanilla acts as the perfect companion, accentuating the coffee flavor and adding a touch of aromatic sweetness.
Salt: A pinch of salt works wonders in balancing out the sweetness from the sugar, creating a harmonious blend of flavors.
Chopped Dark Chocolate: We recommend using either dark chocolate or bittersweet chocolate, chopped into small pieces to maximize the chocolate indulgence.
If you have any questions or need further guidance, please leave a comment below.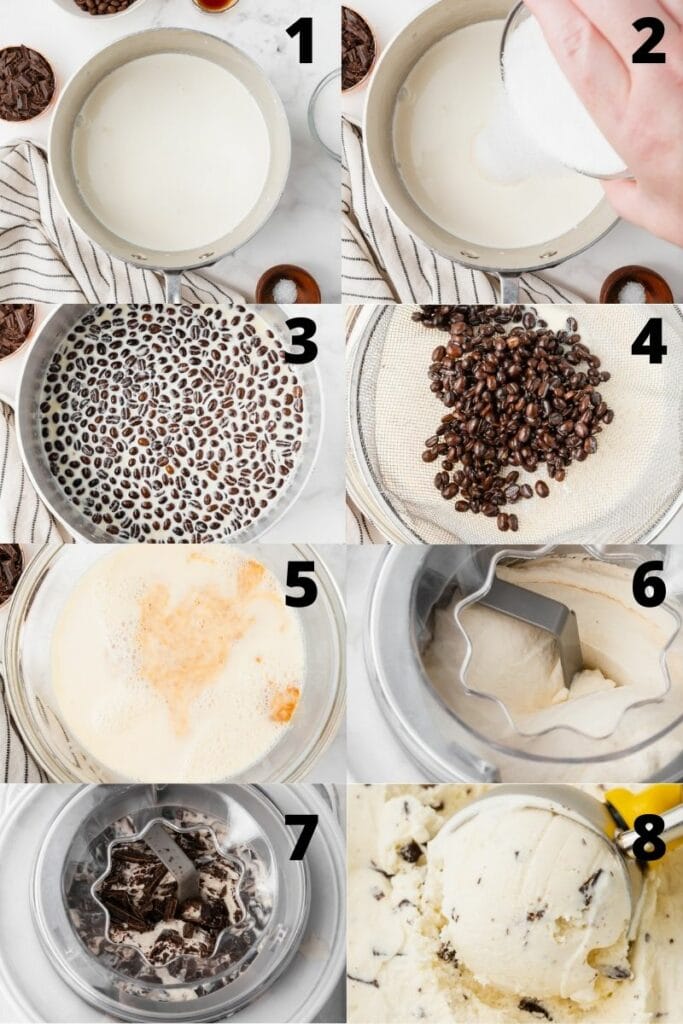 How to Make Java Chip Ice Cream from Scratch
Start by adding heavy cream and whole milk to a medium saucepan.
Stir in granulated sugar and heat over medium heat, whisking until the sugar is completely dissolved.
Introduce the espresso beans to the mixture and bring it to a simmer, ensuring that it doesn't boil. Let it steep for 45 minutes to allow the flavors to infuse.
Strain the mixture into a large bowl, removing the espresso beans.
Stir in vanilla extract and salt. Then, cover the bowl with plastic wrap, pressing it against the surface of the ice cream mixture. Refrigerate until chilled.
Follow your ice cream maker's instructions to churn the mixture until it reaches a thick, soft-serve consistency.
Add the chopped chocolate and continue churning until it is evenly distributed.
Spoon the finished ice cream into a shallow container or loaf pan, covering the surface with plastic wrap or wax paper. Freeze until solid.
Please note that the numbered steps correspond to the photos above and are for illustrative purposes. For the complete list of ingredients and detailed instructions, refer to the recipe below.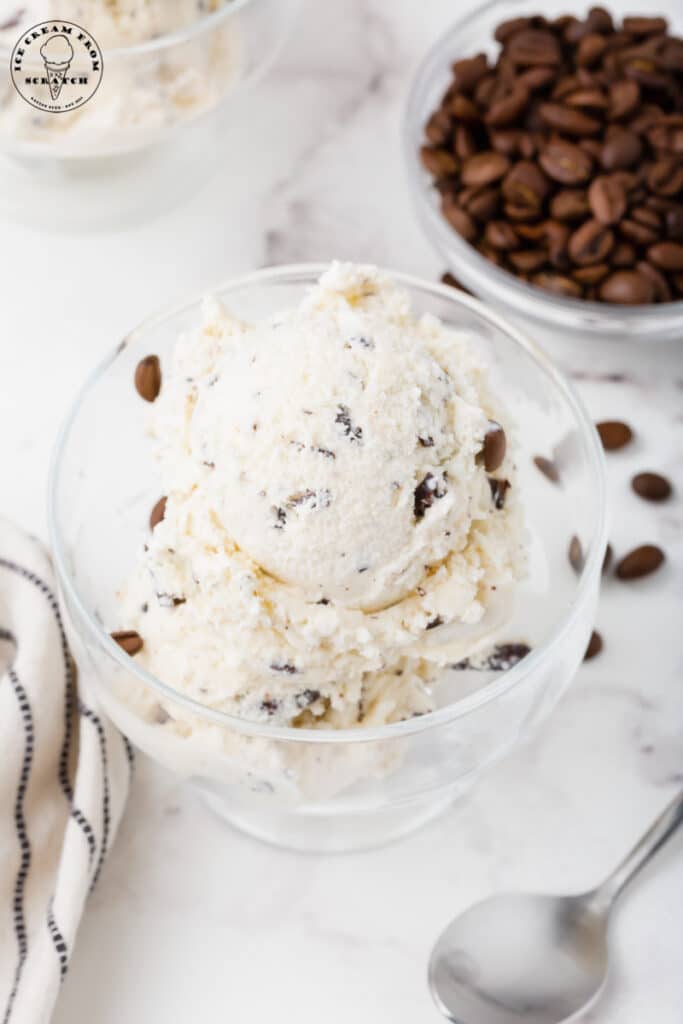 How to Store Java Chip Ice Cream
To keep your Java Chip ice cream fresh and delicious, store it in an airtight container in the freezer. Placing a piece of parchment paper or wax paper on top helps maintain its quality for up to one month. For optimal results, we recommend using reusable ice cream containers for hassle-free storage.
Tips for Making the Perfect Java Chip Ice Cream
Use high-quality ingredients for the best flavor and texture in your homemade ice cream.
Start with chilled ingredients whenever possible, as this is crucial for both no-churn and ice cream maker recipes.
Opt for high-fat milks and creams to achieve the creamy consistency that makes homemade ice cream truly indulgent.
When adding extra ingredients, choose only one or two and ensure they are chopped into small pieces to maintain a harmonious blend.
Don't skimp on the sugar, as it not only adds sweetness but also contributes to the creamy texture of the ice cream.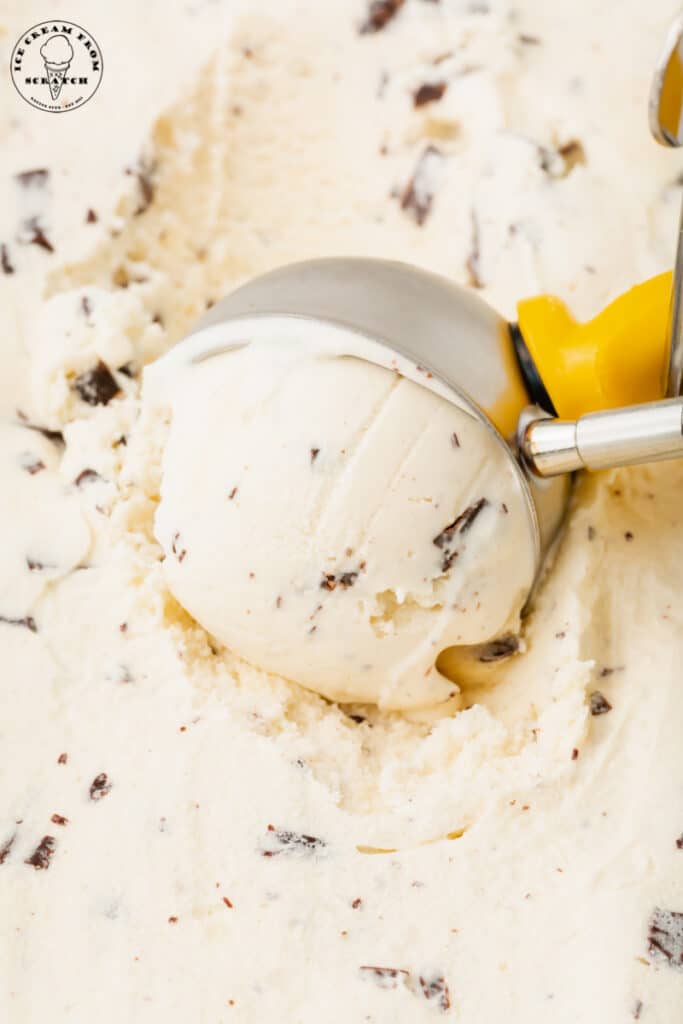 No Churn Java Chip Ice Cream Directions
Begin by chilling a shallow container or a loaf pan in the freezer while you prepare the ice cream ingredients.
Pour the ice cream mixture into the chilled pan and freeze for 3-4 hours.
To achieve a creamy and smooth texture, stir the ice cream every 30 minutes during the first 2 hours to incorporate air.
Java Chip Ice Cream Add-ins
While our recipe calls for chocolate chunks, why not experiment with your own unique twists? Consider these delectable options:
White chocolate chunks
Chopped Oreos or other chocolate cookies
Chopped hazelnuts or almonds
More Homemade Ice Cream Recipes
Expand your ice cream repertoire with these additional homemade creations:
No Churn Vanilla Ice Cream
Pineapple Ice Cream
Cookies and Cream Ice Cream
If you're interested in making homemade ice cream, here are some of our favorite tools and equipment to enhance your experience:
Please note that the above links will direct you to the corresponding products on Amazon. As an Amazon associate, I earn a small commission from qualifying purchases.
Enjoy your homemade Java Chip ice cream and be sure to follow us on Pinterest. If you have any questions or want to share your experience, leave a comment below. We'd love to hear from you!