Juicy Grilled Pork Chops marinated in Italian Dressing and seasoned with dry rub are tender, flavorful and perfectly cooked on the gas grill. Make the BEST grilled pork chops ever with this easy recipe! It is perfect when you want a quick and easy dinner the whole family will enjoy!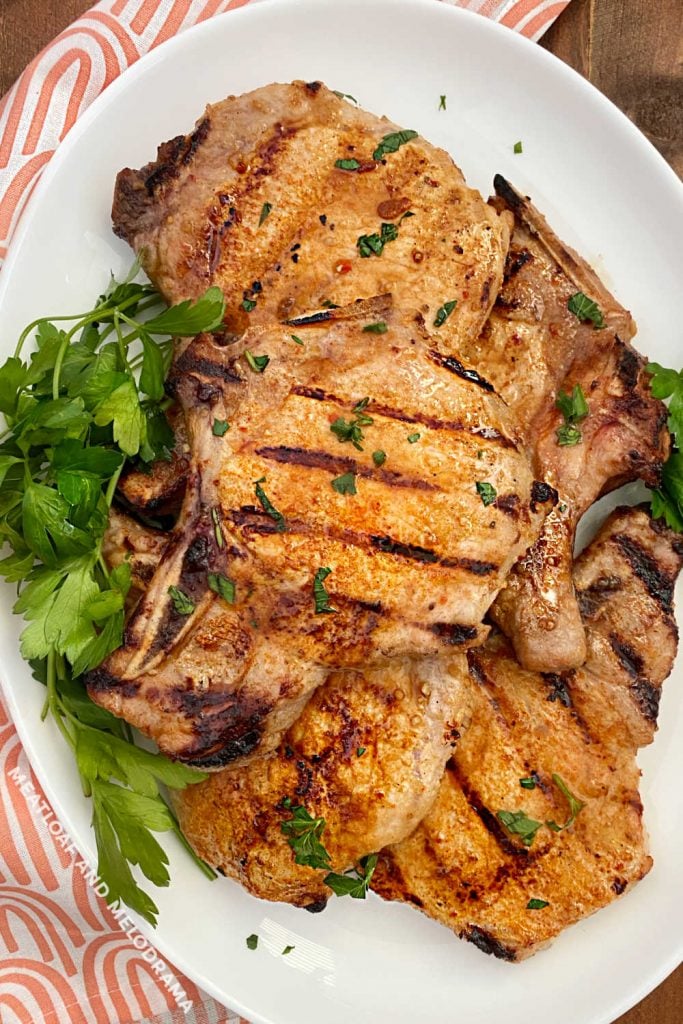 Need an easy dinner idea? You can't go wrong with this super easy pork chop recipe! Just season with dry rub, marinate in Italian dressing, and grill or air fry. It's basically the same as Italian Dressing Chicken, only with pork.
In the fall and winter, some of our favorite pork chops recipes include Baked Breaded Pork Chops, Crock Pot Pork Chops, Polish Breaded Pork Chops, Pork Chops and Rice and Baked Ranch Pork Chops.
But in the spring and summer, it's all about grilling pork chops on a gas grill!
Ingredients
You only need a few simple ingredients to make these grilled pork chops. And, you probably have everything you need in your fridge or pantry. If not, you should be able to find them in your local grocery stores:
Pork chops – I use bone in pork chops
Dry rub – sea salt, garlic powder, smoked paprika
Italian salad dressing – for a quick marinade
How to Make Juicy Grilled Pork Chops
First, start off by seasoning your chops with a simple dry rub. Pat the chops dry with a paper towel.
Then, mix sea salt, garlic powder and smoked paprika together in a small bowl. Rub the mix on both sides of the pork chops.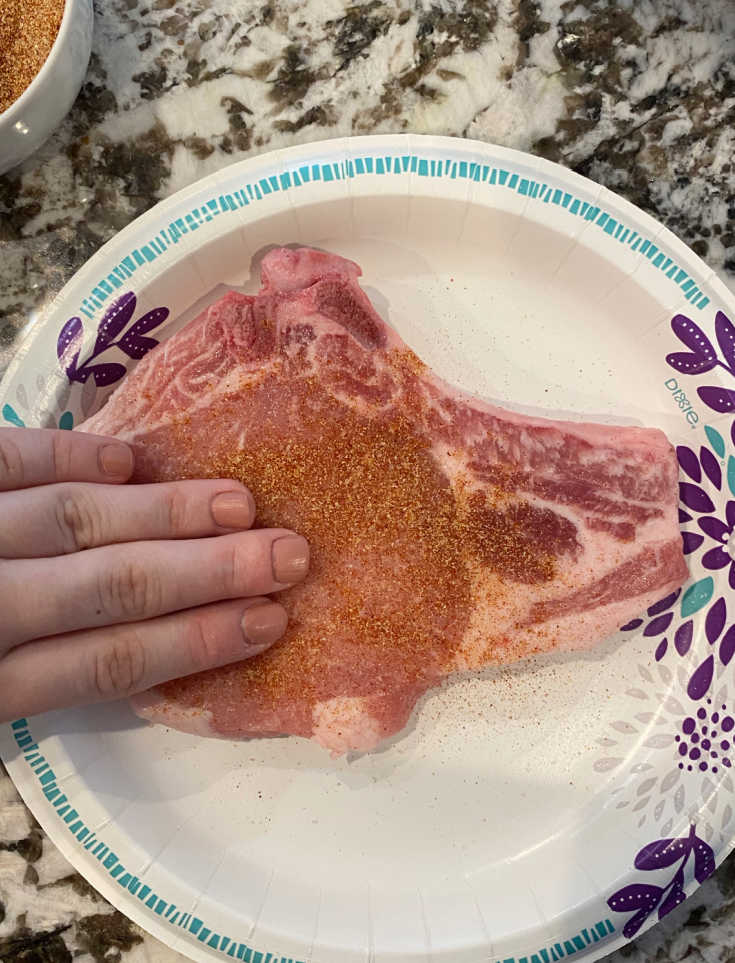 Then, marinade the pork chops. I like to make a simple marinade: Italian dressing makes the easiest, BEST marinade for pork chops!
Place pork chops into a zip-top gallon freezer bag. Then, pour Italian Dressing into the bag, over the chops. You don't need a lot of dressing – 1 cup will do.
Next, marinate the pork chops in the Italian dressing for at least 1 hour in the refrigerator. You can marinate pork chops for 2 hours or overnight if you want, but it's not necessary.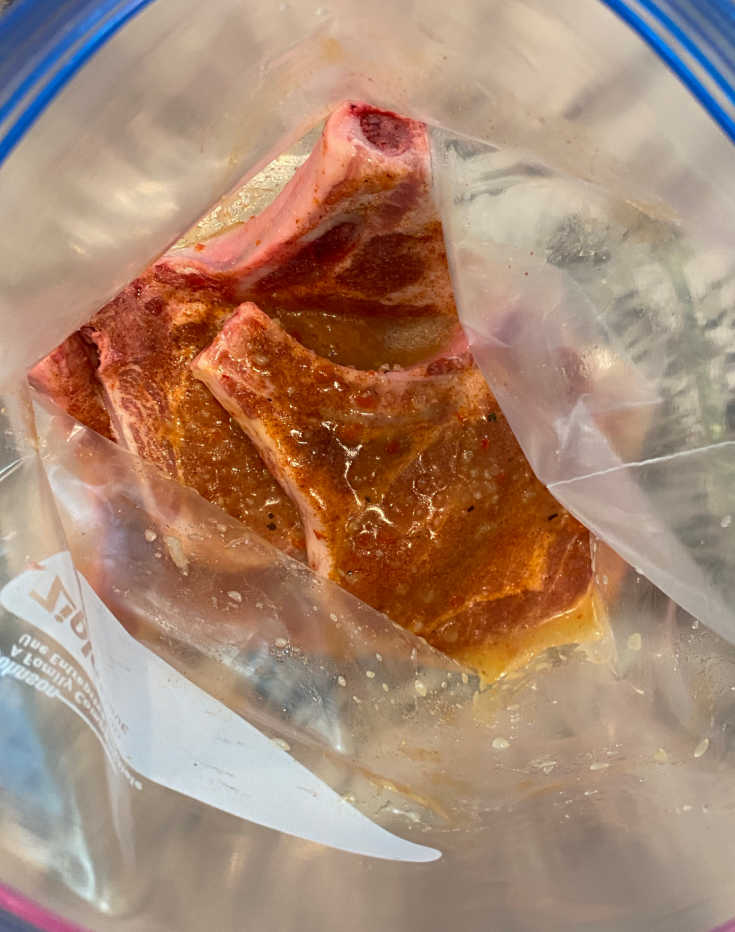 Cooking Time
Take the pork chops out of the refrigerator while you preheat the grill. Note – Don't leave them out for longer than 20 minutes. Pro tip – Rub a little avocado oil on the grill grates to avoid the meat sticking.
So how long to cook pork chops on the grill? Cook on direct medium heat – about 350 degrees for 4 minutes on one side.
Then, flip and cook for 3 to 4 minutes or until the internal temperature is at least 145 degrees, according to an instant read thermometer or meat thermometer. Make sure you insert the thermometer in the thickest part of the chop.
Note – These chops were about ½ to ¾ inches thick. If you have thicker chops than that, they'll need to cook a little longer. Exact cook time depends on the thickness of your pork chops and your grill.
Remove the pork chops to a serving tray or platter, and cover with aluminum foil. It is important that the pork rests for about 5 minutes at room temperature before serving. This keeps the pork chops juicy and tender!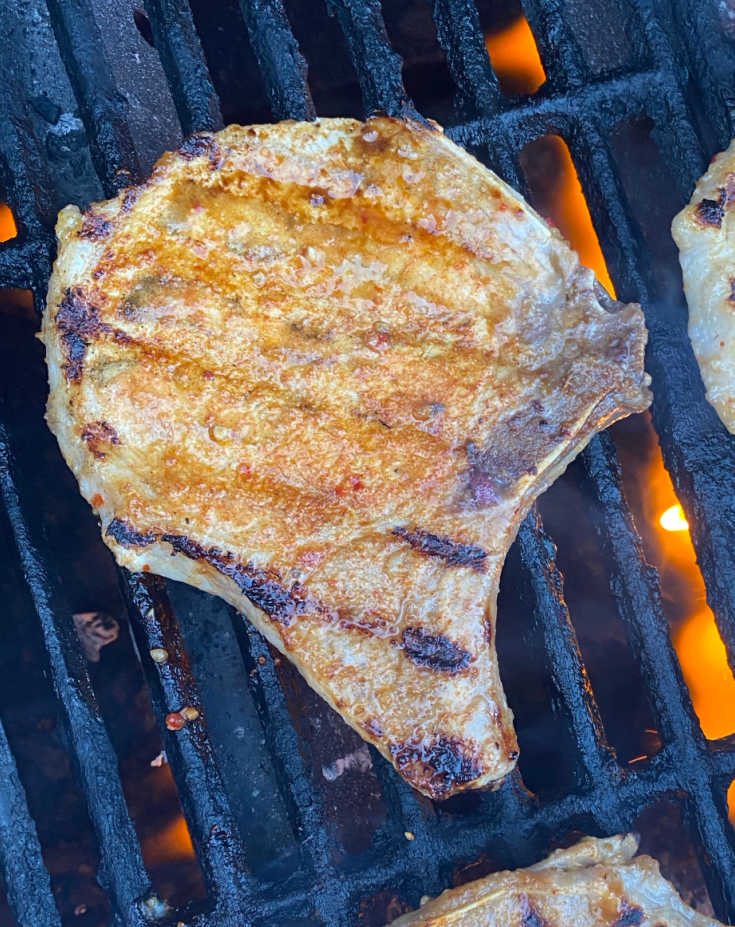 Variations
If you can't grill or don't want to grill your chops, you can cook pork chops with Italian dressing in the air frier! We make Juicy Air Fryer Pork Chops with just a dry rub, but marinating them first makes them even juicier and more flavorful.
After marinating, preheat the air fryer to 380 degrees. Cook for 20 minutes, turning about halfway through the cooking process. Use a meat thermometer to ensure they're at least 145 degrees f internally.
Another great way to cook these juicy pork chops in on an indoor grill. I have the Ninja Foodi Grill XL, but any similar indoor grill will work just fine.
There's no one way to make good pork chops, so feel free to season these juicy chops how you see fit! Black pepper, onion powder, and kosher salt make a tasty, simple dry pork rub. Get a little spicy with chili powder, cayenne pepper, or red pepper flakes.
Instead of Italian dressing, use a little olive oil or avocado oil for the marinade. Apple cider vinegar is also a great option. For a sweeter flavor, add some brown sugar to the dry rub. Add BBQ sauce and honey to your pork chop marinade for BBQ pork chops with that classic, smoky flavor.
If you have boneless pork chops, check out my recipe for grilled pork loin chops!
How to Store and Reheat
Store any leftover grilled pork chops in an airtight container in the refrigerator, where they'll last for 4 to 5 days.
Reheat the chops in the microwave, or in an air fryer or oven.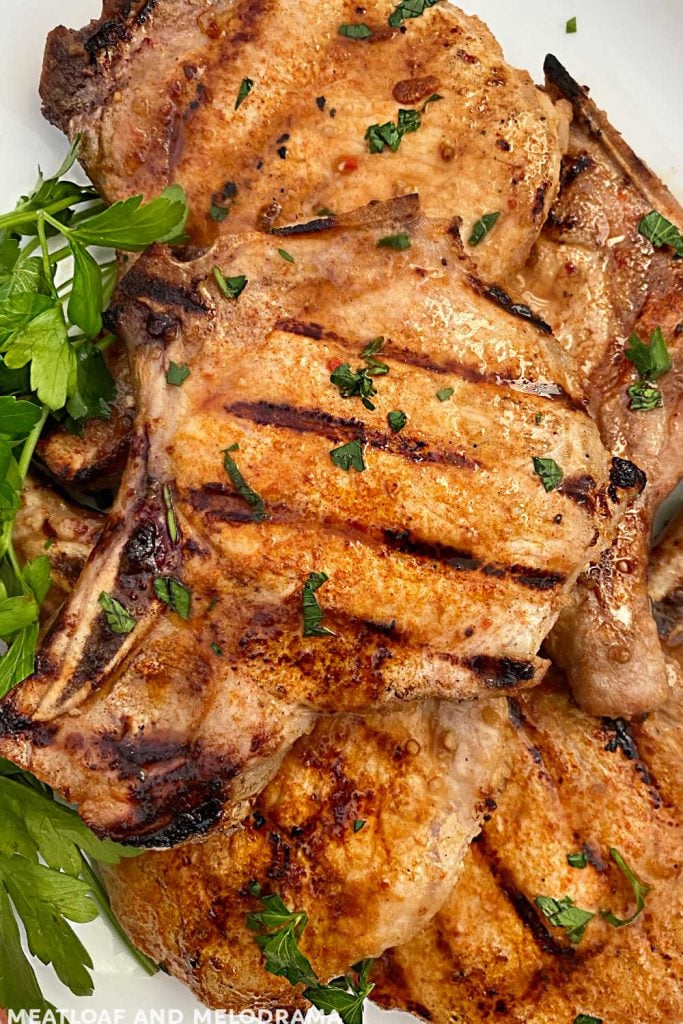 Recipe published in 2021 and updated in 2022.
With just a few simple steps, you can get juicy, tender pork chops the whole family will enjoy!
If you like these chops as much as we do, please leave a comment and star rating.
Better yet, there is no best way to prepare these flavorful pork chops: charcoal grill, indoor grill, air fryer-anything will do!
For more delicious easy pork chop recipes, easy meals with delicious flavor, and simple dinners and side dishes, be sure to subscribe to the newsletter and follow me on social media!
Please see more list about Ninja foodi grill pork chops
Detail: 🔗