This kale and brussels sprout salad recipe is a healthier, updated take on the Cracker Barrel kale and brussels sprout salad. It's made with a few basic ingredients that are tossed in a maple vinaigrette which adds a hint of sweetness to every bite.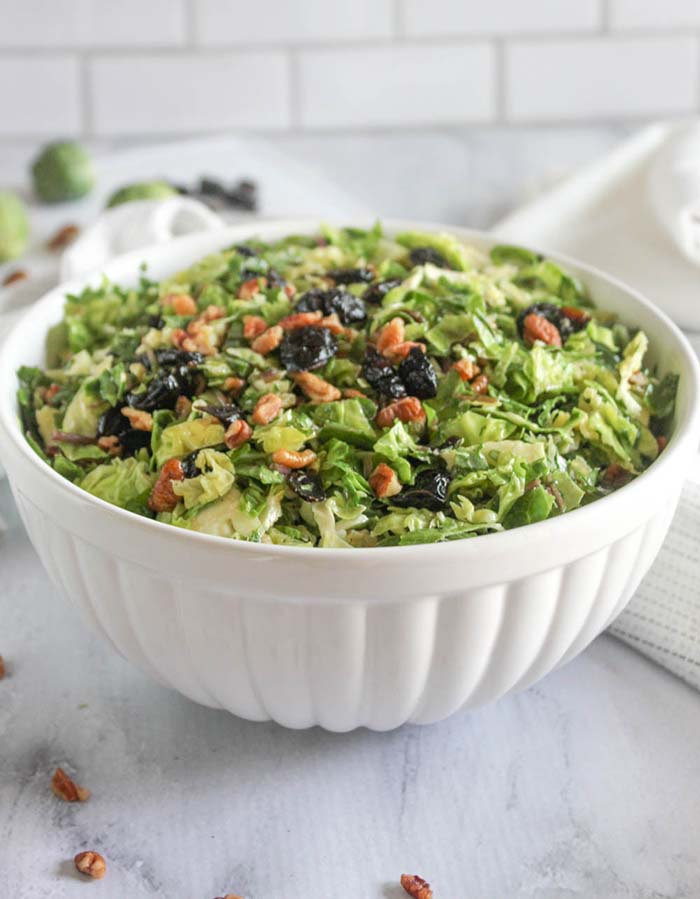 This salad is such an easy recipe. It's perfect for a tasty fresh healthy side or for a full meal. Unlike Cracker Barrel's brussels sprouts and kale salad, this version has less sugar, yet it still has a nice balance of crispy and tangy flavors. Try it for lunch with a piece of homemade sourdough bread.
Why This Recipe Works
This brussel sprout salad recipe is simple to make; no cooking required!
It can be made ahead of time, which makes it great for entertaining or bringing to a potluck.
It's the perfect balance of texture and flavor.
Here is what you will need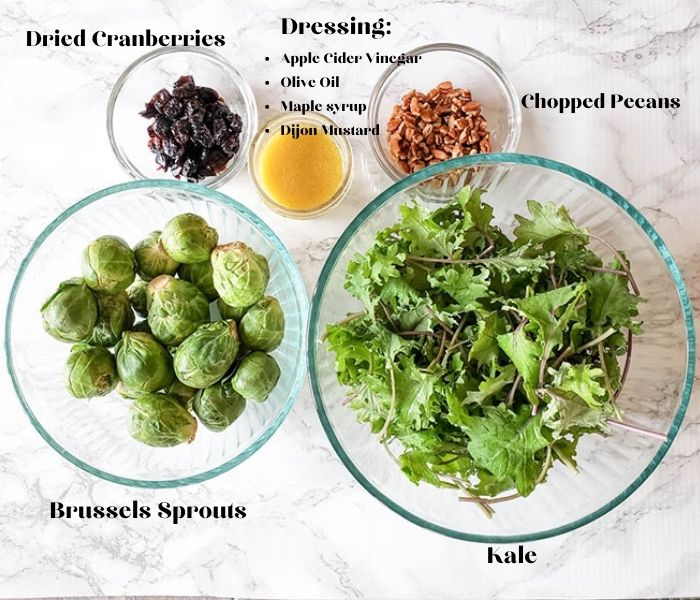 As an Amazon Associate, I earn from qualifying purchases.
This is an overview of the ingredients and steps to make this recipe, scroll down to see ingredient notes and substitutions as well as a printable recipe card with exact measurements and complete cooking instructions.
Ingredient List
Fresh Kale
Brussels Sprouts
Dried Cranberries
Pecans
Apple Cider Vinegar
Olive Oil
Maple Syrup
Dijon Mustard
Equipment List
Here is How to Make This Fresh Brussels Sprout Salad Recipe
Prepare the ingredients: shred or chop the brussels sprouts and slice kale (see the tips below), chop the pecans.
Combine the vinaigrette ingredients in a jar or whisk them together in a small bowl with a whisk.
Also read: Kale and Brussels Sprout Salad
Tip! Save some time and pick up a bag of shredded brussels sprouts in your supermarket.
Ingredient Notes & Substitutions
Brussels sprouts. These cruciferous vegetables are powerhouse vegetables that add a great texture to this salad. The Brussels sprouts can be substituted one for one with shredded cabbage which is similar in texture and taste, but not as bitter as brussels sprouts.
Fresh kale. I like to use baby kale because it is more tender. But any kind of leafy green kale can be used to make kale and brussels sprouts salad.
Dried cranberries. Add a touch of sweetness to the salad which balances out the slightly bitter taste of the brussels sprouts. Dried cranberries can be substituted with raisins or dried cherries.
Maple syrup. Use pure maple syrup, not pancake syrup to make this recipe. Real maple syrup is made with natural ingredients (tree sap) and pancake syrup is made with corn syrup and artificial flavors. Maple syrup can be substituted one for one with honey.
Pecans. Crunchy pecans add a texture to this salad and they can be substituted one for one with walnuts, almonds, or sunflower seeds or pumpkin seeds.
Apple cider vinegar. Can be substituted one for one with champagne cider, white wine vinegar, balsamic vinegar pr lemon juice.
Also read: 30 Cracker Barrel Recipes To Make At Home
Dijon mustard. Mustard is the perfect addition to the tangy dressing which adds a touch of flavor but also acts as an emulsifier for the dressing.
Substitute dijon mustard with an equal amount of stone-ground mustard.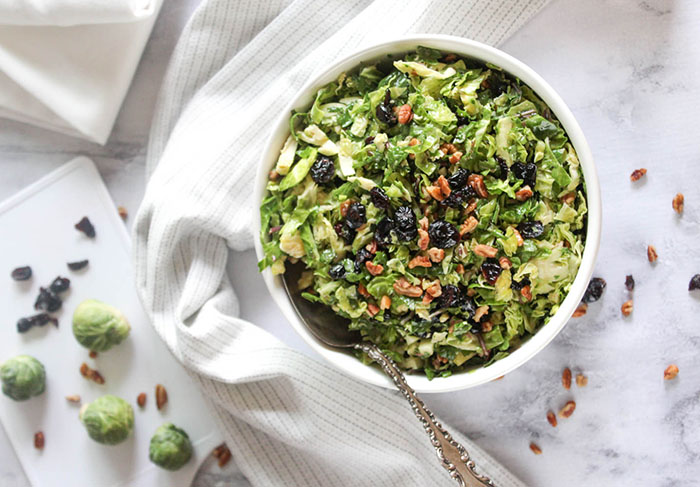 How to Make Kale & Brussels Sprouts Salad Ahead of Time
This delicious healthy salad is a great salad to prepare ahead of time which makes it perfect for holiday dinners or potlucks. Brussels sprouts and kale are hearty vegetables that won't get soggy as lettuce-based salads do.
There are a few great ways that you can make this fresh vegetable salad ahead of time.
Prepare all of the ingredients ahead of time: chop the brussels sprouts, kale, and pecans, make the dressing, and store them separately in the refrigerator (except for the pecans which should be stored at room temperature) for two to three days. Shortly before serving, combine all of the ingredients in a salad bowl and serve.
Prepare the salad ahead of time: One day before, combine all of the salad ingredients ahead of time but don't add the dressing or the pecans. The next day, just before serving add the dressing and pecans to the salad and serve.
Kale and Sprouts Salad Recipe Questions & Tips
Below are questions frequently asked about making this recipe. If you have a question and don't see it below. Leave a comment at the end of this post and I will get back to you as soon as I can.
How to Store Leftover Salad
Kale and brussels sprout salad will last in the refrigerator in an airtight storage container for up to three days without compromising the delicious combination of flavors. You might need to add a little more dressing to the leftover salad just before serving to perk it up.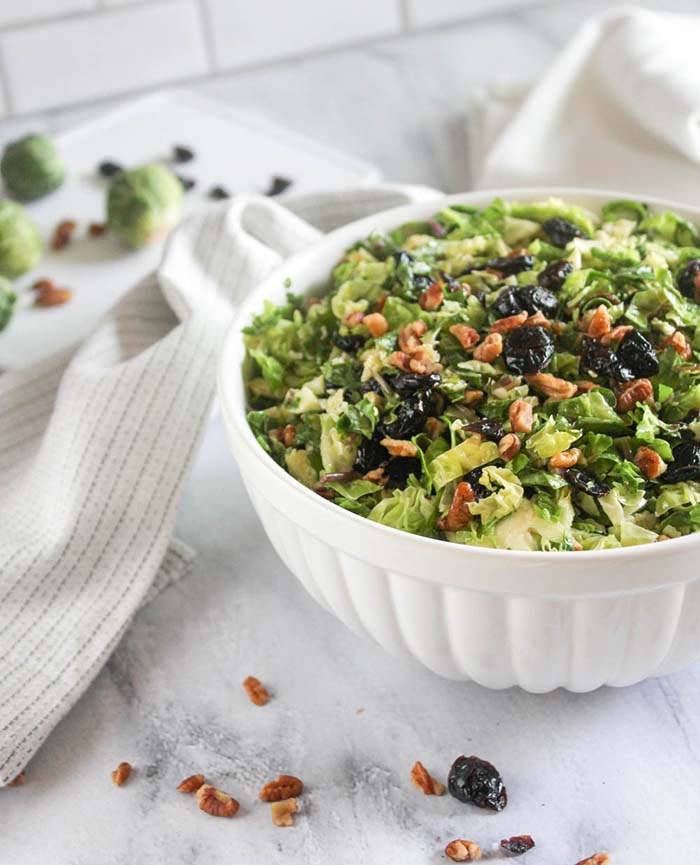 Serving Suggestions
This salad tastes great as a tasty healthy side dish with any type of entrees such as grilled pork chops, pulled pork, or slow cooker cranberry orange chicken breasts.
Also read: Kale and Brussels Sprout Salad with Maple Vinaigrette
It's also perfect for a lunch or a light dinner with a nice addition of grilled chicken on top.
Recipe Variations
Sprouts n' Kale Salad with Cheese. Toss in ¼ to ⅓ cup grated fresh parmesan cheese, feta, blue cheese or goat cheese to the salad.
Add Beans. Add ½ cup of cooked chickpeas to the salad.
Sprouts n' Kale Salad with Bacon. Cook two to three strips of bacon, crumble them and add them to the salad.
For more simple and delicious recipes like this, subscribe to our newsletter and receive a free e-book and meal suggestions straight in your inbox!
You Might Like These Kale & Brussels Sprouts Recipes
Balsamic Roasted Brussels Sprouts with Apples
Sausage and Kale Pasta Bake
Roasted Brussels Sprouts with Citrus
Crispy Air Fryer Kale Chips – Vegan and Gluten-Free
If you like this recipe, please comment and rate it below!
Check out more of our salad recipes here!
Please see more list about Copycat cracker barrel kale salad