Finally, know what you can order at a Chinese restaurant when you are on a low-carb diet. This keto Chinese food guide is everything you need to know.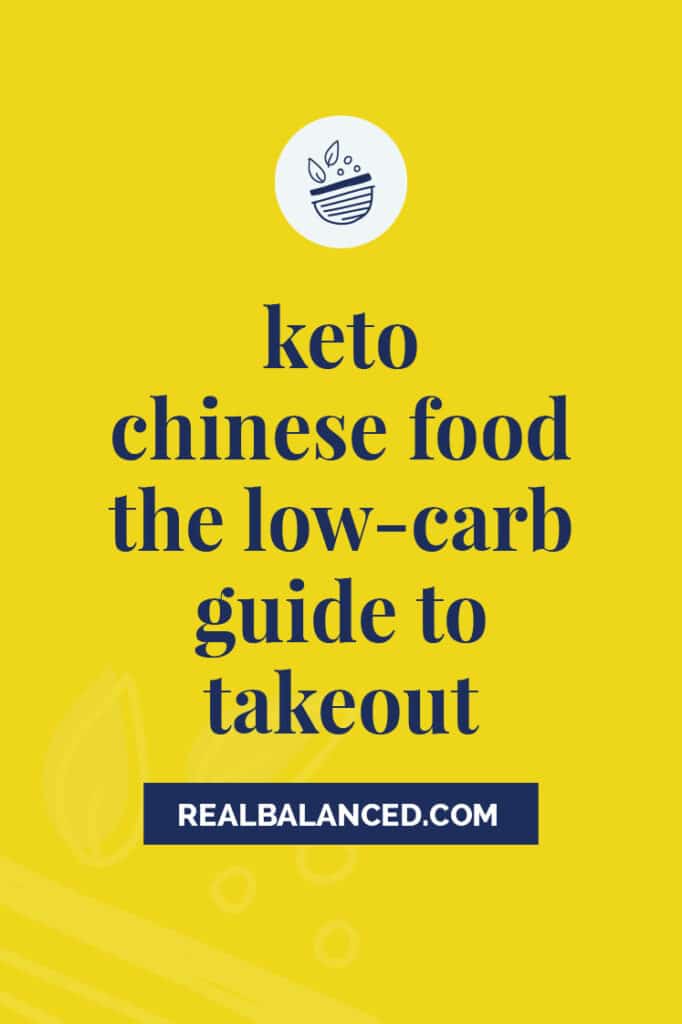 Keto Chinese Food
You know when that craving hits. You just want to drown your face in some lo mein noodles and saucy orange chicken.
But you're on keto. No Chinese food for you, right? Wrong!
Even though most Chinese food menu items seem to have tons of carbs and sugars, there are some options that are reliably safe.
Keep reading to find out what you can order on those quick pick-up dinner nights, and what you should avoid.
What can you order at a Chinese restaurant on Keto?
The most important thing to remember when you are ordering keto Chinese food is where you are ordering from.
The carbs and ingredients in Chinese food heavily depend on where it is coming from. A small take out chain shop will probably have dishes that contain way more sugar than a family-owned restaurant that sticks to more traditional choices in meals.
Let's look closely at what you can order at Chinese restaurants – even the chains. These hacks and principles will save you time and stress, so keep them in mind when you order Chinese food.
Here are some keto-friendly options that you can order at almost any Chinese restaurant:
Beef and Broccoli
Egg Foo Yung
Pork Belly
Steamed meats and green vegetables
Mu Shu Pork
Garlic Sauce, Soy Sauce, Vinegar
The Best Keto Chinese Food Places? Buffets and Hot Pots
The first thing to remember is that if you want Chinese food, always try to find either a buffet or a hot pot restaurant.
Buffets and hot pots are also great options for keto dieters because you can choose what goes on your plate. This will come in handy when you're trying to practice good portion control.
Most buffets will have a waiter ready to serve you a plate of food. Although it seems convenient, we suggest you stack your own plate and avoid an unnecessary conversation of what keto is with the waiter.
Keto Food at Chinese Buffets
What can you eat at a Chinese buffet that won't kick you out of ketosis? First of all, don't let the "all you can eat" phrase influence you to eat more than you should. Portion control will help you stick to your daily macro budget as well as avoid a bloated stomach.
As you know, the amount of carbs in food depends on how much you eat. So, consider your macros for the day and pre-plan how much you are going to eat.
Skip over anything with a sticky sauce or that is breaded. Choose protein sources like steak or chicken. Look for the salad bar and eat lettuce with vinegar and oil dressing with raw veggies.
You'll need to skip the noodles and rice. Your best bet would be to indulge in some stir-fried or steamed vegetables that are high in fiber like bok choy and bamboo shoots.
What to Eat at Hot Pot Restaurants
It's really easy to choose keto foods at Chinese hot pot restaurants. The base is usually a clear seasoned broth made out of vegetable stock or chicken, pork, or beef bones. This won't affect your macros on a large scale since it's mostly water anyway.
You can toss in some protein such as shrimps, chicken, or thinly sliced beef. Avoid fish cakes and beef balls since most of these use starch and may contain other hidden carbs.
Pick out green vegetables like snow peas and green beans. Don't add any noodles or corn to the hot pot. Carrots are iffy when overcooked and have a higher carb content compared to leafy greens and mushrooms, so only add them if you are in a carb deficit for the day.
Eat Sichuan-Style Chinese Food
Just like different Chinese restaurants will make their food differently, various regions of China also makes their food differently. A common type of Chinese food amongst consumers following keto diets is Sichuan-style Chinese food.
Sichuan is a province in southwestern China. Sichuan cuisine is known for its bold flavors and the use of garlic and chili peppers. As far as what makes it more keto-friendly than other cuisines, it just uses less sugar and carbs than other types of Chinese food.
Sichuan Keto Chinese Food Options
Here are some of the most keto-friendly items to order from a Sichuan-style menu, and most other Chinese menus:
Egg Drop Soup
Beef and Broccoli
Mu Shu Pork
Steamed meat and vegetables
Pork Belly
Garlic sauces, soy sauces, and vinegar dressings
Lettuce cups
Try Other Asian Restaurants on Keto
If you're still having a hard time choosing Chinese food dishes that are keto-friendly, there are similar options that may please your Chinese craving. Japanese is a great choice, as well as Vietnamese food.
Vietnamese Food on Keto
Thankfully, it's very easy to make a few swaps and order keto-friendly food at Vietnamese restaurants.
Here are some things you can order in a Vietnamese restaurant that's low-carb.
Order pho without noodles – add extra bean sprouts to replace the noodles.
Choose a beef dish without the sweet sauce and dips.
Bo Luc Lac – order it on a salad instead of on rice.
Order more meats and veggies instead of rice.
Spring Rolls – choose one that doesn't contain rice or starchy vegetables.
Japanese Food on Keto
As far as Japanese food goes, sashimi is a great keto choice, just steer clear of seaweed as it usually contains added sugars.
Here are some keto-friendly options that you can order at Japanese or sushi restaurants.
Miso Soup – This is a brothy soup that usually has tofu in it. It's a good source of protein and is pretty low in carbs.
Shabu-Shabu – Thin slices of beef served with vegetables in a broth. It's a hot pot meal that you cook at the table yourself, so you can control how much you prepare and eat.
Sashimi – Just like sushi, but without the rice. It's the best parts of the fish, delicately sliced and served to you in bite-sized pieces.
Negamaki – These are simply grilled beef wrapped around green onions or asparagus served with some soy sauce.
Can you have soy sauce on keto?
The answer is yes! You can have soy sauce on keto, just be careful how many carbs you intake. A tablespoon of soy sauce can contain anywhere from 1-4 grams of carbs.
It's best to ask for any sauces you'd like with your food, on the side. That way, you can measure out how much actually goes onto what you're eating.
Most Chinese restaurants have soy sauce on the table for you anyway, which makes it easy because it can be measured and you have all the nutritional facts in front of you.
Can you have hot tea on keto?
Also, yes! Tea is okay to drink on a keto diet, but it needs to be unsweetened, black or green tea. If you absolutely need sweetener in your hot tea, you can try out some stevia to mix in. Just be sure to measure it out.
Tea derived out of fruits and grains contain carbs, so if you're not sure what kind of tea you're being served, you should ask your server.
Is sushi ok on keto?
Sushi does become a challenge when it comes to keto diets. The choices and substitutions are very limited.
Pretty much all sushi has rice in it, making it not low-carb. Sometimes even the sauces in the sushi can be what makes your sushi steer from low carb.
If you really can't kick your craving for sushi, sashimi is probably your best bet. It's basically the fish from sushi without the rice. You can still have wasabi and ginger on keto, so enjoy those too!
What is the healthiest low-carb Chinese food to order?
Eating out on keto can be confusing. Sometimes you can search for keto options at the restaurant by searching, "keto Panda Express choices" for example. You should definitely do some pre-planning before you order.
As always, stick with basic protein and vegetables. Avoid the sugary sauces and anything that is breaded.
Here are some things that you can order at a Chinese restaurant that won't kick you out of ketosis:
Clear thin soups: like egg drop or miso, is an excellent appetizer choice. Avoid soups that have a thick consistency.
Steamed food: especially steamed veggies or fish.
Stir-fried dishes: they don't typically have large amounts of sugar or starch. If they're making it fresh, you may even request to leave out the cornstarch if they use it before frying the meat.
What to Avoid at Chinese Restaurants
Now that you know what you can order and eat, let's break down some common things to avoid as well. Remembering these things will help you evade hidden carbs that you might not even know exist.
Roast Duck – usually has a sugary sauce
Brown sauce – contains sugars and starches
Thick soups – uses cornstarch as a thickener
Breaded meats – the breading is high on carbs
Sticky sauce – usually made with sugar, honey, and/or corn starch
Keto Chinese Food: Eat Whole Foods
Dining out on a keto diet always comes with its trials and tribulations, but you are less likely to have conflict when ordering if you do your research ahead of time.
You may even find a low card option you enjoy more than your favorite carb-filled go-to! Just remember, order whole foods without sauces or breading and you'll be golden.
Did you find this post insightful? Make someone's keto journey a lot easier and share this post with them!
More Keto Resources
Here are some more helpful resources as you continue your keto journey.
Trader Joe's Keto Shopping Guide
Keto Snacks – How to Cut Cravings and Stay on Track
Complete Keto Shopping Guide
Through this article, we hope to help you understand Best low carb chinese food
Detail: 🔗