Jump to Recipe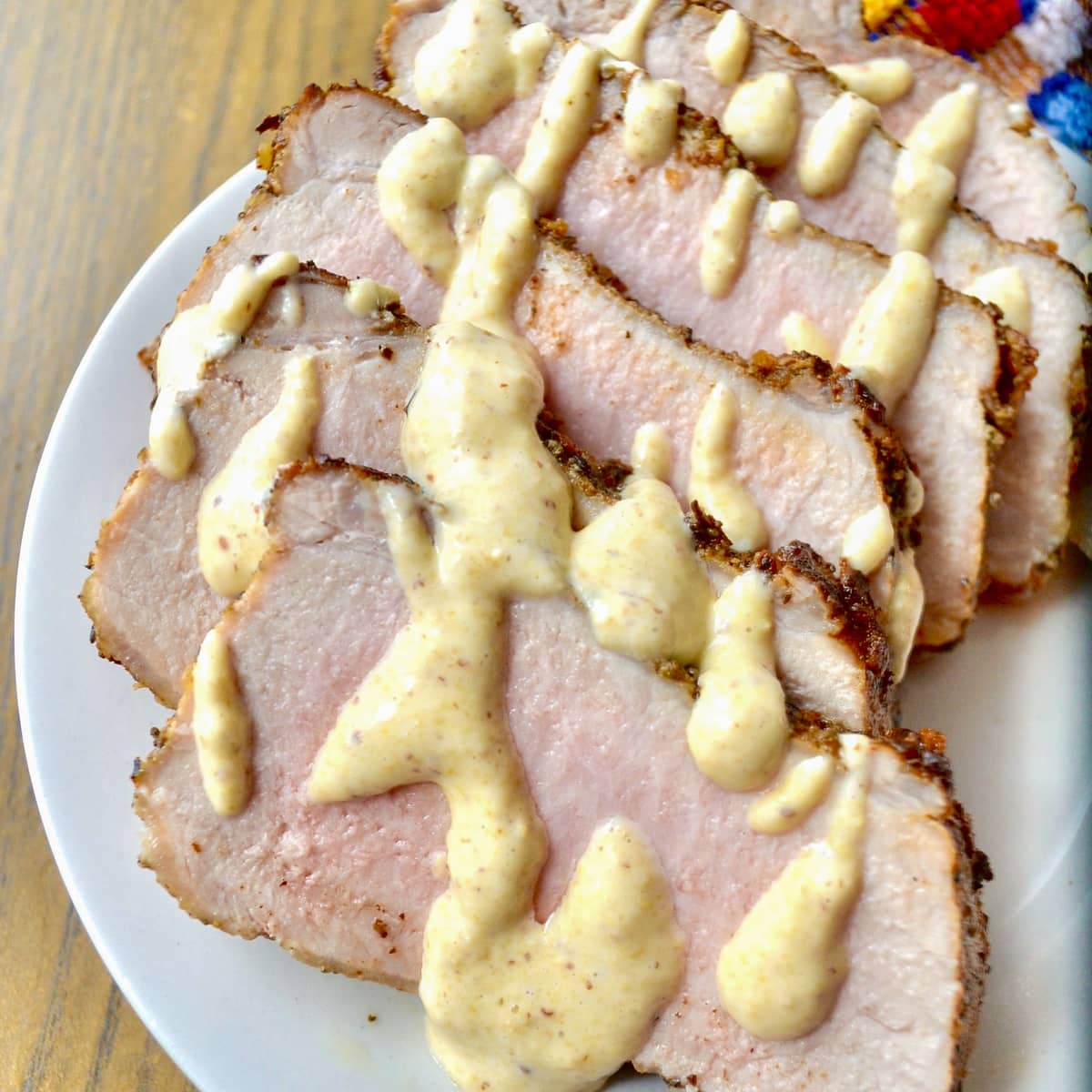 This keto pot pork tenderloin cooked in the Instant Pot is incredibly delicious, tender, juicy, and loaded with flavor! Together with a tasty dry rub and homemade dijon mustard sauce, this pork tenderloin recipe will become your favorite.
Since I started my keto journey, I've been trying out a lot of pork tenderloin recipes. And finally, I decided to create my own recipe that would have everything I was looking for. The best thing about this pork tenderloin recipe is that it requires very little prep, and it takes only 20 minutes to cook.
Since pork tenderloin is by nature low in carbs, your whole family can enjoy it. And, you can serve it with practically anything—zucchini noodles, cauliflower mash, or with a slice of low-carb bread.
Table of Contents
Instant Pot Cooking Tips
Dry Rub Ingredients
How to Make the Dijon Mustard Sauce
Storing Tips
Recipe
Instant Pot Cooking Tips
When it comes to cooking pork tenderloin, I almost always choose to make it in my Instant Pot. I prefer this cooking method because it's quicker than cooking it in the oven, and it's faster to clean everything up.
I've given detailed instructions about how to cook a pork tenderloin in an Instant Pot in the recipe card below. But, here are some more tips that will ensure that you get everything right from the first time:
Sauté the pork tenderloin before pressure cooking it. First, you need to rub the spices and seasonings into the pork tenderloin and then fry it on both sides for about five minutes with your Instant Pot's Sauté mode turned on.
Pressure cook the pork tenderloin on a trivet. This will ensure that all of the flavors stay inside the pork tenderloin.
Cook on high pressure. You'll need to secure and lock the lid and then cook the pork tenderloin for 15 minutes on high pressure.
Don't release the pressure right after finishing cooking. Let the pressure release naturally for five more minutes before releasing it.
Use a meat instant thermometer to check if the pork is ready. It should read 145 F. But if you do everything as described in the instructions, your meat will definitely be fully cooked and safe to eat.
Don't cut the tenderloin right away. Let it sit for a few minutes before slicing it.
Dry Rub Ingredients
Instead of making a keto pork tenderloin marinade, I mix some of my favorite meat spices and herbs and rub everything into the pork tenderloin before frying it. You can use practically any kind of seasonings as the dry rub for this Instant Pot pork tenderloin.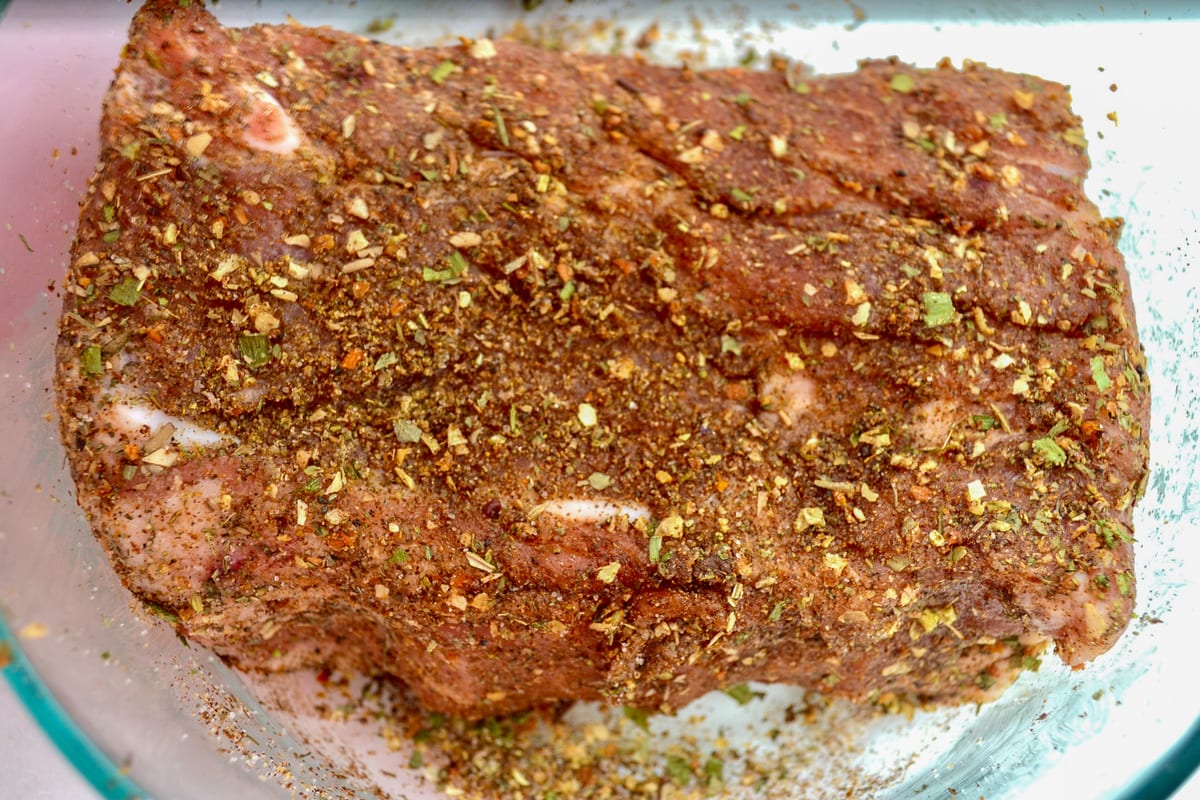 For this recipe, I decided to keep everything simple and chose Italian seasoning, granulated garlic, paprika, salt, and pepper. Depending on your preferences, you can also add rosemary, Cayenne pepper, cumin, curry powder, sage, dry mustard powder, etc.
How to Make the Dijon Mustard Sauce
You can serve this Instant Pot pork tenderloin with any keto-friendly sauce of your preference. Personally, I always prefer a homemade meat sauce over a store-bought one. Besides, it's extremely easy to make this dijon mustard sauce.
You'll need just a few ingredients to make this keto meat sauce: dijon mustard, lemon juice, keto mayonnaise, erythritol, garlic powder, salt, and pepper. If you have no idea which keto mayonnaise you should choose, my recommendation is to go with Sir Kensington's Mayonnaise. I love it since it is low-carb and made out of avocado oil. But, you can use any other keto mayonnaise for this sauce recipe.
All that you need to do to make those dijon mustard sauce is to add all of the ingredients to a bowl and use a hand blender to mix everything together. Blend until it acquires a smooth sauce-like texture.
And that's it! With just a few minutes of your time, you'll have a delicious homemade sauce ready for your keto pork tenderloin. It can be stored in the fridge in a tightly-closed container for 4-6 days.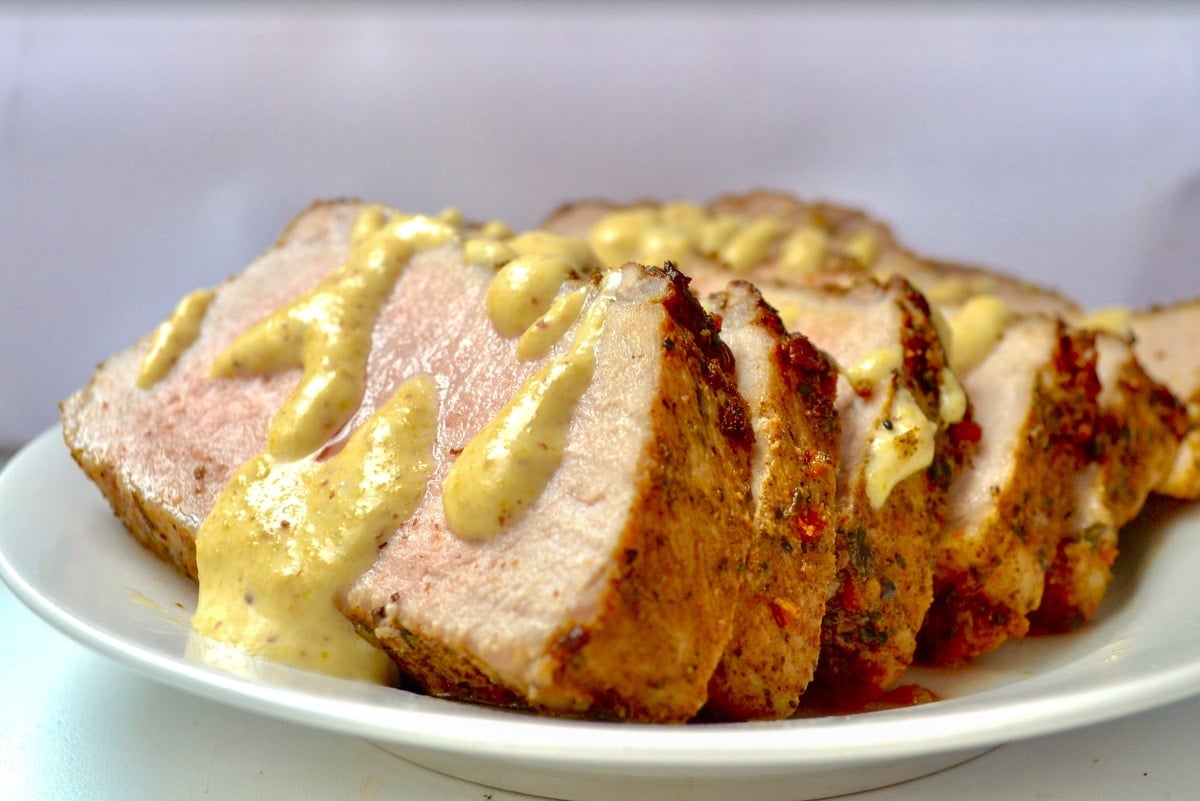 The sauce made out of the exact amount of ingredients listed in the recipe card has 141 calories, 14 g of fat, 2.3 g of carbs, and 1.7 grams of protein.
Storing Tips
You can store the keto pork tenderloin leftovers in a tightly closed container in the fridge for 3-4 days. Also, this recipe is freezer-friendly. You can wrap those pork tenderloin slices into plastic food wrap and store them in your freezer for up to three months.
Whenever you wish to serve the pork tenderloin, you'll need to let it naturally thaw in the fridge overnight or let your microwave do the job.
Recipe
Please see more list about Keto pork roast instant pot
Detail: 🔗