Are you a fan of Olive Garden's Zuppa Toscana Soup? Well, here's some good news for you! We have an incredible recipe that is not only easy but also keto-friendly. This delicious soup is the perfect low-carb option for those following the keto diet. With its rich flavors and creamy broth, it's bound to become a family favorite. So, get your apron on and let's dive into the world of keto goodness!
What Makes Our Keto Zuppa Toscana Soup the Best?
This Olive Garden Copycat recipe has been carefully crafted to meet the standards of the keto diet. We've replaced the traditional potatoes with cauliflower, making it a tasty, low-carb alternative. The combination of sausage, kale, and our flavorful creamy broth creates a symphony of flavors that will leave you craving more. Plus, with the perfect nutrition facts and macros, it's an excellent choice for your meal prepping needs.
An Easy Substitution to Keep It Keto
The secret to making our Keto Zuppa Toscana Soup low-carb lies in a simple swap. Instead of using potatoes, we've opted for cauliflower. When cooked, cauliflower perfectly mimics the texture of potatoes while keeping the recipe ketogenic. If you haven't already, be sure to try our Keto Cauliflower Mash as well. It's a game-changer!
Cooking It to Perfection
Wondering how to make our Zuppa Toscana Soup? It's quite simple! Just follow these steps:
Brown sliced bacon and ground sausage in a Dutch oven on medium-high heat.
Add in onions and garlic and cook until fragrant.
Adjust the heat to medium and add chicken broth, oregano, cauliflower, salt, and pepper.
Place the lid on the pot and cook for 15 minutes.
Open the pot and add heavy whipping cream and kale.
Let it cool before serving.
For a visual guide, refer to the images below.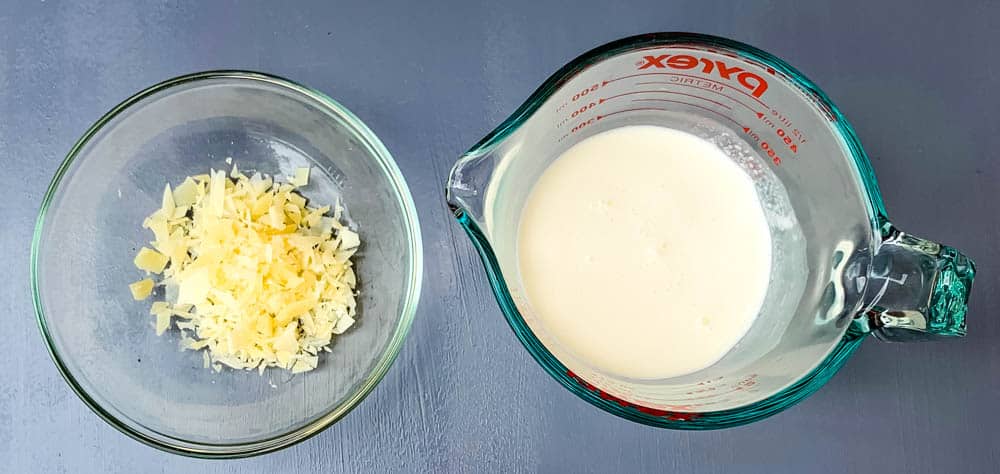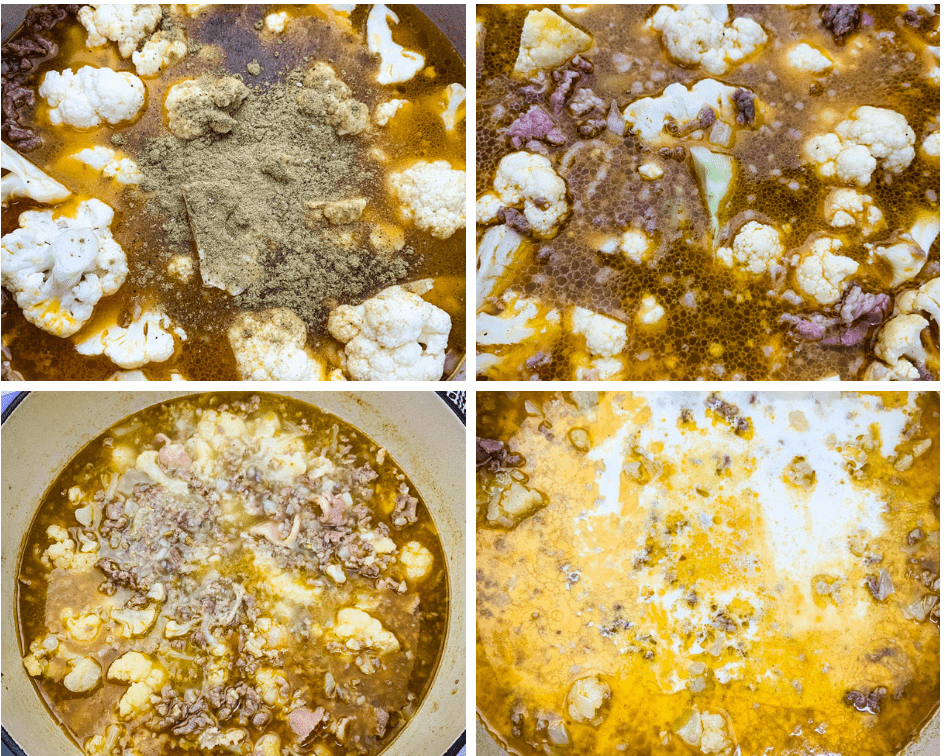 The Dutch Oven Advantage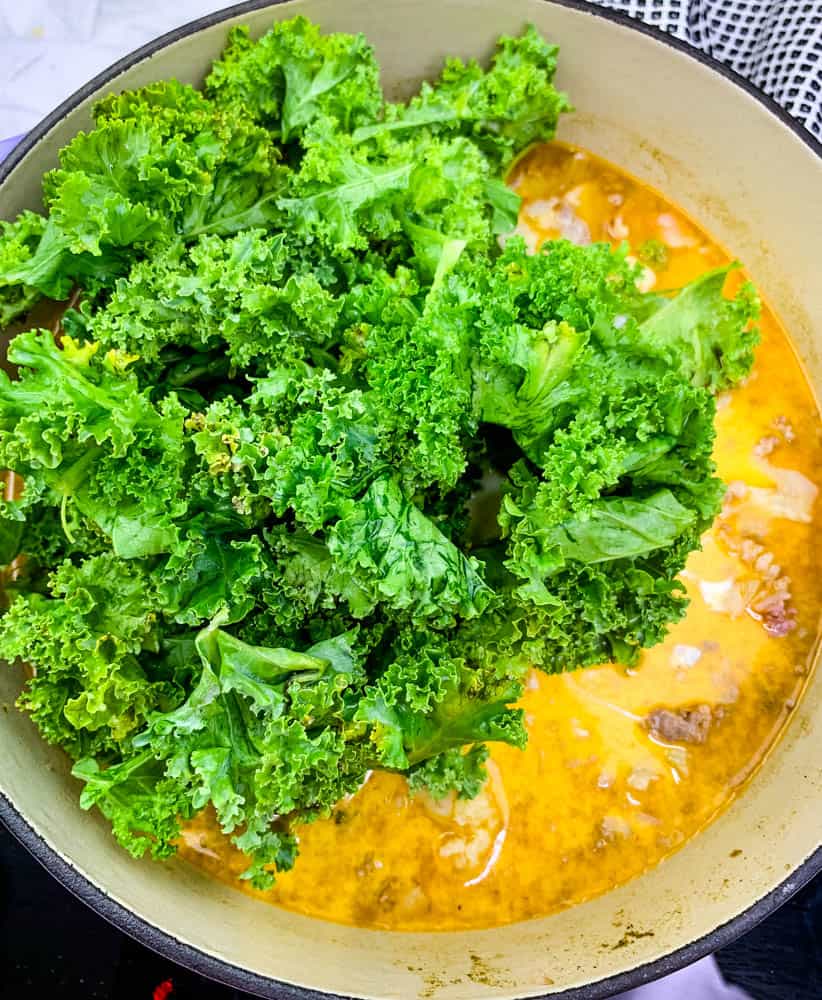 While you can use any soup pot for this recipe, we highly recommend a Dutch oven. Why? Well, a Dutch oven allows you to cook the entire recipe in one pot, making the cleanup process a breeze. The heavy and thick construction of a Dutch oven ensures even heat distribution, resulting in a perfectly cooked soup. Plus, it keeps the soup warm for longer periods, allowing you to savor every spoonful. You can find more information about Dutch Oven Benefits here.
Nutritional Information
Curious about the calories and carbs in our Zuppa Toscana Soup? Each serving contains 309 calories and only 5 net carbs. It's a guilt-free indulgence!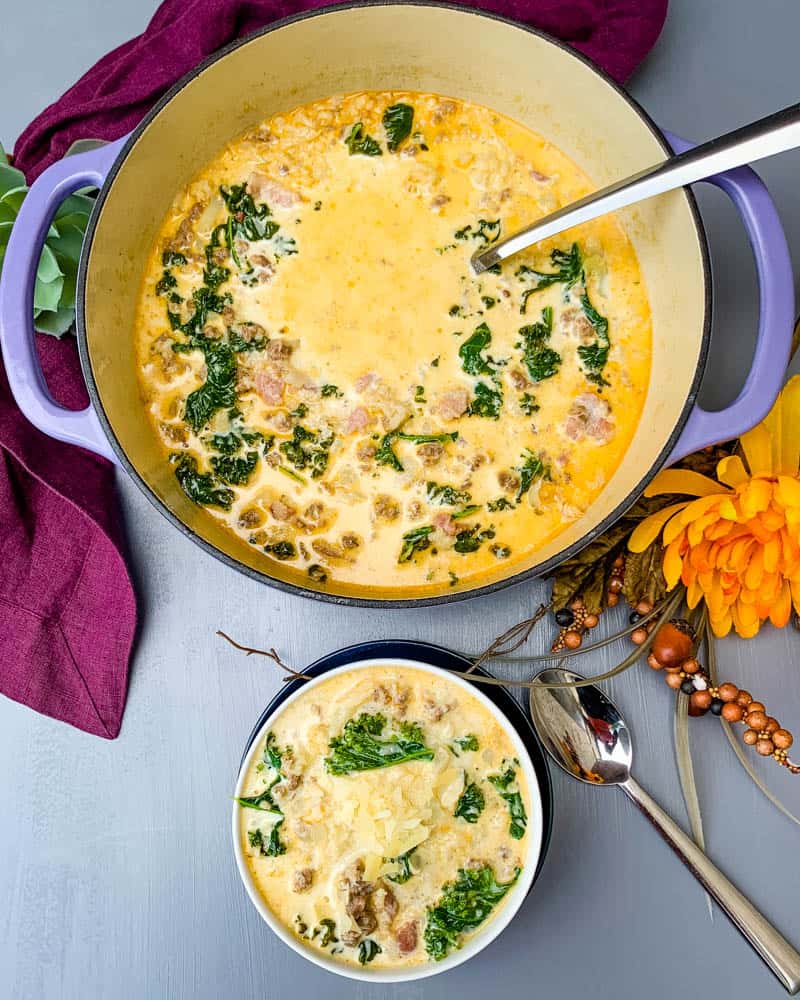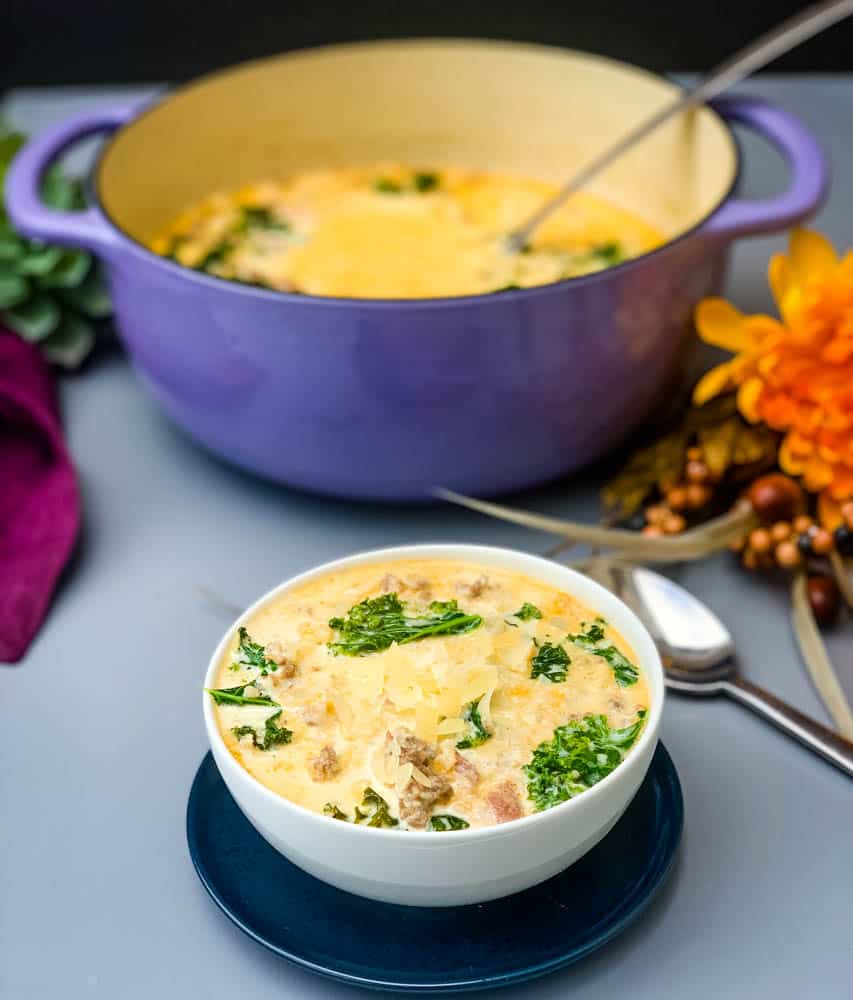 Storage and Freezing Tips
If you find yourself with leftovers, our Zuppa Toscana Soup can be refrigerated for 3-4 days. For those looking to freeze it, the soup will last up to 3 months. To enjoy it again, simply thaw it in the fridge overnight and reheat it on the stove. We recommend adding the cream and kale after freezing to prevent any separation.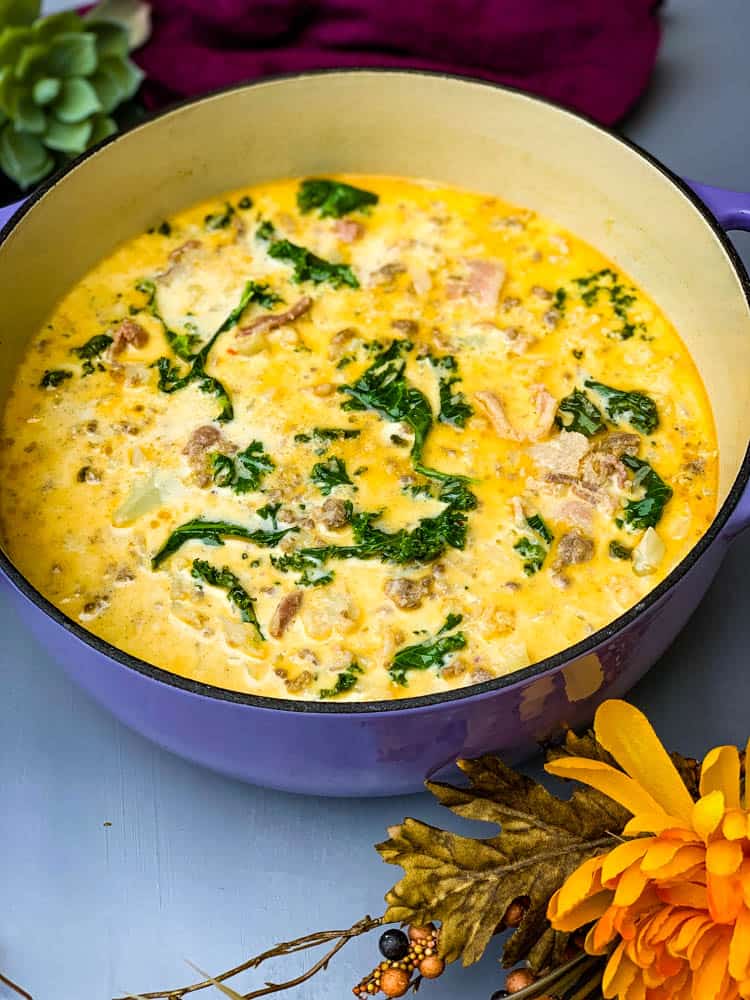 More Keto Soup Ideas
If you're craving more keto soup recipes, we've got you covered! Try our Keto Broccoli Cheddar Soup, Keto Chicken Noodle Zoodle Soup, or Keto Beef Chili. They're all flavorful and perfect for your keto journey.
For those new to the keto diet or looking for some helpful tips, check out our Printable Keto Grocery List here.
Now that you have the recipe, it's time to gather your ingredients and prepare yourself for a delightful bowl of keto goodness. Happy cooking, and enjoy your Keto Zuppa Toscana Soup!
This post contains affiliate links. Please read my full disclosure here.