A Journey into the World of Tteokbokki
Tteokbokki, a Korean street food sensation, is not only a comfort food but also an addictive treat. Prepare this easy tteokbokki recipe at home, and experience the irresistible allure of these chewy rice cakes, perfectly balanced with a spicy and slightly sweet flavor.
Unveiling the Essence of Tteokbokki
Translated as "stir-fried rice cake," tteokbokki (떡볶이) holds an esteemed place in Korean cuisine, boasting a rich history and numerous variations. This beloved delicacy, sometimes spelled as ddukbokki, ddeokbokki, dukbokki, or topokki, has earned its popularity as both a street food and a cherished home-cooked dish.
Unlike the long-standing gungjung tteokbokki, which has graced tables for centuries, the fiery red tteokbokki emerged in 1953, following the end of the Korean War. It was ingeniously created by Ma Bok-rim, a visionary woman from Seoul's Sindang-dong neighborhood. Her mouthwatering combination of spicy gochujang sauce and delightful chewy rice cakes soon became a beloved and affordable comfort snack.
During my childhood, tteokbokki had already become a sought-after street food delicacy. However, in its classic form, it lacked the spectacular assortment of ingredients you can enjoy today. My fondest memories involve indulging in this after-school treat from vibrant street carts and bustling market stalls.
Essential Ingredients for Tteokbokki
Rice Cakes: The Heart of Tteokbokki
Tteokbokki owes its identity to garaetteok (가래떡), a type of cylindrical white rice cake made from short grain rice. While the thicker variety is used for tteokguk (rice cake soup), the thinner and shorter rice cakes, known as tteokbokki tteok (떡볶이떡), are perfect for our recipe. You can find these rice cakes in various shapes and sizes, fresh, refrigerated, or frozen, at Korean markets. If possible, opt for freshly made local ones as they offer the best flavor. Otherwise, refrigerated or frozen rice cakes work just fine.
Other Delightful Additions
In its simplest form, tteokbokki traditionally combines eomuk (fish cake), green cabbage, scallions, and garlic. These ingredients significantly enhance the overall taste of the dish. However, as tteokbokki has evolved over time, people have embraced a multitude of creative additions, including ramyun noodles, dumplings, boiled eggs, hot dogs, seafood, and even cheese.
The Perfect Tteokbokki Sauce
While anchovy broth is often used to impart depth of flavor, you can simply use water as a substitute. The key seasoning ingredients consist of gochujang (Korean red chili pepper paste), soy sauce, and sugar. To increase spiciness without altering the saltiness and sweetness, gochugaru (Korean red chili pepper flakes) can be added. Some Koreans also use syrup, such as oligo syrup, to give the dish a glossy finish. In this recipe, I have included an alternative gochujang and gochugaru combination for those who prefer a clean, yet spicier sauce.
Unleashing the Flavors: Your Guide to Making Tteokbokki
Soak the rice cakes for at least 20 minutes, unless you have freshly made soft rice cakes.
Cut the fish cake, cabbage, and scallions into 2-inch long pieces.
In a large pan, bring the sauce ingredients to a boil in the anchovy broth (or water) before adding the rice cakes.
Add the rice cakes and boil for 8 – 10 minutes (or longer) until they become tender and the sauce thickens. Remember to stir occasionally.
Introduce the vegetables and fish cakes into the pot. Continue boiling, stirring constantly, for an additional 4 – 6 minutes. Adjust the cooking time as needed, depending on the desired softness of the rice cakes. Feel free to add more broth or water if necessary.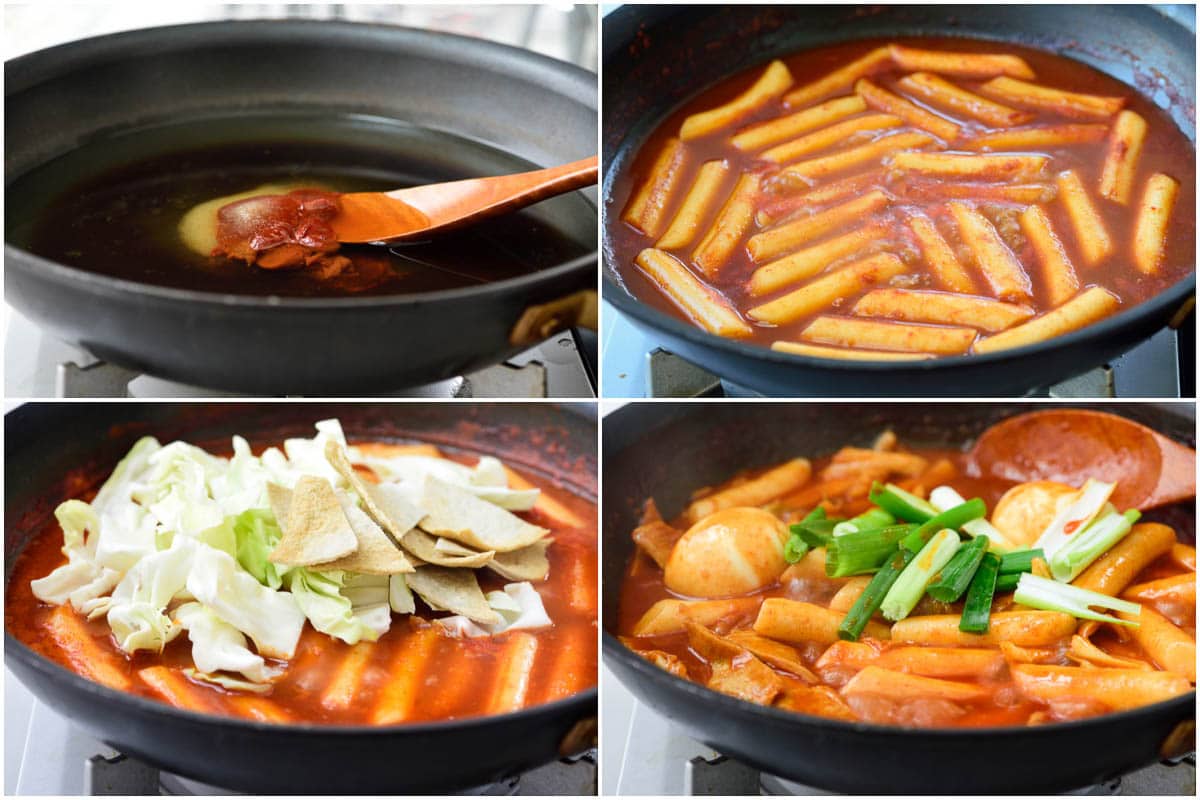 Vegan Tteokbokki: An Alternate Delight
Vegetarian or vegan tteokbokki offers a delectable twist by substituting anchovy broth with water or vegetable broth. Simply omit the fish cake or replace it with crispy fried tofu pockets known as yubu. Adding mushrooms further enhances the dish's flavor.
Frequently Asked Questions
Why do my rice cakes take a long time to soften even after pre-soaking?
Some refrigerated (and frozen) rice cakes may be dry and hard. If that's the case, try soaking them for a longer duration, even overnight if needed.

What can I use as a substitute for anchovy broth?
Tteokbokki can be made with water instead of anchovy broth. Additionally, feel free to experiment with various broths such as vegetable or chicken broth.

How can I reduce the spiciness of tteokbokki?
To make the dish less spicy, you can reduce the amount of gochujang or eliminate gochugaru entirely. If you reduce gochujang, remember to increase the quantity of soy sauce to maintain the desired level of saltiness. For a mild experience, try gungjung tteokbokki.

How do I reheat leftover tteokbokki?
Unfortunately, microwaving rice cakes can cause them to become dry and hard. The best method for reheating leftovers is to simmer them in a covered saucepan with some water or broth over medium-low heat. Remember to stir occasionally.
Watch a Tteokbokki Cooking Tutorial
More Tempting Tteokbokki Variations
Gungjung Tteokbokki
Seafood Cheese Tteokbokki
Soupy Tteokbokki with Ramyun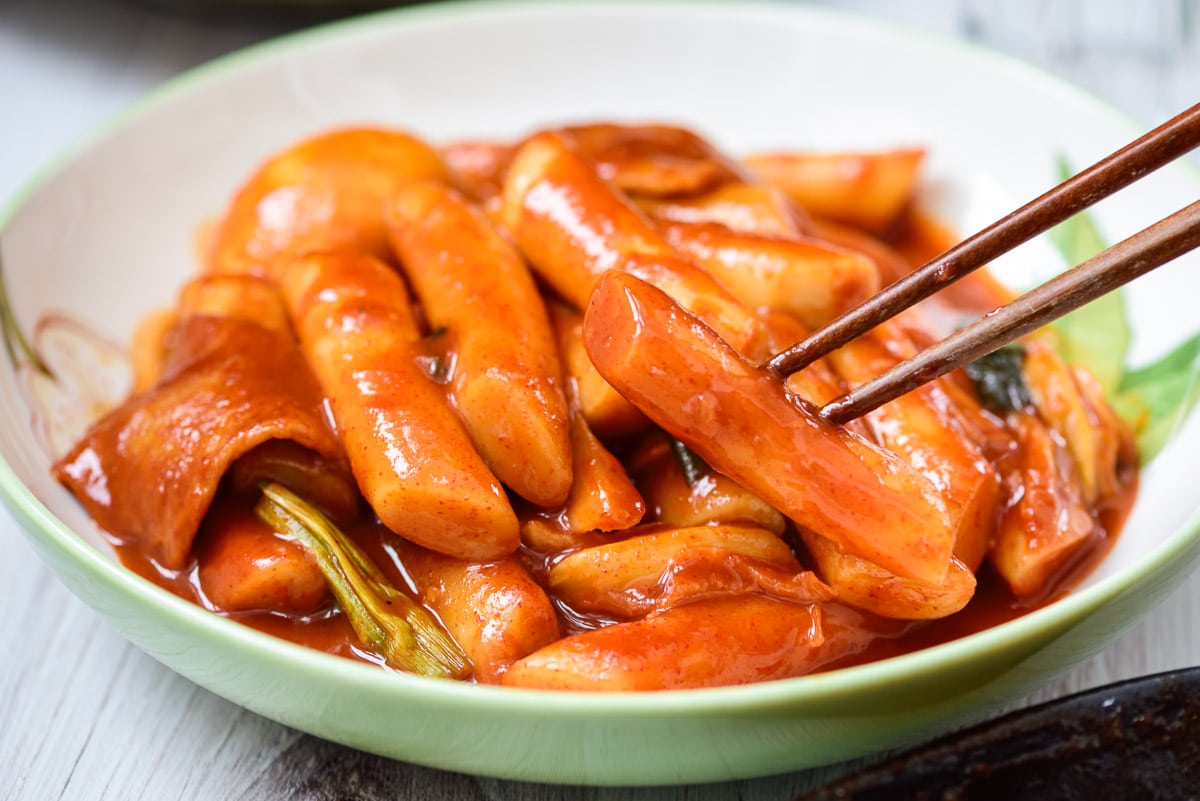 For additional Korean cooking inspiration, check out Family Cuisine. Join us on YouTube, Pinterest, Twitter, Facebook, and Instagram.
This is an updated version of the original tteokbokki recipe published in March 2012. This revised edition features more detailed information, new mouthwatering photos, and minor adjustments to the recipe.