Reader's Comment: This is truly divine….. if anyone is looking for a recipe to try, this it it! It falls apart it's so tender and the flavour is so delicious.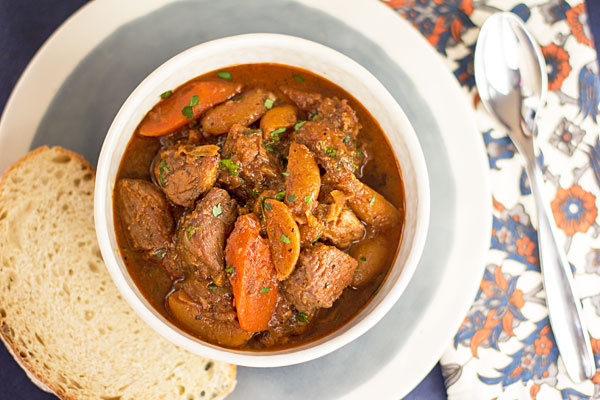 Last year I read an excellent book called "A Gentleman in Moscow" by Amor Towles. One of the meals the gentleman ate was a Latvian Stew which was described in this way: "the onions thoroughly caramelized, the pork slowly braised, and the apricots briefly stewed, the three ingredients came together in a sweet and smoky medley that simultaneously suggested the comfort of a snowed-in tavern and the jangle of a Gypsy tambourine." If that doesn't make you hungry, nothing will. It sure made me hungry and set me on a quest for Latvian Stew.
After a search of Latvian stew recipes, it became apparent that there is no one tried and true recipe. Everyone adds a special ingredient or leaves out one or two, or just comes up with something totally different. However, the ingredients that are consistent throughout are the pork, dried apricots and some specific spices. After that, the recipes seemed to be open to the whims their creators.
Unfortunately, none of the recipes I found seemed to fit the description of a Latvian stew from the book nor the one I had formed in my head. Therefore, I decided to pick and choose my own ingredients to try to develop the stew that I had imagined. And here it is. I hope you enjoy it as much as we do.
NOTE: See the book review at the bottom of this post.
Latvian Stew – Braised Pork with Dried Apricots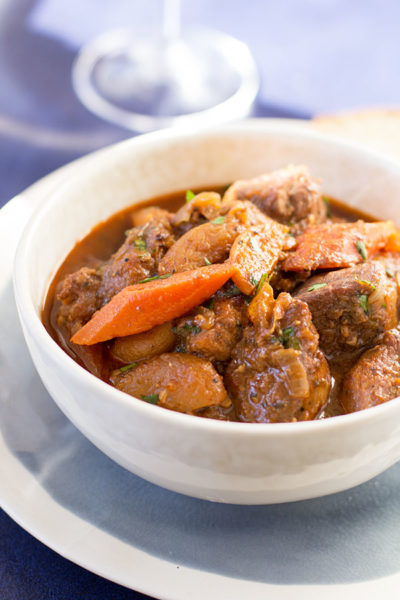 Comment from a subscriber: "My husband has declared that this is the best stew he's ever eaten (and he's eaten some good stuff!)."
Book Review: "A Gentleman in Moscow" by Amor Towles.
"A Gentleman in Moscow" begins in 1922 and is about a young count, Rostov, who is sentenced by the Bolshevik tribunal to life imprisonment in the Metropol, a grand hotel across from the Kremlin. His crime – writing a politically incorrect poem. The only reason he wasn't taken out and shot was that he was considered by some to be one of the "heroes of the prerevolutionary cause". As his punishment he is forced to live out his life in the attic of the hotel, but with access to most every place inside the hotel. He can receive guests and can interact with the hotel guests. He can hang out in the lobby and eat at the hotel restaurants, but he can't step one foot outside of the hotel or he will be shot.
Rostov takes his punishment in stride and seems to make the best of it, because he really has no other choice. The story evolves as he interacts with the people working at the hotel, hotel guests, and visitors. Much of what is happening outside the hotel is brought inside by various people and shared with Rostov who is a great listener and of course, quite curious about what he is missing.
As you can see, the book is more than about a guy eating Latvian stew. It's actually an historical novel of a turbulent time in Russian history. It was the one of the best book I read in 2017; therefore, I highly recommend it.
Now that I've teased your palate with this Latvian Stew and provided a little background, let me tease it a few more tasty stews:
Please see more list about A gentleman in moscow latvian stew
Detail: 🔗