A Leftover Prime Rib Sandwich is the best way to enjoy your prime rib roast leftovers.
This recipe details how to make the best prime rib sandwich! Caramelized onions, dressed arugula greens, shaved leftover prime rib roast, and a roasted garlic horseradish mayo all come together for this incredible sandwich.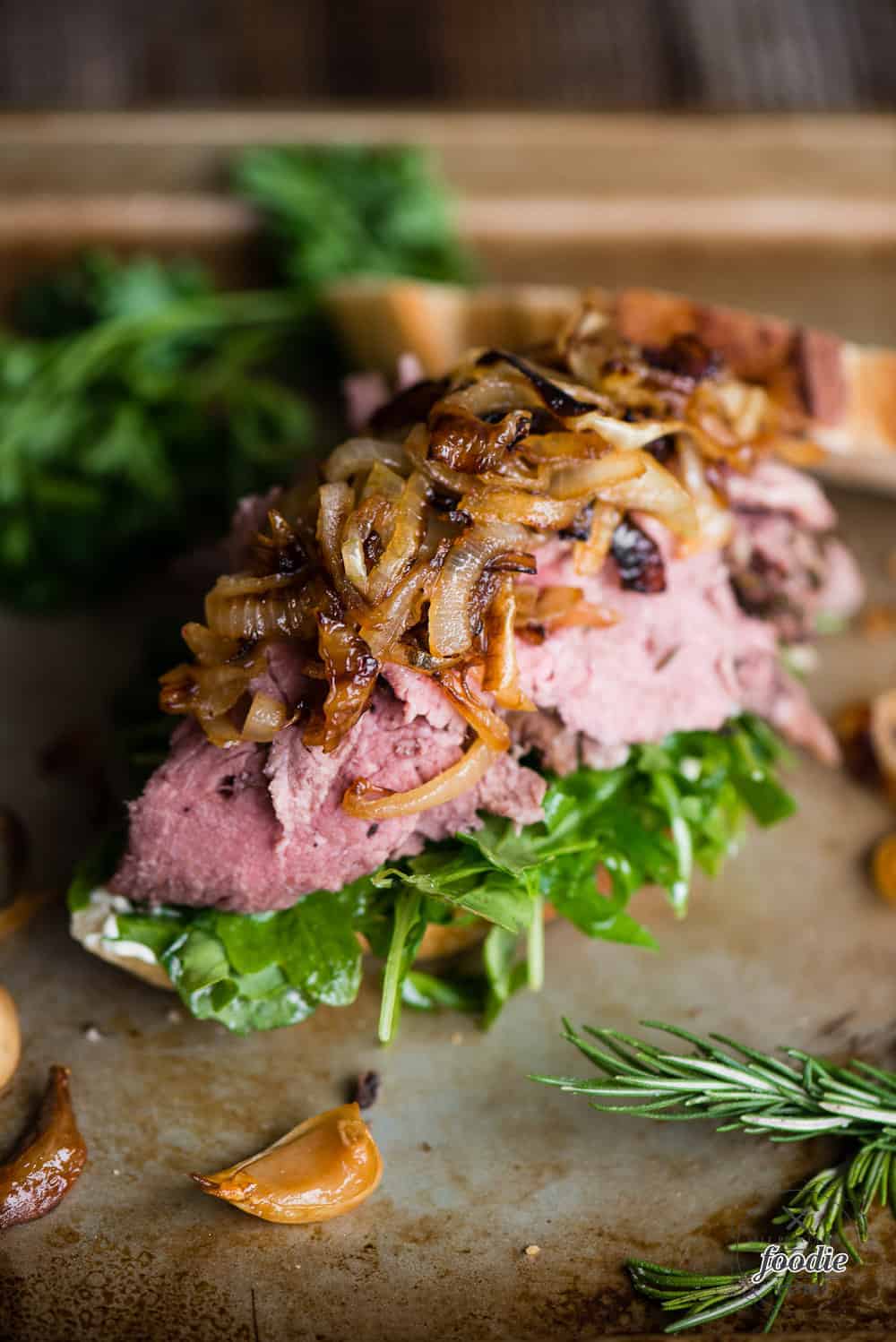 PRIME RIB SANDWICH RECIPE
Pin it to your SANDWICH BOARD to SAVE it for later!
Follow Self Proclaimed Foodie on Pinterest for more great recipes!
I look forward to enjoying a Leftover Prime Rib Sandwich almost as much as I enjoy eating the actual prime rib roast. Every Christmas our family makes a bone-in prime rib roast. If you're not familar with prime rib, it's an expensive cut of meat so you want to make sure you cook it perfectly. I absolutely love prime rib leftovers, so I always buy a roast bigger than what we'll eat.
How to make a leftover prime rib sandwich:
This particular sandwich recipe is served cold. You can certainly warm the meat, but since I take great care to cook it perfectly the first time, I never want to risk over cooking the meat by reheating. I think leftover prime rib tastes best when thinly sliced.
There are a few ingredients that really make this sandwich recipe stand out.
I love mayo on my sandwiches and I love horseradish with my prime rib, so I combined the two! I also keep roasted garlic in my fridge at all times, so I added that as well.
The caramelized onions are SO GOOD on this prime rib sandwich. The trick perfectly caramelizing your onions is to cook them as hot as you can without letting them burn and stirring them the least amount as possible. They take a little babysitting while on the stove, but they are so worth it.
Arugula is great on any sandwich, in my opinion, because this dark leafy green ads a nice bittery crunch. I always love to dress my salad greens with a bit of oil and vinegar.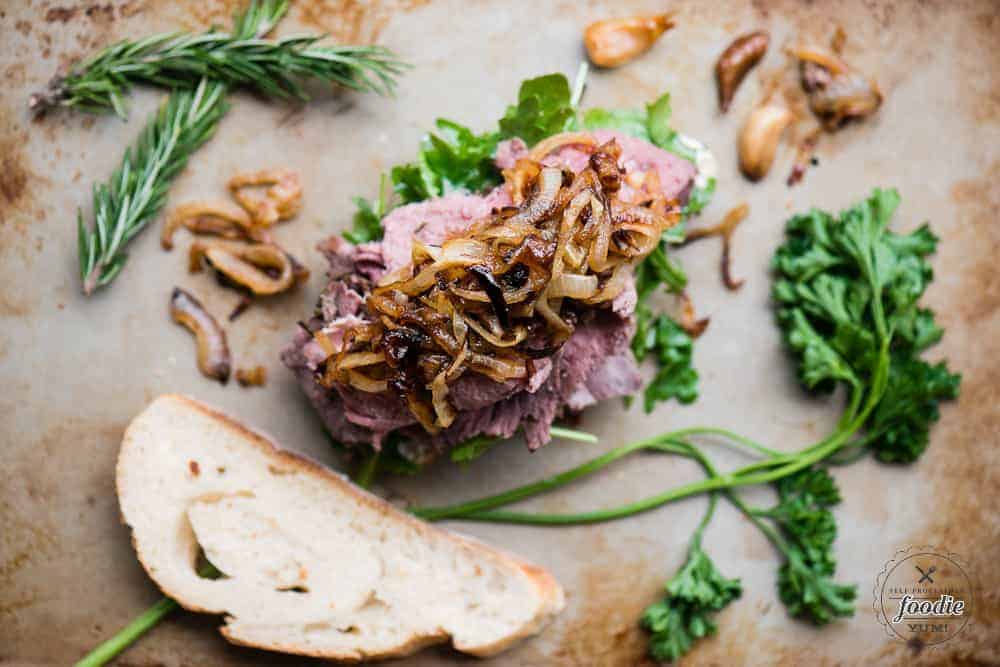 What else can you make with leftover prime rib?
We usually only have enough leftovers to make these sandwiches, but here are a few other recipe ideas to make with leftover prime rib:
Soup. Any soup that calls for beef can use leftover prime rib. My Instant Pot Beef Stew recipe would be outstanding with leftover prime rib. I would skip the step where you brown the stew meat and just throw everything in the . YUM!
Stroganoff. My Classic Beef Stroganoff or my Pressure Cooker Beef Stroganoff recipes could both be adapted to use leftover prime rib instead of ground or stew meat. Just skip the browning steps!
Hash. What's better with eggs in the morning than a delicious hash? You could start with my Sweet Potato and Ham Hash and swap out the ham for prime rib and even use golden potatoes in place of the sweet potatoes.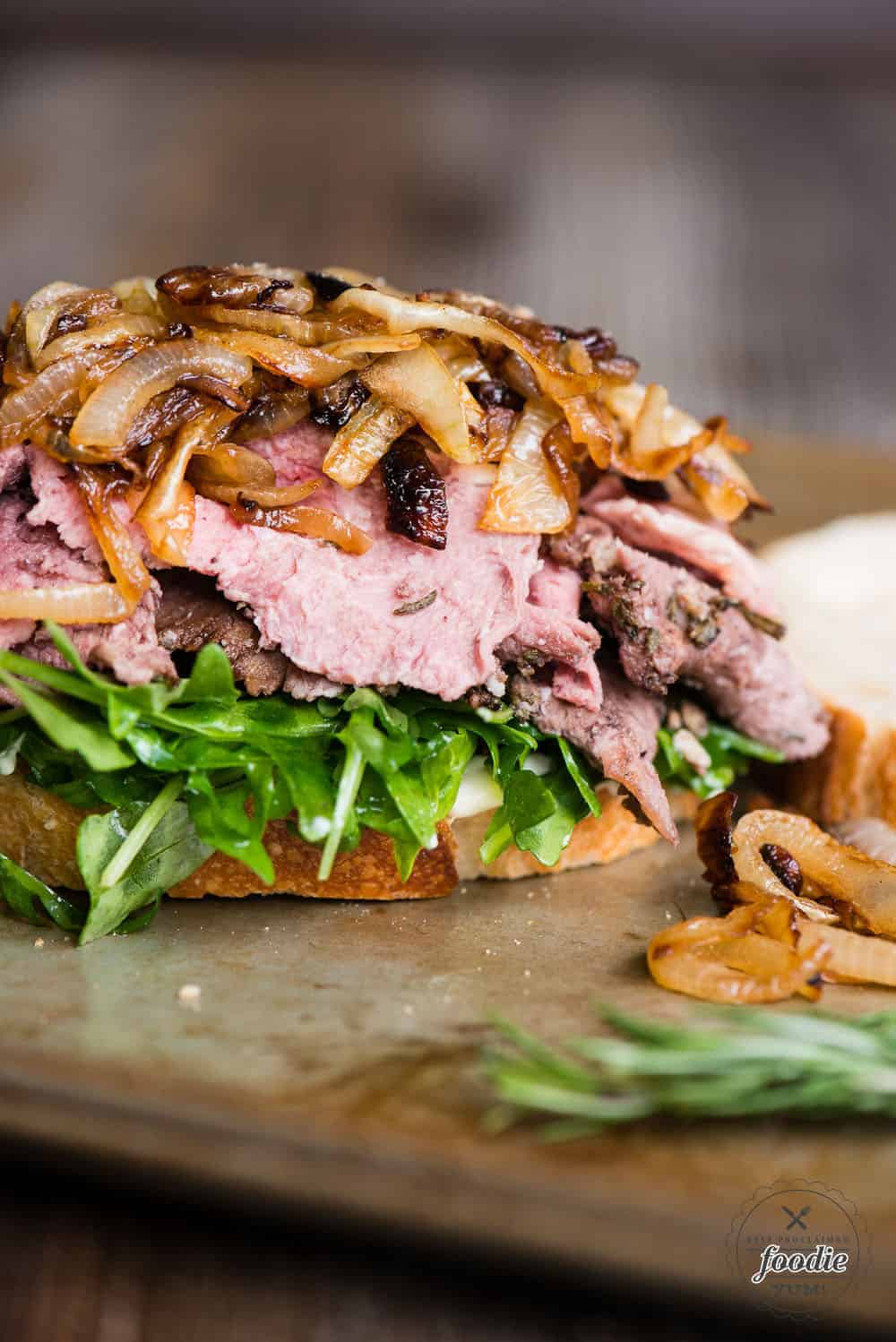 Love tasty sandwich recipes?
Well then you'll definitely want to try these:
Loaded Grilled Italian Sandwich
Ham, Egg and Cheese Breakfast Sandwiches
Open-faced Chicken Salad Sandwich
Mini Bacon Jalapeno Egg Salad Sandwiches
California Club Sandwich
Easy Ham and Cheese Pocket Sandwiches
Summer Veggie Sandwich
Hazelnut Chicken Salad Sandwiches
Back-to-School Turkey Pinwheels
Please see more list about Prime rib roast leftovers recipe
Detail: 🔗