This tasty Leftover Roast Beef Stew doesn't use potatoes or carrots, so it's an easy low-carb dinner when you have leftover roast beef! This recipe calls for a pound of cooked roast beef, but see suggestions for other things to substitute or a similar recipe to make with uncooked beef.
PIN Leftover Roast Beef Stew to try it later!
Reading: Beef stew with leftover roast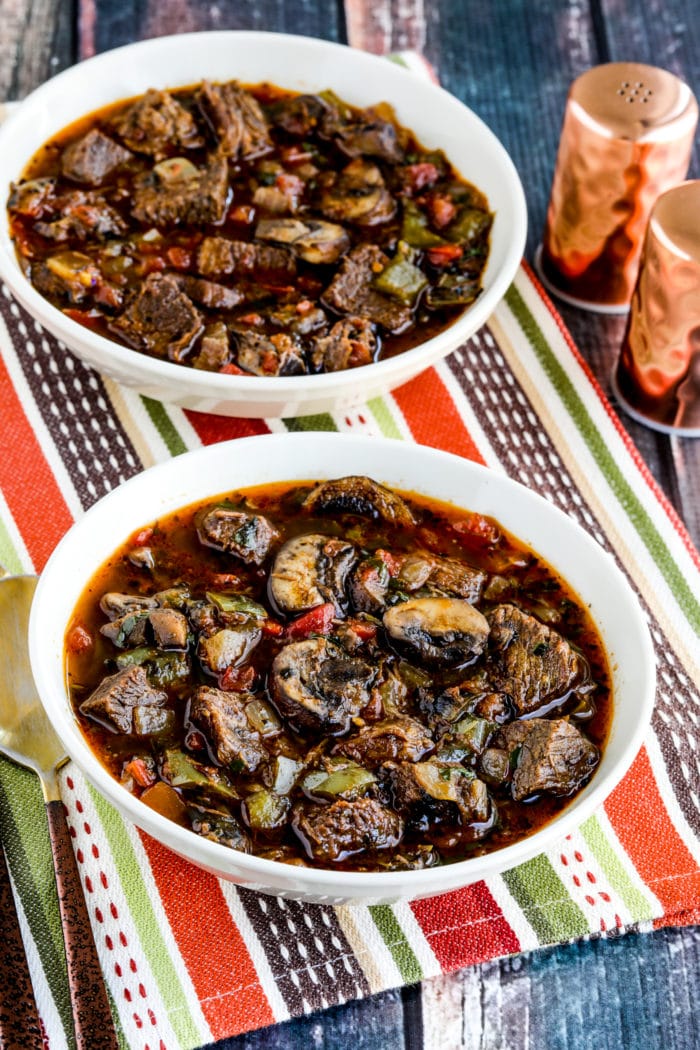 This Leftover Roast Beef Stew is a recipe from the early days of my site that suddenly got popular again recently, and I wondered why. Then I realized that now beef is so much more expensive that when people splurge on a nice beef roast, they're probably searching for another dinner idea to make with the leftovers! And this recipe is the perfect way to use leftover roast beef to make a tasty stew!
This beef stew recipe also a perfect example of something that's tasty no matter what kind of diet you're following, and with all the flavor from green pepper, mushrooms, roasted tomatoes, oregano, and basil, you won't miss the potatoes or carrots a bit. This is a flexible recipe, and you can adjust amounts and ingredients to what you have hanging out in the fridge.
The one thing I think is essential is the dried herbs that are simmered in the stock, with the addition of some fresh basil or frozen basil at the end. For me it was a good reason to buy one of those basil plants that you see in the grocery store, and so far I am keeping it alive in my window! But even if you don't have fresh basil this is delicious and I hope you'll try it if you get some leftover roast beef!
What ingredients do you need?
onion
green pepper
olive oil
leftover roast beef or steak
canned beef broth (or use homemade beef stock if you have some)
canned diced tomatoes
dried oregano
dried basil
mushrooms
fresh basil or frozen basil (probably optional, but good)
salt and fresh-ground black pepper to taste
What if you don't have fresh or frozen basil?
If you don't have fresh basil or frozen basil you can use the chopped basil that's sold in a tube, but another easy option if you don't need the recipe to be dairy-free would be to use my favorite purchased basil pesto to add that basil flavor.
What makes this leftover beef stew extra flavorful?
Read more: Instant Pot Red Lentil Soup with Lemon
Of course starting with roast beef adds flavor to this Italian beef stew. But the stew is also extra flavorful from the green pepper, tomatoes, mushrooms, dried oregano, and dried basil. And if you finish it off with some fresh basil that makes it even better.
What if you have less than a pound of leftover roast beef?
If you have a whole pound of leftover roast beef, I urge you to use the full amount (or even more). But if you don't have a full pound of beef cubes you can still make a tasty stew. You could use more green pepper or more mushrooms, or add zucchini, add red bell pepper, add artichoke hearts, or add another vegetable you enjoy in stew. You could also add some bacon or sausage to the stew.
What if you don't have leftover roast beef?
Check out Italian Beef Stew with Zucchini, Mushrooms, and Basil if you'd like to make a similar stew recipe that starts with uncooked chuck roast.
Want more tasty low-carb stew recipes?
Check out Low-Carb and Keto Stew Recipes for lots more tasty ideas for stew, with stews made from beef, fish, sausage, chicken, and vegetables.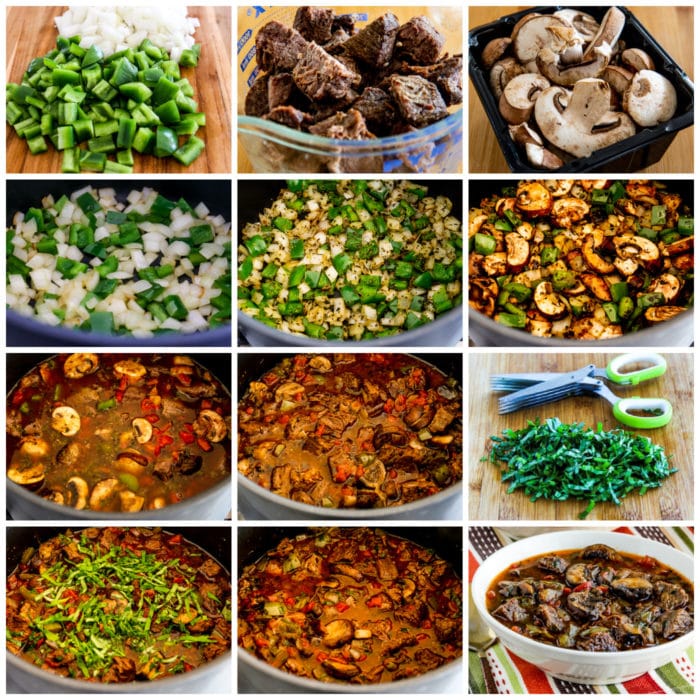 How to Make Leftover Roast Beef Stew:
(This is just a summary of the steps shown in the photos. Scroll down for complete recipe including nutritional information.
Cut up onion and bell pepper.
Cut up leftover roast beef into large bite-sized pieces.
Wash mushrooms if needed and thickly slice.
Heat olive oil over medium-high heat, add onions and green peppers, and cook about 3 minutes.
Add dried oregano and basil and cook about 3 minutes more.
Add mushrooms and cook 2-3 minutes more.
Add the cubes of leftover roast beef, beef broth, and canned tomatoes with liquid.
Reduce heat to very low and let stew simmer about 45 minutes.
If you have fresh basil, use a knife or Herb Scissors (affiliate link) to cut the basil into thin strips.
(You can also use frozen basil if you have some. Or use my favorite purchased basil pesto.)
Add basil to the stew and simmer about 5-10 minutes more.
Season with salt and fresh ground black pepper to taste.
Serve hot.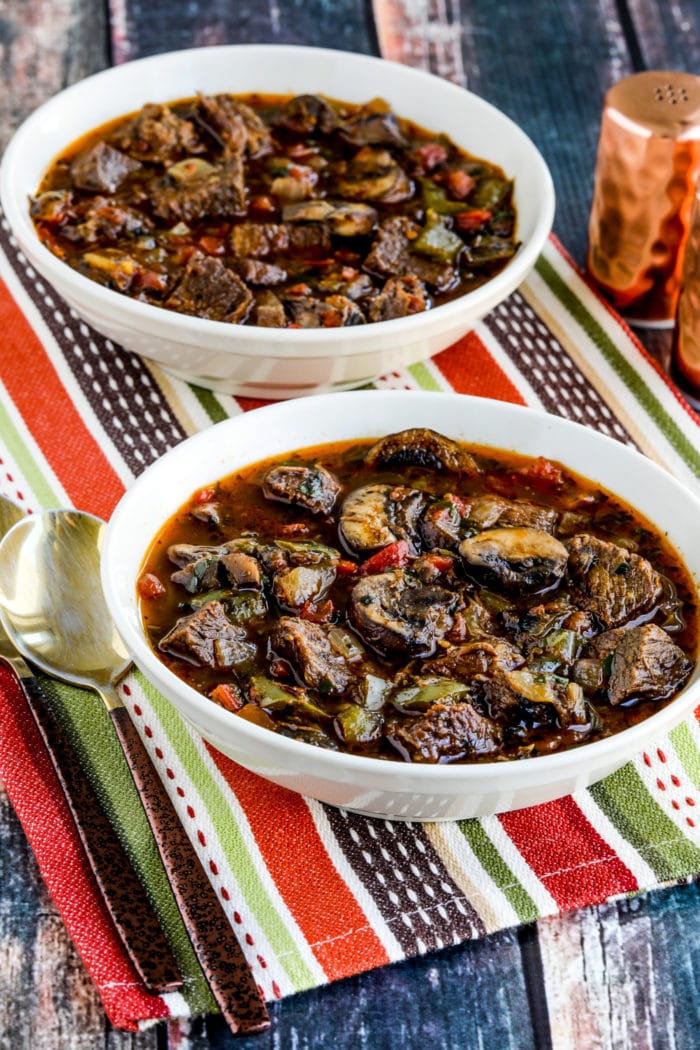 Make it a low-carb meal:
This stew made with leftover roast beef could definitely be a one-dish meal. But if you want to add something else, this would taste great with toasted Olive Bread or Savory Almond Flour Bread and Spring Mix Salad with Mary's Perfect Dressing.
More Low-Carb Dinners with Beef:
Read more: Top 7 oyster chowder vs oyster stew
Ground Beef Gyro Meatball Lettuce Wraps
Balsamic and Onion Pot Roast
Pan-Grilled Steak with Olive Sauce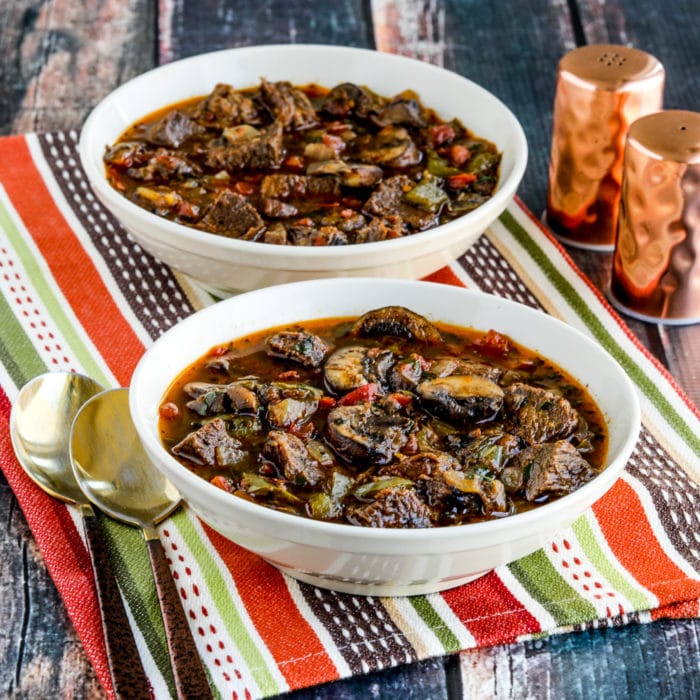 Low-Carb Diet / Low-Glycemic Diet / South Beach Diet Suggestions: This leftover roast beef stew would be suitable for low-carb and low-glycemic diets, and as long as you use lean roast beef (less than 10% fat), this recipe would be approved for all phases of the original South Beach Diet. The recipe is also Gluten-Free and Paleo.
Find More Recipes Like This One: Use Soups and Stew Recipes for more tasty ideas like this one. Use the Diet Type Index to find recipes suitable for a specific eating plan. You might also like to follow Kalyn's Kitchen on Pinterest, on Facebook, or on Instagram to see all the good recipes I'm sharing there.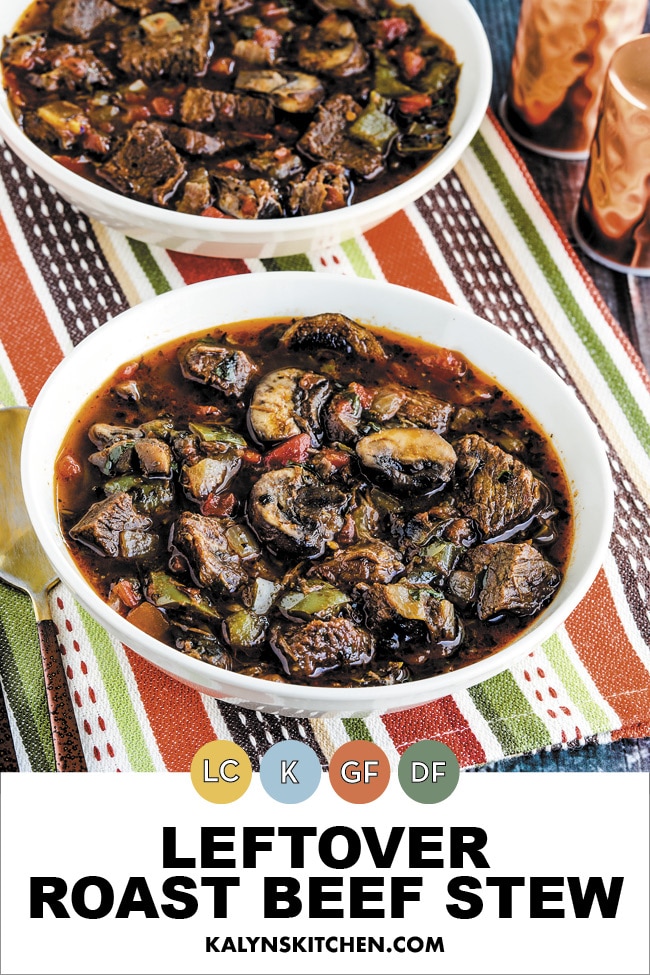 Share This:
Read more: how to know when sasuages are done boiled | Family Cuisine
Through this article, we hope to help you understand Beef stew with leftover roast
Source: https://kalynskitchen.com/leftover-roast-beef-italian-stew/