Crispy, fresh, and with just the right amount of lemon, this lemon roasted asparagus is a great side vegetable to go with dinner!
We tend to focus on main dishes sometimes and neglect the power of an amazing side dish…especially vegetables! This lemon roasted asparagus is easy to make, uses minimal ingredients, and will awaken your meal!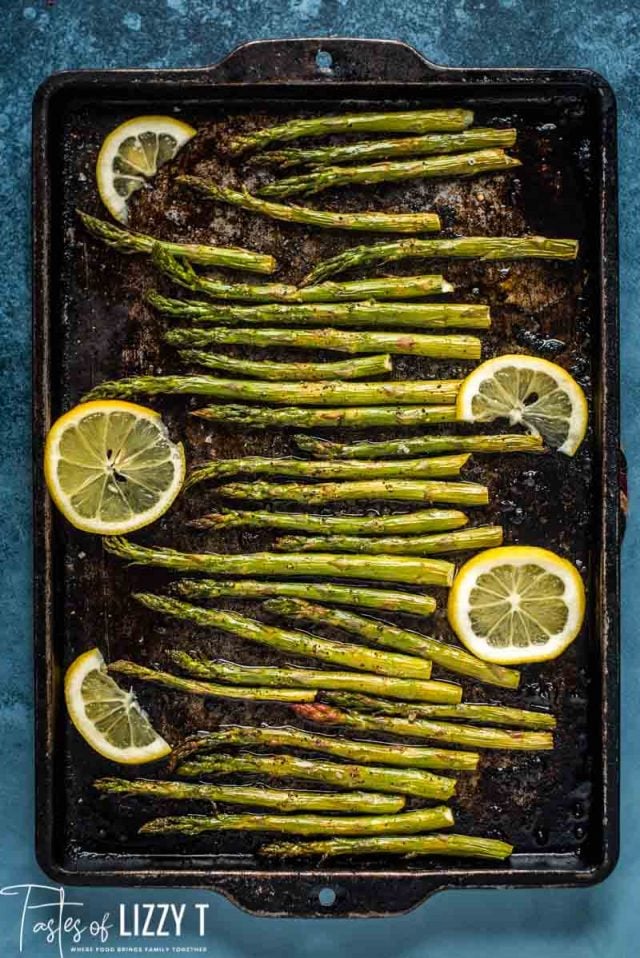 There are times when the vegetable is the star of the meal, just like with our twice-fried plantains with a garlic topping, our Potatoes O'Brien that goes great with fresh sunny side up eggs!
This easy roasted asparagus will be the star of any meal you serve it with. 🙂
When are asparagus in season?
Asparagus are a Spring vegetable, and they peak in April.
What Ingredients Are In Lemon Roasted Asparagus?
Roasting asparagus takes few ingredients! All you may already have on hand.
asparagus
olive oil
lemon juice
salt
black pepper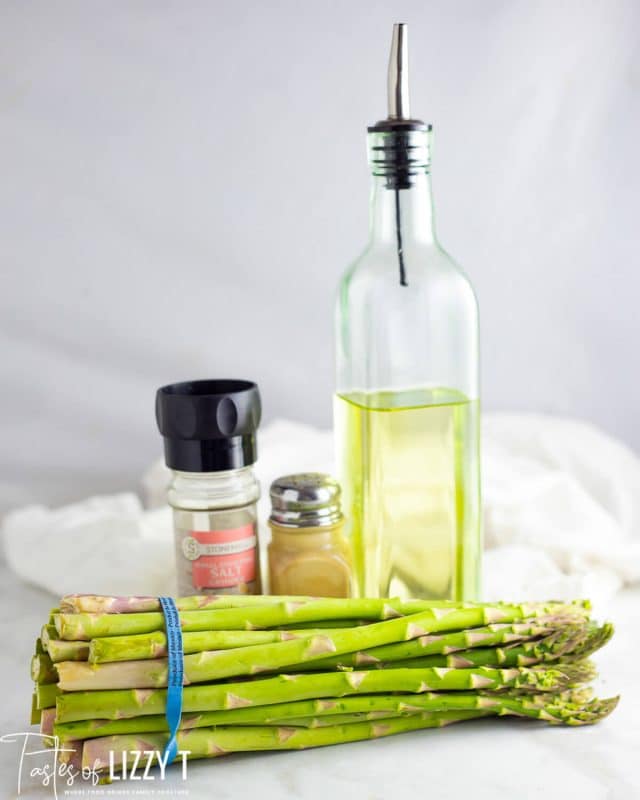 How To Prepare Asparagus For Roasting
Also read: How To Cook Frozen Asparagus?
Roasting asparagus is super simple! There is a quick step that must be taken anytime you cook with asparagus!
The ends of asparagus' have a "woody" stem. You can actually gently bend the asparagus and it will "snap" where the "woody" part begins.
It's usually the two inches on the bottom that are meant to be cut off and discarded.
As soon as the ends are discarded, rinse and pat dry the asparagus.
Can I Roast Frozen Asparagus?
Frozen asparagus can be roasted frozen. Be warned, using frozen asparagus for roasting will result in a softer spear from the water content of it being frozen.
If you choose to roast frozen asparagus spears, higher to heat to 450 degrees Fahrenheit to get a crispy roasted asparagus. Be sure to flip it halfway at this temperature.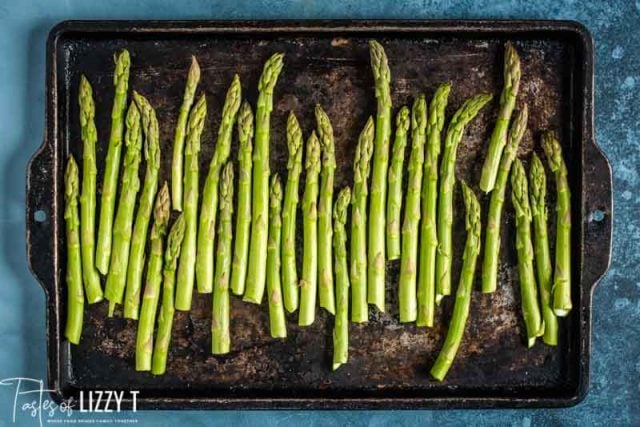 How Big Should My Asparagus Be To Roast?
Depending on the season and where you grab your fresh asparagus, the size and thickness will vary!
Also read: Air Fryer Frozen Asparagus – Inspired Epicurean
We were able to use beautiful, thick, and fresh asparagus to roast with lemon.
Thicker asparagus will give you a nice crunch when you bite into it! I prefer to leave the thinner asparagus for wrapping in bundles of bacon and asparagus or for adding into pasta dishes (roughly chopped).
**Pro Tip: The thicker asparagus spears are ideal for roasting asparagus in the oven!**
Step by step directions for roasting asparagus:
Preheat oven to 400º Fahrenheit.
Cut off ends of asparagus. Spread on a baking sheet in a single layer.
Drizzle with olive oil and lemon juice. Toss to coat. Sprinkle with sea salt and pepper. (Be generous with the salt and pepper!)
Roast for about 20 minutes or until tender.
Serve warm, garnished with fresh lemon wedges.
When you're ready to eat, squeeze the fresh lemon juice over the asparagus.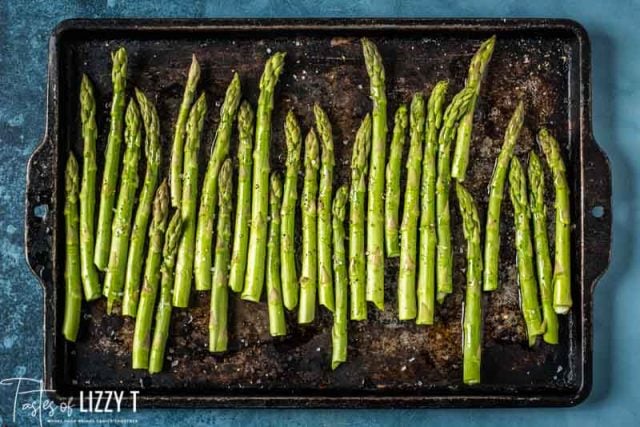 Why is my roasted asparagus soggy?
Soggy asparagus? The main culprit for soggy asparagus is too much oil and thin asparagus spears.
If you're roasting thin asparagus spears, skip the liquid oil from a bottle and gently mist it with cooking spray!
Can I freeze leftover roasted asparagus?
Roasted asparagus should not be frozen. Instead, store any leftover asparagus into an air tight sealed container and refrigerate for 1-2 days.
Also read: How to Cook Frozen Asparagus ( Recipe Ideas!)
Reheat the lemon roasted asparagus in the microwave for 30-60 seconds when ready to eat.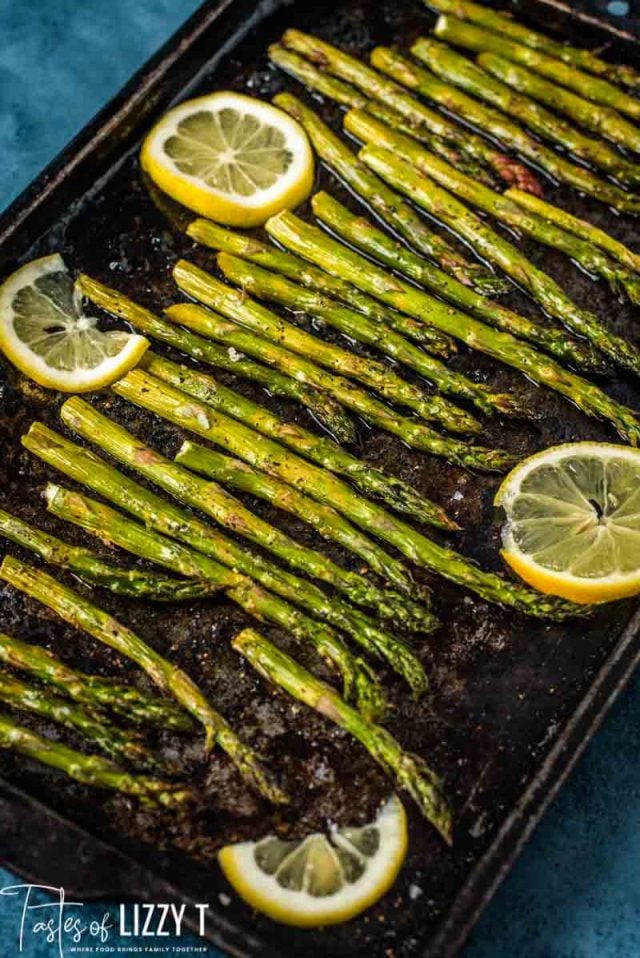 How healthy is asparagus?
Asparagus is a healthy vegetable to include into your diet regularly. According to a Healthline article asparagus has only 20 calories, 1.8 grams of fiber, and 2.2 grams of protein per serving.
High in antioxidants, asparagus is proven to be an anti-inflammatory power packed vegetable.
Fun fact: There are three different colored asparagus'! White, purple, and green.
All three colors of asparagus can be cooked the same, steamed, boiled, grilled or roasted. But be warned, the white asparagus is more fibrous and the bottom 2/3 of the spear will need to be removed. (Or cook the white asparagus longer to make it tender.)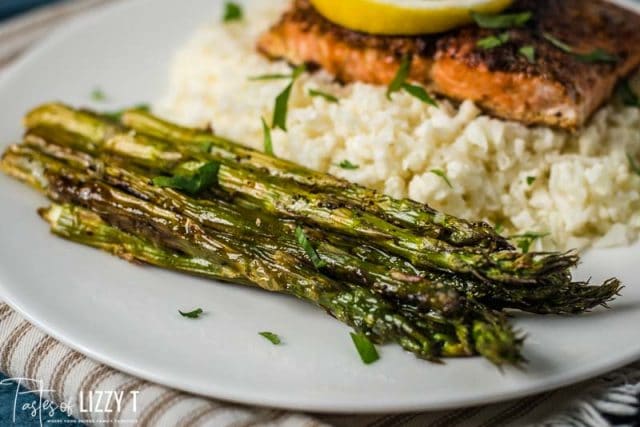 What should I serve with oven roasted asparagus?
Oven roasted asparagus goes with anything! You can make a Hollandaise sauce and serve it Benedict style with eggs for breakfast.
Here are some tried and true recipes that are great with served oven roasted asparagus:
Lemon Garlic Salmon- For a light, yet filling meal, salmon and asparagus with a side salad is perfect!
Cheesy Mashed Cauliflower Bake- Guilt-free eating has never tasted so good than with with cheesy mashed cauliflower bake recipe!
Salisbury Steak- For a meat and potatoes night, this salisbury steak with creamy mashed potatoes needs the freshness of lemon asparagus!
Barbecue Chicken Rub- The smokiness of this BBQ chicken recipe will be complimented well with the zesty taste of lemon roasted asparagus!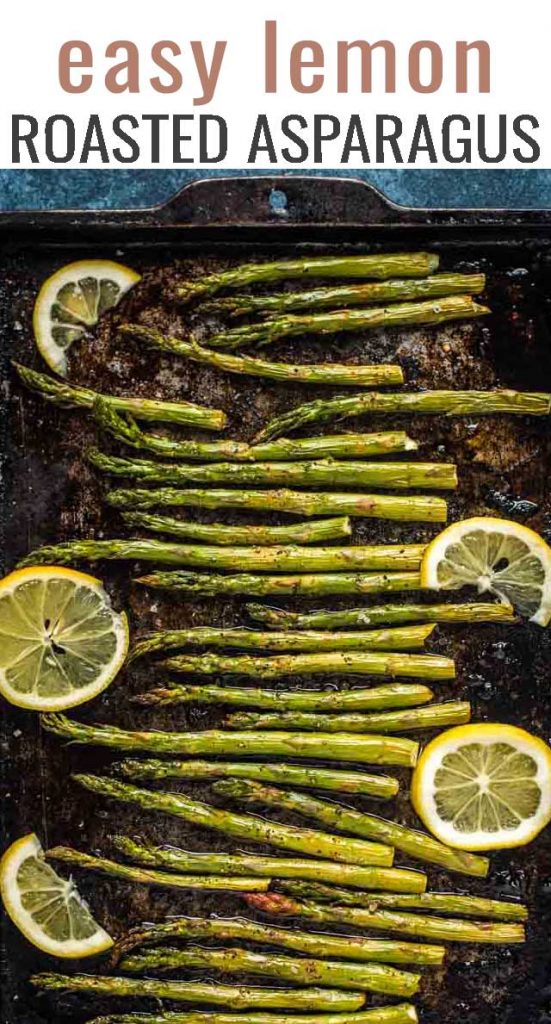 Through this article, we hope to help you understand Can you roast frozen asparagus