Loaded Baked Potato Salad is a classic potato salad recipe with a spin! All of your favorite baked potato flavors like bacon, cheddar cheese and chives make this a perfect BBQ side dish!
I have a confession to make…Potato Salad is one of my most favorite foods. I know it's weird. Certainly give me a chocolate chip cookie any day of the week and I won't argue, but when I am presented with a gorgeous bowl of homemade potato salad, I'll dive first into that bowl of carb heaven.
Loaded Baked Potato Salad Is The Perfect BBQ Side Dish
I'm not sure what it is about potato salad that has me smitten, but if I don't control myself I will eat myself into a coma. And turns out knowing this about myself, I never tried to make potato salad until very recently. I was too scared that armed with that knowledge I would quickly be weighing in at 400 pounds, give or take.
I will say, that in my attempt at avoiding preparing potato salad, I became an expert at OTHER summer BBQ side dishes like these:
Southern Pecan Bread
Cheesy Cornbread
Slow Cooker Garlic Ranch Mushrooms
Cowboy Caviar Pizza
How To Make Loaded Baked Potato Salad
When it comes time for your next BBQ, offer to bring potato salad and surprise them with this fun twist on the classic! No one will be upset when you show up with a recipe full of bacon and cheese…trust me on this. And luckily this recipe is extra easy to throw together, and is even better if it sits in the fridge overnight, so it's a great make-ahead dish!
What Ingredients You Need For Potato Salad?
Potatoes. I use Red Potatoes in my potato salad. They stay firm throughout the cooking process which is great so they don't fall apart when they're soft. Their waxy texture is perfect for potato salad, roasting, or making stews.
Bacon. This is actually optional, and if you don't prefer bacon on your baked potato feel free to leave it out! The great thing about this recipe is how adaptable it is!
Cheese. I use cheddar cheese in my recipe, but again, whatever cheese you like in your potato!
Sour Cream & Mayonnaise. You need a "sauce" to hold together your potato salad, and in traditional potato salads it's usually just mayonnaise, but since this is Baked Potato Salad you have to get sour cream in there! You could even do all sour cream if you prefer!
Vinegar. Just a little vinegar goes into potato salad to give it a slight tang. You could even use lemon juice if you would like, OR you could omit it.
Chives. Chives or green onions are really nice in this recipe for a slight crunch, flavor, and color!
Seasonings. I use salt and pepper in this recipe, which is a great place to start. Feel free to get creative with your spices!
What Can You Add To Potato Salad?
There are so many flavor possibilities for potato salad. Here are some ideas to get you started:
Hot Sauce
Celery
Onions
Red Pepper Flakes
Hard Boiled Eggs
Blue Cheese Crumbles
Corn
What Kind of Potatoes Do You Use in Potato Salad?
Any kind! I like to use red potatoes because they are sturdy and hold their shape and firmness, but you can use really any variety like:
Russet Potatoes
Yellow Potatoes
White Potatoes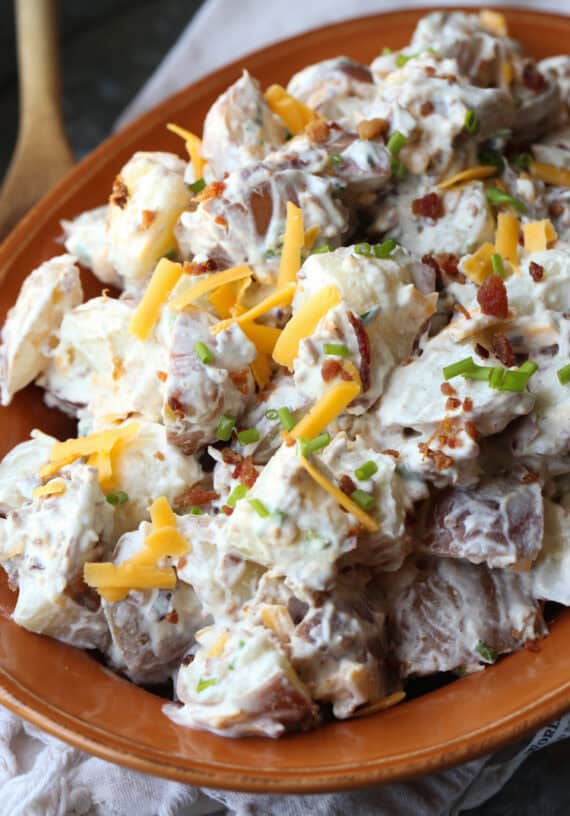 Looking for more Summer Recipe Ideas that this Loaded Potato Salad Will Go Great With? Try These:
The Best Chicken Marinade
Candied Bacon Maple Cheddar Burger
Honey Citrus Grilled Chicken
Chicken Pineapple Skewers
Print
Through this article, we hope to help you understand Bacon and cheese potato salad
Detail: 🔗