A Guilt-Free Twist on a Classic
This delectable Alfredo sauce recipe is a healthier alternative to the traditional version. With only 130 calories per serving, you can enjoy its creamy goodness without any guilt! Made with skim milk, broth, Greek yogurt, and Parmesan, this lightened-up Alfredo sauce will surely impress your taste buds.
If you're a fan of this wholesome classic, you might also enjoy our air fryer chicken nuggets, ground turkey fried rice, healthy turkey pot pie soup, skinny broccoli cheese soup, or vegan mushroom stroganoff recipes.
Is Alfredo Sauce Good for You?
Yes, it can be! Our Healthy Alfredo Sauce is proof that you can enjoy a nutritious version of this beloved sauce.
Normally, Alfredo sauce is not the healthiest choice. But today, it's a whole different story. 😉
This sauce is not only super yummy and easy to make, but it's also incredibly satisfying when paired with dishes like whole wheat pasta and pizza.
As a kid, whenever my family and I visited the Olive Garden, my brother would always order their fettuccine Alfredo. I, on the other hand, never loved the heavy cream-based sauces. However, recently I had an intense craving for a creamy fettuccine Alfredo that wouldn't leave me feeling overly full.
A Healthier Substitute for Heavy Cream
So, what did I use instead of heavy cream for this Alfredo sauce recipe? A combination of broth (for flavor), skim milk (for consistency), and non-fat plain Greek yogurt (for extra creaminess). This blend allows us to create a super creamy sauce with just a fraction of the calories.
While there's certainly a time and place for the full-fat, heavy cream Alfredo sauce (because let's be honest, it's absolutely delicious), spring is right around the corner, and a lighter option was a must.
Our Healthy Alfredo Sauce uses skim milk and your choice of broth (chicken or veggie for added flavor). Plus, it stays creamy thanks to non-fat plain Greek yogurt and a touch of Parmesan cheese.
Don't you just love the idea of indulging without the extra calories?
Embrace the Season
Living in Wisconsin means dealing with unpredictable weather. One day it's 55 and sunny, and the next day it's below freezing and snowing. While I don't mind winter weather much, watching my dog, Teddy, romp around in the snow is too adorable to resist.
But here's the thing – I'm ready for some consistency and for cute dress-and-flip-flop weather. Can anyone else relate?
I'm also ready to transition from stick-to-your-ribs, ultra-warm, and cozy dishes to brighter, sunnier, and refreshing recipes. The best part about spring is that you can still enjoy a little bit of both, right?
This Healthy Alfredo Sauce is the perfect combination. It's warm and cozy, yet light and refreshing.
Did I mention it's incredibly easy to make as well?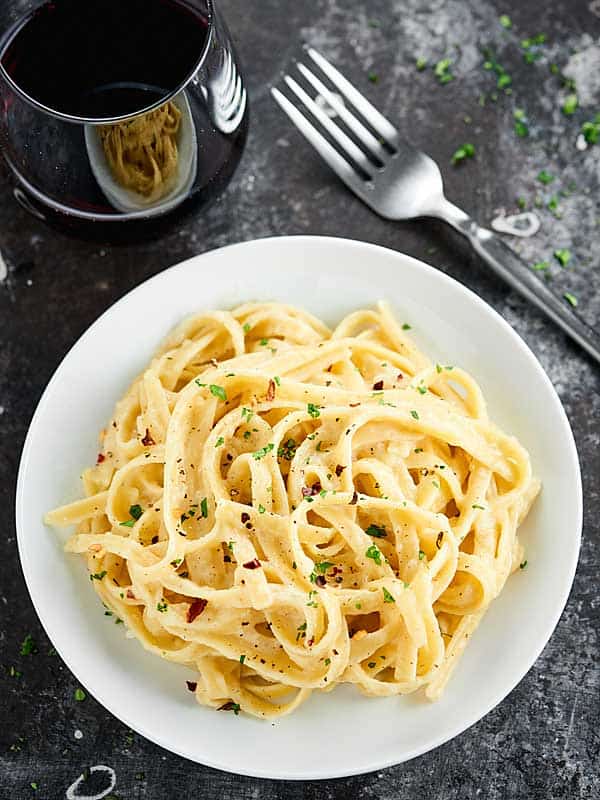 Making Homemade Alfredo Sauce
Believe it or not, making homemade Alfredo sauce is much easier than you think.
Simply heat olive oil in a large saucepan over medium heat. Once hot, stir in cornstarch to thicken the sauce.
Next, whisk in broth and milk, bring to a simmer, remove from heat, and stir in Greek yogurt, Parmesan, and seasonings.
Voila! You're done!
Who doesn't love quick and easy recipes? I know I do! 🙋
Now, let me be clear. This sauce won't be as thick and creamy as your typical Alfredo sauce. However, that's to be expected since we're not using butter, heavy cream, or cream cheese.
But I promise you, you'll love it just as much. While it's not as thick, this Healthy Alfredo Sauce is still plenty creamy, packed with flavor, and pairs amazingly well with whole wheat fettuccine.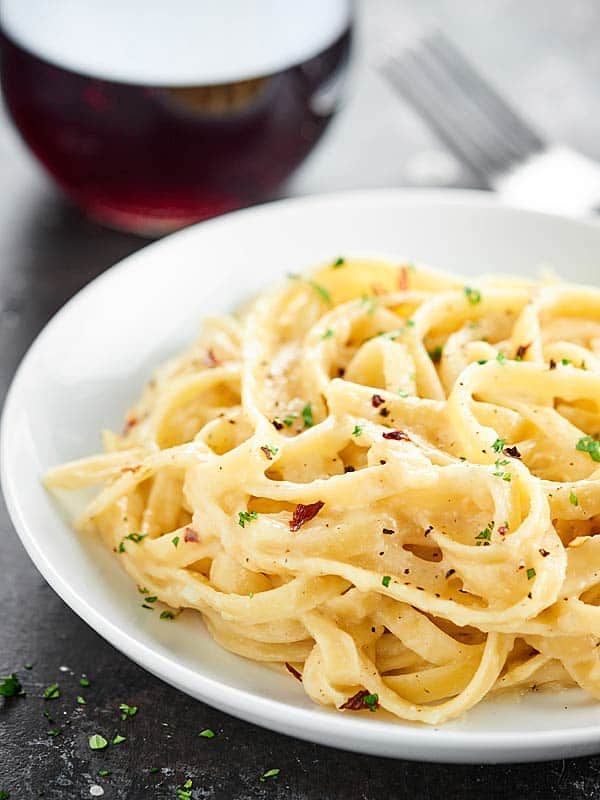 And here's a little secret: It's also fantastic on pizza! Stay tuned for the recipe on Wednesday. In the meantime, enjoy it with noodles and experience pure bliss.
This article is sponsored by Family Cuisine.