If you're a fan of Mexican cuisine like my family and me, you'll love this homemade keto enchilada sauce. Bursting with flavor, this low-carb recipe combines butter, tomato paste, and a medley of spices. The best part? It's ready in just 10 minutes!
Ingredients Needed To Make Keto Enchilada Sauce
To create this delicious keto-friendly sauce, you'll only need a handful of simple ingredients. Here's a breakdown:
Chicken Broth
Chicken broth forms the foundation of this enchilada sauce. It not only provides a rich, savory base but also helps to thin out the sauce. If you don't have chicken broth, you can substitute it with low-carb beef broth for a slightly different yet equally delicious taste.
Butter
The addition of butter lends a silky texture and adds a touch of richness to the sauce. Be sure to use unsalted butter to avoid an overly salty result.
Tomato Paste
Tomato paste is a key ingredient in this recipe, providing the sauce with its signature tomato flavor and vibrant red color. It also acts as a thickening agent, giving the sauce a luscious consistency. You simply can't make a good enchilada sauce without it!
Minced Garlic
Minced garlic brings an incredible depth of flavor to the sauce, making it simply irresistible. Don't skip this ingredient! If you don't have fresh garlic on hand, dried garlic powder can be used as a substitute, although it won't offer the same fresh taste.
Spices
This keto enchilada sauce incorporates a blend of traditional spices, including chili powder, cumin, onion powder, oregano, cinnamon, salt, and pepper. For anyone seeking an extra kick of heat, a pinch of cayenne pepper can be added. These spices are crucial for achieving an authentic and deeply flavorful enchilada sauce.
Please note: For a comprehensive list of ingredients used in this low-carb recipe, refer to the recipe card at the end of this article.
How To Make This Low-Carb Enchilada Sauce Recipe
Creating your own keto enchilada sauce is quick and easy. With just a few minutes of your time and a handful of ingredients, you'll have a homemade sauce that surpasses any store-bought alternative.
Tip: You can find the full list of instructions and ingredients at the end of this post.
Prep Ingredients
Start by melting unsalted butter over medium heat, then add the minced garlic. Saute the garlic for one minute before stirring in the spices. Allow the mixture to sauté for about 30 seconds to fully release the flavors and aroma.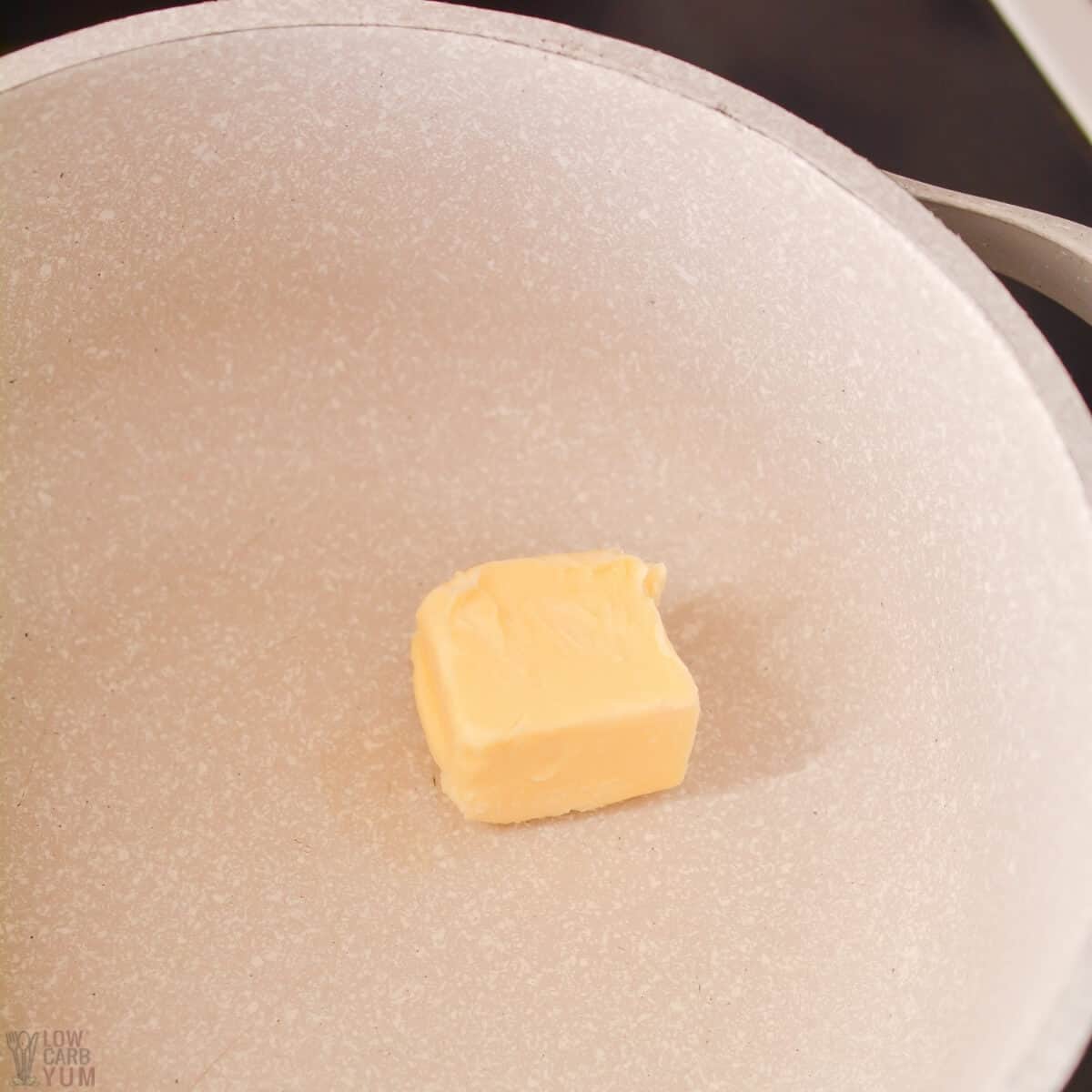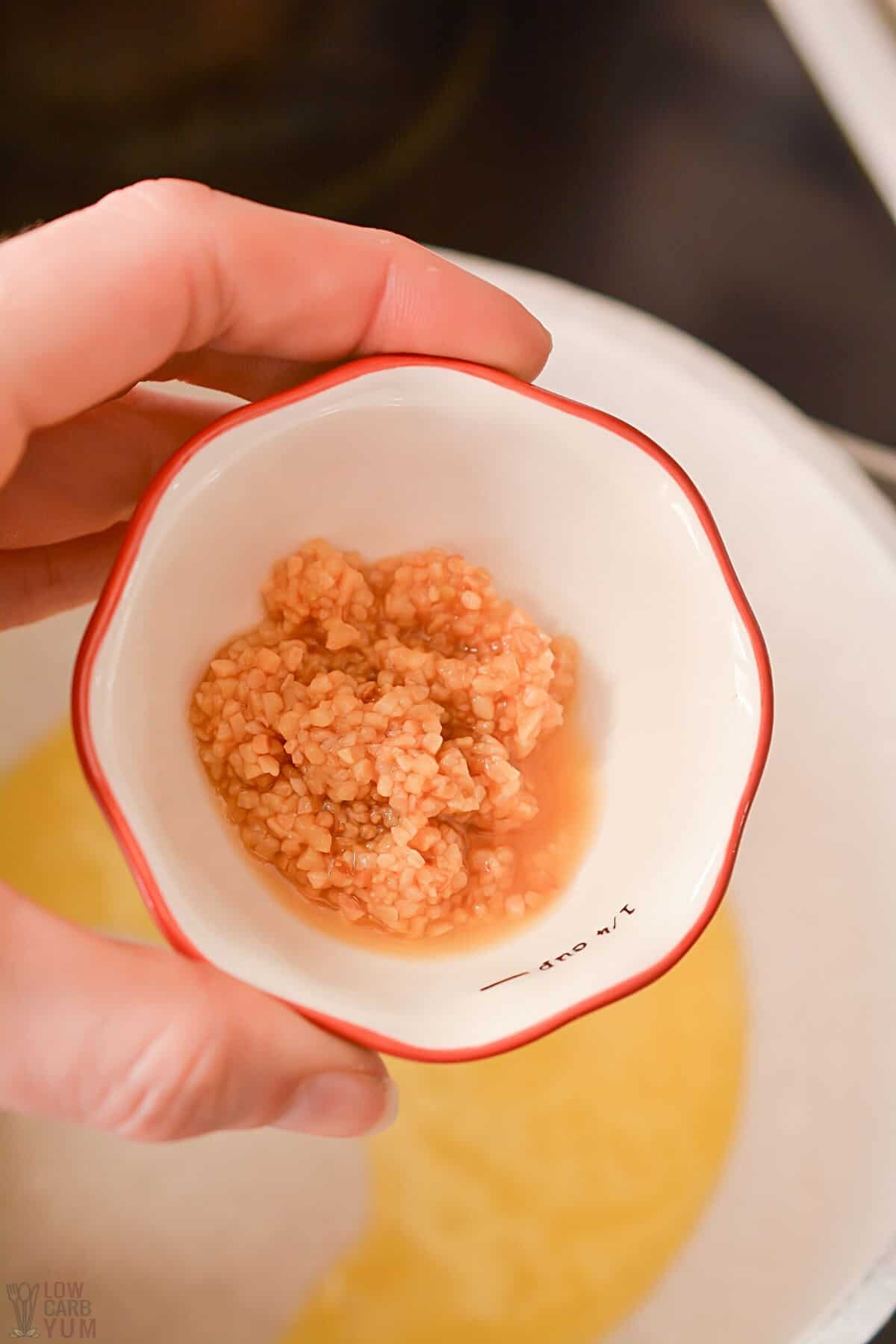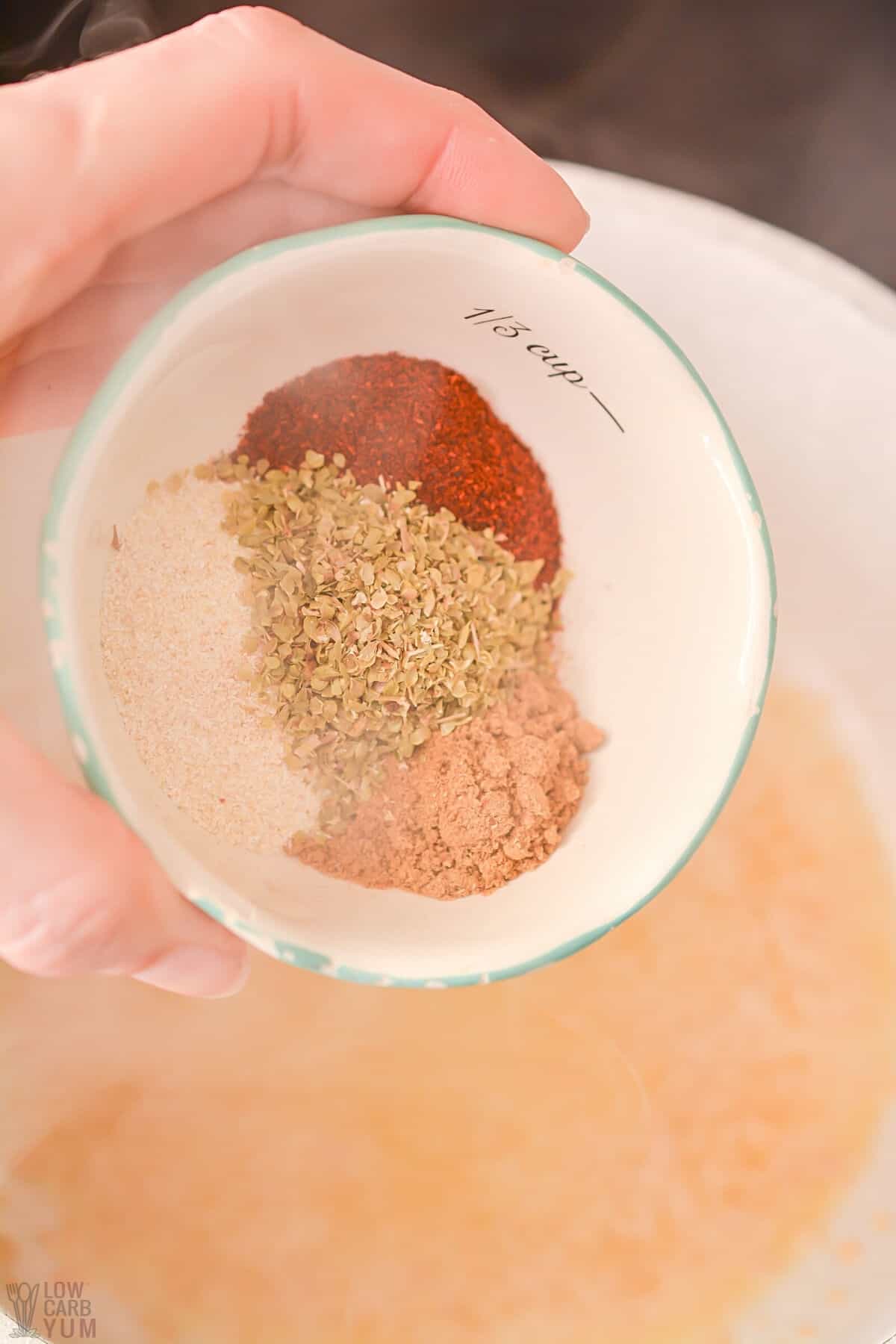 Cook The Sauce
Next, whisk in the tomato paste and chicken broth until the ingredients are thoroughly combined and the mixture is smooth. Allow the sauce to simmer for approximately 5 to 10 minutes.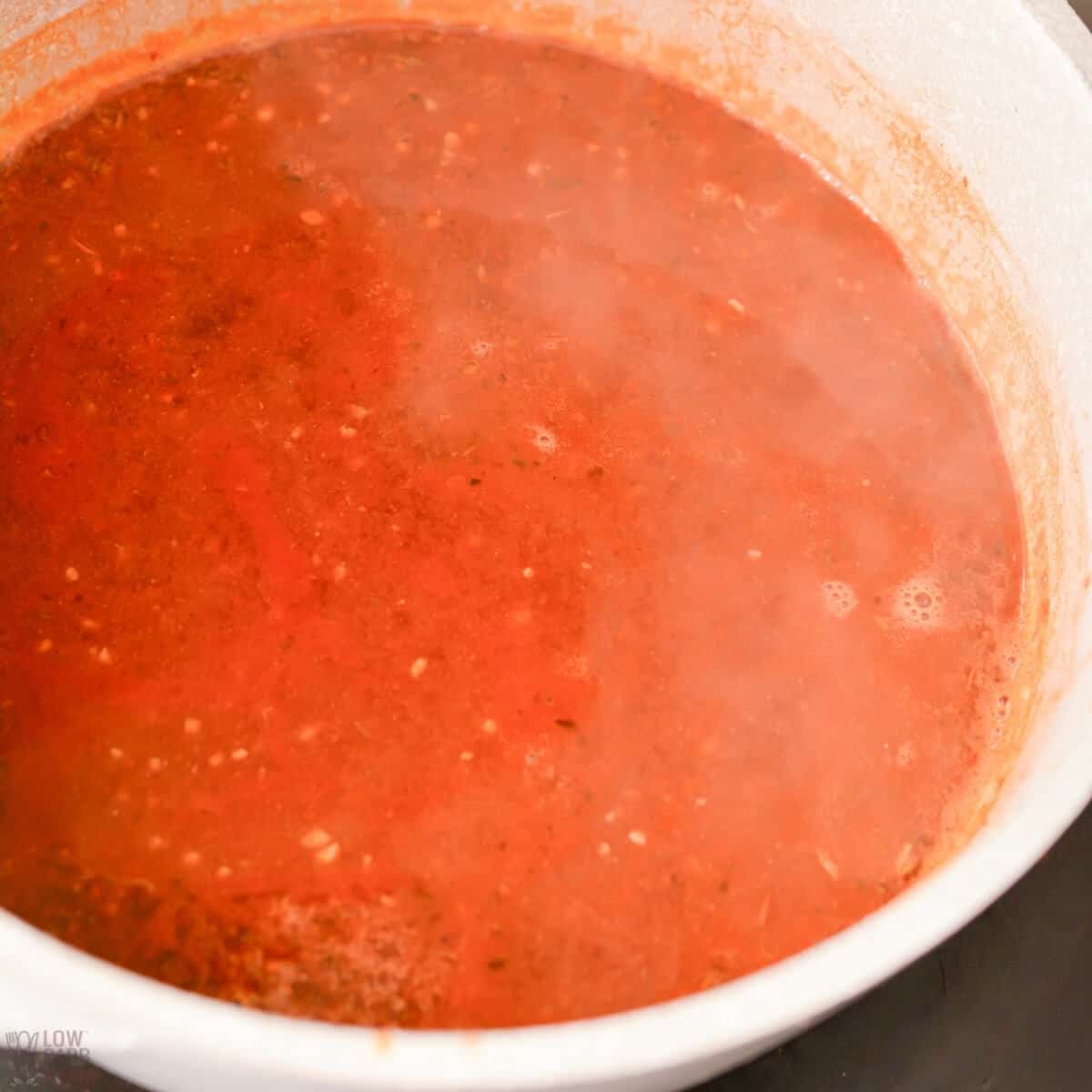 You can use the sauce immediately or store it in an airtight container in the refrigerator for up to a week. Alternatively, you can freeze it for a few months.
What To Serve With Enchilada Sauce
This versatile enchilada sauce pairs well with a variety of dishes. For a classic combination, serve it with cheesy chicken enchiladas. It also complements air fryer quesadillas and can be incorporated into a delectable keto taco dip. Experiment by adding it to soups for an extra burst of flavor, such as the 4-ingredient Mexican soup. Enchilada sauce adds a fresh and zesty touch to enchiladas and burritos.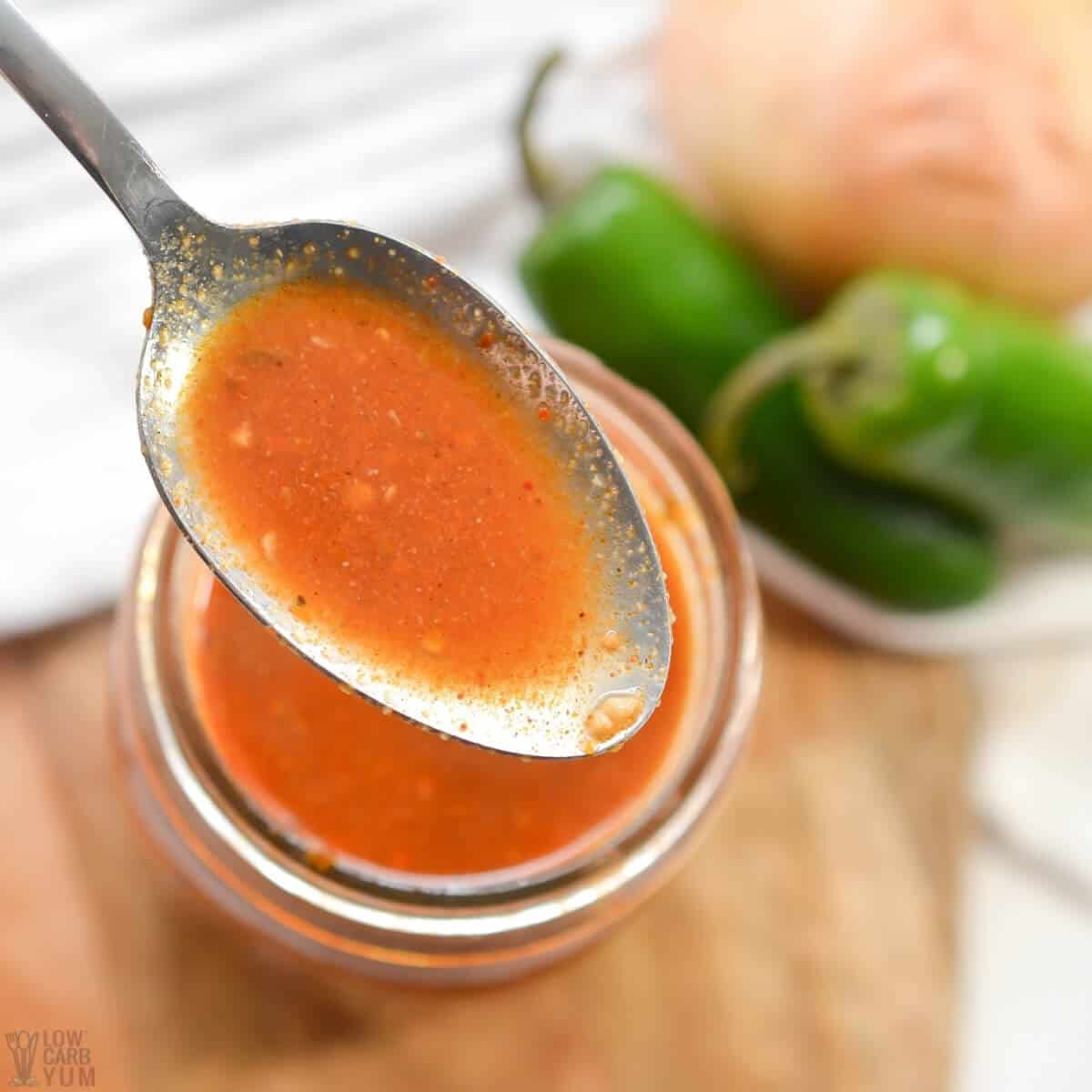 Frequently Asked Questions About Keto Enchilada Sauce
Before diving into the full recipe, here are answers to common queries:
What can I use instead of enchilada sauce in recipes?
If you're unable to make your own enchilada sauce or simply prefer not to, several alternatives can be used. Salsa of any kind or tomato sauce with added spices can be substituted for enchilada sauce. This allows you to enjoy a similar taste profile in your recipes.
If I don't have tomato paste, what else can I use?
If you don't have tomato paste readily available, don't worry! You can make a sauce by using tomato sauce or blending canned tomatoes. Adjust the amount of broth in the recipe accordingly. Cook the sauce on the stovetop, and it's ready to be used as a substitute for enchilada sauce.
How can I make my keto enchilada sauce spicier?
To add extra heat to your enchilada sauce, experiment with additional ingredients. Green chilis, salsa, and extra spices can all intensify the spice level. For a significant kick, finely dice a hot pepper and incorporate it into the sauce.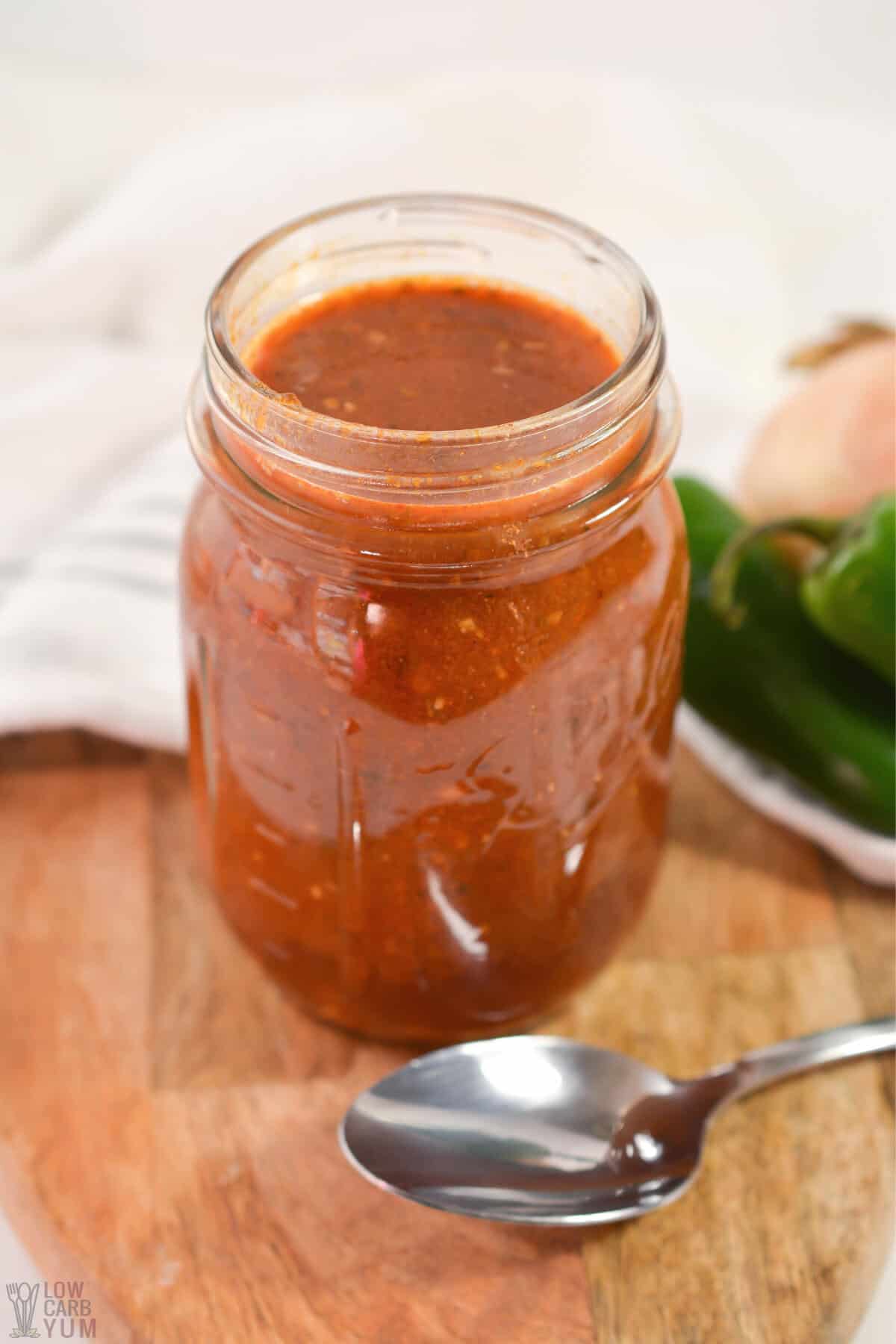 More Mexican-Inspired Keto Recipes
If you enjoyed this keto enchilada sauce recipe, I invite you to explore some of my other flavorful creations. These recipes are not only delicious but also incredibly easy to prepare:
Keto Mexican Cauliflower Rice: A traditional favorite that rivals the real thing!

Mexican Zucchini And Ground Beef Skillet: A simple yet hearty keto meal made with just a few ingredients.

Keto Mexican Casserole with Ground Beef: A low-carb twist on shepherd's pie with a Mexican flair.

Low-Carb Quesadilla with Yellow Squash: A quick and satisfying meal that will please everyone at the table.

Keto Pulled Pork Nachos with Cauliflower: The ultimate keto-friendly nachos packed with flavor and better for your health.
Follow us on FACEBOOK | PINTEREST | INSTAGRAM for even more tasty keto-friendly recipes!
Recipe
Now that you have all the information you need, it's time to get cooking! Find the full recipe and instructions below.
---