If you're a fan of salads, get ready to take your taste buds on a flavor-filled journey with these homemade low carb salad dressing recipes. Whether you prefer the tanginess of blue cheese or the zing of Japanese carrot ginger, we've got you covered. These easy-to-make dressings will transform your salads into a culinary delight!
Salads are not just healthy; they're also a canvas for creativity. In Pittsburgh, there's a salad called the Pittsburgh salad that combines steak (or chicken), fries, and cheese. It may not be keto-friendly, but it's undeniably delicious! I've been ordering it since college, and it never disappoints.
However, my salad adventures don't end with the Pittsburgh salad. I enjoy a wide variety of salads at home, filled with colorful veggies, meats, cheeses, nuts, seeds, and more. And to elevate the flavors of these salads, I rely on homemade dressings. If you're following a keto diet, you're going to love these 18 keto salad dressing recipes. They'll take your lettuce to the next level!
My Recipe for a Delicious Big Salad
Let me share my go-to ingredients for a mouthwatering big salad:
Lettuce base: I usually start with romaine lettuce and add sliced cucumbers, radishes, red onions, and peppers.
Protein: Leftovers like chicken, steak, hamburger, or pulled pork work great. Shrimp and canned tuna are delicious options too. I sometimes treat myself to gyro strips if I find them in the freezer section.
Cheese: Crumbled blue cheese, feta, goat cheese, or asiago add a delightful touch. I prefer strong cheeses for that extra flavor.
Something crunchy: Pecans, walnuts, sliced almonds, or seeds like sunflower or pepitas add a satisfying crunch.
Miscellaneous: Occasionally, I like to enhance my salads with hard-boiled eggs, bacon bits, olives, artichoke hearts, hearts of palm, pickled onions, or pickles.
Herbs: Cilantro complements Asian or Mexican-flavored salads, while basil adds freshness to caprese-style salads. Fresh parsley is perfect for tabouli, and in summer, mint brings a cooling effect to a simple salad.
Carb Counts for Different Salad Ingredients
Choosing the right ingredients is essential when managing your carb intake. Here's a helpful chart showcasing the carb counts of some popular salad ingredients. Feel free to mix and match according to your preferences.
Types of Lettuces to Try
When it comes to lettuce, the options are vast. While romaine lettuce is my go-to choice, I also enjoy butter lettuce, spinach, leaf lettuce, and arugula. Arugula and watercress offer a peppery taste that adds flair to any salad. If you're looking for variety, give these alternatives a try or even consider growing them yourself!
Other Bases to Use in Your Salad
Lettuce isn't the only option for your salad base. Consider these alternatives:
Coleslaw, shredded cabbage, or broccoli slaw
Raw cauliflower rice
Chopped fresh vegetables of any kind
Veggie noodles
Chopped raw broccoli or cauliflower
Cooked turnips, rutabagas, or celeriac for faux potato salads
Cucumber slices or tomatoes only
Chicken salad or tuna salad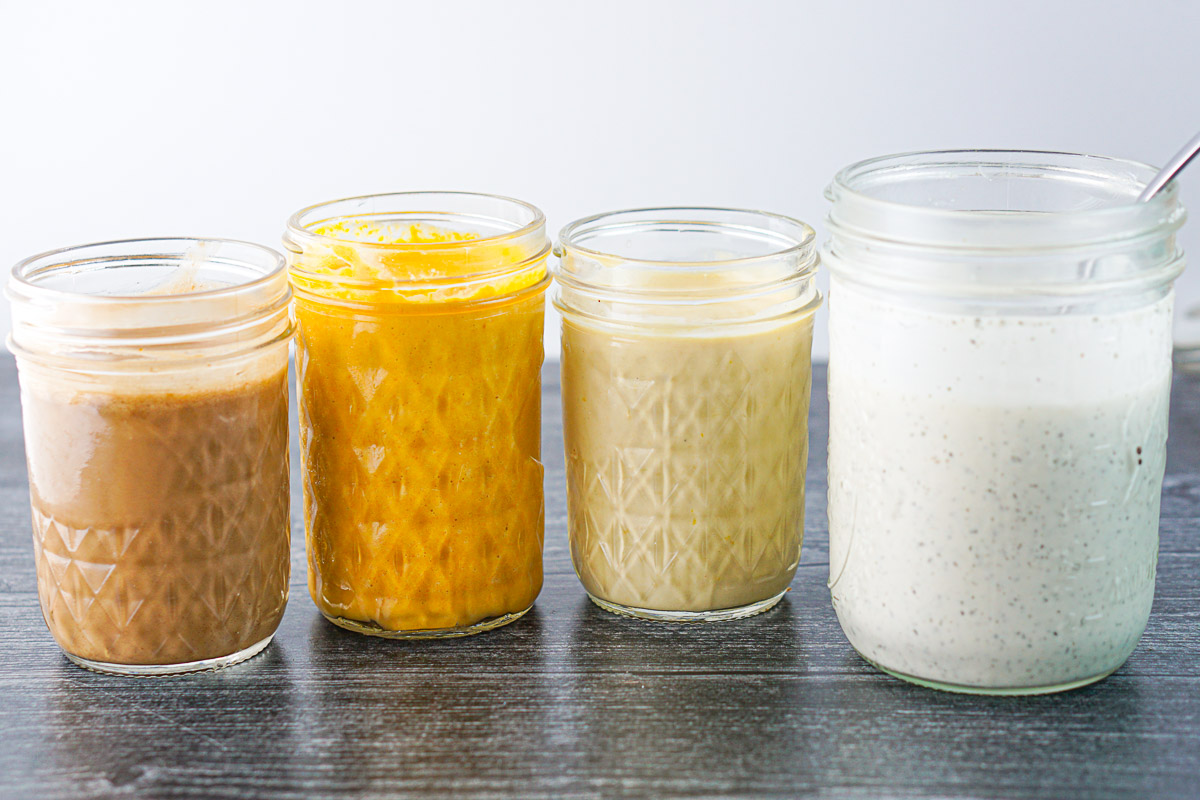 Now that we've covered the basics of building a fantastic salad, it's time to explore the star of the show: the dressings! I've curated 18 keto salad dressing recipes that are not only easy to prepare but also packed with flavor. Make a few and store them in mason jars for a couple of weeks. These dressings are a game-changer for those following a low carb diet.
So, why settle for a boring salad when you can turn it into a culinary masterpiece? These recipes incorporate simple ingredients and seasonings, yet their flavors are unparalleled. Spice up your salads and enjoy the journey!