This Macaroni Salad with Ham and Cheese is super easy to make and is perfect for any occasion. From picnics to potlucks, this blend of tender pasta salad with zesty ham, cheese and other vegetables will be a sure crowd pleaser! And it's a great use for any leftover ham!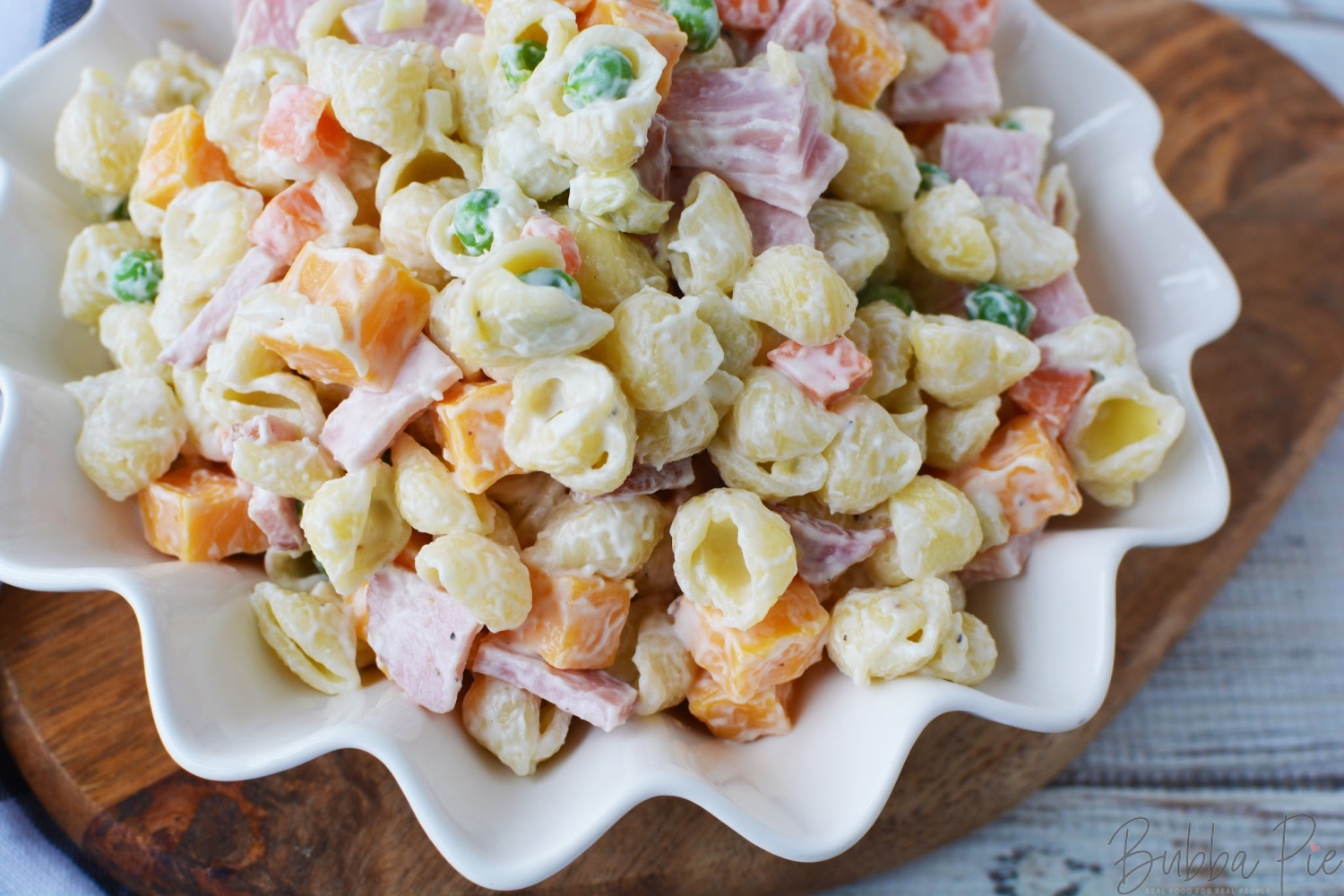 Pasta Salad Anyone?
I LOVE a good pasta salad! They can fit into just about any occasion. They are great for picnics and cookouts but they can also fit in with holiday food spreads as well. There are so many different ways that you can make a pasta salad as well! From the different types of pasta you use to the meats and veggies that you put in them. For instance, this Easy Rotini Pasta Salad is so colorful and vibrant and fresh! And this Mexican Street Corn Salad is honestly one of my favorite recipes on this website!
And they are a great make-ahead recipe idea, something that can be all ready to go when your guests arrive. Or to make it before you head to the party, these pasta salads travel very well!
Macaroni Salad with Ham and Cheese
So, here at Bubba Pie, we love to find some great Pasta Salad recipes to share with everyone. There really aren't any curveballs in this recipe, it is a classic Macaroni Salad with Ham and Cheese.
The mayonnaise dressing fits in perfectly with this dish! It gives the dish a slightly creamy texture that isn't too clumpy at all! Mixed with the crunchiness of the vegetables, the saltiness of the ham and and the soft feel of the cheese and pasta, you will have a symphony of tastes and textures in your mouth!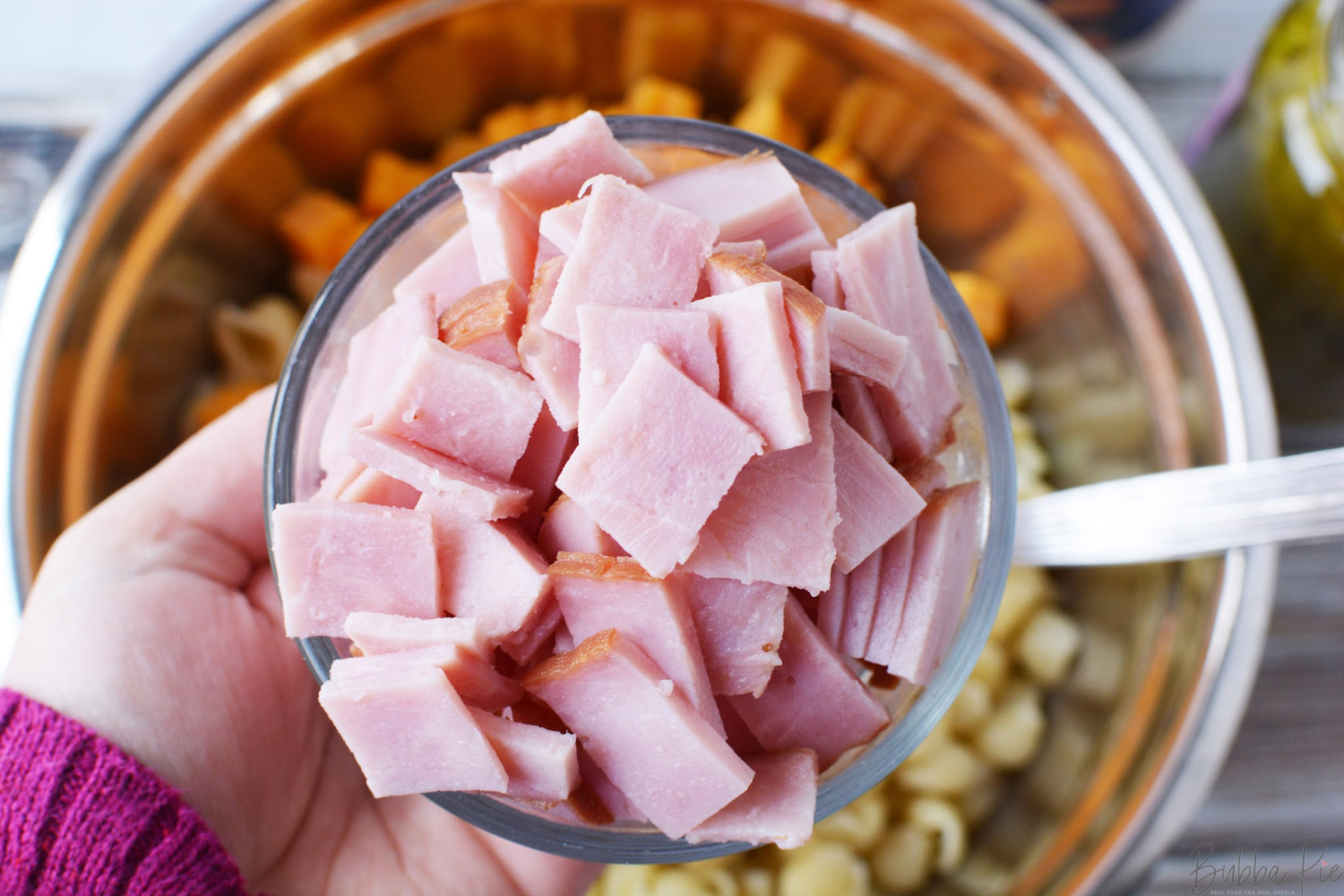 What You Will Need
Small shell pasta, cooked and drained
Diced celery
Diced onion
Chopped ham
Peas and carrots
Cheddar cheese
Sweet Relish
Real mayonnaise
salt and pepper
Here Are Some Tools To Help With This Recipe
LARGE MIXING BOWL
LARGE MIXING SPOON
TUPPERWARE TO KEEP LEFTOVERS IN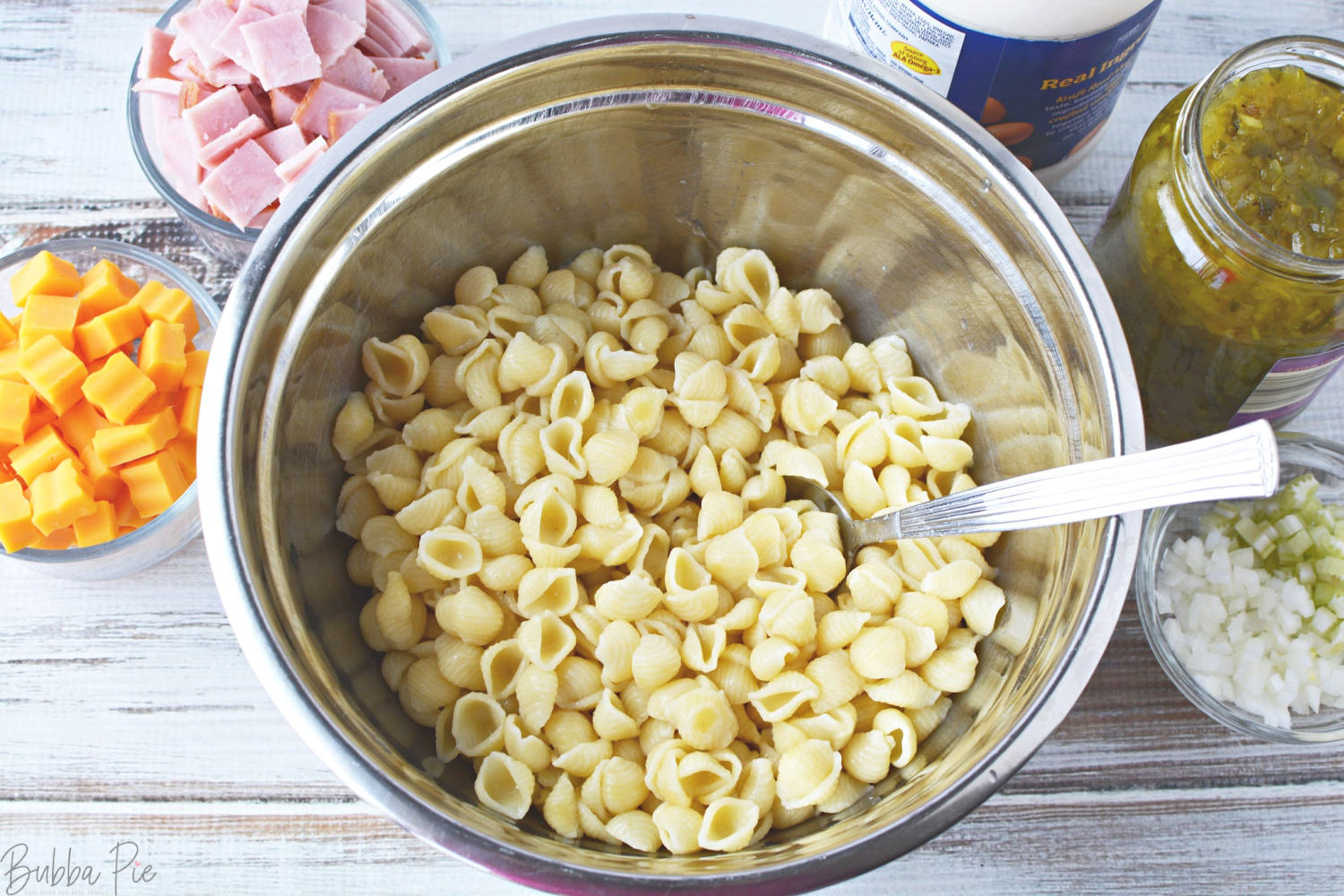 Macaroni Salad with Ham and Cheese – Notes and Variations
Just make sure to note that this recipe does take at least 4 hours (or overnight) in the fridge for all of the flavors to properly mingle. So make sure you factor in this time to your prep schedule. Also, I find it helpful for recipes like this to have a nice large bowl to mix everything in. Nothing is worse than all these ingredients spilling out everywhere!
And, like all great recipes, this one can be added and subtracted from. Some people like to put diced bell peppers in their Macaroni Salad. If that is your jam, go for it! I've seen some versions of this recipe where people like to use Miracle Whip instead of mayonnaise. Again, give it a whirl!
I hope you enjoy this Macaroni Salad with Ham and Cheese. It's a great way to use leftover ham if you have some leftover from the holidays!
I'd love to know how it turned out down in the comments. Thanks for reading!
FOR MORE RECIPES USING LEFTOVER HAM, CHECK OUT:
CROCKPOT CORN CHOWDER
SLOW COOKER BLACK EYED PEAS
HAM SALAD DIP
HAM AND PICKLE DIP
SCALLOPED POTATOES WITH HAM
HAM, GREEN BEANS AND POTATOES
CHIPPED HAM SANDWICH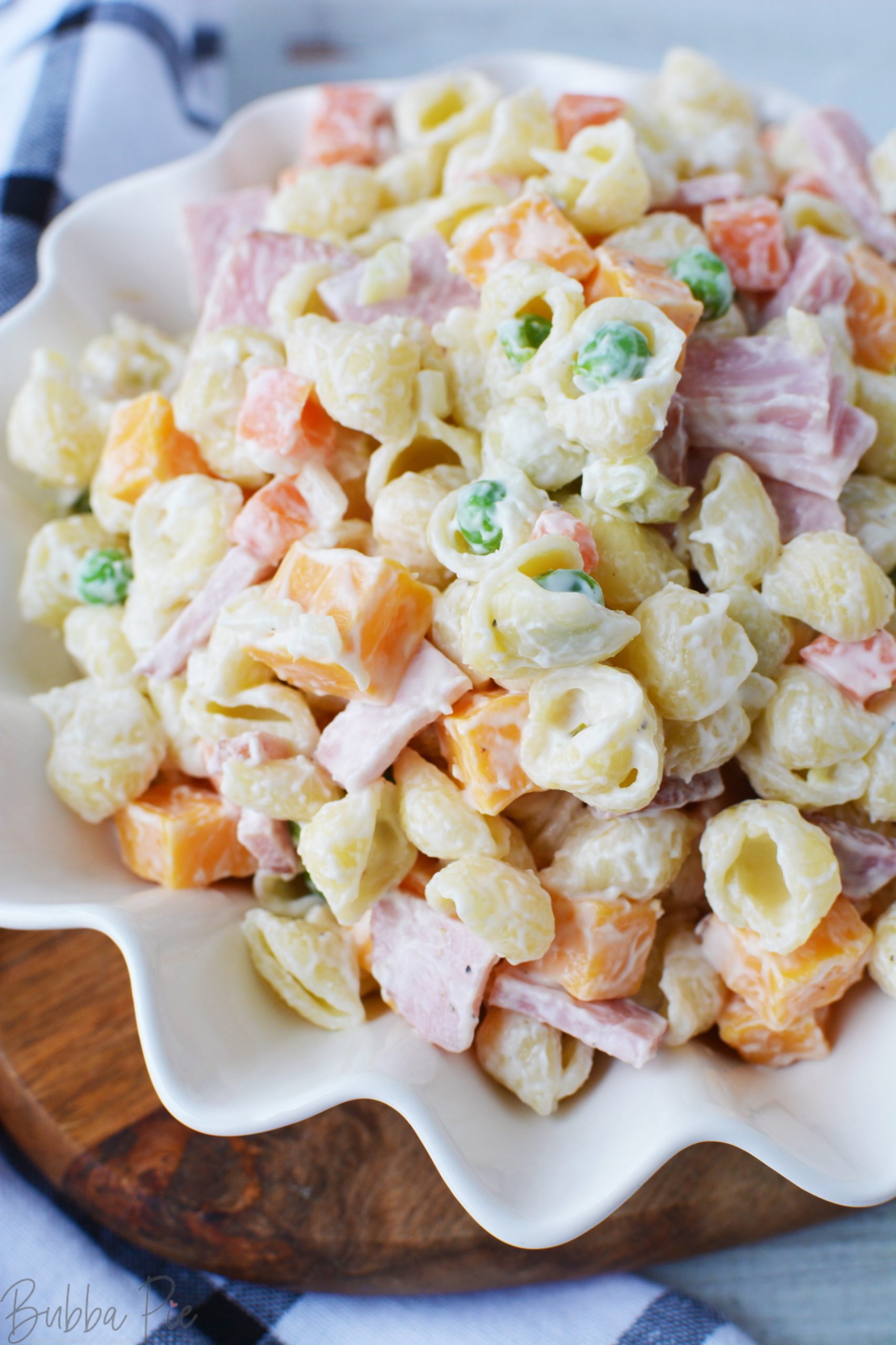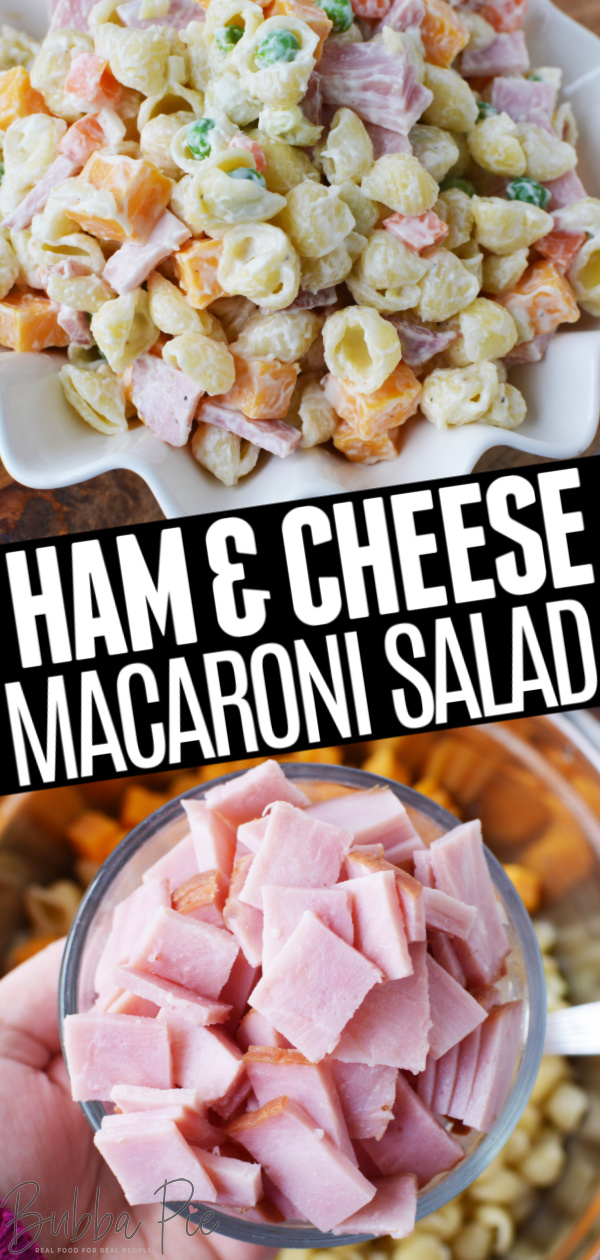 For more information please see the list of Ham and cheese macaroni salad
Detail: 🔗