This cracker candy is chocolaty, crispy and highly addictive! That's why it's popularly known as Christmas Crack. This fool-proof Christmas Crack recipe is just 4 ingredients and takes less than 30 minutes to make.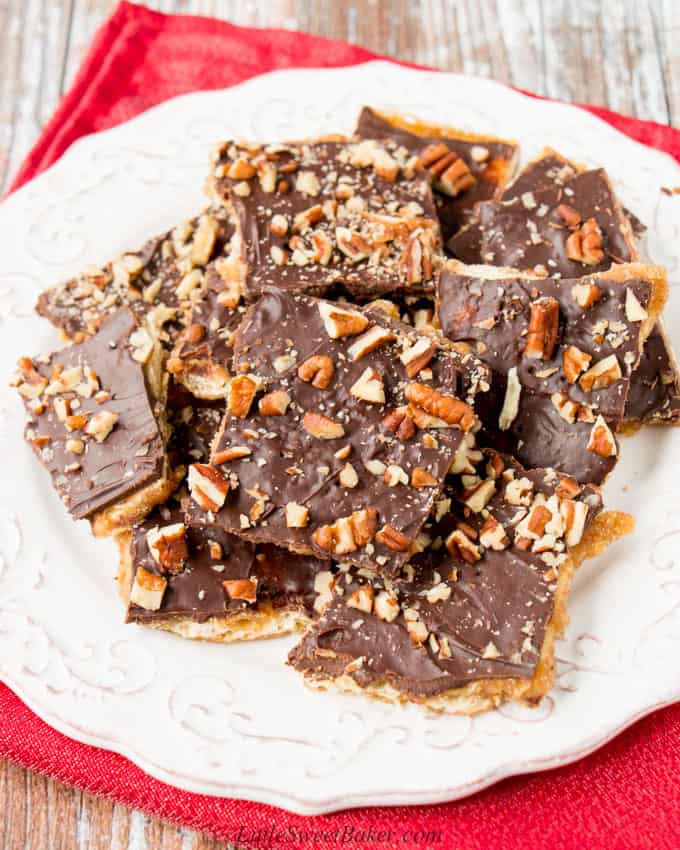 I remember when I first tried this cracker candy. I was a sales rep at the time, selling automotive accessories to car dealerships. The receptionist from Fairview Nissan, Sue, had brought these into the office, and she offered me a piece when I came in for a visit. I was immediately hooked after the first bite. The texture was light and delicate, unlike any other toffee candy I've ever had before. Sue was kind enough to share the recipe with me, and she also told me that she makes it every year to give to her friends and family as part of their Christmas gifts.
What is Christmas Crack?
It is a type of candy made with saltine crackers coated in toffee and topped with chocolate. It is one of the easiest methods of making candy because you don't need a candy thermometer or exact measurements. You just need to cook the toffee long enough for it to set. Please note that the toffee is not a hard toffee. It's firm but when you bite into it, it's got a soft-sugary texture to it.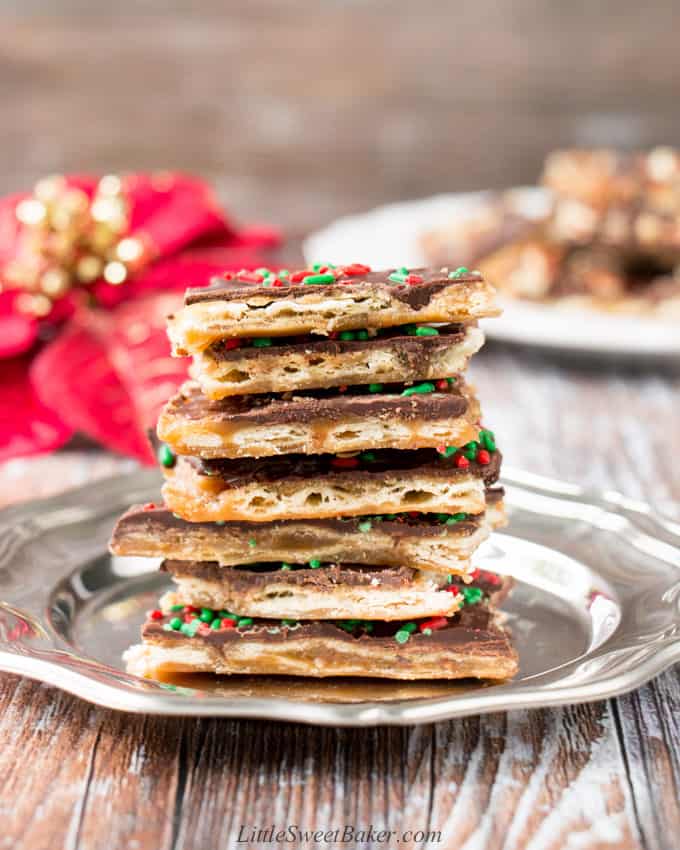 Why this recipe is so great:
Just 4 ingredients. All you need to make this Christmas Crack is butter, brown sugar, saltine crackers, and chocolate – that's it! Who would have thought to add saltine crackers to toffee, but it's brilliant. The crackers are what give the toffee its light and crispy texture.
No candy thermometer required. You just need to boil the butter and brown sugar mixture for 5 minutes exactly. You don't need to concern yourself with the temperature of the toffee in this recipe, especially since you'll be baking it in the oven as well.
It's so good, you won't be able to stop eating it! Anyone who has ever had Christmas Crack will tell you that you can't stop at one. There is just something about the combination of sweet and salty, toffee and chocolate, and a crispy texture that makes it irresistible.
Here is what some of my readers have to say:
"Best Christmas Dessert EVER!!!! I make this every year and it's amazing and oh so easy! It usually goes in 10 min:)" – Violet "So easy, so delish. I've made this several times, especially at Christmas, makes for a great hostess gift." – Suzanne
Also read: 21 Easy Sweet Snacks That Youll Love | Healthy Dessert Ideas
"Love this recipe! I made it for my office Christmas party and it was the first thing gone. People were raving about it and asking for more! I guess I'll have to make a double batch next year, lol." – Amanda
How to make Christmas Crack:

Preheat oven to 350F. Line a large baking sheet with heavy-duty aluminum foil. Spread the saltine crackers out in a single layer and fold up the edges of the foil to box in the crackers. Set aside.
In a medium saucepan, melt the butter and brown sugar over medium heat on the stovetop. Bring to a boil, reduce the heat to medium-low and let it continue to boil for exactly 5 minutes, stirring occasionally.

Quickly pour over the crackers and spread to cover evenly.
Bake for 5 minutes (minimum) in the oven or until bubbling. The crackers will expand slightly and shift around a little.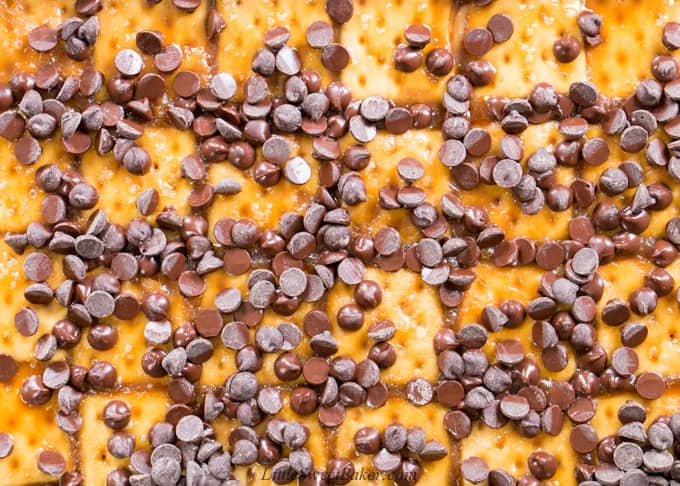 Remove from the oven and immediately sprinkle the chocolate chips on top. Let stand for 1-2 minutes until about half of the chocolate chips look shiny (see picture above).
Also read: dessert recipes i can make without going to the store

Once the chocolate begins to look shiny, it is soft enough to start spreading over the toffee.
Top with any additional toppings if desired and place in the refrigerator for about 2 hours for the candy to harden.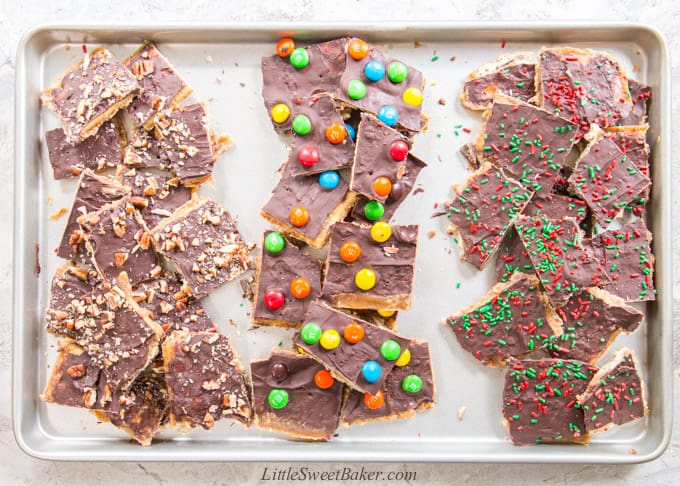 Once it has set, peel away the foil. Break the candy by hand or use a sharp knife to cut into pieces.
Expert tips:
Pan size – A 10×15″ jelly roll pan works best for this recipe. However, any type of baking sheet this size or larger will work. My pan is actually 11×17″ so I just fold up the edges of the foil to keep the crackers in place and prevent the toffee from spilling out onto the pan.
Lining the pan – Heavy-duty foil works best because it's easy to peel away. You can use regular foil – just lightly coat with non-stick cooking spray to make it easy to remove. You can also use parchment paper. There is no greasing required if you're using parchment paper, but just make sure to completely cover the bottom and sides of the pan.
Cooking the toffee. Once the butter and brown sugar reaches a boil, set a timer, and let it boil for 5 minutes. You want it to be a rolling boil to evaporate some of the moisture, so it becomes like caramel.
Baking the cracker candy. Bake the saltine toffee in a 350F oven for a minimum of 5 minutes or until bubbling so that the toffee reaches its second boiling point and absorbs into the crackers.
Melting the chocolate chips. As soon as you remove the tray from the oven, immediately sprinkle the chocolate chips on top. The bubbling toffee should be hot enough to melt the chocolate. Once about half the chocolate chips look shiny, you can start spreading the chocolate to cover the saltine toffee. If you have trouble with this, you can use mini chocolate chips or melt the chocolate in the microwave then spread it on top.
Substitutions
Saltine crackers – Salted saltine crackers are best. You can use unsalted saltine crackers, but I would suggest sprinkling some salt on top to balance the sweetness. You can substitute with Ritz crackers or even graham crackers (add salt) if you wish.
Brown sugar – You can use light or dark brown sugar. I personally prefer dark for more flavor.
Butter – You can use salted or unsalted butter. You can also use vegan butter sticks like Earth Balance, Miyoko's, or Country Crock's avocado plant butter sticks.
Chocolate – I like to use milk or semi-sweet chocolate chips. You can use dark chocolate chips, but I wouldn't go any higher than 60% cacao or it might separate from the saltine toffee layer.
Toppings – Christmas crack is great on its own, but I usually do add additional toppings like chopped nuts, candy, or sprinkles. Some of my favorite toppings are chopped pecans, shredded coconut, crushed candy canes, and festive sprinkles.

How long can you store Christmas Crack?
You can store the cracker candy in an airtight container for up to a week refrigerated. You can also freeze it for up to 3 months.
You might also like:
White Chocolate Christmas Crack
Chocolate Dipped Rice Krispie Treats
Glazed Maple Shortbread Cookies
Whipped Shortbread Cookies
Chocolate Crinkle Cookies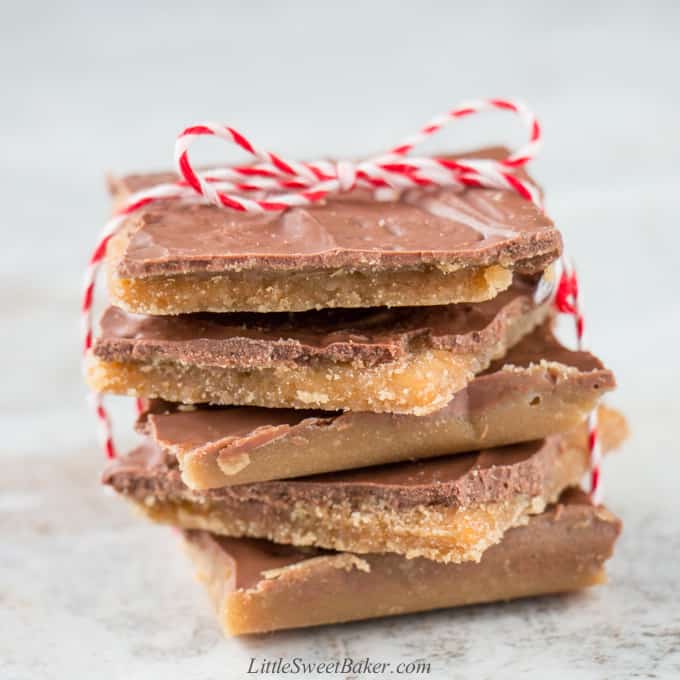 Make sure you add this irresistible saltine cracker toffee to your holiday dessert tray and share in the happiness that a good treat can bring.
Also read: easy spanish dessert recipes for kids to make

Did you make this recipe? Please kindly leave a comment with your star rating below.
Print
This post was originally published on Dec 2nd, 2016. It has been recently updated with new photos and more information.
SaveSave SaveSave SaveSave SaveSave SaveSave SaveSaveSaveSave SaveSave
Share This: