Korean Pickles are a low calorie, easy way to add a crunch and flavor to your meals with just a bit of salt, sugar, crushed red pepper, vinegar and sesame oil.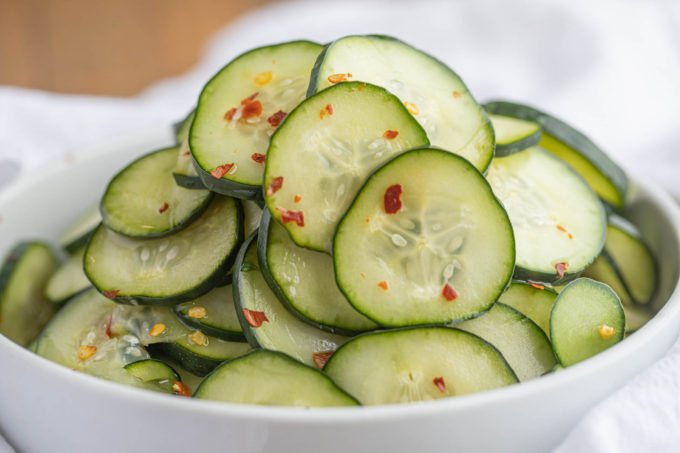 KOREAN PICKLES
Reading: make your own spicy korean pickles
When it comes to eating healthy sometimes we tend to overthink things and cook complicated meals or order processed foods to help us keep on track with calories. The hardest part of eating right can be finding unique ways to add new flavors to our meals.
These Korean Pickles are no cook, easy, vegan, healthy, crunchy, delicious, gluten-free
Korean Pickles are the PERFECT flavorful addition to your kitchen pantry or as part of the banchan array of appetizer dishes you'd typically find at a Korean BBQ restaurant.
Read more: how do you make plain pickles spicy | Family Cuisine
This side dish (similar to Korean oi muchim which is a Korean cucumber side salad) is the entry level pickling (nothing like making a kimchi, these are like faux cucumber kimchi) and you can use the recipe for cucumbers, radishes, carrots, daikon or chili peppers.
It's the perfect side dish for an American or Korean BBQ. A large bowl placed along side other cold salads this can hold up to other cold salad dishes or it can be used as a topping for dishes like burgers, sandwiches, rice bowls, grilled meats.
Anywhere you'd normally want pickled cucumbers you can use these Korean pickles.
And they're really quick pickles, you can enjoy them after just an hour in the refrigerator and they'll still be crunchy. The longer you leave them in the less crunch they will have and the more they will resemble a standard pickled cucumber.
I like to put them in a glass jar in the fridge, have a serving of them after an hour, then snack on them throughout the week until they are gone.
Read more: how to make green chilli pickles | Family Cuisine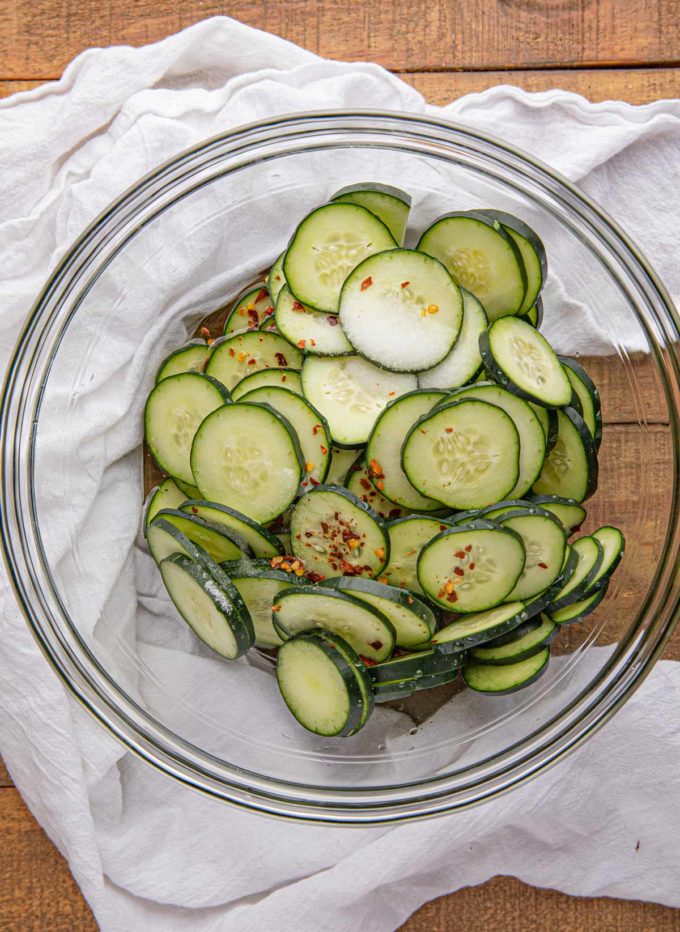 What sort of cucumbers do you use for Korean Cucumber Pickles?
English Cucumbers, Persian Cucumbers, Korean Cucumber and Kirby Cucumbers are all great options. You just want to be sure you scrape out any large seeds from the middle of any cucumbers you are using before starting the pickling process.
Ingredients in Korean Pickles:
Cucumbers: Make sure you're slicing these thinly, either using a mandoline or taking care to slice them evenly.
Kosher Salt: Do not lessen the salt in this recipe as it draws out the water in the cucumbers. You can also use sea salt or table salt if desired.
Crushed Red Peppers: If you have authentic Gochugaru (Korean red pepper flakes) you can certainly use them in place of the crushed red pepper flakes. If not you can use standard crushed red peppers and adjust to taste, but I wouldn't omit them altogether.
Rice Vinegar: This is a necessary ingredient, swapping it would lose the authenticity of the flavors.
Sesame Oil: This ingredient is vital to the flavors of the recipe. Even though it is only one teaspoon, sesame oil is a very strong flavor that will flavor the entire batch of Korean pickled cucumbers.
Sugar: we don't need a lot, but we do need to add a bit to balance the salt and vinegar.
Sesame Seeds: (Optional) You can garnish with sesame seeds after you're done with pickling. Some people use classic white sesame seeds or roasted sesame seeds.
Green Onions/Scallions: (Optional) You can garnish with sliced green onions after pickling if desired, but if you store with the green onions these can become slimy over time.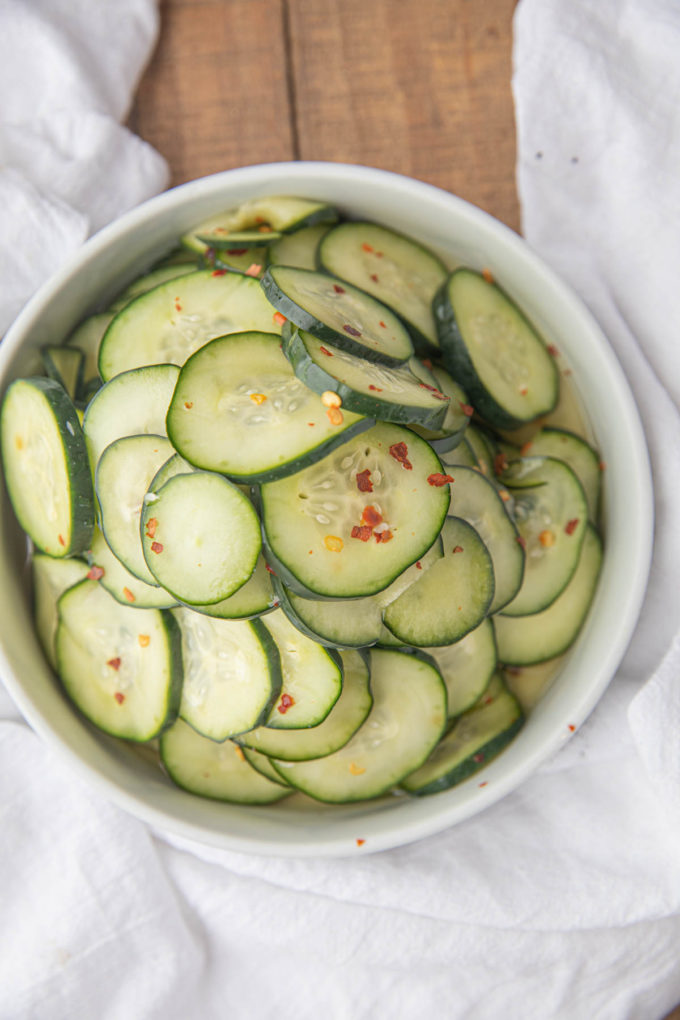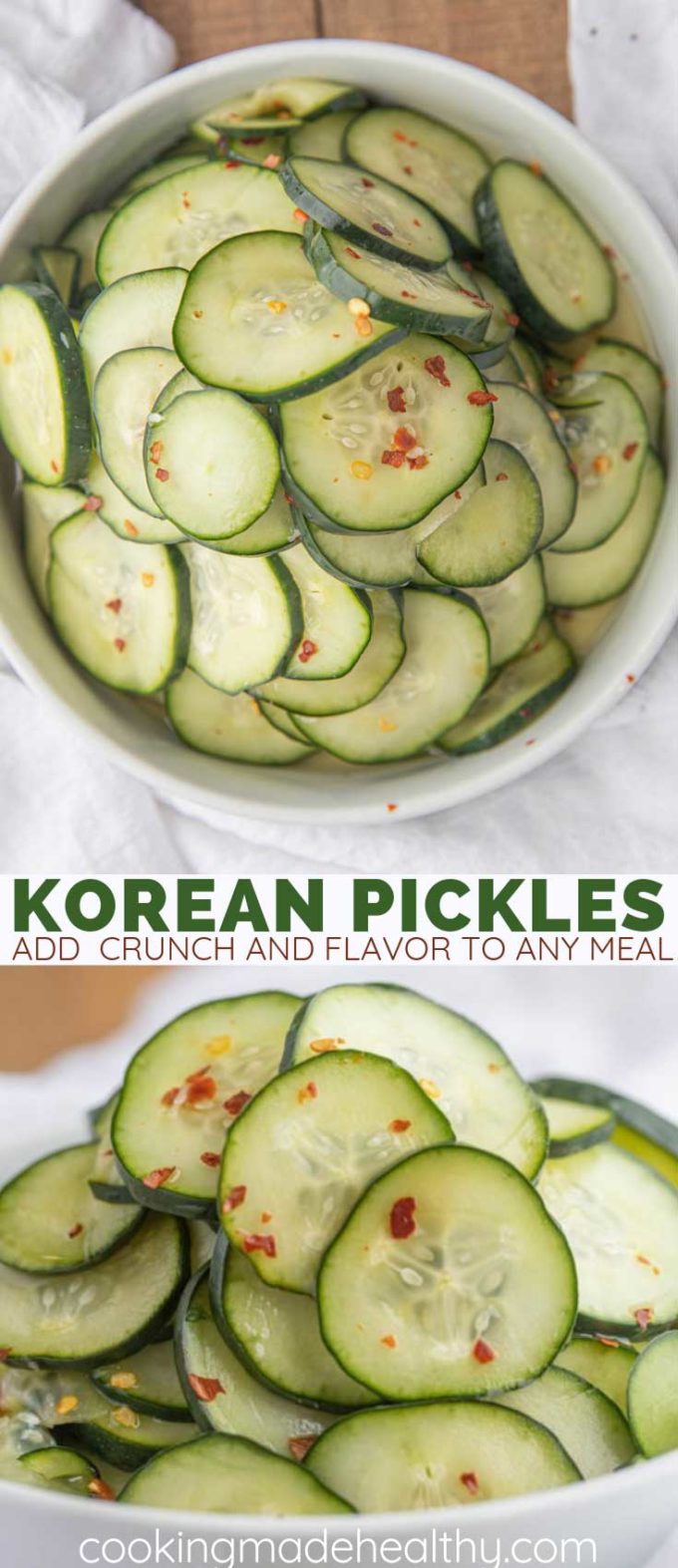 Read more: can i use kosher salt to make pickles | Family Cuisine