This light and fluffy Mandarin Orange Jello Salad has a sweet creamsicle flavor and can be made in 5 minutes. It's made with only 5 ingredients, but without cottage cheese. This side salad can be served as a sweet side dish or even a dessert.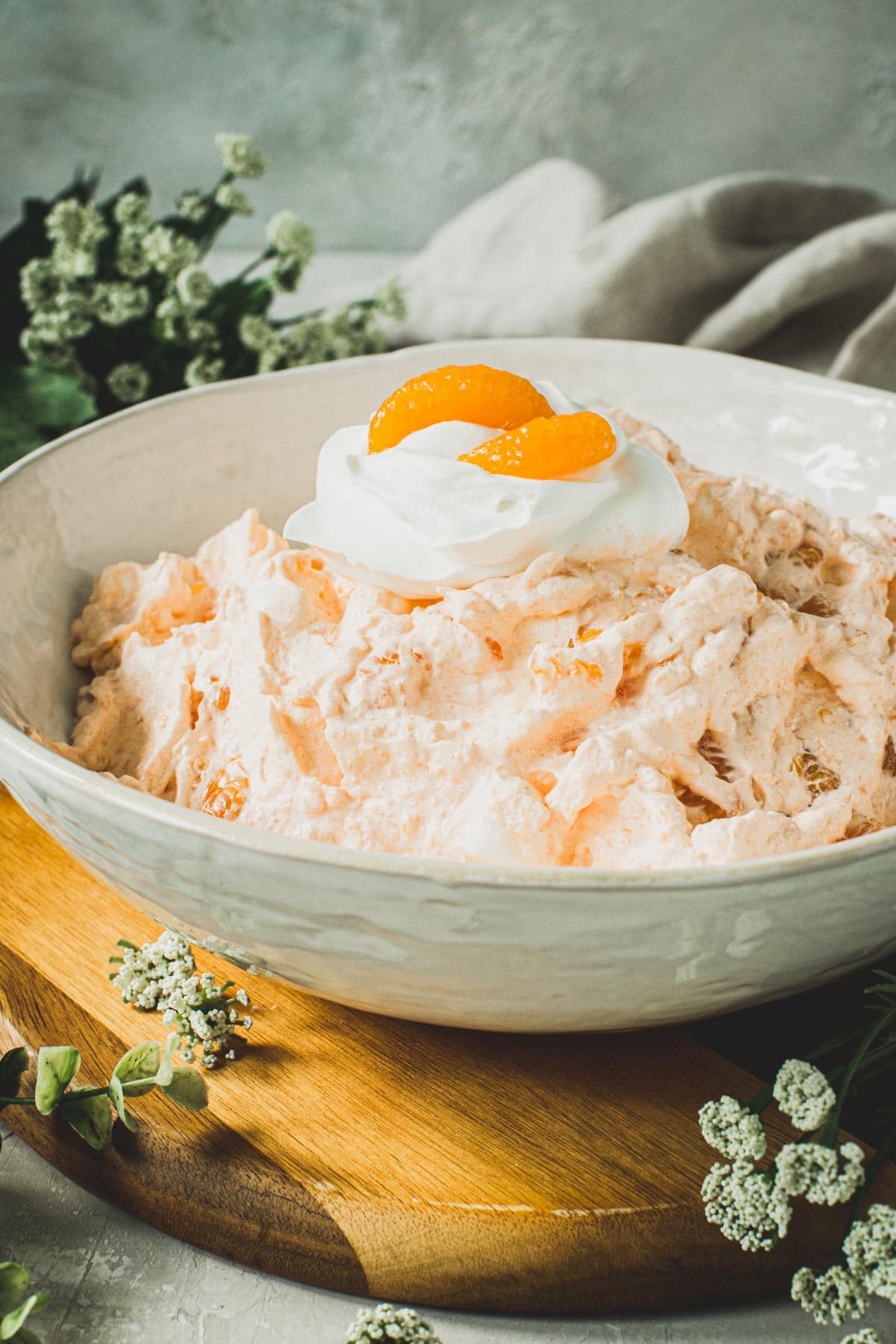 Why This Recipe Works
Sweet gelatin salads, also know as fluff salads are a staple when entertaining a crowd. Whether you're planning a huge backyard gathering, prepping for a potluck, or entertaining friends this delicious side dish is made in 5 minutes.
Initially considered a side dish this jello salad can be served as a dessert too. It makes a delicious pairing with heavy main dishes such as pulled pork, ribs, or even turkey.
This version is made without cottage cheese and only contains 5 ingredients that you fold together.
Similar to pistachio pudding salad this side is light and highly addictive making it a great option for a traditional addition to any holiday meal. Often these sweet salads are prepared during the summer, but the brilliant orange color and delicious taste make this a great option for Thanksgiving too.
What Goes Into This Recipe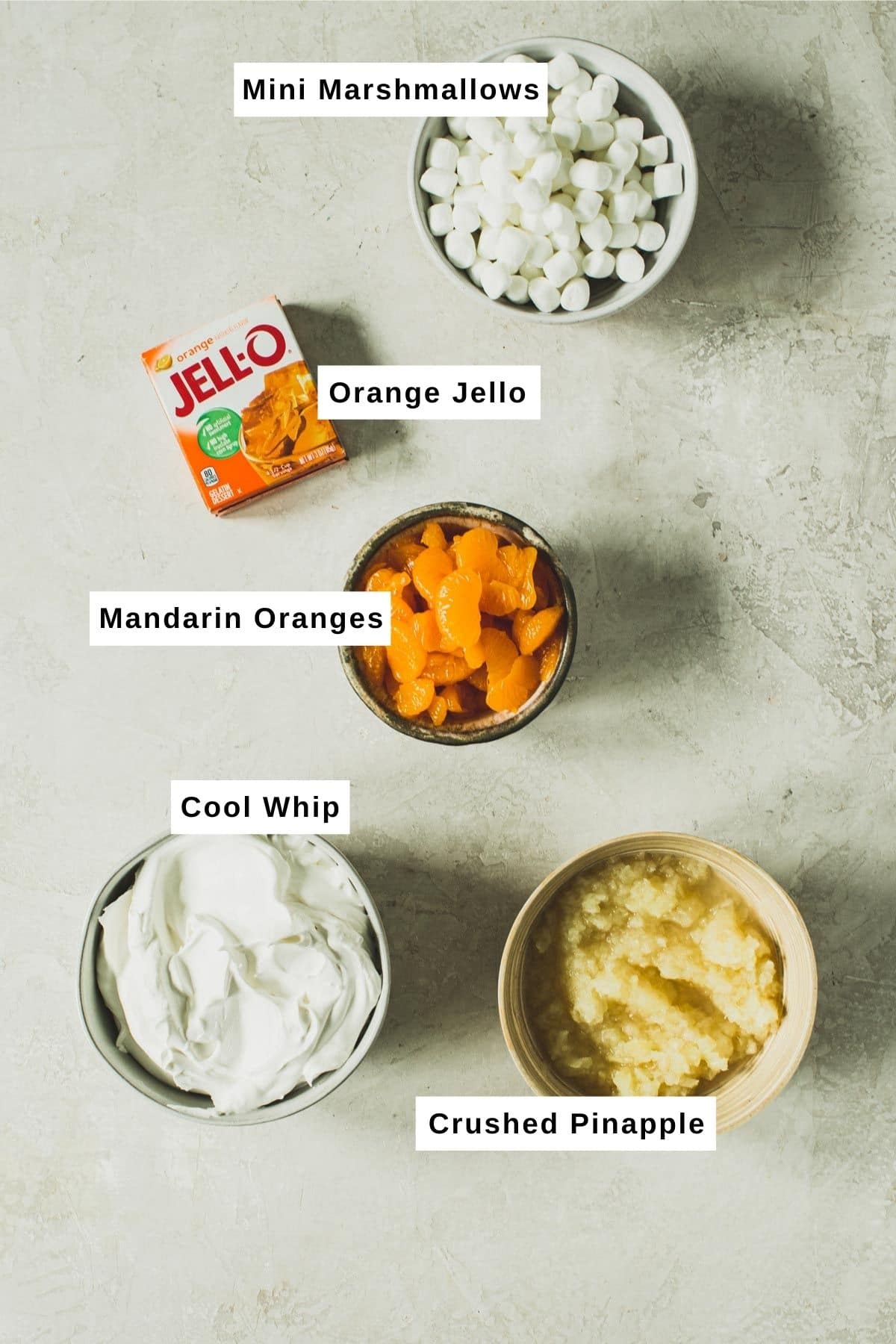 Mandarin Oranges: for this recipe I recommend using cannded mandarin oranges that you'll drain before adding. You could use fresh oranges, but it will take you a good bit longer to prepare the dish.
Orange Jello: I prefer to use the regular orange jello, but you can also use sugar-free jello for a slightly less sweet and sugary version.
Ingredient Swaps
Crushed Pineapple: the crushed pineapple takes the place of cottage cheese in this recipe. If you'd prefer a super smooth orange flavor then swap the pineapple for cottage cheese.
Cool Whip: you can prepare a homemade version of stabilized whipped cream or you can use heavy whipping cream to make a traditional whipped cream. Using Cool Whip is simple, but if you'd like a richer flavor then try making your own whiped cream.
Recipe Variations
You can use this exact recipe and make just a few swaps to get a different variation if you'd like.
Peach Jello Salad: you can use fresh chopped peaches or you can use canned peached and drain them. Then use peach jello instead of orange.
Fruit Cocktail Jello Salad: swap the orange jello for tropical fusion jello or island pineapple jello and use fruit cocktail (drained) instead of mandarin oranges. I recommend adding some shredded coconut to this version.
Cherry Jello Salad: instead of using orange jello use cherry jello and mix in fresh pitted cherries or marachino cherries (drained) instead of the oranges.
Step-by-Step Instructions
This recipe takes only 5 minutes to prepare and you can make it just before you plan on serving it and serve it at room temperature, or you can place it in the fridge to chill overnight for a chilled and firmer texture.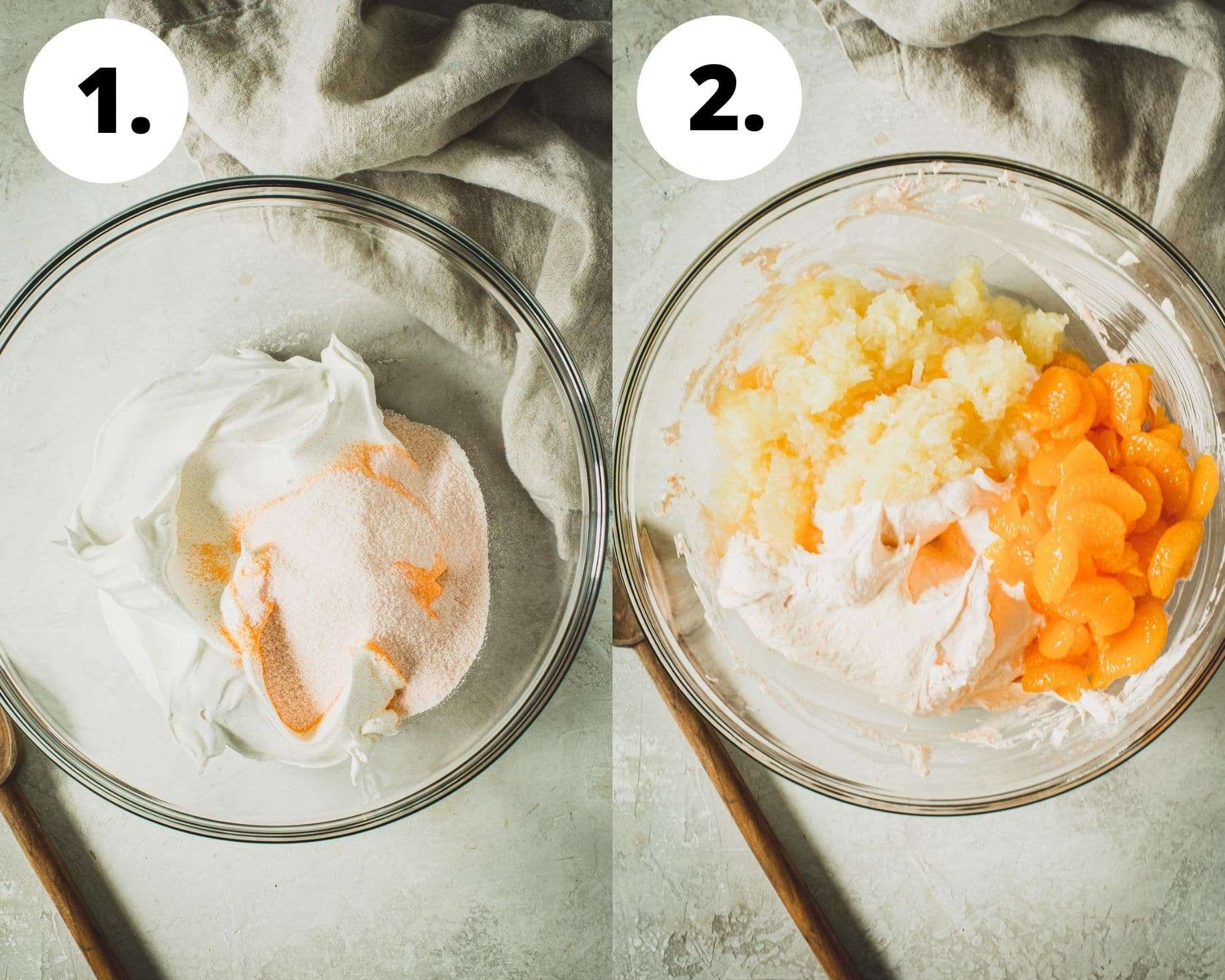 Scoop the Cool Whip into a large bowl and sprinkle the orange jello mix directly on top. Fold the two ingredients together until the jello is fully mixed in and doesn look as grainy.
Drain the crushed pineapple and mandarin oranges well so no water or syrup remain then add them to the jello mixture. Gently fold them in.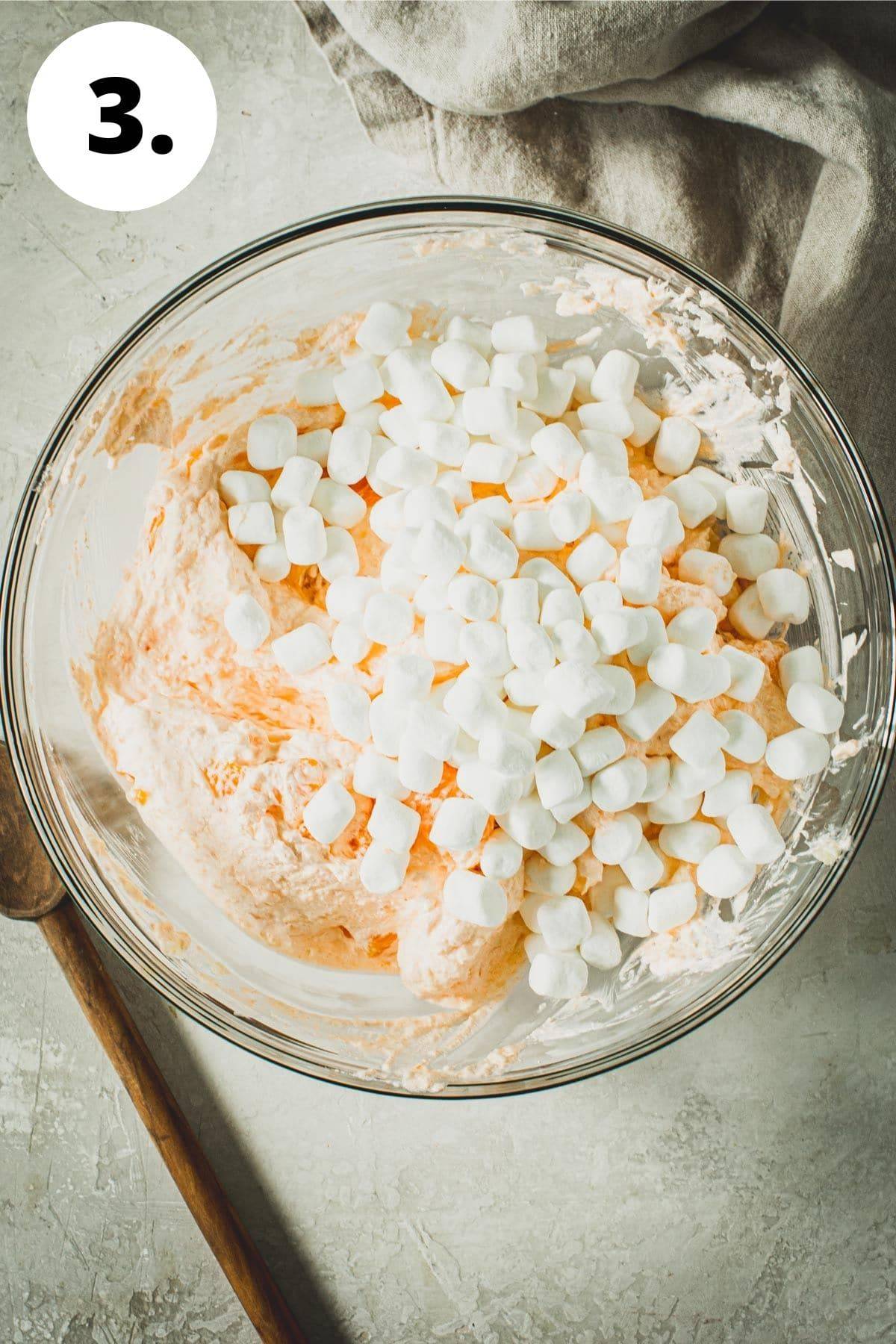 Add the marshmallows to the mixture and again gently fold them into the salad.
If possible chill the salad in the fridge for a minium of 1 hour and up to 4. This is not necessary, but creates a chilled and firmer salad texture.
Recipe Notes and Tips
For a nice chilled texture allow the salad to set in the fridge for 4 hours before serving it. This is optional, but I recommend it for optimum taste.
To get the fluffiest salad use a spatula to fold all the ingredients together. This keeps the Cool Whip from falling flat when you mix it.
Make sure to drain the pineapple and oranges well so that no water or syrup remains. Any excess water or liquid will eventually separate from the salad. If this happens don't worry though! You can easily give the salad a good stir to mix it all back together.
Try adding some shredded coconut for added sweetness.
Equipment Needed
Large Mixing Bowl
Rubber Spatula
Air-tight Storage Container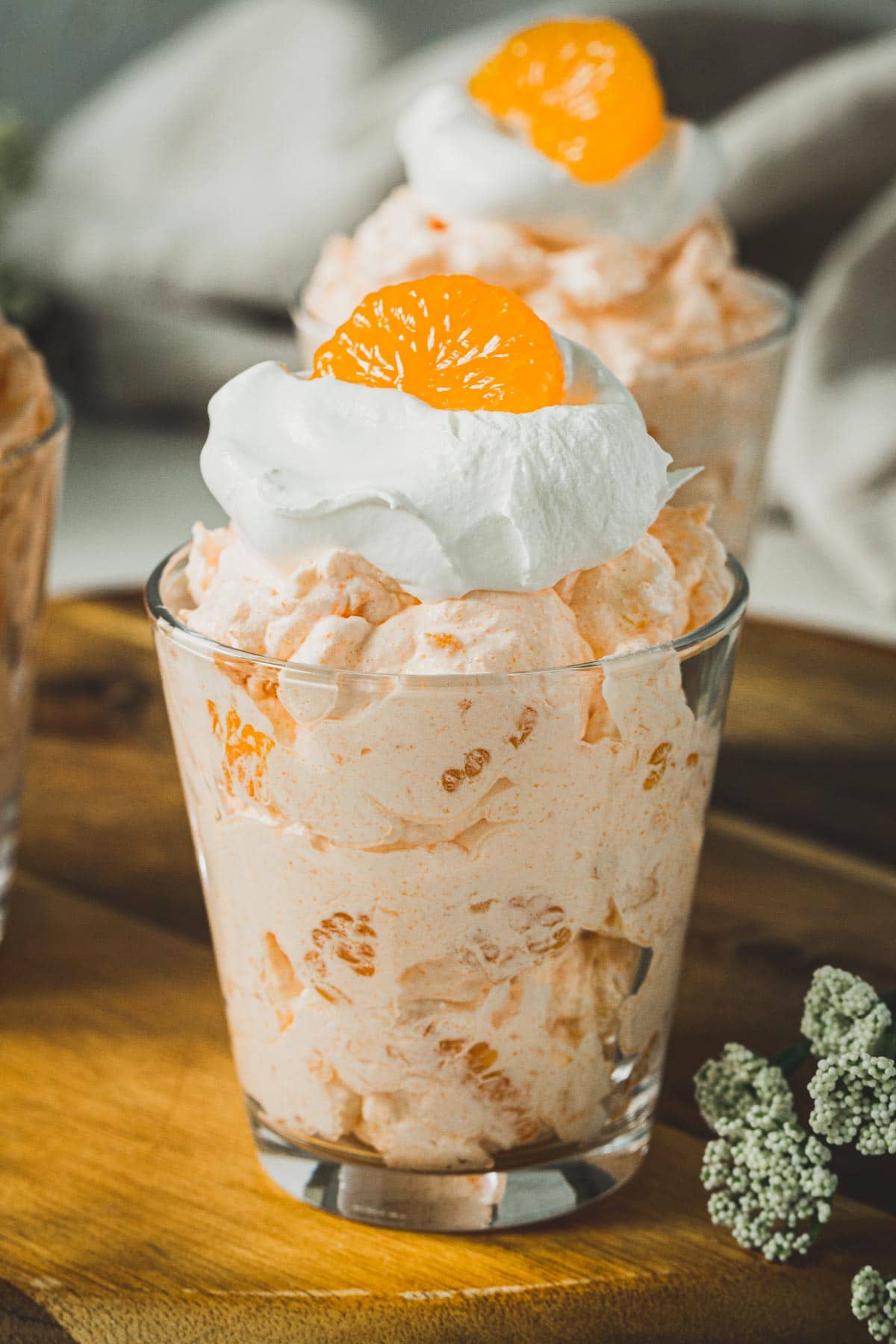 Frequently Asked Questions for Making Mandarin Orange Jello Salad
Related Recipes
If you made this Mandarin Orange Jello Salad I want to hear all about it! Share a photo and tag me on Instagram using @AimeeMarsLiving and #AimeeMars so I can see your beautiful work. Enjoy!
Please see more list about Jello salad with cool whip