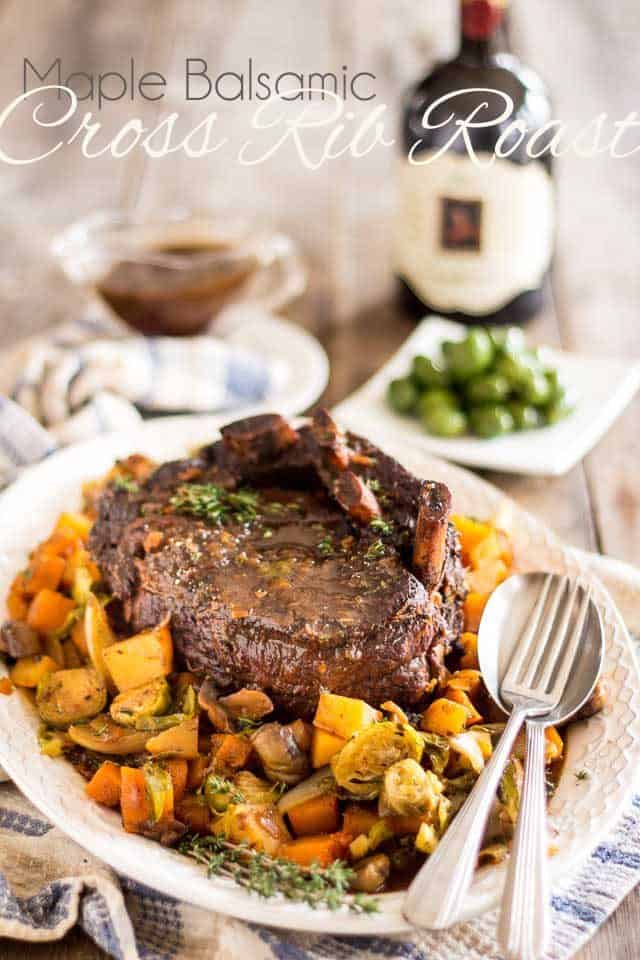 Like I said in my last post, for me, there are only 2 ways to enjoy beef and that is barely cooked at all or cooked for a very long time in its own juice at very low temperatures until it becomes so tender it literally melts in your mouth…
Well, since I just shared a recipe for the former, let me now give you one for the latter!
Unlike raw meat, let me tell you that this Maple Balsamic Braised Cross Rib Roast does not lack at all in the flavor department. Plus, it's so stunningly elegant that it would be a great dish to serve on special occasions, such as Thanksgiving, maybe? Its slightly sweet and tangy profile sure makes it a great contender, if you ask me.
Yet, it's so stupid easy to make, it's also perfectly well suited for a quiet week-end dinner at home with family members and / or friends. The best part is, it won't even have you spend the entire day in the kitchen. It basically takes care of itself… and as an added bonus, your house will smell fantastically good for days on end!
Oh, and although this might seem like a lot of food, I wouldn't worry about it if I were you. In fact, I bet you'll be glad you generated leftovers… if you in fact do, that is!
Since we're gonna want this beautiful piece of meat to cook for a very long time, we don't want our oven temperature to be too hot. We'll preheat it to 325°F. That'll be perfect!
Then, in a large skillet that can handle some serious heat, we'll melt a generous amount of healthy cooking fat over very high heat. Ghee, coconut oil or lard are all very good choices.
While we're waiting for that pan to heat up, we'll pat our roast real dry and then sprinkle it generously with salt and pepper.
Then, in the hot pan it'll go to get seared on all sides until a beautiful golden crust forms.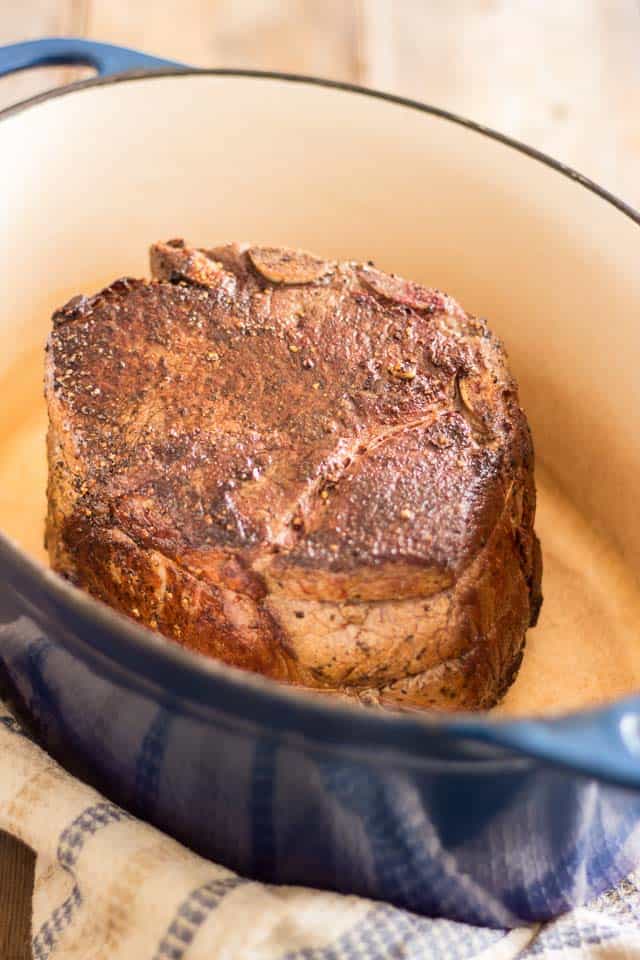 When it's nice and browned all around, we'll transfer our roast to a large Dutch oven and then place our skillet back over the heat source.
Now make sure you leave plenty of room around that roast, as we'll later be adding LOADS of veggies. Keep that in mind when choosing your cooking vessel!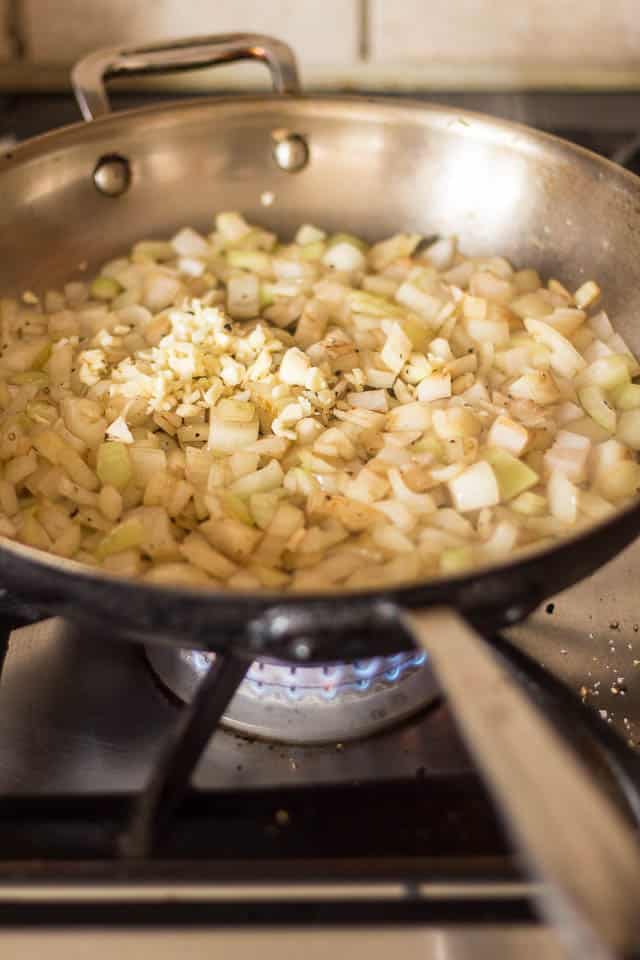 Lower the heat under that skillet to medium and add the onions and garlic.
Cook this for about 2-3 minutes or until the onions are softened, then throw them in the Dutch oven together with the meat.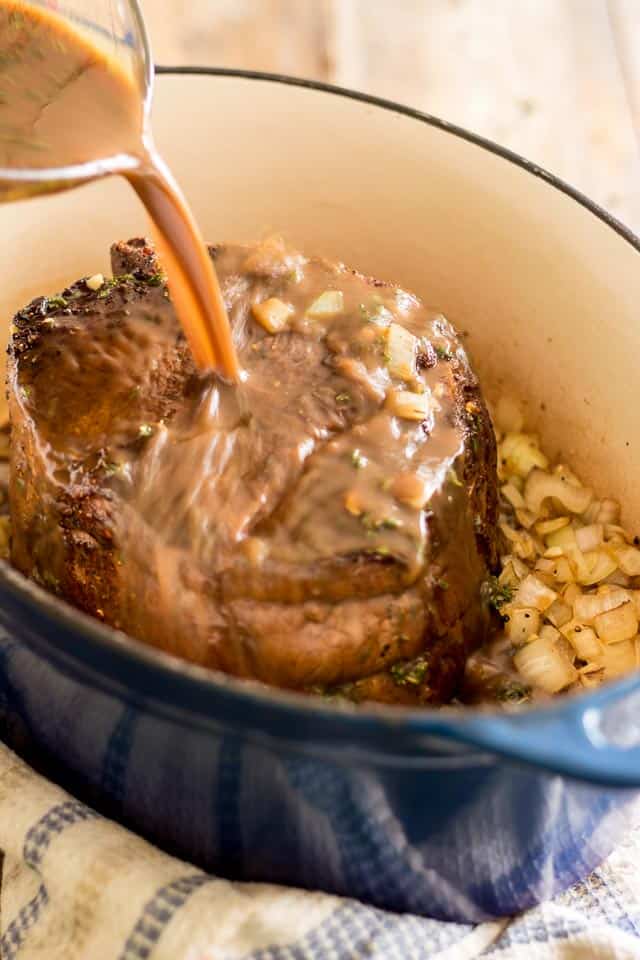 In a large glass measuring cup or bowl that's equipped with a pouring spout mix the bone broth, balsamic vinegar, maple syrup, Dijon mustard, fresh thyme salt and pepper and pour that over the roast and onions.
Put the lid on and then place the Dutch oven in the oven where it will remain undisturbed for about 3½ hours, or until the meat is tender.
Feel free to check on your meat from time to time, though, and baste it a little bit if you feel it could use it…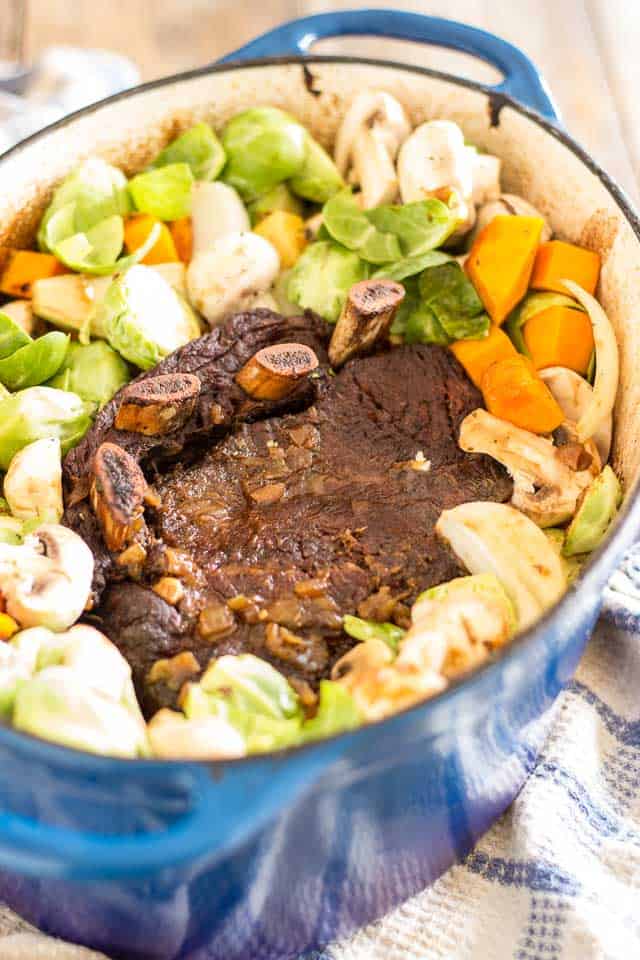 After your roast has baked for 3½ hours, remove it from the oven and then add the onion wedges, rutabaga, butternut squash, Brussels sprouts and mushrooms.
Put the lid back on and send this back to the oven, increasing the temperature to 375°F this time.
You will want to cook the dish for an additional 30 minutes, then remove the lid and continue cooking for a final 10 to 15 minutes.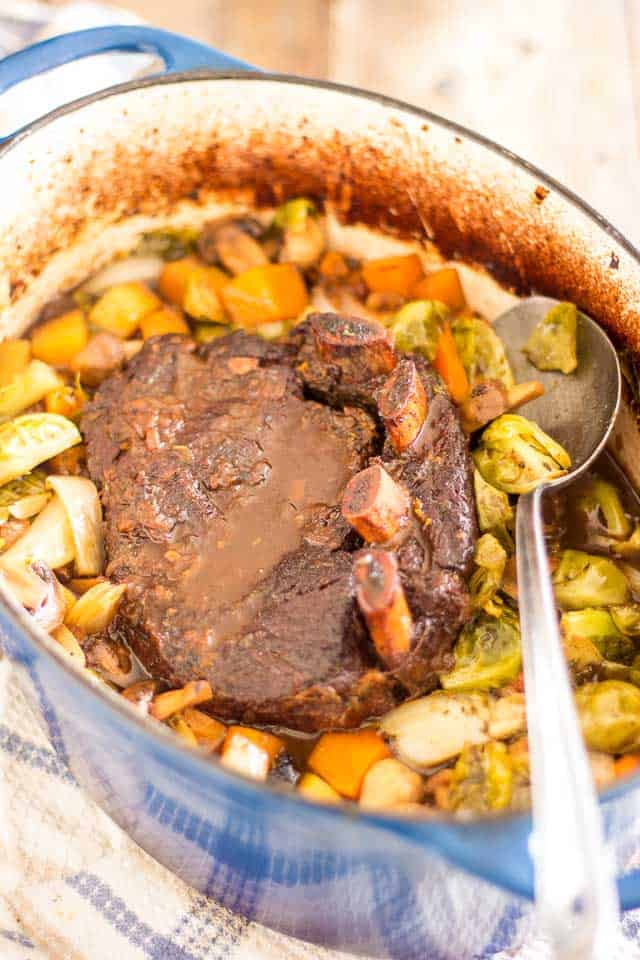 Remove the roast from the oven and allow it to rest and cool for 10 to 15 minutes before serving. It would be WAY to hot to eat right now, anyway. You wouldn't be able to fully enjoy all the delicious flavors that the dish has to offer.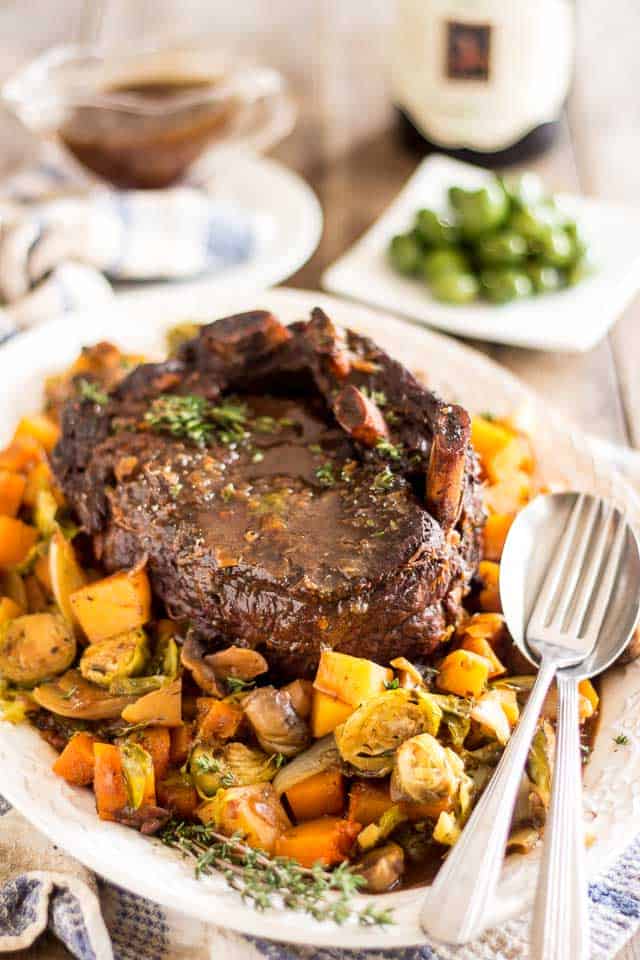 If you're having company and you want to get all fancy about it, transfer your roast to a nice serving platter and arrange the vegetables around it, then pour some of that beautiful cooking liquid all over your dish.
Don't tell me that this wouldn't make a stunning impression on your Thanksgiving table…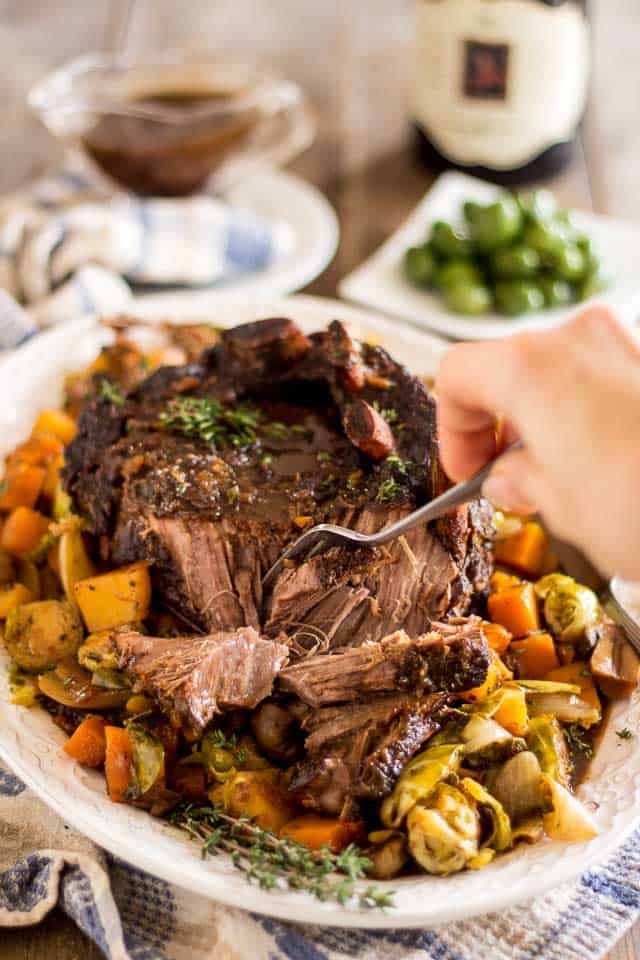 To serve, you can simply shred that meat with a fork and then tear out great big chunks of it.
Oh, and when setting the table, no need to plan for knives, trust me… they will NOT be required.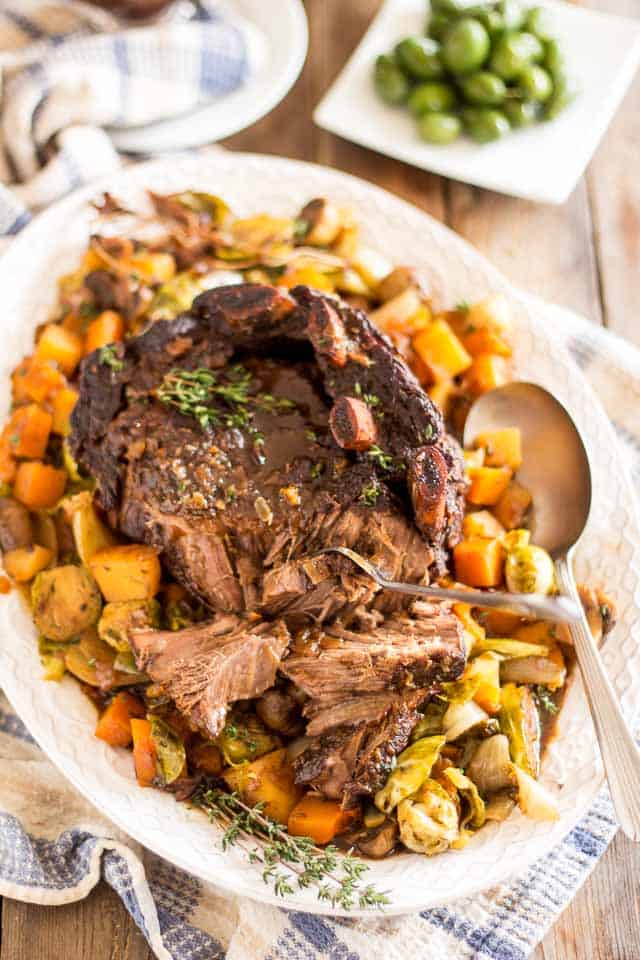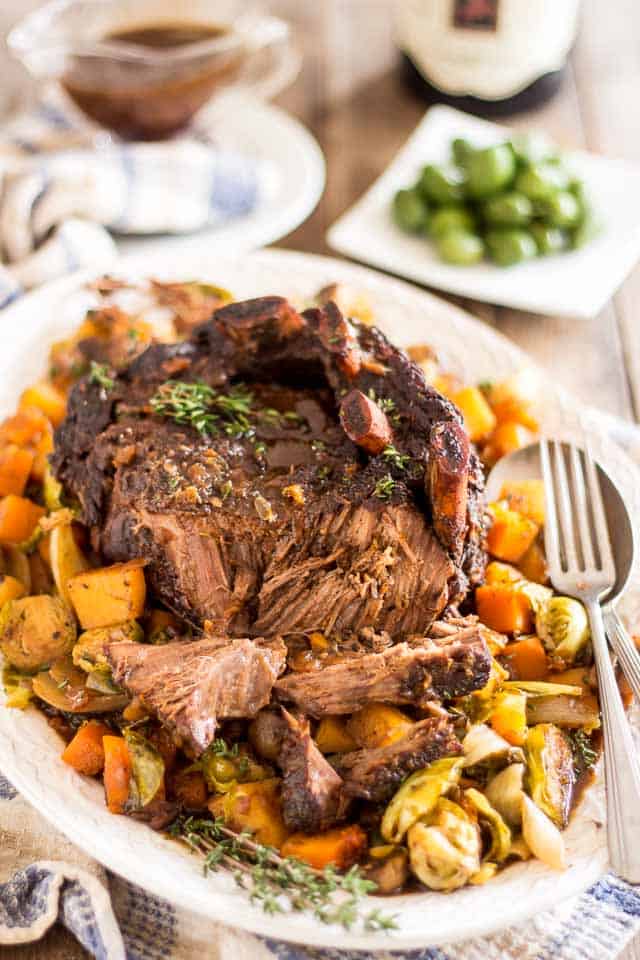 For more information please see the list of How to cook a cross rib roast in the oven
Detail: 🔗