Low-carb Marinated Pork Chops with Soy Sauce, Cumin, Lime, and Oregano marinate all day; then grill the pork chops, make a salad, and dinner is ready.
PIN the marinated Pork Chops to try them later!
I pulled some pork chops out of the freezer and decided to use them for Marinated Pork Chops with Soy Sauce, Cumin, Lime, and Oregano so I could take better photos and entice you to try these grilled pork chops that I first made over ten years ago! And these pork chops were just as delicious as I remembered them, and the pork chops were devoured by all!
I've shared a few recipes for grilled pork chops through the years, including one that a Lake Powell client used to call the world's best pork chops, and this recipe is is another winner for pork cooked on the grill; I loved how the touch of cumin and oregano in the marinade worked with the flavor of the grilled pork.
I used thick bone-in pork chops from Costco, and when I opened the package they weren't even all the same cut of pork, which didn't make for great photography results but didn't stop us from enjoying them. And these tasty pork chops are low-carb, Keto, low-glycemic, South Beach Diet friendly, dairy-free, and can easily be gluten-free.
What ingredients do you need for this recipe?
thick bone-in or boneless pork chops (1 inch thick)
soy sauce or Gluten-Free Soy Sauce (affiliate link)
fresh lime juice, I used my fresh-frozen lime juice
Olive Oil (affiliate link)
ground cumin (affiliate link)
Dried Oregano (affiliate link) ( see notes)
ground Chipotle chile pepper (affiliate link) (or use a dash of hot sauce)
Onion Powder (affiliate link), or use 1-2 tsp. grated fresh onion
Garlic Powder (affiliate link), or use 1-2 tsp. freshly minced garlic
Why is it a good idea to marinate pork chops?
I think using a marinade is a great way to keep the meat moist when you're grilling pork chops, and these pork chops were juicy and delicious, definitely a tasty idea for a summer dinner!
What if you don't have an outdoor grill?
Pork chops like this can easily be cooked on a stovetop grill pan (affiliate link) or a George Foreman Grill (affiilate link) with great results. And when you use one of those methods, you can make juicy pork chops any time of year; enjoy!
How to make the marinated pork chops:
(Scroll down for complete recipe with nutritional information.)
I don't mind grilled pork chops with a little fat on the edges, but I trim thicker pieces of fat; take your choice on how much trimming you prefer.
Then mix together the soy sauce (gluten-free if needed), fresh lime juice, olive oil, ground cumin, dried oregano, Chipotle Chile powder, onion powder, and garlic powder to make the flavorful marinade.
Put pork chops in a large Ziploc bag, pour marinade over, seal bag, and marinate in the fridge for 4-6 hours (or longer won't hurt if you want to marinate all day while you're at work.)
When it's time to cook, spray the grill with non-stick spray or olive oil and then preheat the grill to medium-high heat while you drain the pork chops and let them come to room temperature. (George Foreman Grills or stovetop grill pans only need to be preheated for a few minutes.)
If you want criss-cross grill marks lay the pork chops at an angle across the grill grates.
When you can lift the edge of one pork chop and see good grill marks (about 3-4 minutes) rotate the pork chops so they're going the opposite way and cook about 3-4 minutes more.
Check grill marks again and when you're happy with them, turn pork chops over and cook about 3-5 minutes more on the second side, or until pork is cooked though.
Start checking after 3 minutes; I recommend using an Instant-Read Meat Thermometer (affiliate link) to check that pork has reached the safe temperature of 145F/63C that's recommended for grilled pork but if you don't have a meat thermometer, pork should feel firm but not hard to the touch when it's done.
Let pork chops rest for 3-5 minutes when you take them off the grill and then serve hot and enjoy!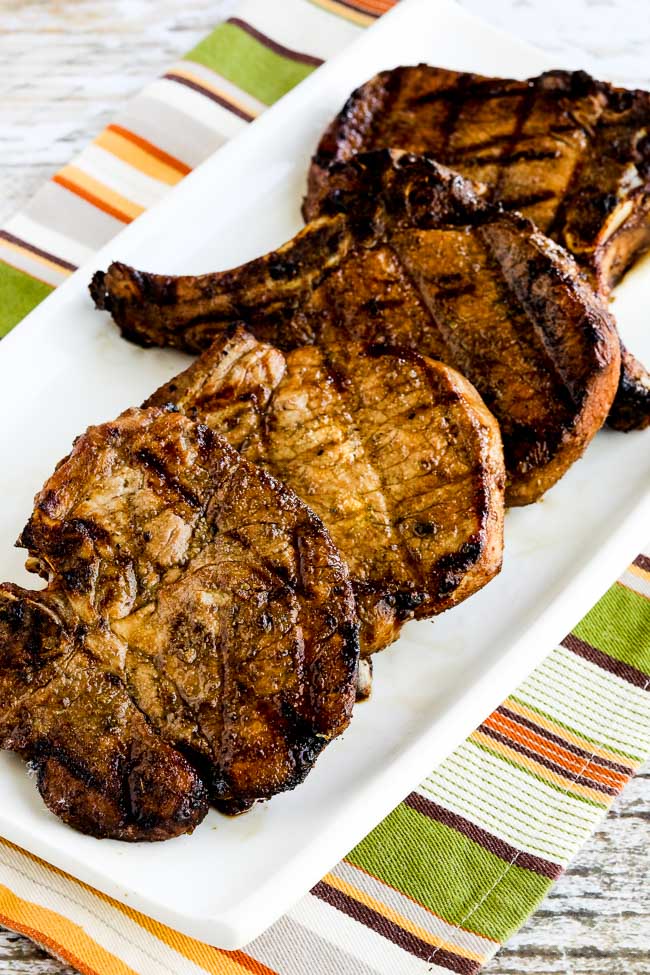 Make it a Low-Carb Meal:
Marinated Pork Chops would be delicious with something like Spicy Mexican Slaw, Grilled Eggplant with Feta and Herbs, Marinated Cauliflower Antipasto Salad, Grilled Mushrooms, or Cucumber Salad with Balsamic Dressing for a low-carb meal.
More Pork Chops on the Grill:
Greek Pork Chops ~ Kalyn's Kitchen
Grilled Pork Chops with Peach Salsa ~ Cookin' Canuck
Grilled Ginger Soy Pork Chops ~ Kalyn's Kitchen
Grilled Pork Chops with Grilled Vegetable Medley ~ A Family Feast
Grilled Pork Chops with Lemon, Garlic, and Sage ~ Kalyn's Kitchen
Low-Carb Diet / Low-Glycemic Diet / South Beach Diet Suggestions: Grilled Pork Chops with Soy Sauce, Cumin, Lime, and Oregano are a perfect main dish for any phase of the original South Beach Diet, or any low-carb eating plan, including Keto. If you use Tamari Gluten-Free Soy Sauce or sub Coconut Aminos for the soy sauce, this recipe can easily be gluten-free or Paleo.
Find More Recipes Like This One: Check out Grilling Recipes for more interesting Grilling ideas like this one. Use the Diet Type Index to find recipes suitable for a specific eating plan. You might also like to follow Kalyn's Kitchen on Pinterest, on Facebook, on Instagram, or on YouTube to see all the good recipes I'm sharing there.
Historical Notes for this Recipe: This recipe was first posted in 2008. The photos were updated in 2018 and the recipe was updated with more information in 2022.
Share This:
For more information, please see more information about Marinade for pork chops to grill
Detail: 🔗