This Mediterranean Brown Rice Salad is a filling, healthy, and gluten-free salad that is easy to make. Loaded with veggies, rice, and Greek flavors, this fibre- packed salad is nutritious and delicious.
The best part? It takes just minutes to toss together one the rice is cooked. It also stores well so it's great for meal prep lunches over the next few days, or to bring to a summer potluck or BBQ.
Reading: Cold salad recipes with rice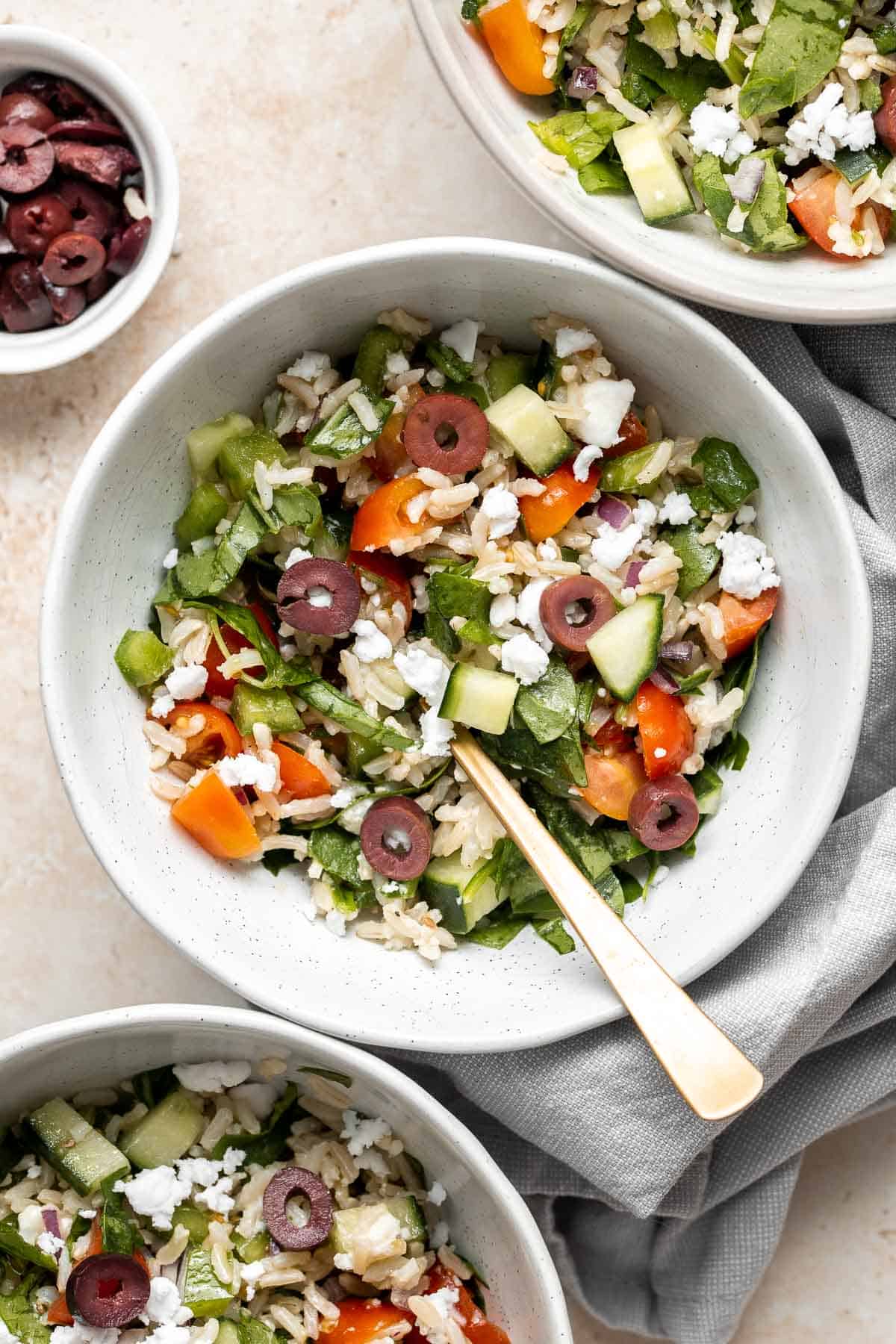 Why You'll Love Mediterranean Brown Rice Salad
The best Mediterranean flavors. This Mediterranean brown rice salad combines the flavours of a classic Greek salad with spinach and rice.
It's healthy and nutritious. This gluten-free salad is loaded with nutrients thanks to the veggies and rice. Adding brown rice to this salad adds tons of nutritional value as rice is a source of B-vitamins, phosphorus and zinc. Plus, brown rice also contains magnesium, selenium, manganese and fibre.
Loaded with fibre. One cup of brown rice has almost 4 grams of fibre while 3.5 cups of raw spinach has only 2.2 grams. Well this salad has both, so we are seriously doubling up on some major fibre!
Quick and easy to make. It takes some time for the rice to cook, but once it's ready, you just toss all the ingredients together and enjoy.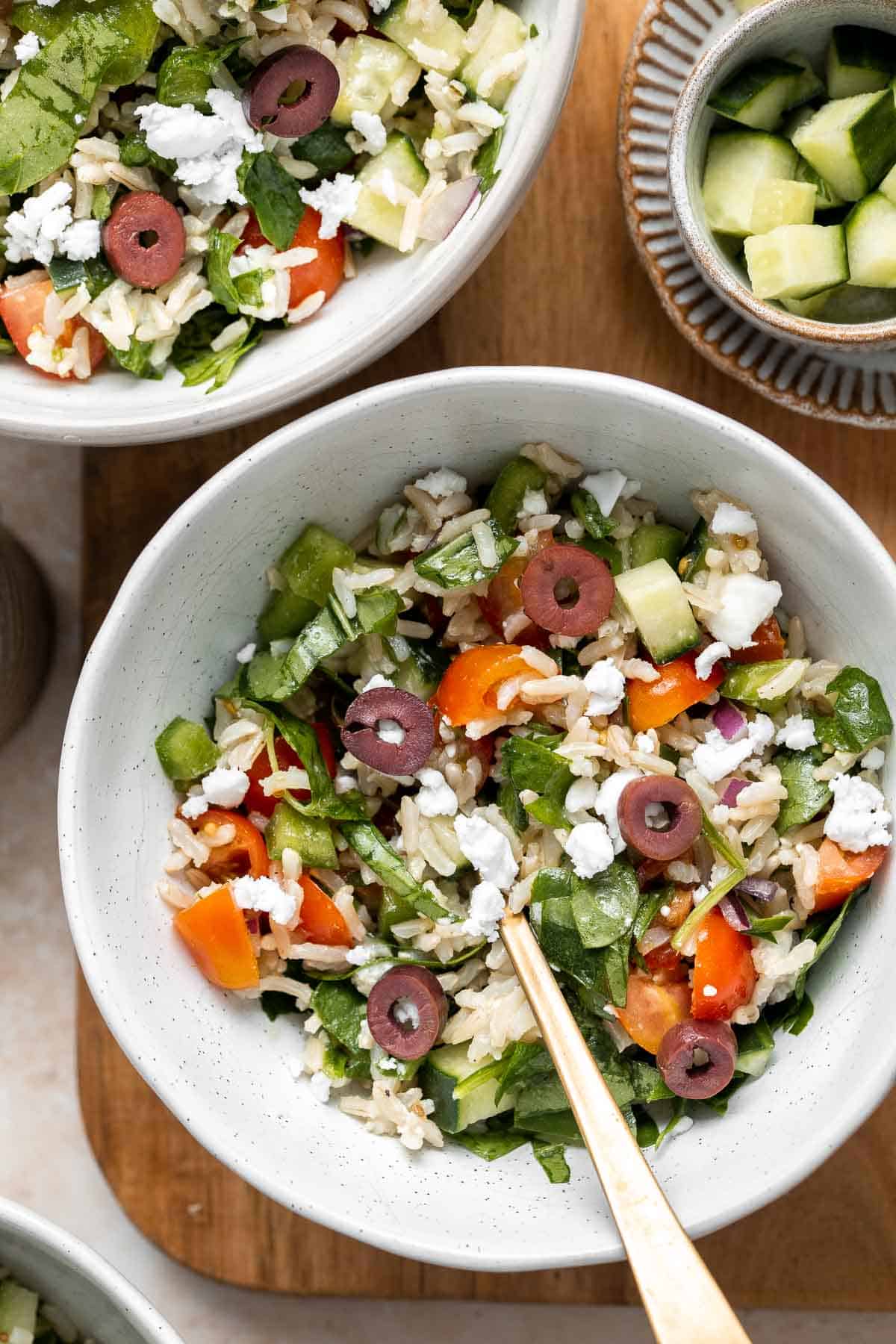 Ingredient Notes
To make this quick and easy Mediterranean Brown Rice Salad, you will need the following ingredients (full measurements in recipe card below):
brown rice – I used long-grain brown rice cooked in water, olive oil, and salt. Feel free to use either long-grain or short-grain. You can also use white rice but you'll have to adjust the cooking time slightly. See out Steamed Rice recipe for instructions.
spinach – feel free to substitute with any leafy greens that you like such as romaine lettuce, kale, arugula, or a spring mix salad blend.
grape tomatoes – or substitute with cherry tomatoes or diced roma tomatoes.
Persian cucumbers
green bell pepper
red onions
kalamata olives
feta cheese
dressing – made with olive oil, lemon juice, garlic, oregano, salt, and pepper. You can also substitute it with ¼ cup Greek Salad Dressing.
Read more: Can You Freeze Tuna?
You will also need measuring cups and spoons, a medium saucepan, and mixing bowls.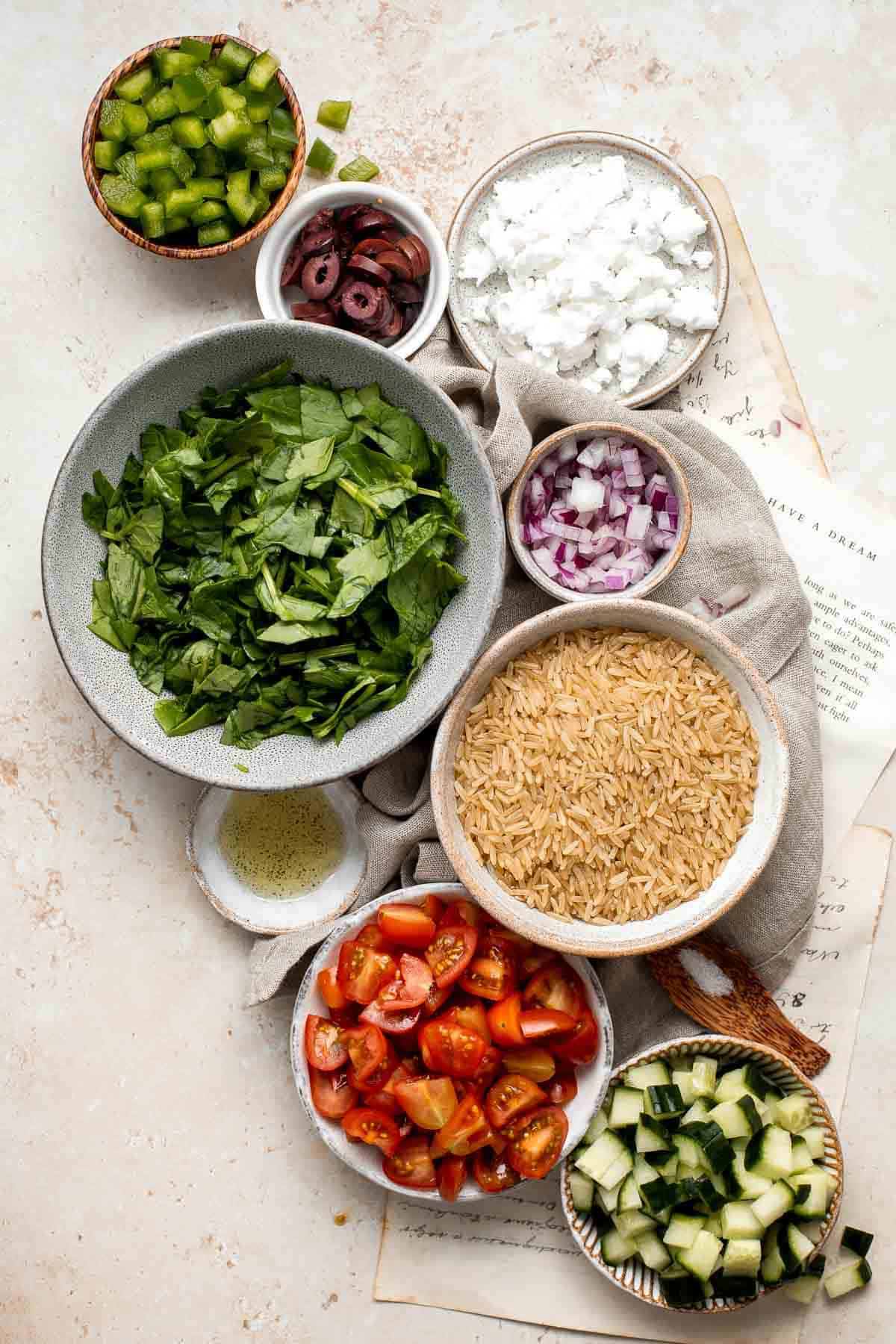 How to Make Mediterranean Brown Rice Salad
Cook the brown rice. Add rice, water, oil, and salt to a medium saucepan and bring to a boil over high heat. Turn the heat down to low, cover, and simmer for 40 minutes (or according to package instructions). Remove from heat and allow rice to absorb the steam for another 10 minutes (still covered). Uncover and fluff with a fork.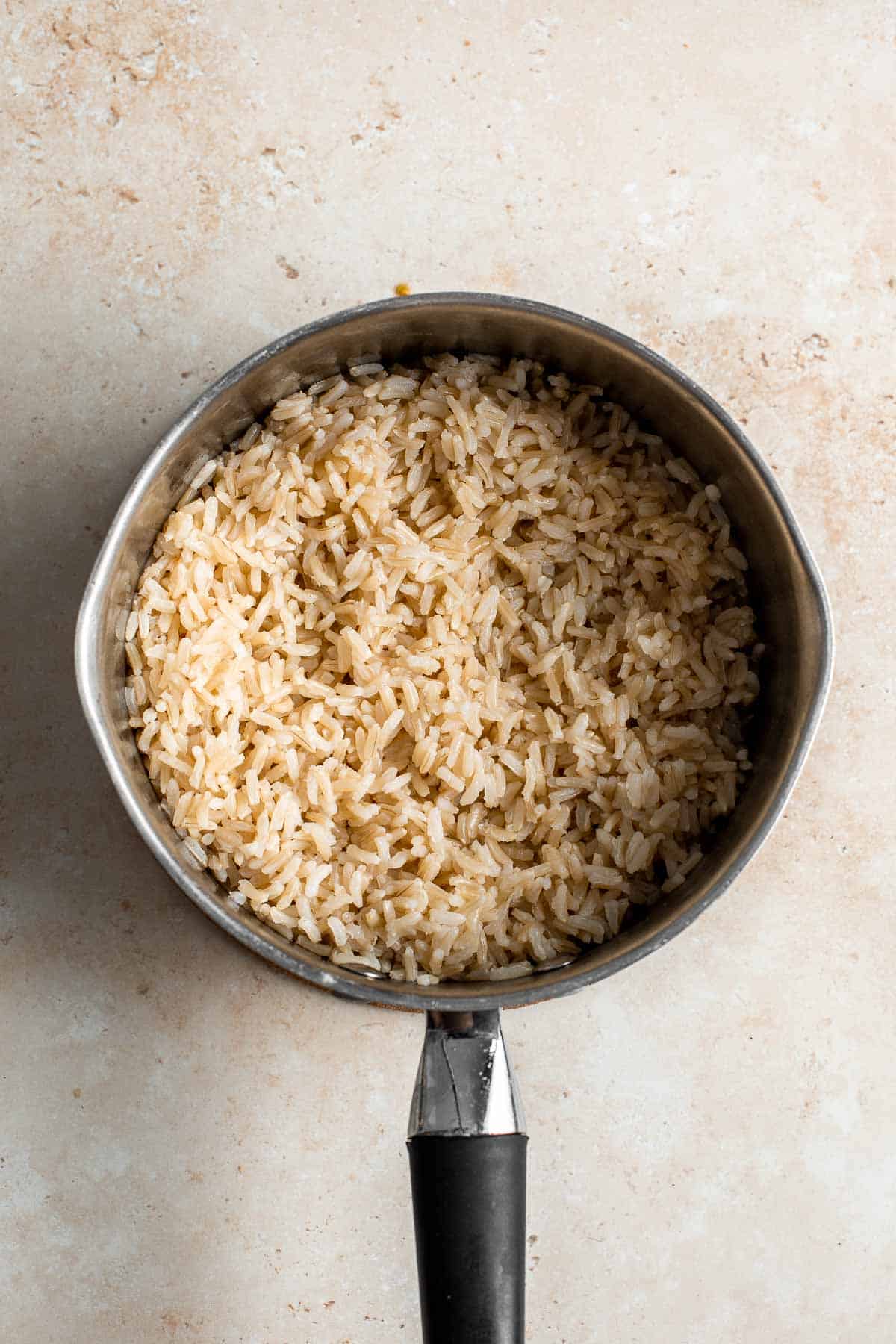 Cool the rice. Allow the rice to cool down to room temperature or place it to the refrigerator for 10-15 minutes to cool down quickly.
Combine salad ingredients. In a large mixing bowl, combine the cooled rice, spinach, tomatoes, cucumber, bell pepper, red onions, olives, and feta cheese.
Make dressing. In a small mixing bowl, make the dressing by combining and stirring together olive oil, lemon juice, garlic, oregano, salt, and pepper.
Toss and serve. Pour the dressing over the salad and toss to combine. Serve immediately at room temperature. You can also refrigerate and serve cold. If the rice is too hard (which can happen in the fridge), allow it to warm to room temperature before eating.
How to Serve
This Mediterranean brown rice salad can be served on its own as a complete meal, as it's loaded with veggies and rice which makes it filling. If you are thinking of serving it as a side salad, pair this brown rice salad with:
Read more: Chicken Salad with Grapes
Greek Salmon or Garlic Butter Shrimp.
Oven Baked Chicken Breast or Balsamic Chicken Kabobs.
Garlic Butter Steak Bites, Sheet Pan Lamb Chops, or Greek Lamb Shanks.
Roasted Spring Vegetables or Greek Lemon Roasted Baby Potatoes.
Hummus, Olive Tapenade, and Pita Bread.
More Salad Recipes
40 Best Salad Recipes
Mediterranean Orzo Pasta Salad
Buckwheat Salad
Chickpea Greek Salad
Tomato Cucumber Avocado Salad
Italian Pasta Salad
Print
For more information, please see more information about Cold salad recipes with rice
Source: https://www.aheadofthyme.com/mediterranean-brown-rice-salad/