This Mexican shredded beef holds a TON of flavor! Tender, fall apart beef in a rich sauce to make restaurant-quality shredded beef tacos, burritos, quesadillas, enchiladas, or rice bowls. Make this over the stovetop, in the Instant Pot, or in the slow cooker.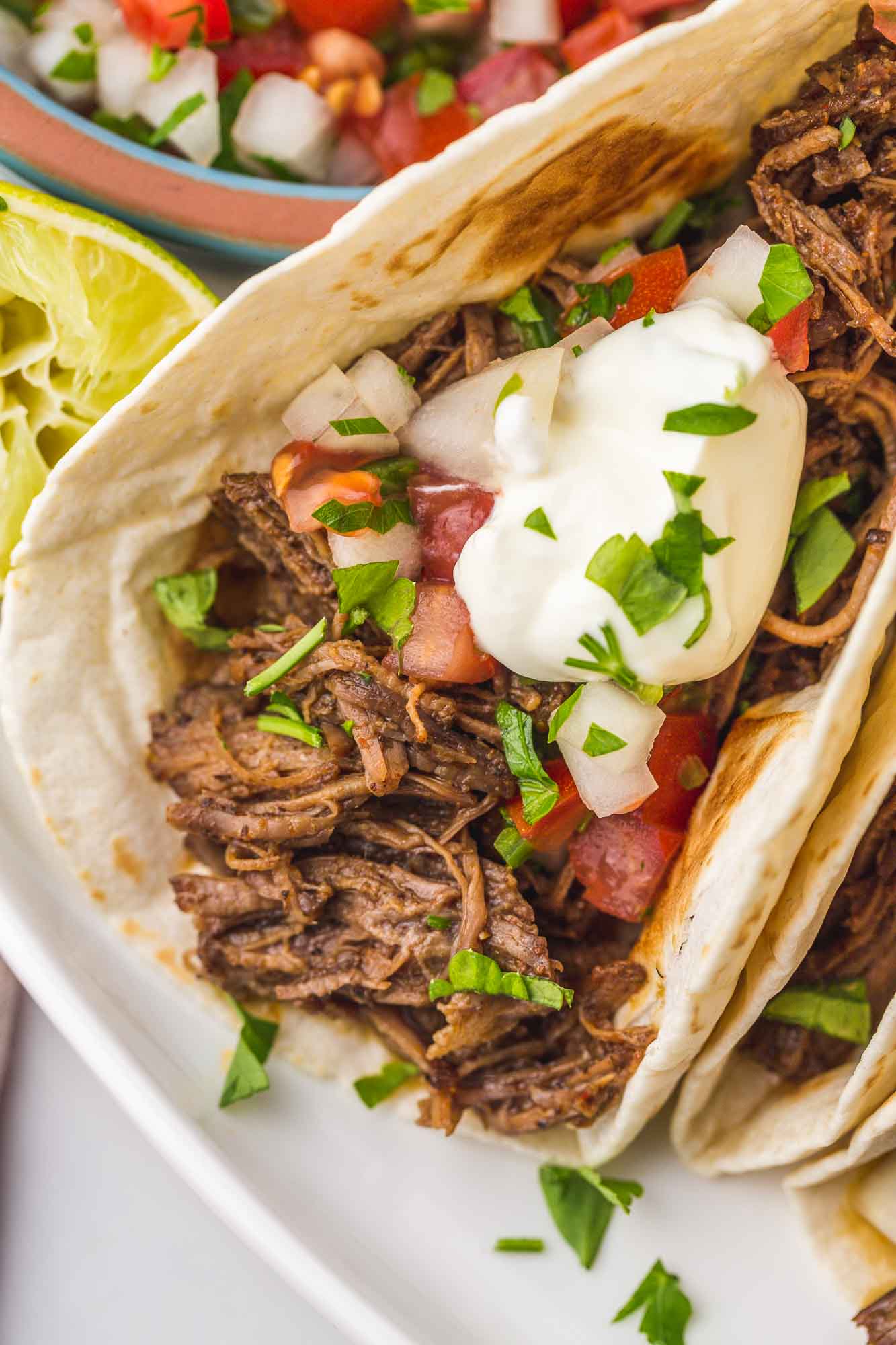 Mexican Shredded Beef
What I love about this recipe is being able to cook a batch in the slow cooker or in the Instant Pot, shredding the beef, and keeping it in the fridge to serve for dinner for a few nights. Easy prep just like my Instant Pot carnitas recipe!
The method here is so similar to my barbacoa beef recipe and these easy slow cooker Italian beef sandwiches, but the flavors are quite different. All you need is a bunch of spices and herbs that you already have in your pantry, beef, beef stock, and fresh lime.
For more shredded meat recipes, check out this barbacoa beef recipe, it's a reader favorite! You will also love this Mexican shredded chicken that can be used for tacos and burritos as well, and this basic Crockpot shredded chicken recipe that's great for weekly meal prep.
The Ingredients
To make Mexican shredded beef, here's what you'll need:
Beef – you can use beef stew meat, chuck roast, cross rib roast, or brisket.
Stock – chicken or beef stock or broth.
Spices – paprika, chili powder, oregano, coriander, cumin, garlic powder, salt, and pepper.
Oil – vegetable oil to brown the beef.
Lime – fresh lime juice.
Complete list of ingredients and amounts can be found in the recipe card below.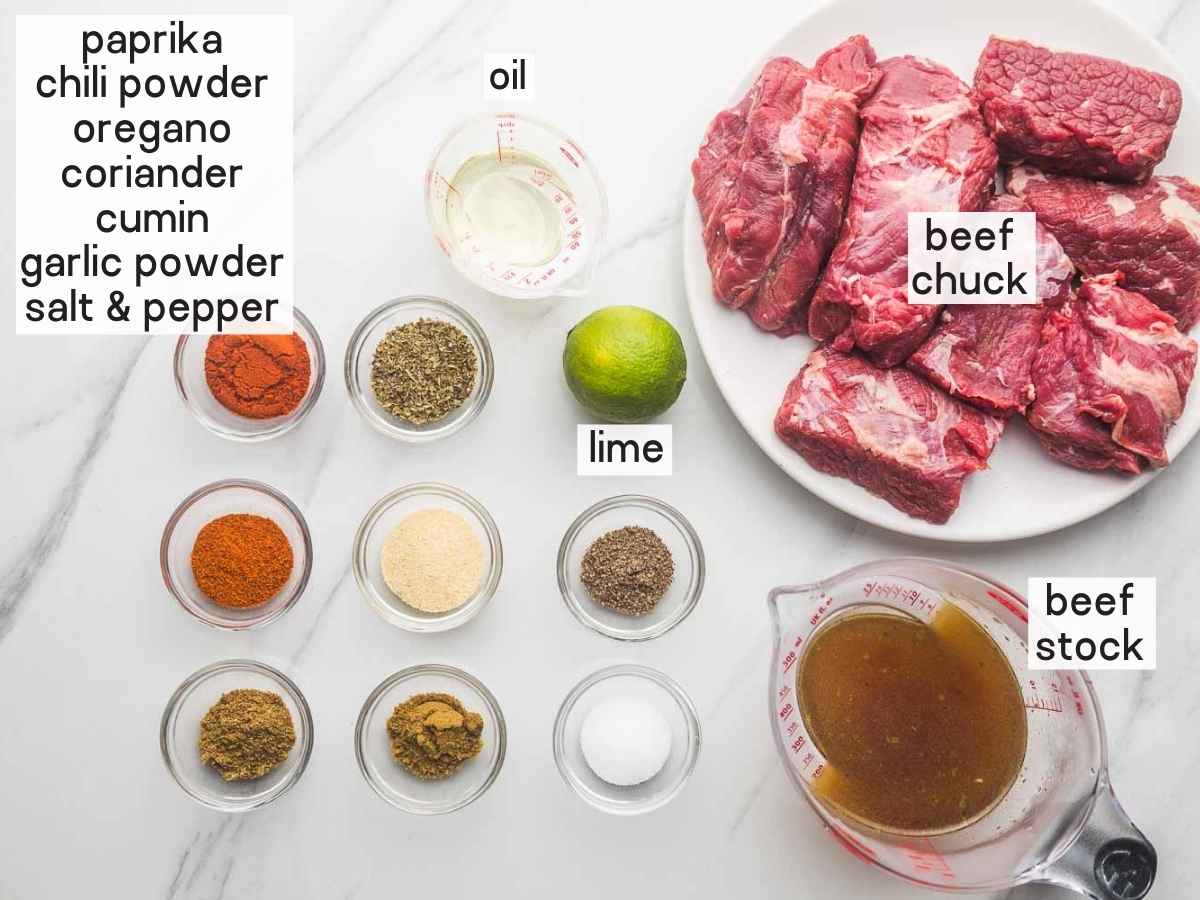 How to Make Shredded Beef
You can make shredded beef in the slow cooker, in the Instant Pot, or over the stovetop. Instructions to all methods are provided in the recipe card below.
Make the dry rub – just combine all of the spices and herbs in a small bowl.
Liberally season the beef from all sides.
Heat oil, and brown the roast from all sides.
Slow cook or pressure cook until fall-apart tender.
Remove the beef from the liquid and shred using 2 ordinary forks or meat forks, then toss in the liquid and serve on a platter or in tacos.
Cooking times for all methods can be found in the recipe card below.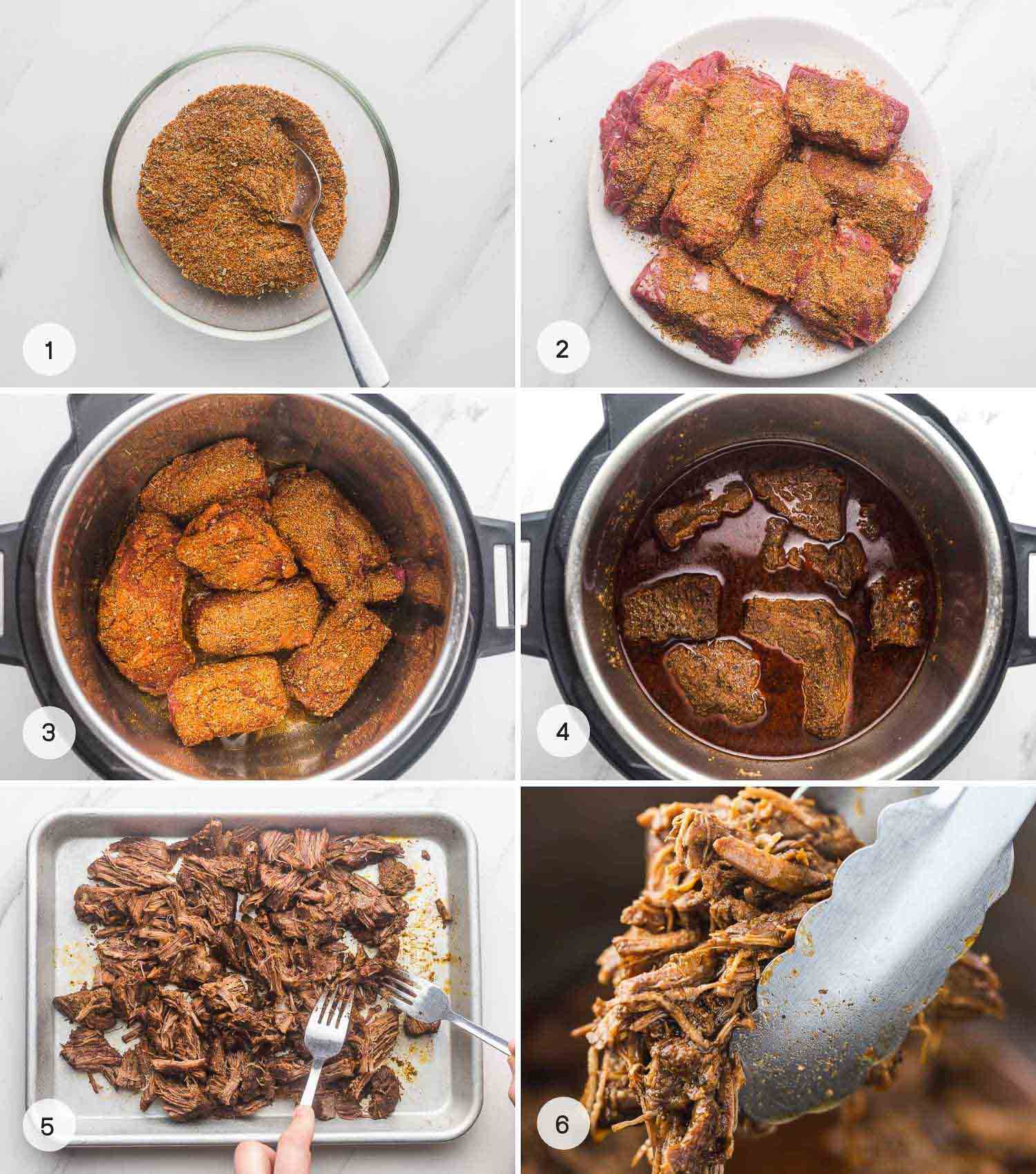 Top Tips
Choose fresh marbled beef for the best flavor.
When cutting the chuck roast into portions, cut into even size pieces against the grain to shorten the fibers as this will help to make the beef more tender, and easier to shred when cooked.
Store the leftovers in the fridge in a sealed container for up to a week, or freeze for up to a month.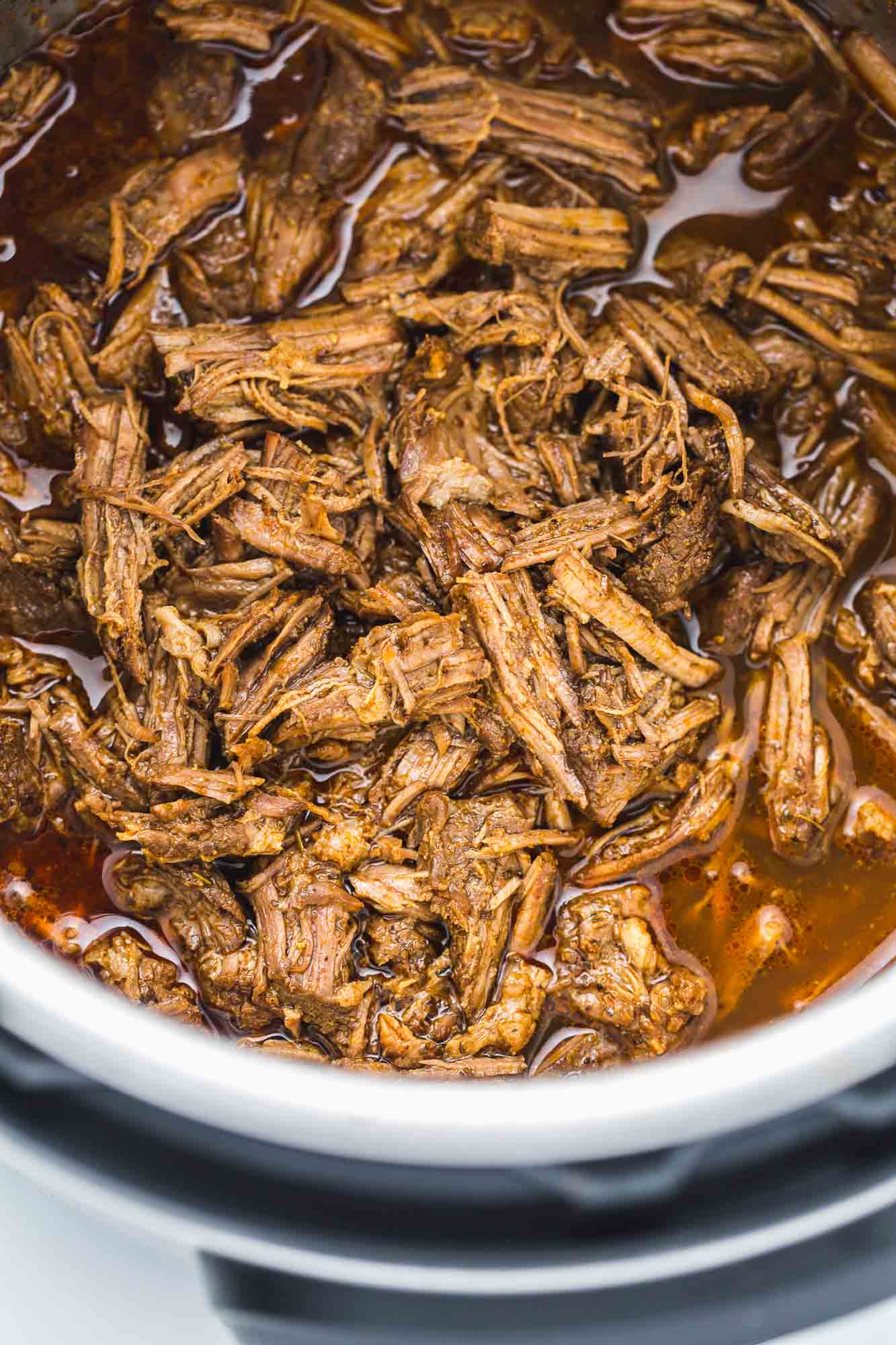 How to Serve Mexican Shredded Beef
Tacos – directions are in the section below.
Burritos
Quesadillas
Enchiladas
Nachos
Sliders
Sandwiches
Wraps
Rice or burrito bowls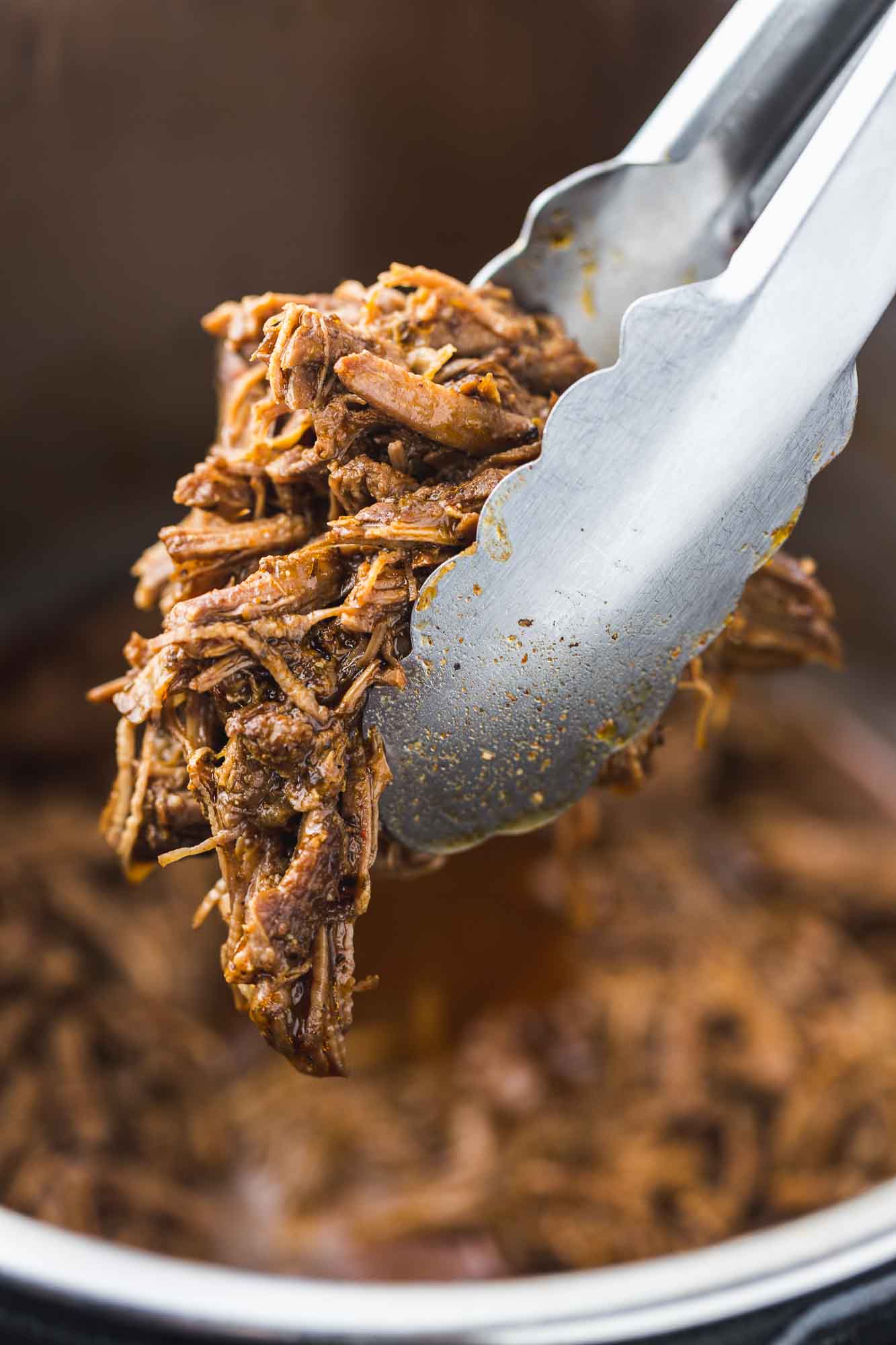 How to Make Shredded Beef Tacos
The meat is very juicy so you don't need to add a ton of stuff to make the tacos taste good.
Heat up some tortillas (or char them over the stovetop!), place shredded beef in each tortilla, and top with fresh pico de gallo or roasted salsa ranchera, lime crema, and chopped fresh cilantro.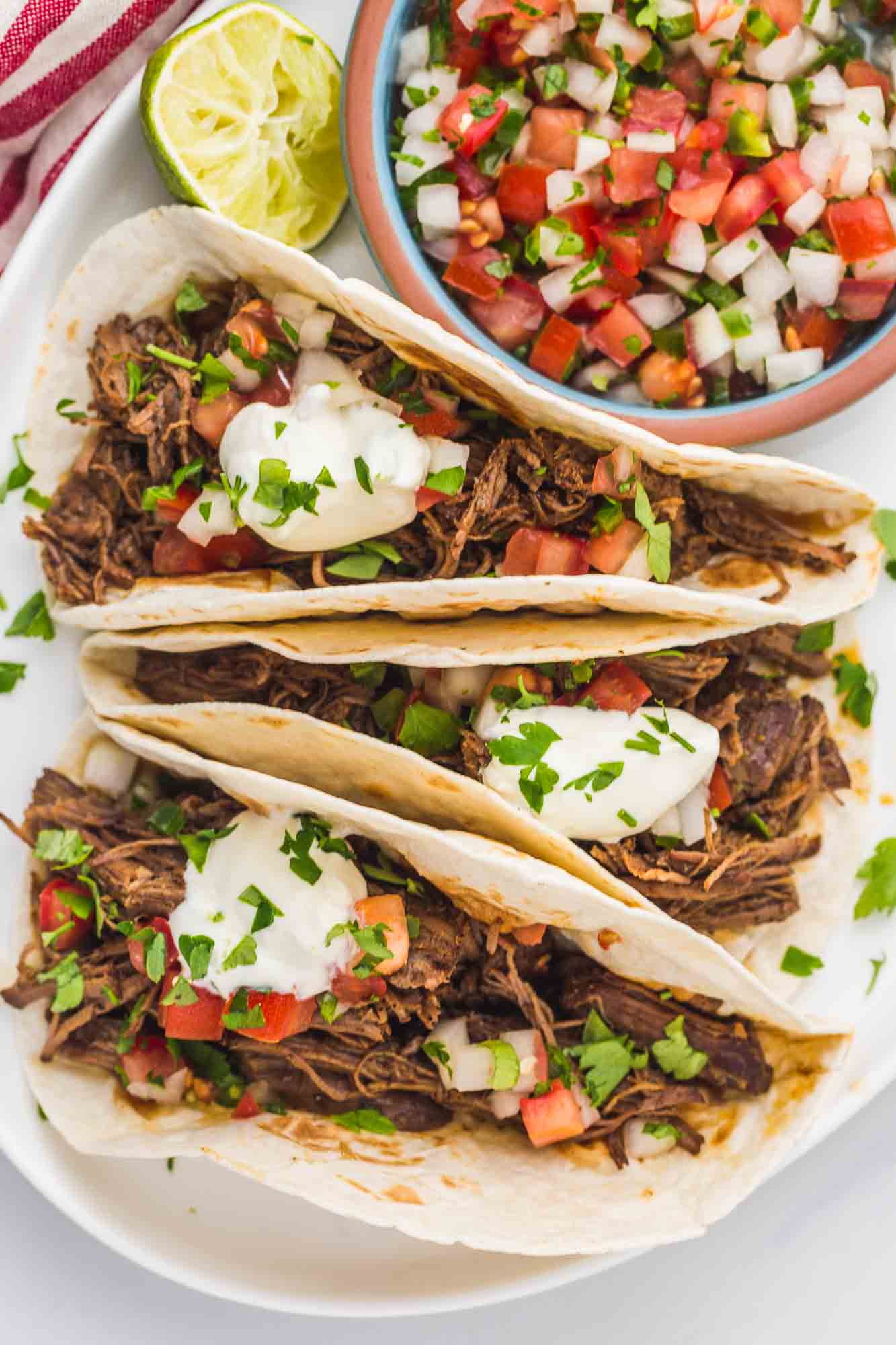 Can Pulled Beef Be Frozen?
The good news is that this shredded beef is freezer friendly which makes it perfect to make ahead. Make sure that the beef has completely cooled down, then place in a freezer-safe container or Ziploc bag for up to 3 months.
Common Questions
Through this article, we hope to help you understand Beef stew with shredded beef
Detail: 🔗