This easy to make Million Dollar Pie recipe is one that should absolutely be in everyone's recipe box. A classic diner pie great for any occasion.
The no bake icebox pie features a delicious creamy filling with shredded coconut, crushed pineapple, chopped pecans. The dreamy whipped topping and sweetened condensed milk mixture of the Million Dollar pie filling flavor is balanced out with the addition of lemon juice then nestled in a graham cracker pie crust and a maraschino cherry on top of each luscious slice!
What is Million Dollar Pie?
Million Dollar Pie is such a popular classic no bake recipe. It is also commonly known as Millionaire Pie and originated in the Southern part of the United States at a restaurant called Furr's Cafeteria. The original old fashioned version of Million Dollar Pie did not have maraschino cherries on top. They had another version with cherry pie filling in it, which they called Billionaire pie.
The delicious pie is particularly popular during the holiday season as well as for summer cook-outs and potlucks. Old fashioned Million Dollar pie is one of those pies you probably remember your grandmother or an aunt bringing to holiday dinner each year.
Twists on the Original Million Dollar Pie Recipe
Old fashioned Million Dollar Pie can be made a few different ways, so there are many different recipe variations out there for this scrumptious no-bake pie. All use a graham cracker crust (I don't recommend a regular pie crust for this pie).
Cream Cheese
While some use cream cheese, this is a sweetened condensed milk version of the recipe. When made with cream cheese, sugar and vanilla extract are also used. Frozen non-dairy whipped topping, thawed is traditionally used in either version. Using cream cheese makes more of a cheesecake version of Million Dollar pie, than the authentic recipe, but it is also delicious.
Hawaiian
Also read: Classic Million Dollar Pie – Little Sunny Kitchen
The coconut crushed pineapple pie is also referred to as Hawaiian Million Dollar pie sometimes too… for obvious reasons. Toasted coconut typically is used as a topping too.
Mandarin Oranges
Mandarin oranges are a popular addition to the top the pie and they can add a fresh bright feel to the pie.
Mandarin orange slices are even small enough to mix into the filling. Canned peaches are a topping of choice as well, especially in Southern states.
Some like to add nuts, such as pecans on top. Toasted coconut is also a favored topping.
No matter what you call it, the rich decadence of this easy to make dessert is sure to make you feel like a million bucks! Even with inflation that's a nice tidy sum…lol.
How to Make Million Dollar Pie
Let me show you how to make this delicious old fashioned no bake dessert. It is a super easy recipe.
Print recipe is found below, which makes two pies. If you just want one pie, you can always freeze the other for later.
Also read: Easy Millionaire Pie Recipe – Sweet Pea's Kitchen
The recipe makes two Million Dollar pies, each with 8 slices.
The prep time for this recipe is just 10 minutes (or less). With chilling, total time is about 4 hours.
Ingredients you will need:
20 ounce can of drained pineapple (crushed pineapple or pineapple tidbits)
chopped pecans (reserve some pecans for top)
sweetened condensed milk (14 ounce can)
sweetened shredded coconut
fresh lemon juice
8 ounce container of non-dairy frozen whipped topping, such as Cool Whip
2 graham cracker crusts, standard ready-made (or make your own graham crust with crackers and butter chilled in pie plate)
maraschino cherries
Equipment
Large bowl and mixing spoon
Preparing
This is one of the easiest pies you will ever prepare. Making this pie requires no cooking at all. Let's start making it!
First mix together the filling ingredients in a large mixing bowl. Start by mixing together the sweetened condensed milk and lemon juice , then stir in the coconut and pecans and finally fold in the thawed whipped topping.
Next, pour the creamy filling mixture into ready made graham cracker crusts.
Garnish the top with cherries and pecan pieces, then freeze for a few hours until it is set.
Also read: Easy Millionaire Pie Recipe: Furr's Cafeteria Copycat
That is all there is to it! Refrigerate until ready to slice and serve. Top each slice with a big dollop of fresh whipped cream if you like.
Of course if you prefer making your own homemade graham cracker pie crust, be my guest. I left easy directions right above the recipe card.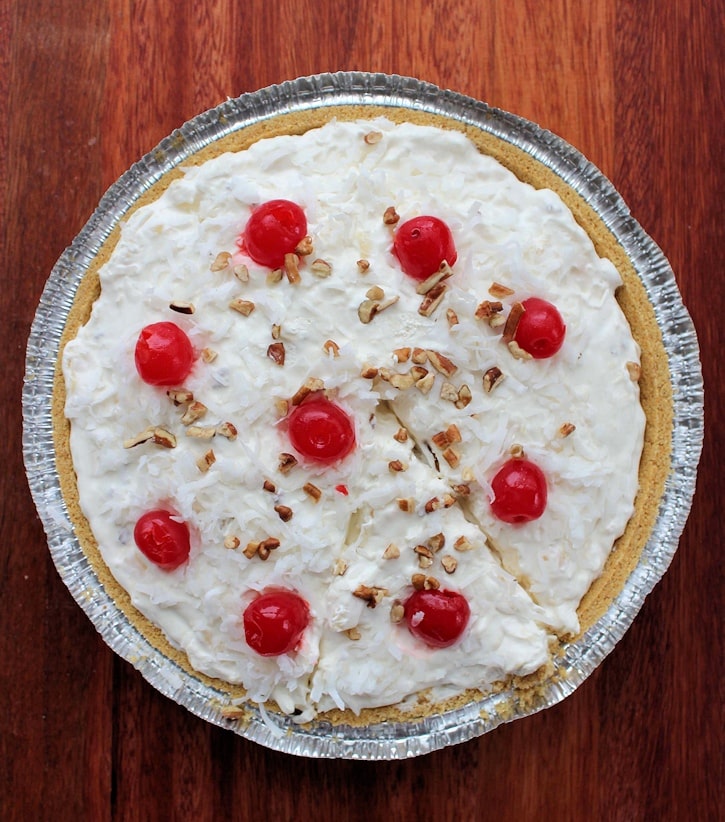 Millionaire Pie – Lighter Version
If you want to lighten the creamy classic millionaire pie recipe up a little, that can be done in a few easy steps. First, swap out standard whipped topping for a lighter version. Next, instead of condensed sweetened milk and sweet coconut, use unsweetened and add a zero or reduced calorie sweetener to make up for the difference.
Can you freeze Million Dollar Pie?
Yes, the pie freezes well. It also serves nicely semi-frozen. Just do no refreeze after it has been thawed. Leave it in the freezer after initial chill.
Christmas Version!
While the red and white look of this Million Dollar pie is already a festive look for the holiday season. Before serving, add some green jarred cherries along with the red ones for a full on Christmas dessert. Try chopping some up and adding them to the pie filling too.
If you make this million dollar pie recipe. I'd love to hear how it came out and any fun changes you make.
No Bake Pie Recipes!
Here are a few more yummy and easy to make no bake pie recipes to try. All are tried and true.
Snickers Caramel Apple Pie
Easy Peach Pie
Kool Aid Pie – 4 Ingredient No Bake Dessert!
Reese's Peanut Butter Cheesecake Pie Recipe: No Bake
Please see more list about Millionaire salad cherry pie filling