This Mis­sis­sip­pi Pot Roast recipe is like no beef roast recipe I've ever eat­en. And, it's absolute­ly deli­cious! Savory, mild­ly spicy, juicy and tender.
The taste is so homey and famil­iar, that at first you'll think, "Oh, it's scrump­tious slow cook­er roast beef." But then, there's some­thing more, some­thing special.
A mild kick of spice and then an ever so slight twinge of tangy acid­i­ty will catch you by sur­prise as it comes to rest at the back of your palate.
Mis­sis­sip­pi roast in the slow cook­er is next lev­el roast beef delec­tabil­i­ty, my friend! All your taste buds will be at atten­tion and doing their very best hap­py dance.
This sim­ple recipe only requires 5 ingre­di­ents and roasts away in your slow cook­er all day. You can get on with life and enjoy din­ner being ready when you are.
Also read: All In One Mississippi Pot Roast Crockpot Dinner
The result­ing melt-in-your-mouth Mis­sis­sip­pi Pot Roast is a ver­sa­tile main dish you will be excit­ed to put in your meal rota­tion over and over again.
Where Does the Recipe Come From?
Once I was blown away by the unique and absolute­ly explo­sive fla­vor pro­duced by the Mis­sis­sip­pi pot roast recipe, I decid­ed to inves­ti­gate where it came from.
I've seen the recipe around the Inter­net for years. It's lit­er­al­ly every­where. Unfor­tu­nate­ly, I paid very lit­tle atten­tion, until, now. I thought it was just anoth­er slow cook­er roast beef recipe. But, when I got curi­ous enough to try it, I could­n't wait to learn about the author and find out what makes it "Mis­sis­sip­pi".
Appar­ent­ly, a tal­ent­ed and cre­ative cook in Rip­ley Mis­sis­sip­pi, Robin Chap­man, adapt­ed her aun­t's roast beef recipe to be less spicy for her young fam­i­ly. It was a hit and she lat­er shared "The Roast" recipe with a friend.
That friend lat­er con­tributed it to a church cook­book as "Roast Beef". Peo­ple dis­cov­ered the recipe, shared it with friends and fam­i­ly far and wide.
Also read: Mississippi Pot Roast – The Cooking Jar
Next thing you know, it's pop­ping up on Pin­ter­est and social media sites and even­tu­al­ly some­one called it Mis­sis­sip­pi Pot Roast. The New York Times wrote an arti­cle that described it as "the roast that owns the inter­net." They even have their "no pack­ets" ver­sion of the recipe, here. The rest is his­to­ry. We all have Robin Chap­man to thank for this easy fam­i­ly dinner.
I adapt­ed the recipe only slight­ly, choos­ing a dif­fer­ent cut of beef, increas­ing the num­ber of pep­per­onci­ni pep­pers and adding brine from the pep­per jar to the bot­tom of the slow cook­er. They are minor changes that I believe hon­or the orig­i­nal while mak­ing it a lit­tle more my own fam­i­ly's style.
It's a melt-in-your-mouth tri­umph! I know you're going to love it!
And if you want anoth­er show-stop­ping beef roast recipe, but pre­fer to roast it in the oven, check out Paula's Bone­less Prime Rib Roast with Au Jus over at Call Me PMc.
The Ingredients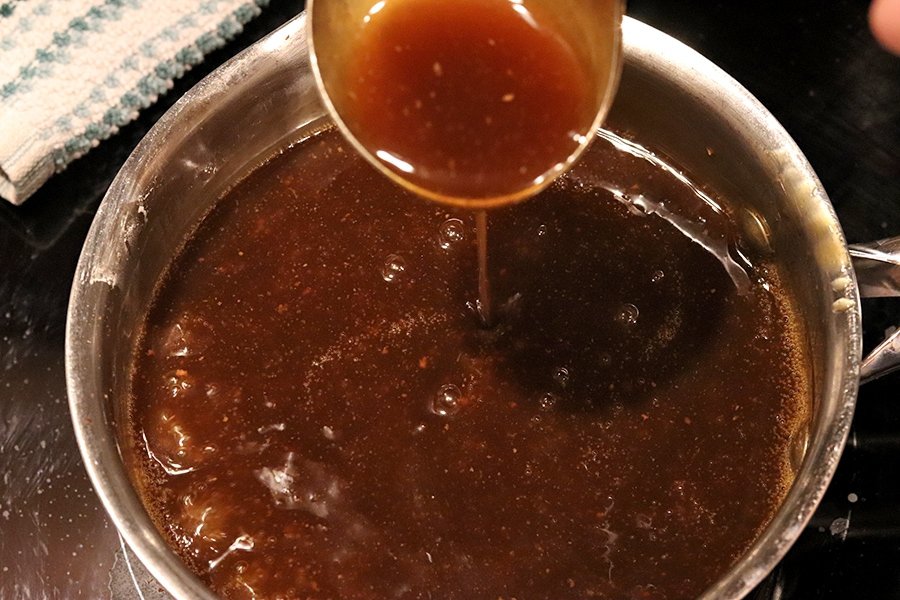 FAQs about Mississippi Pot Roast
What to Serve With Slow Cooker Roast Beef
Any of your favorite sides will be amaz­ing! Of course our favorite is mashed pota­toes. We put mashed pota­toes and gravy in the bowl and then top it with the Mis­sis­sip­pi Pot Roast and some more gravy. But the truth is, this beau­ti­ful roast would be fab­u­lous with home­made noo­dles or even rice. Pota­to sal­ad or coleslaw would also be won­der­ful. Make Hot Beef Sand­wich­es or French Dips with au jus on the side.
Also read: Mississippi Pot Roast in the Instant Pot
Put left­overs on a piz­za or nachos. Stuff it into pita pock­ets with some chopped veg­gies and your favorite sauce/dip. How­ev­er you decide to serve it, you're going to love this tasty Mis­sis­sip­pi Roast.
Enjoy, my friend!
How to Make Mississippi Pot Roast
It does­n't get much sim­pler. For a full visu­al how-to, check out the video at the bot­tom of the recipe card, below.
Place the roast in your slow cooker.
Sprin­kle the ranch dress­ing mix and aus jus mix over the top of the roast.
Add pep­per­onci­ni pep­pers on top of and around the roast.
Cut the but­ter into slices and arrange on top of the roast.
Add ¼ cup pick­le juice from pep­per­onci­ni jar to the bot­tom of the slow cooker.
Cov­er and cook on low for 6 to 8 hours or until the roast is fork ten­der. Inter­nal tem­per­a­ture should be about 160° when you remove it to rest for at least 15 min­utes before serv­ing. In most slow cook­ers, my guess is this will be achieved by the 6 hour mark. If you're cook­ing rump roast with the inten­tion of slic­ing it, this may be the time you want to take it out and rest it. If your plan is to break the roast (rump or chuck) into larg­er chunks and pieces or to shred it, the full 8 hours will be more to your liking.
The Recipe
Print
More Easy Delicious Beef Recipes
Keto Beef and Broccoli
Jen­n's gluten free Keto Beef and Broc­coli is anoth­er scrump­tious beef option for din­ner. Be sure to check it out on Keto Cook­ing Wins.
Rump Roast
Be sure to check out Rachel's (from Sweet Tea & Sprin­kles) deli­cious oven-roast­ed Rump Roast recipe if you're look­ing for some melt in your mouth roast beef that isn't made in the slow cooker.
Hot Beef Sandwich
Easy Slow Cooker Beef Roast and Potatoes
Quick and Easy Roast Beef Gravy
For more information please see the list of Mississippi pot roast with potatoes and carrots