This hearty mixed bean and vegetable stew is packed with plant-based protein, fiber, and nutrients – A frugal pantry-friendly vegan stew ready in under 40 minutes (crock pot and Instant Pot methods included!). Gluten-free, dairy-free, meat-free, grain-free!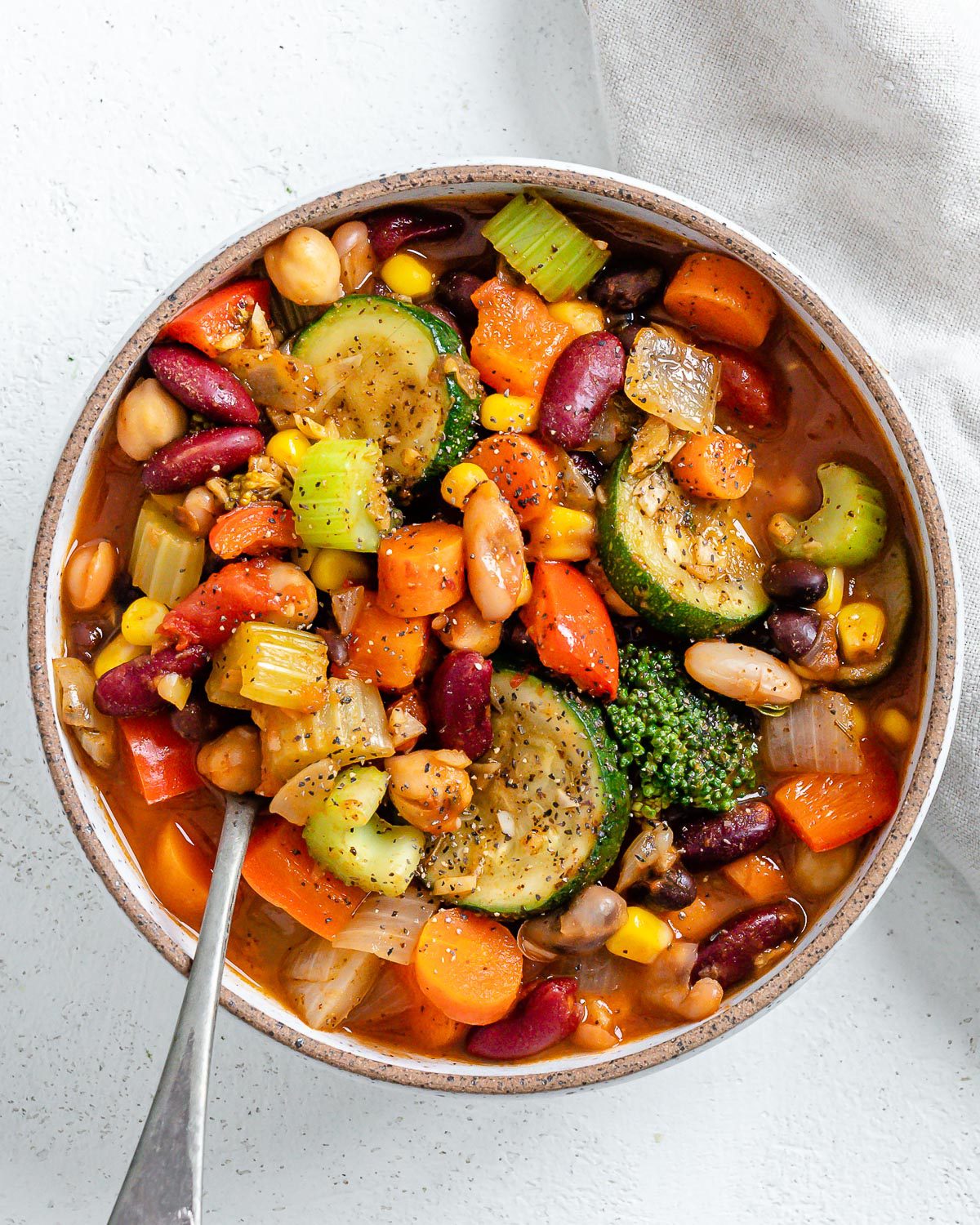 Hearty Vegetarian Stew with Vegetables and Beans
Beans are one of my all-time favorite pantry staples. They're inexpensive, versatile, and packed with nutrients like plant-based protein, fiber, and several vitamins and minerals. Combine a medley of 4 types of beans with EIGHT veggies in a tomato-based broth for this truly hearty and satisfying bean and vegetable stew (and no one will miss the meat!)
Reading: What to serve with bean stew
I love stews like this vegan stew recipe as they're super simple to prepare, are meal-prep and freezer-friendly, packed with nutrients and flavor, and make for a super satisfying meal. Even better, all it requires is just a bit of chopping before simmering until thick and flavorful – and all with an ingredients list of simple, inexpensive pantry staples.
Best of all, this easy veggie stew recipe is a simple one-pot meal, meaning clean-up is a breeze, whether you want to cook it on the stovetop, in an Instant Pot, or make crockpot vegan stew! Plus, it tastes even better on day two. So don't be stingy with your batch size!
Whenever you need a meal to fill your belly and keep you warm, this mixed bean stew should be top of the list alongside other hearty soups like this Instant Pot Vegetable Barley Soup and Vegetarian Instant Pot Navy Bean Soup!
The Ingredients
While the ingredients list for this bean and vegetable stew recipe may look a little long, the list is almost entirely comprised of simple pantry staples, making it incredibly easy to pull together at a moment's notice.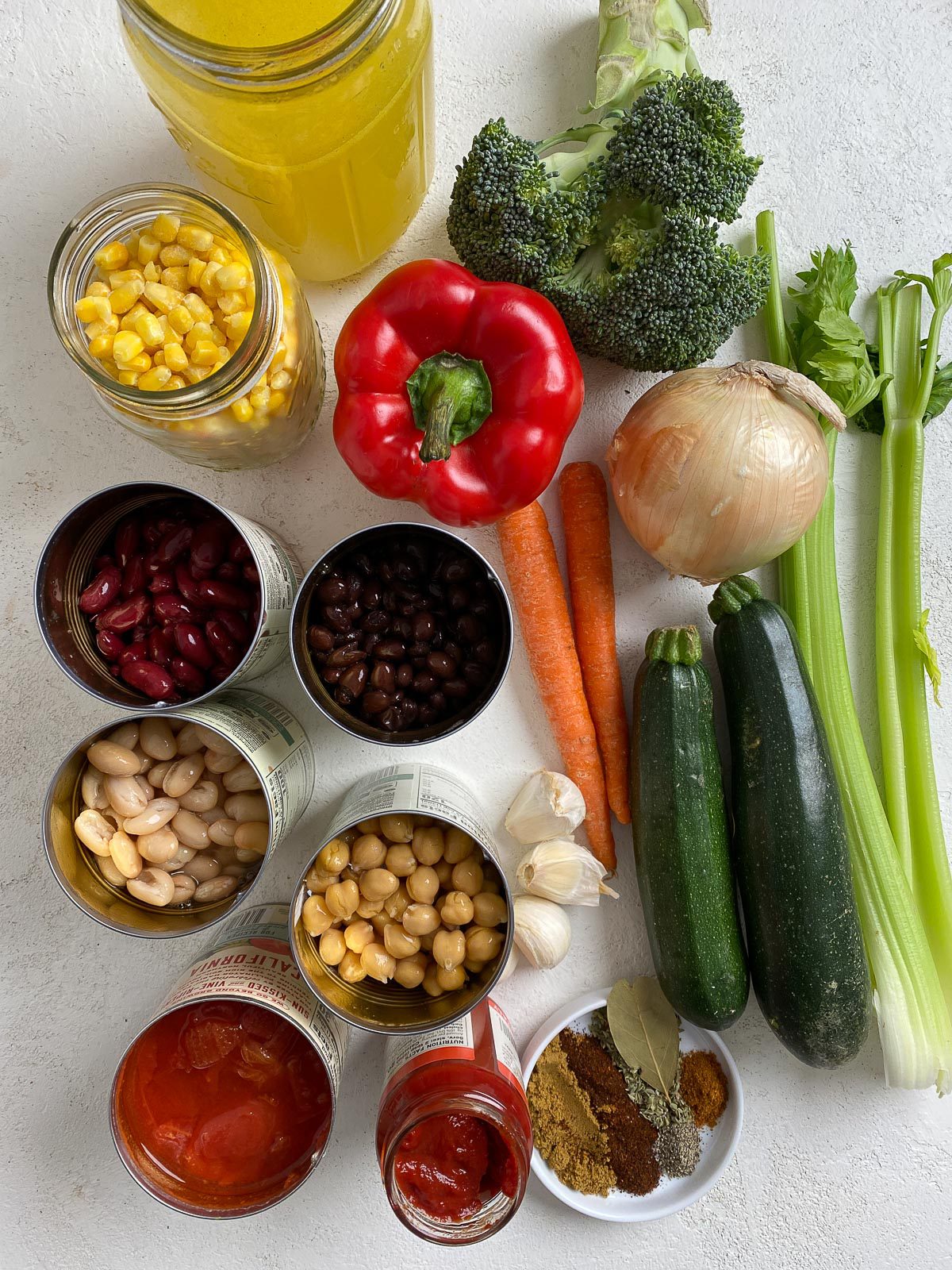 Mirepoix: This vegetable stew recipe uses the classic trio of onion (yellow), carrot, and celery to add depth of flavor.
Other vegetables: I added a green bell pepper (red or orange would also work), zucchini, a head of broccoli, a can of diced tomatoes, and a can of sweetcorn (frozen would also work) to this hearty vegetable stew recipe.
Beans: I used a combination of canned beans, including white beans (cannellini), red kidney beans, black beans, and chickpeas (garbanzo beans). Feel free to mix and match the beans of your choice, though. Use low sodium beans if preferred.
Read more: Cast iron dutch oven beef stew
This hearty vegetarian stew recipe would also work with canned or dried lentils (brown or green, avoid red).
Garlic: Adjust the amount to taste. You could use garlic powder in a pinch.
Spices: This veggie bean stew recipe relies on a simple spice blend, including:

chili powder
cumin
oregano (optional OR Italian seasoning. Thyme would also work well)
cayenne pepper (optional)
bay leaf (optional)
I recommend using all of them for the best flavor, but omit what you don't have of the latter three and adjust the amount of chili/cayenne to taste.
Salt & Black pepper: I recommend using sea salt or kosher salt. Alternatively, you could use soy sauce for saltiness and to add umami flavor. Use coconut aminos/tamari for a gluten-free option.
Broth: Use either vegetable or 'no-chicken' broth. Use reduced-sodium broth if preferred.
Tomato paste: Will add depth and umami to the vegetable bean stew.
Oil: Any neutral cooking oil will work. Vegetable oil, canola oil, avocado oil, etc.
What Else Could I Add?
This vegan bean stew is highly versatile. Here are just a few optional add-ins to choose from when making this recipe (perfect for clearing out your pantry/crisper drawer).
Other Vegetables: This vegetable stew recipe is great for clearing out the crisper drawer. You could add:

Potatoes (Yukon gold potatoes or russets, or sweet potato) finely diced
Pumpkin or butternut squash finely diced
Cauliflower (in small florets)
Mushrooms (finely sliced and sauteed)
Peas (canned or frozen)
Green beans (canned or frozen)
Leek (finely sliced)

Spinach or Kale: Spinach can be added at the end, letting the residual heat wilt it naturally. Alternatively, add kale in the last 5-8 minutes of cooking as they'll take longer to wilt.
Vegan meat alternatives: This hearty vegetable stew is already packed with plant-based protein. However, if you want even more protein and flavor, add some vegan sausage, chick'n pieces, etc.
Grain: Adding rice or quinoa to this veggie stew recipe will make for an even heartier meal. Pasta would also work in this vegan stew.
Vegan cheese: A small amount of shredded vegan cheese (a cheddar-style or spicy cheese would pair well) makes for a delicious addition.
Lemon juice: A splash of lemon juice added to the mixed bean and vegetable stew just before serving brightens the flavor and adds a subtle depth. Alternatively, a splash of vinegar (red wine vinegar, white wine vinegar, apple cider vinegar, balsamic vinegar) will work.
Dairy-free yogurt: Add a dollop (or swirl) when serving the mixed bean stew for extra creaminess and a subtle tangy flavor.
Vegan cream: For a creamy vegan stew, add some full-fat coconut milk or a dairy-free cream to taste.
How to Make Mixed Bean and Vegetable Stew?
1) First, prepare all the veg stew ingredients. Drain and rinse the canned beans and corn, mince the garlic, thinly slice the yellow onion, celery, carrots, and zucchini, and dice the bell pepper. Also, rinse and chop the broccoli down into small florets.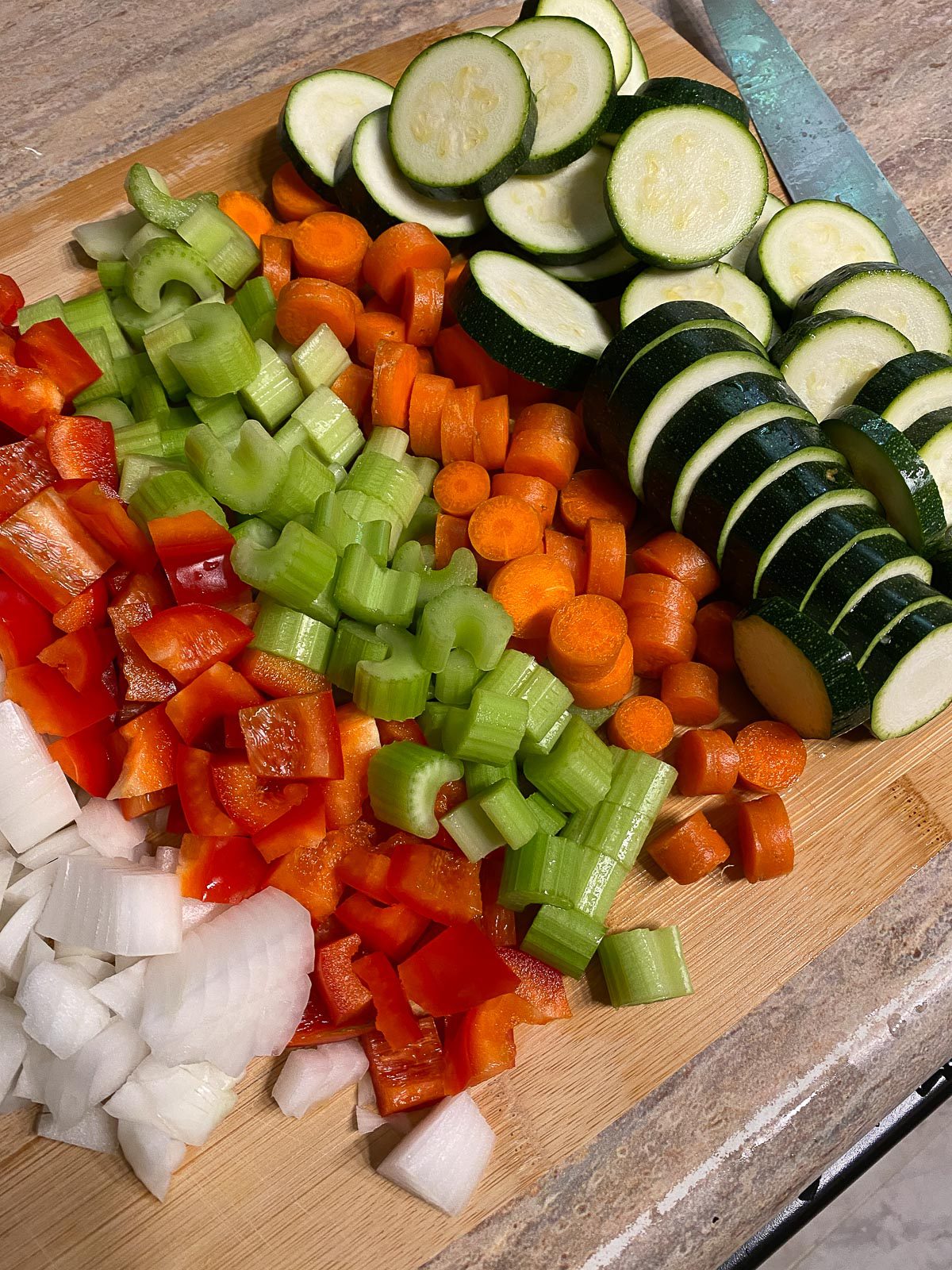 Chop all the vegetables into bite-sized pieces so they aren't too chunky in the vegan stew.
2) Meanwhile, heat a large heavy-based pan (or Dutch oven) over medium-high heat with the oil. Once hot, add the onion, bell pepper, celery, carrot, and zucchini. Sauté the vegetables for 3-4 minutes, or until they are tender and browning.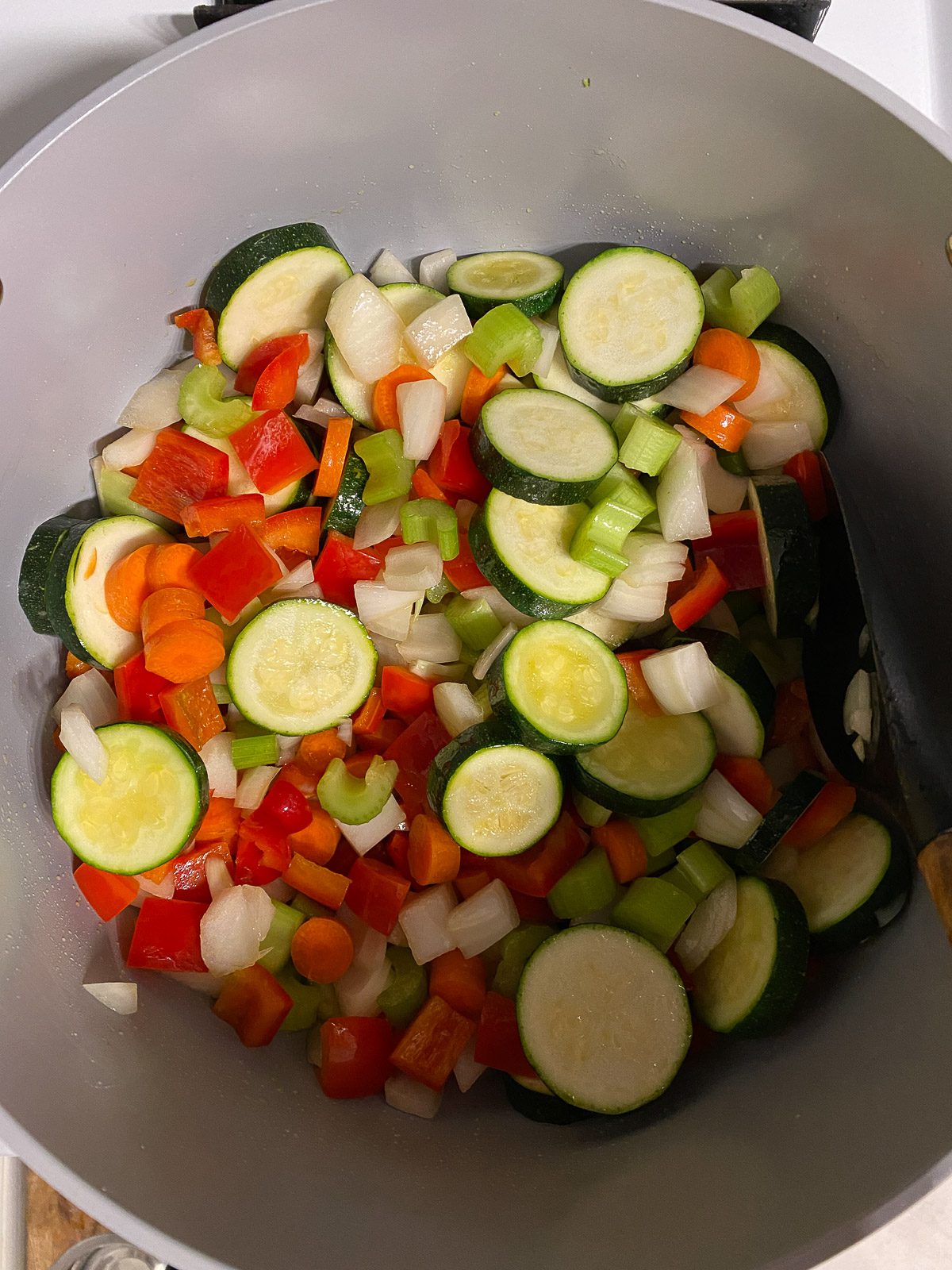 The caramelization on the vegetables packs in tons of depth to the vegetarian stew, so it's well worth allowing them to brown before moving on to step 3. The vegetable stock will help de-glaze the pan and infuse the flavor throughout the dish.
3) Then, add the garlic and all the spices (except the salt and pepper) to the pan, stir well, and sauté for a further minute.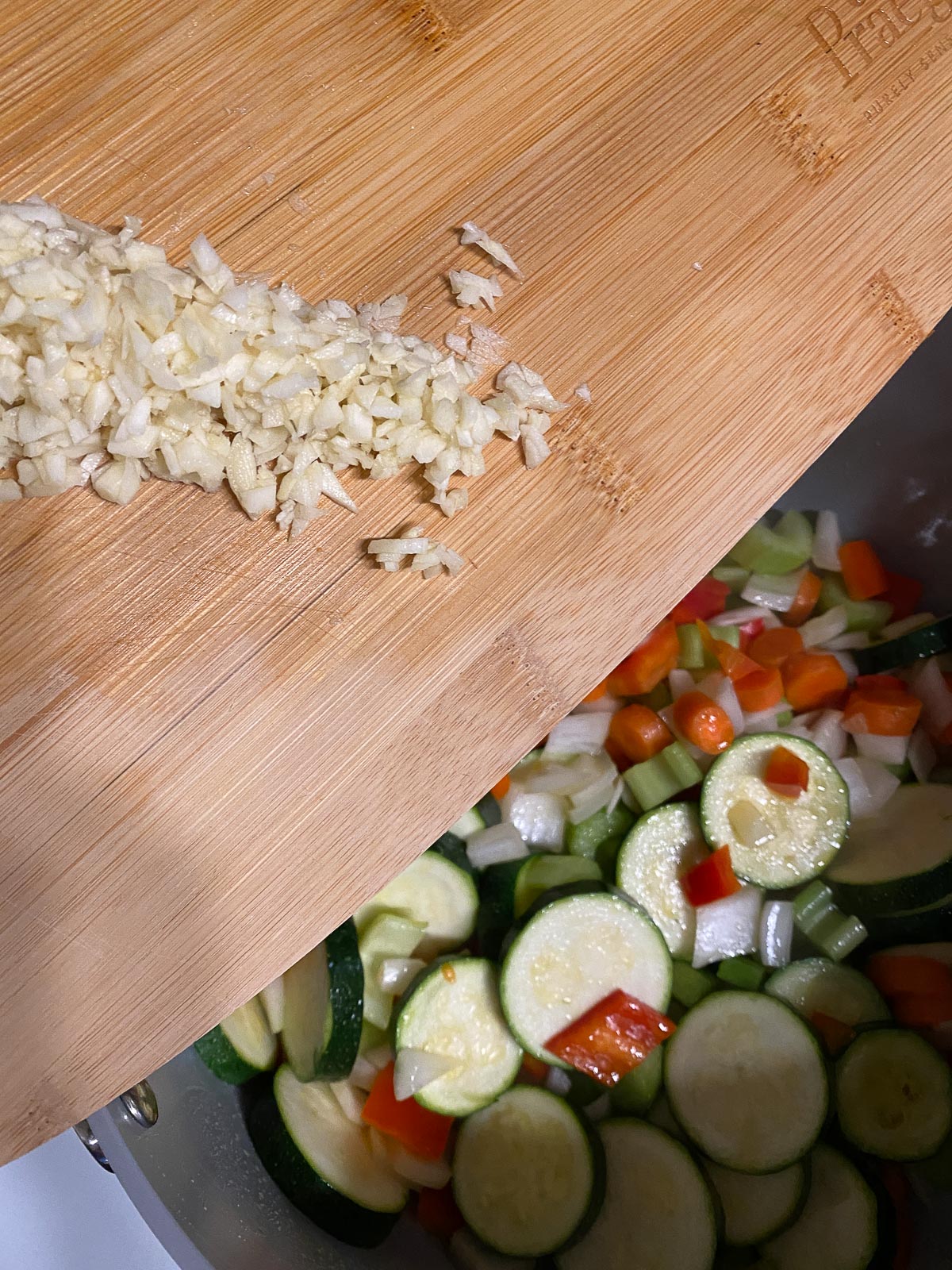 4) Add the broccoli florets, chopped tomatoes, beans, corn, tomato paste, vegetable broth, and salt and pepper, and stir. Then bring to a boil, cover, and reduce the heat to a gentle simmer. Allow it to simmer for 25 minutes or until the vegetables are fully tender and the flavor has developed.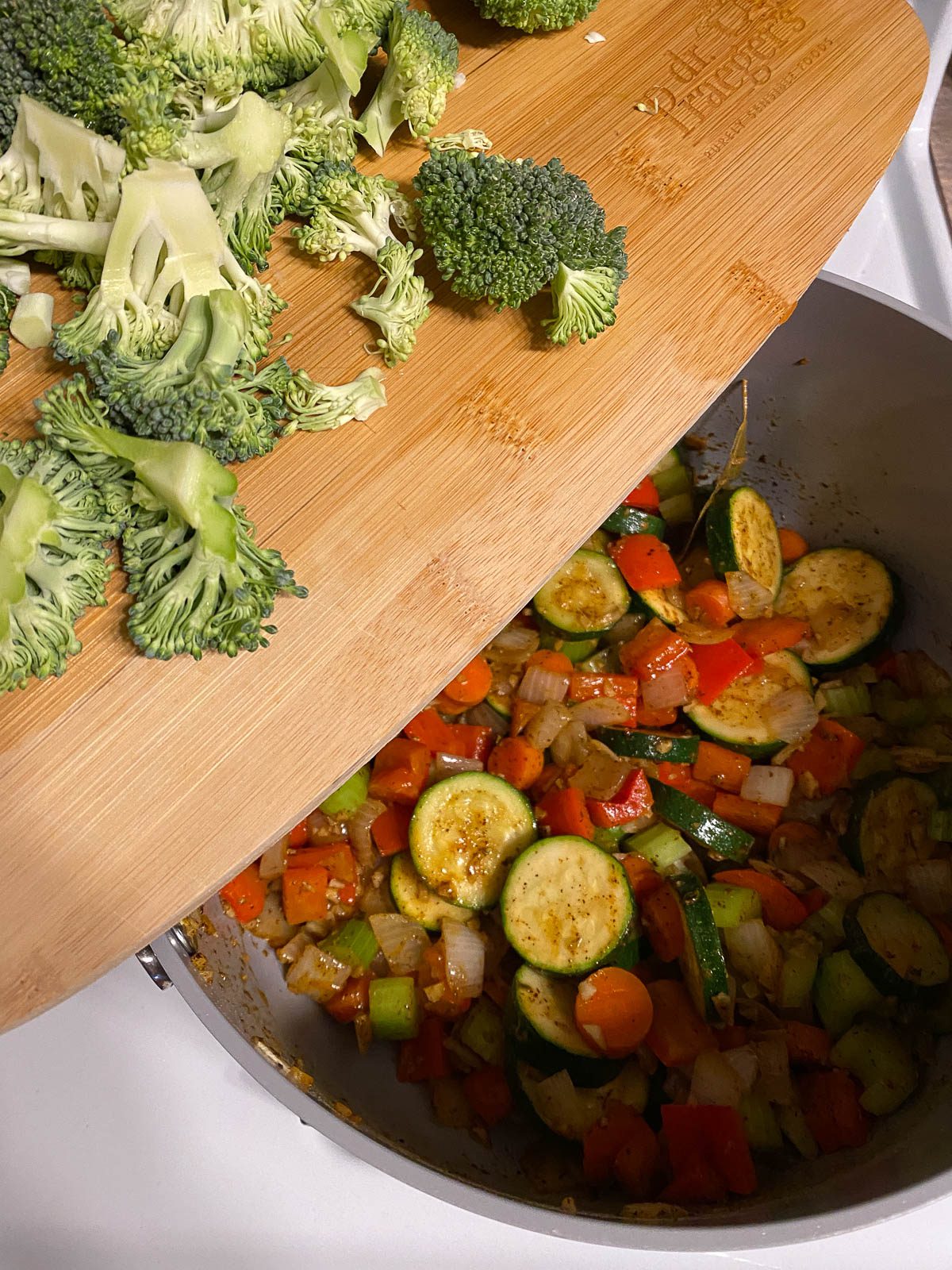 Give the mixed bean vegetable stew a final try and adjust any of the seasonings to taste before serving it. Remove the bay leaf if you used one, too.
FAQs
Top Recipe Tips and Notes
Don't skip the simmer stage: Like most stews, this bean and veggie stew requires a low and slow simmer to properly meld and develop the flavors. If you try to rush the process, it won't taste 'right,' and certain flavors can seem overwhelming (usually the tomatoes). So don't speed up this process!
For a thicker/thinner stew: Adjust the amount of broth you add to the dish. Alternatively, you could add a small amount of cornstarch (in a slurry) to the vegetable stew to thicken it.
Adjust the texture: If you want a thicker, creamier vegetarian stew recipe, you can either use an immersion blender directly in the pot OR transfer a cup or so of the beans and broth to a blender to puree to your desired texture.
Storage Instructions
Read more: The list of 10+ mccormick gluten free beef stew
Make ahead: This vegan stew tastes even better on day two, so I'm a big fan of making it either a day in advance OR making enough for plenty of leftovers.
Fridge: Allow the vegetable stew to cool and then store it in an airtight container (or several containers) in the refrigerator for 4-5 days.
Freezer: You can freeze the cooled vegetarian stew in airtight freezer-safe containers, Ziplock/Stasher bags, or even a silicone muffin mold (for individual servings), leaving room for expansion. Freeze for up to three months, allowing It to thaw in the fridge overnight before reheating it.
Reheat: I like to reheat the veggie stew gently on the stovetop, but a microwave will also work. If the stew has thickened, add an extra splash of veg broth or water when reheating it.
What To Serve With Vegan Stew?
While this bean and vegetable stew is definitely hearty enough to enjoy as a complete meal. However, you could also enjoy your portion with a side of:
Bread: Regular crusty bread, focaccia, OR cornbread work wonderfully for mopping up the bean stew sauce.
Garlic bread: Or even garlic naan.
Mashed potato: Creamy mash pairs wonderfully with this brothy vegan stew recipe.
Side salad: Serve the vegetarian stew with a simple, leafy green side salad like a garden salad to add freshness to the meal.
If you try this mixed bean and vegetable stew recipe (vegan stew), I'd love to know your thoughts in the comments below. I'd also really appreciate a recipe card rating!
Photos by Alfonso Revilla
Read more: The list of 14 bon appetit beef stew slow cooker
For more information please see the list of What to serve with bean stew
Source: https://foodsharingvegan.com/mixed-bean-and-vegetable-stew/