Although Health­Mas­ter Elite claims to be a juicer, blender, and food proces­sor, it is just a blender that does not include any juic­ing or food pro­cess­ing attach­ments and acces­sories. Yet, it is a very ver­sa­tile blender.
Here, we will close­ly look at this blender and ana­lyze how effi­cient­ly it per­forms all the claimed tasks and if it is worth fussy-type cus­tomers' attention.
Think­ing about the alter­na­tive option? Check here our arti­cle Best Coun­ter­top Blenders under $100.
Reading: montel williams healthmaster smoothies
Dis­clo­sure: As an Ama­zon Asso­ciate, we may earn an affil­i­ate com­mis­sion for pur­chas­es you make when using the links on this page.
Functionality and Versatility
Smooth­ie: Health­Mas­ter Elite will make excel­lent drinks from soft and tough ingre­di­ents. It is also able to pro­duce decent qual­i­ty green smooth­ies even from tough food. The gad­get will pul­ver­ize well nut, chia seeds, and seeds in drinks, includ­ing such usu­al sus­pects as straw­ber­ry and rasp­ber­ry seeds. But to achieve the smooth con­sis­ten­cy of drinks, it may take up to 2-3 min­utes to process.
Juices: The Mon­tel is not able to pro­duce clas­sic juice that sep­a­rates the fiber from a liq­uid. How­ev­er, it is per­fect­ly capa­ble of emul­si­fy­ing smooth drinks, aka "whole juice."
Frozen ingredients/desserts: The blender has enough pow­er to process frozen ingre­di­ents and ice cubes in drinks. It also able to shave ice to pro­duce frozen treats and frozen drinks like mar­gar­i­tas and oth­er types of your favorite slushes.
Nut milk: This machine is able to pul­ver­ize nuts in liq­uids to pro­duce excel­lent qual­i­ty nut milk.
Puree­ing: The gad­get has enough pow­er to puree raw and cooked veg­gies to make a vari­ety of recipes, from the mashed pota­to to the most deli­cious spreads and dips.
Soup/ hot ingre­di­ents: This blender can han­dle hot liq­uids. It is even able to make hot soup from cold ingre­di­ents heat­ing them via fric­tions up to the 201F (94 C) and blend­ing at the high­est speed 8 for about 8 minutes.
Chopping/food prep: This machine has a good range of speeds and pulse func­tion. So it is per­fect­ly able to per­form a range of food prep tasks from chop­ping veg­gies for coleslaw to mak­ing a sal­ad dress­ing, sal­sa, and mari­nades. It is also will chop nuts and grate cheese.
Nut but­ter: Health­Mas­ter Elite has enough pow­er to make a decent qual­i­ty nut but­ter only with some oil or water added. It is also equipped with a tam­per, which the nec­es­sary tool for such chal­leng­ing tasks as pro­cess­ing thick mixtures.
Grinding/milling: This machine is designed for grind­ing cof­fee beans and herbs. It is also per­fect­ly capa­ble of milling the bak­ing qual­i­ty flour.
Dough/batter: This machine is designed to knead dough and mix batter.
Health­Mas­ter Elite is a very ver­sa­tile blender. It is equipped with enough pow­er and range of speed to per­form even the most chal­leng­ing tasks, such as pro­duc­ing frozen desserts and nut but­ter. How­ev­er, as with any mul­ti­task­ing machine, it requires time and effort to mas­ter all these functions.
Speed Settings and Programs
Read more: How to make a mcdonald's chocolate milkshake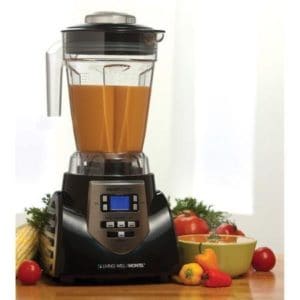 Health­Mas­ter Elite comes with 8 speeds, pulse func­tion, ice cycle, and quite an unusu­al dig­i­tal con­trol pan­el. The con­trol pan­el is equipped with ON/OFF, PULSE, RUN/STOP, ICE but­tons, and a dig­i­tal LED dis­play with two ((+) and (-)) TIME and two ((+) and (-)) SPEED but­tons that reg­u­late speeds.
The blender is acti­vat­ed by press­ing the ON but­ton, which illu­mi­nates also the LED dis­play. One of eight speeds select­ed by press­ing the SPEED's (+) or (-) but­tons and time from 0 to 10 min­utes select­ed by press­ing the TIME's (+) or (-) but­tons. Then a machine is ready to run by press­ing the RUN/STOP but­ton. The unit will not run until the time is select­ed, and if speed were not select­ed, then it will oper­ate on speed 1. When a user needs to blend ingre­di­ents for less than 1 minute, the STOP but­ton should be pressed man­u­al­ly when the desired con­sis­ten­cy is achieved.
Pulse func­tions run by press­ing and releas­ing the PULSE but­ton for each pulse burst. The machine is also equipped with a spe­cial ICE but­ton that is sup­posed to be used for pro­cess­ing ice and pre-pro­grammed as con­tin­u­ous pulse bursts until a user man­u­al­ly stops it by press­ing the STOP button.
The Health­Mas­ter Elite con­trol pan­el is not absolute­ly straight­for­ward to oper­ate and requires some learn­ing to master.
Health­Mas­ter Elite Blender, via Amazon
Ease of Using and Cleaning
Oper­at­ing: This blender is very easy to assem­ble for use because it has an irre­mov­able blade sys­tem and does not have any con­tain­er and lid lock­ing mech­a­nisms. So, the user just has to secure­ly sit the jar on the top of the base unit. Once it sits prop­er­ly, the safe­ty weight switch at the back of the base unit will be acti­vat­ed. Then a user may fill the con­tain­er with ingre­di­ents, firm­ly push the lid on the top of the jar until the lid meets the jar lip and it is ready to oper­ate. The jar is equipped with a vent­ed 2-part lid (rub­ber lid and lock cap). So the lock­ing cap could be removed for adding extra ingre­di­ents dur­ing blend­ing or for using the tam­per. The cap also intends to release the steam pres­sure dur­ing the pro­cess­ing of hot ingredients.
Tam­per: This machine comes with a plas­tic plunger designed for help­ing to process the thick mix­ture and remov­ing the air pockets.
Clean­ing: The Health­Mas­ter Elite is also very easy to clean. Although this machine is not dish­wash­er safe, it could be eas­i­ly clean by hand or using self-clean-up – adding few drops of soap into the con­tain­er filled halfway with water and run for 1 minute at the high­est #8 speed. Then rinse thor­ough­ly and dry with a cloth.
Base Unit and Motor Power
This machine comes with pow­er­ful 1200 watts motor that rotates blades at the speed of 22,000 RPMs (enough to heat liq­uids via fric­tions). The unit also has to over­heat pro­tec­tion sys­tem that auto­mat­i­cal­ly shut off the machine for 35 min­utes when it is overheated.
How­ev­er, it seems that the unit was man­u­fac­tured the way that it can­not han­dle the high loads for an extend­ed peri­od of time, and few fatal faults make the motor not very durable. For exam­ple, the bear­ings at the bot­tom of the jar are not weld­ed into the blade sys­tem but glued in with sil­i­cone. And when the unit runs at high speed, the sil­i­con melts and caus­es the bear­ing to shift away. The unit starts to vibrate and pro­duce some unusu­al sounds. All this indi­cates the wear­ing out of the motor.
Container and Blades
This machine comes with 60 oz. (1700 ml) poly­car­bon­ate con­tain­er and per­ma­nent­ly inbuilt into its blade assem­bly. The con­tain­er is made from low-qual­i­ty mate­r­i­al and may devel­op some cracks with­in 1 – 1.5 years of use as report­ed by a cus­tomer. The replace­ment con­tain­er is quite expen­sive and costs around 2/3 of the blender price. The con­tain­er has a rub­ber lid and lock cap, which is well-made and secure­ly sits on the jar dur­ing blending.
The 4‑prongs ser­rat­ed blades are made of good qual­i­ty stain­less steel. How­ev­er, it has a major fault with bear­ings to jar con­nec­tion. That is fixed so bad­ly that often caus­es the con­tain­er's crack­ing just near the bear­ing con­nec­tion that results in leak­ing liq­uids and oth­er result­ing problems.
Special Features
Col­ors: This machine is avail­able in three col­ors – black, white, and red. The white is the cheap­est one currently.
Cer­ti­fied Refur­bished: The cer­ti­fied refur­bished mod­els are avail­able for this machine. How­ev­er, the price is almost sim­i­lar to the orig­i­nal version.
Use in coun­tries out­side of USA/Canada: This machine comes with a 110-120 volt­age sys­tem for use in the USA/Canada. The blender could oper­ate via volt­age trans­former in coun­ties with 220-240 Volts sys­tem, but it will void the war­ran­ty.
Set Includes
Base unit with 1200 watts motor;
60 oz. (1700ml) BPA-Free pitch­er with per­ma­nent­ly inbuilt stain­less steel blade system;
2‑parts vent­ed lid;
Cus­tom tamper;
Recipe book (over 100 recipes, hardcover);
User man­u­al.
Warranty and Customer Service
Read more: How to use tea bags to reduce dark circles
The Health­Mas­ter Elite comes with a 3‑month LIMITED war­ran­ty for the machine and a life­time war­ran­ty for the motor. How­ev­er, the man­u­fac­tur­er tries to avoid hon­or­ing the life­time motor war­ran­ty and often claim that they dis­con­tin­ued the mod­el you have the war­ran­ty for and offer to buy the refur­bished unit instead of repair­ing or replac­ing the faulty motor. The replace­ment parts are so expen­sive and will require pay­ing ship­ping costs that often worth as much as the new unit. Besides, Mon­tel Williams also charges the ship­ping cost for return­ing or replac­ing the ini­tial­ly faulty item. That means that the Health­Mas­ter Elite war­ran­ty almost does not exist.
Noise
This machine is very noisy and out­puts more deci­bels than oth­er blenders with sim­i­lar pow­er capacity.
Optional Accessories and Attachments
There are no extra acces­sories or attach­ments avail­able for this machine. The replace­ment parts could be obtained from man­u­fac­tur­er cus­tomer ser­vice. How­ev­er, they are so expen­sive that they are often not worth replac­ing and cost­ing as much as a com­plete­ly new machine.
In addi­tion, the man­u­fac­tur­er recent­ly changed the design of this machine, and no part from the pre­vi­ous ver­sion is com­pat­i­ble with the new mod­els. So, this machine has a lot of prob­lems with replace­ment parts.
Dimensions
It is a bulky machine with a foot­print of 8.25 x 9 inch­es and a height pro­file of 19.75 inch­es. This blender is too tall to fit under stan­dard kitchen shelves. How­ev­er, this machine has very neat cord stor­age beneath the base unit.
The machine is quite heavy, and with a weight of 10 pounds, it does not trav­el over the counter dur­ing operation.
Pros and Cons
Pros:
This very pow­er­ful and ver­sa­tile machine is able to pro­duce good qual­i­ty smooth­ies, includ­ing the green ones;
The blender can not only make heat liq­uids mak­ing the hot soup via fric­tions but also makes frozen desserts and even knead dough;
The gad­get comes with a tam­per and allows eas­i­ly to process any thick mixtures;
The machine is very easy to use and clean.
Cons:
The Health­Mas­ter Elite is not very durable and has an aver­age life expectan­cy of about 1-1.5 years;
The machine comes with few designed prob­lems such as faulty bear­ings to jar con­nec­tion and leak­ing container;
The blender comes with only 3 months of war­ran­ty for the unit part, and a life­time for the motor; how­ev­er, the man­u­fac­tur­er avoids to hon­or it;
This machine is nois­i­er than oth­er blenders with com­pa­ra­ble motor power.
HealthMaster Elite Consumer Reviews
The blender has a very good ini­tial con­cept, comes with a pow­er­ful motor, and very pro­fes­sion­al pro­mo­tion. How­ev­er, the machine has a very high fail­ure rate what often reflect­ed in cus­tomer reviews.
Read more: How to make starbucks black iced tea
HealthMaster Elite Price
The price dropped sig­nif­i­cant­ly for Health­Mas­ter Elite in the last few years. The machine has a num­ber of design faults that man­u­fac­tur­ers were not able to cor­rect. So it is a com­pul­so­ry mea­sure the man­u­fac­ture imple­ments to attract consumers.
Health­Mas­ter Elite Blender, via Amazon
Summary
Health­Mas­ter Elite could be a real win­ner if only the man­u­fac­tur­er invest­ed more mon­ey into high­er qual­i­ty com­po­nents and bet­ter con­struc­tion meth­ods. As for now, it is a very ver­sa­tile machine that can per­form func­tions the typ­i­cal com­mer­cial type blender does. It blends with great smooth­ies and excel­lent frozen treats to heat­ing soup from fric­tions and even knead­ing the dough. Unfor­tu­nate­ly, this machine does not last and after a short peri­od of excel­lent per­for­mance. It may start to fall apart with a reduc­tion in qual­i­ty of performance.
So, this it can only suit those con­sumers who want to try the pow­er­ful machine until it last (aver­age life expectan­cy is about 1-1.5 years). Oth­er­wise, it is bet­ter to look for a more durable alter­na­tive in the seg­ment of pow­er­ful blenders under $100.
Read more: How to make starbucks black iced tea