This slow cooker Moroccan Chickpea Stew is filled with tons of vegetables but is hearty and comforting. It's easy to make, is healthy and totally delicious!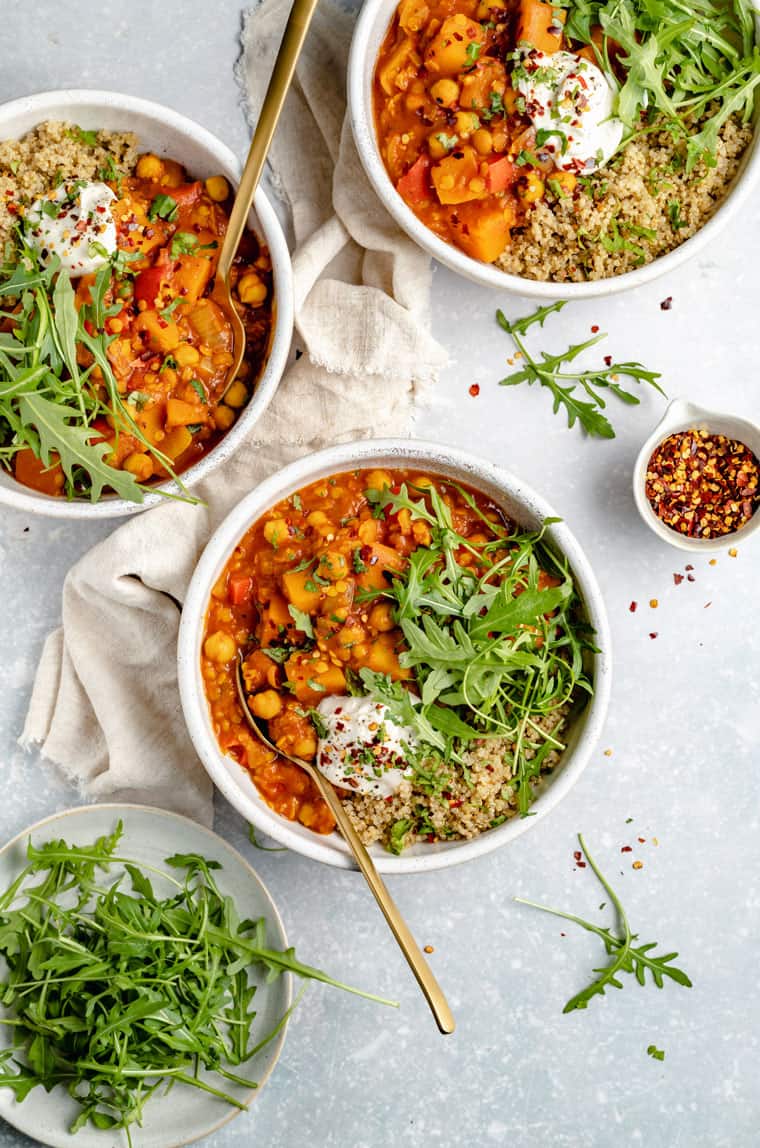 Even though I work from home and have plenty of time to cook, I almost always find myself scrambling to get something together for dinner. Especially this time of year with all the holiday craziness, I just don't seem to be able to get my head on straight.
Enter: my trusty slow cooker!
Slow cooker meals always save the day (have you tried my Slow Cooker Coconut Quinoa Curry yet!?). You just throw everything into the pot, turn it on and go about your business. And today we're making a fragrant and nourishing slow cooker Moroccan chickpea stew with butternut squash! How good does that sound!?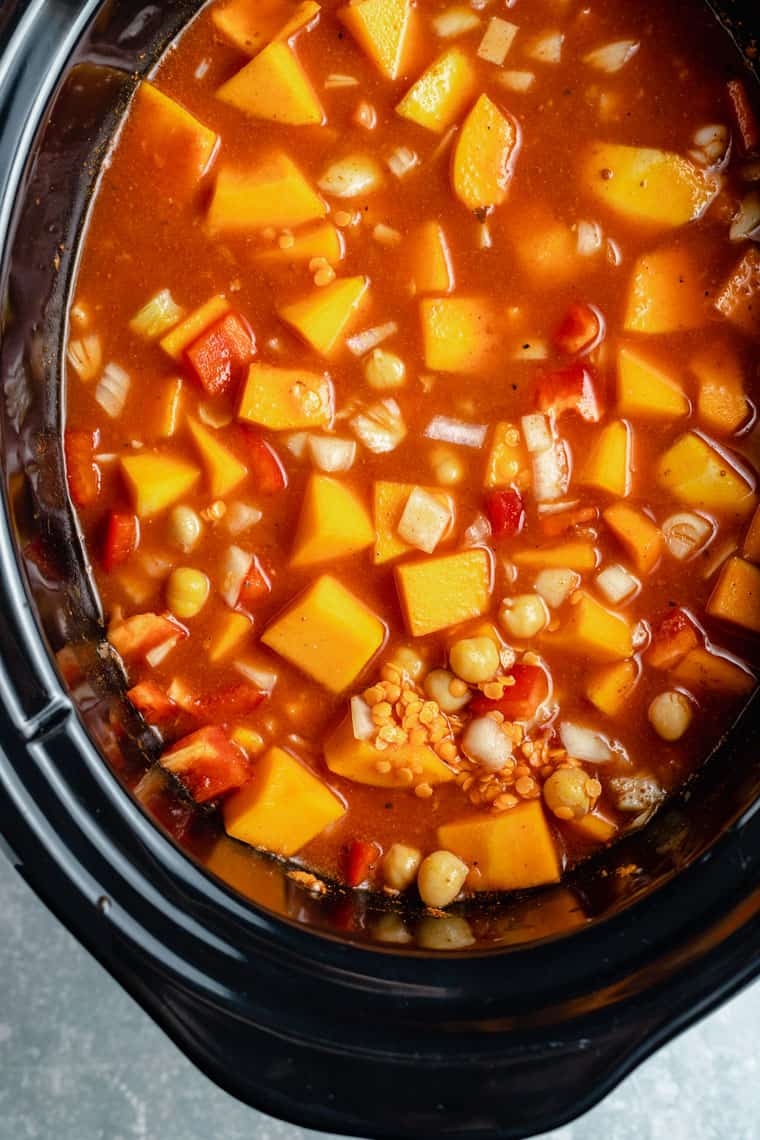 How to Make Moroccan Chickpea Stew
For this recipe, the only hands-on time is prepping your veggies and opening a few cans. Otherwise, it's easy peasy.
We're going with:
Onion + garlic: the way I almost always start my dinner recipes
Sweet bell peppers: feel free to use any color you like! I went with red, but orange, yellow or even green will also work.
Butternut squash: for me, butternut is the perfect starch for this recipe, but if squash isn't your thing, you can swap it out with sweet potato or white potato
Red lentils: they cook down and get all nice and creamy!
Chickpeas: used as an additional source of protein, while also adding a nice texture.
Tomato sauce: this helps sweeten up the stew, but also has a nice thickness as well
Veggie broth: which again, is a simple way to add flavor while also cooking all the ingredients. Feel free to swap this with chicken broth if you're not veg.
Spices: with fresh ginger, turmeric, cinnamon, cumin, paprika and pepper, this stew comes alive with flavor and spice
And all you need to do? Add everything into your slow cooker, turn it on and let it simmer away!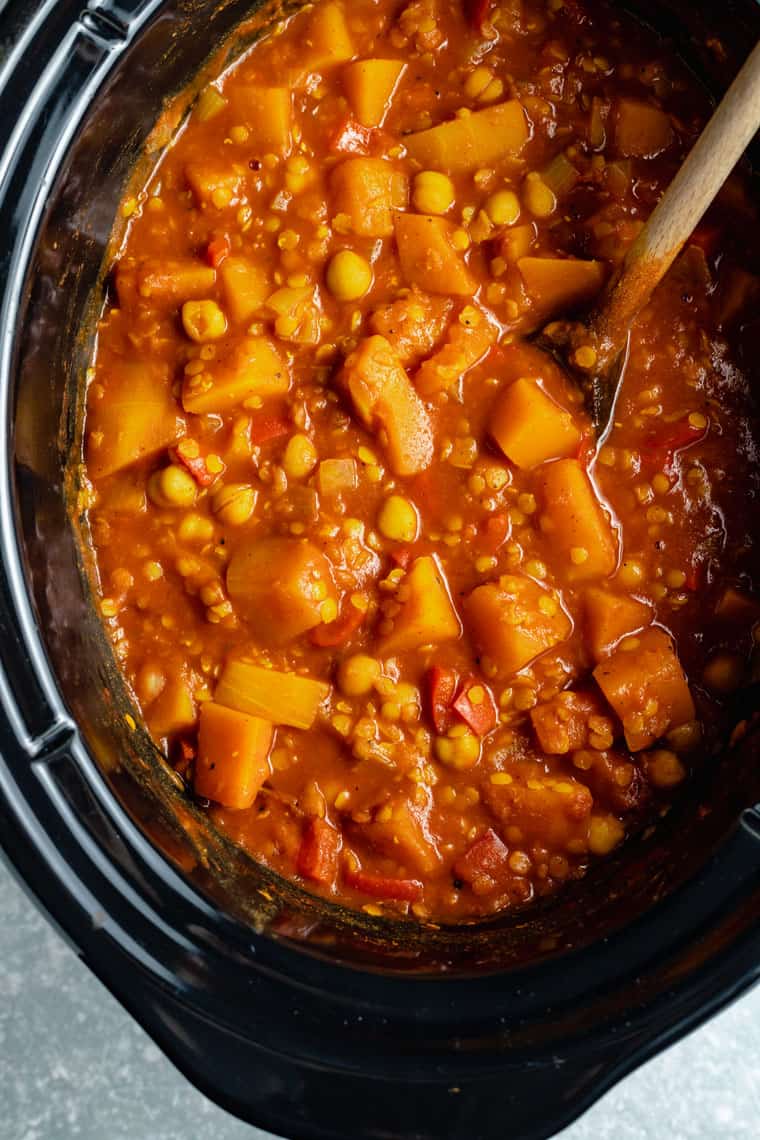 Can I Make Chickpea Stew without a Slow Cooker?
Don't have a slow cooker? No problem! This Moroccan chickpea stew can also be made in an InstantPot/pressure cooker or on the stovetop.
For the InstantPot: add all the ingredients into your pressure cooker. Cook on high pressure for 8 – 9 minutes, allowing the pressure to naturally release for 10 minutes.
For the Stovetop: I recommend searing your veggies first to build extra flavor, then add the rest of your ingredients and bring the mixture to a boil. Cover it and cook the stew for a good 40 minutes.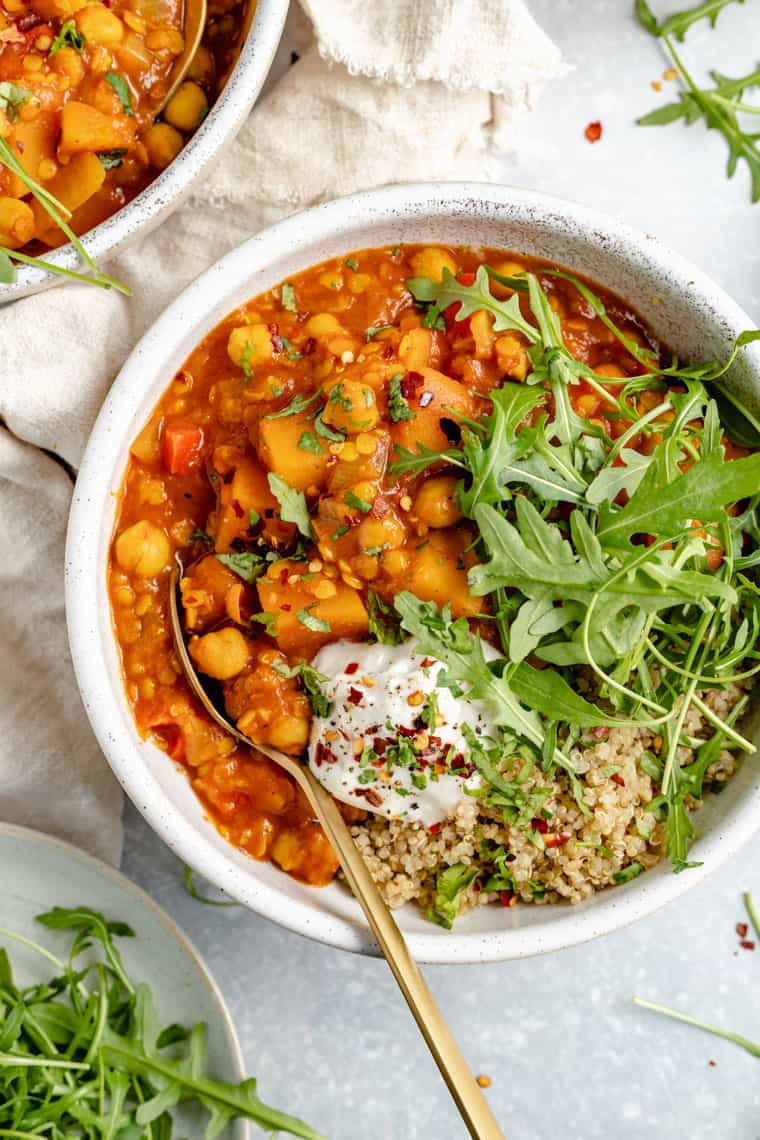 What Kind of Lentils for Moroccan Stew?
The best kind of lentils for this stew is red lentils and the reason being is their texture. Unlike brown/green lentils, red lentils partially break down when they cook. And because they are a starchy legume, they help to thicken a soup/stew. That's what makes the texture of this stew so amazing!
What to Serve with Moroccan Chickpea Stew
For serving, I kept it super simple. Here's what I put in my bowl:
Fluffy white quinoa Arugula (or another bitter green) Coconut yogurt Hot pepper flakes Hemp seeds
And DONE!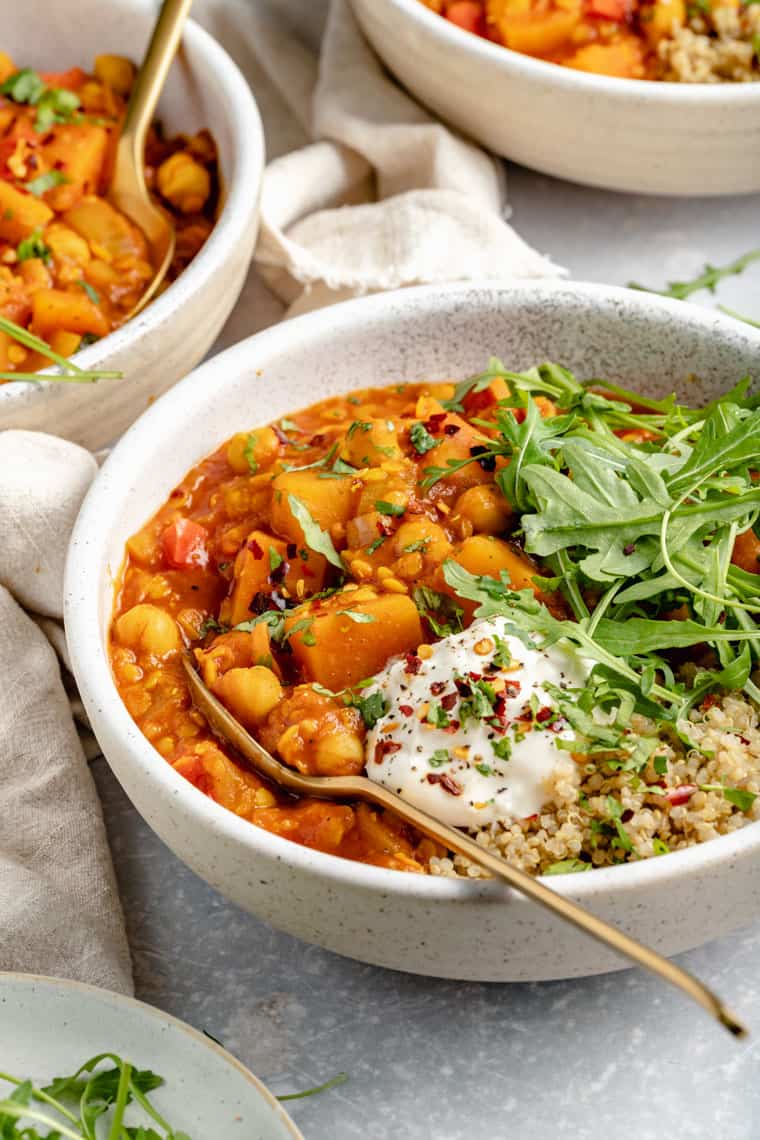 More Slow Cooker Dinner Recipes
Crockpot Sweet Potato & Black Bean Quinoa Chili
Tuscan Kale & White Bean Stew
Slow Cooker White Quinoa Chili
Slow Cooker Coconut Quinoa Curry
For more information please see the list of Vegan stew in slow cooker
Detail: 🔗