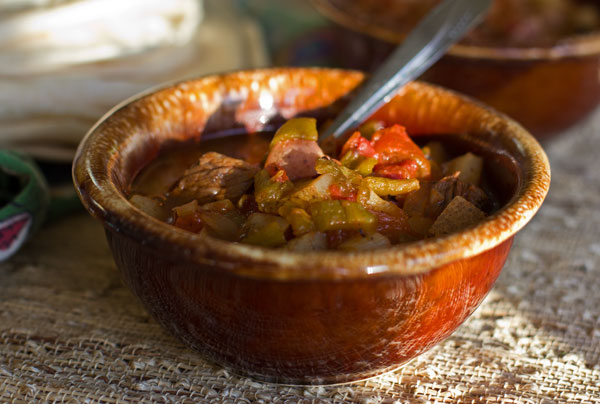 Earlier I posted my Easy Green Chile Stew, a quick little stew with a few ingredients and one that can be made and ready to eat in less than an hour. Since then I've had several requests to post our regular Green Chile Stew, so here it is.
Compared to my other stew, this one replaces ground beef with a sirloin steak cut into bite size pieces. I know, some of you might be screaming – pork! Well, having lived in New Mexico for over 40 years and having eaten green chile stew with pork, beef, ground beef, chicken, and no meat at all, I can honestly say, that we prefer beef to pork. For any New Mexico green chile stew, the star of the show is the chile, so as long as you use New Mexico green chile, the protein is your own personal preference.
In addition to the sirloin, this New Mexico green chile stew uses potatoes and tomatoes, making a hearty and quite healthy pot of stew. Because it's a "green chile" stew, it uses a lot of roasted, peeled and chopped green chile. It takes a little longer to make than my "easy" stew, but its flavors and richness are hard to beat, making it well worth the extra effort.
In New Mexico green chile stew is a traditional holiday dish. You can't go to a holiday party without seeing a big pot of stew simmering on the stovetop. For Christmas eve we usually make either a pot of green chile stew or posole' – both of which are serious comfort foods. If you need a serious warming up, this is the dish.
New Mexico Green Chile Stew Recipe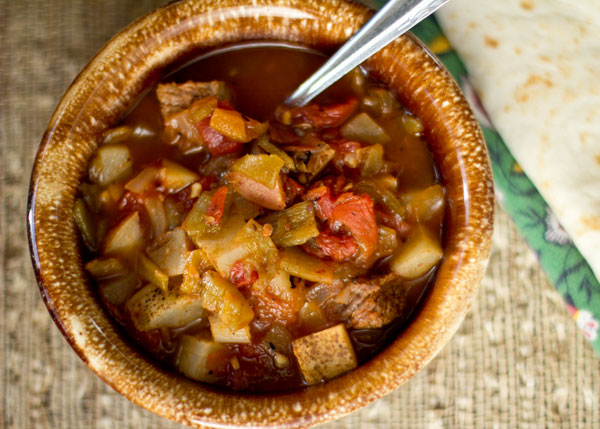 For a crockpot version of a Green Chile Stew with Pork, check out this recipe.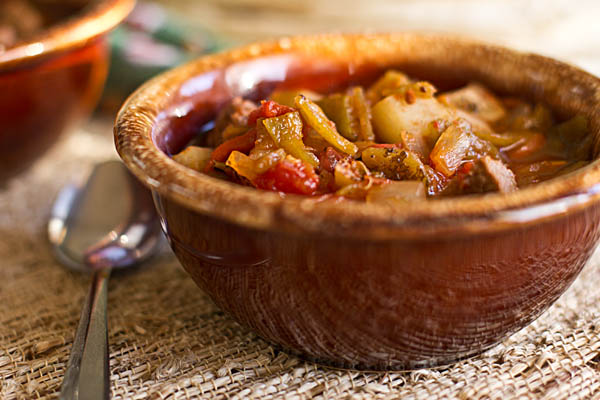 Calming the burn – Most of the time the chile is so hot that my mouth is on fire after eating a bowl and I need sometimes to kill the burn. I have found two things that work great: milk, and honey, but not together. My favorite it to drizzle a little honey on a piece of tortilla. It kills the heat and gives me that bite of sweetness that I love at the end of a meal. You could also spread real butter on a flour tortilla. That helps as well.
Enjoy!
Another delicious stew that's perfect for cold winter days: If you aren't familiar with posole', also spelled pozole', then you need to check out my New Mexico Pork and Green Chile Posole' and Vianney's Pozole' Rojo over at Sweet Life. Posole' is a New Mexican stew traditionally made with pork, hominy and chile, but there are many variations that are just good. Here are some other posole' recipes:
Chorizo, Mushroom and Posole' Soup
Posole' with Italian Sausage and Kale
Green Chile Chicken Posole'
New Mexico green chile Suppliers
Recipes with New Mexico green chile
Recipes with New Mexico red chile
This New Mexico Green Chile Stew was featured in an article in The Huffington Post, February 4, 2013 and again on September 25, 2013.
Please see more list about New mexican green chile stew
Detail: 🔗