Nigerian Beef Stew is a mouthwatering West African stew made with blended tomatoes, red bell peppers, and habanero peppers and spiced to perfection. It is so versatile and is amazing with so many different dishes!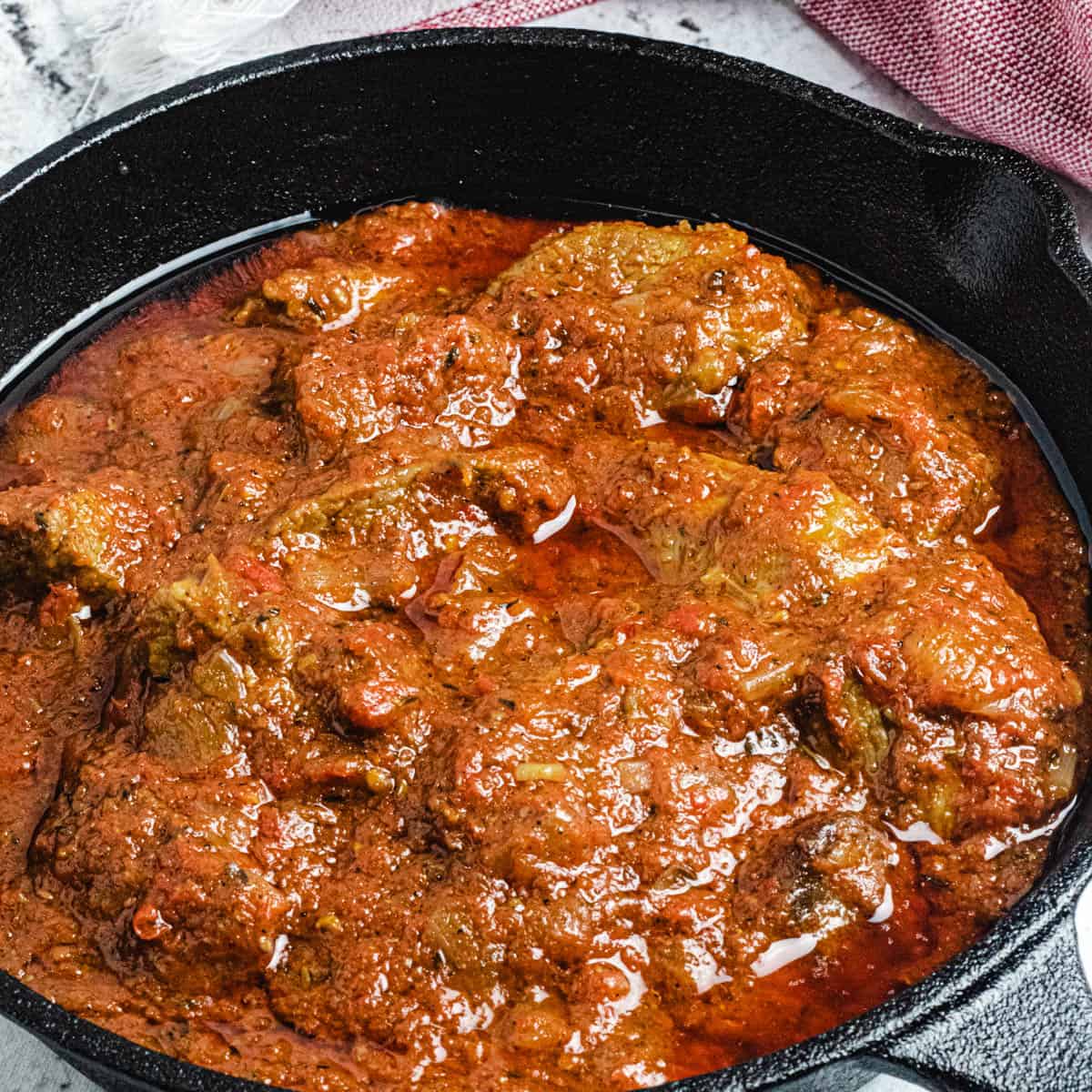 Nigerian stew is by far the most popular dish in Nigeria and is traditionally eaten with rice or boiled yam. I make this every week and always have it in my fridge as it makes meal prep a breeze. It is definitely a staple in my Nigerian household!
Reading: How to make nigerian stew
This beef stew is made with beef cuts, but you can change it up as you like. You can make it using chicken like in this African chicken stew or add leafy greens like in this African Spinach Stew.
I like that I can come back home after being gone all day, and quickly warm up some low carb rice and have it with this delicious stew. It is so easy to make and you can't go wrong with it!
Jump to:
What is Nigerian Stew?
Is Nigerian Stew Spicy?
Ingredients used for this stew
What Is The Best Beef Cut For Nigerian Stew?
How To Make This Recipe
Recipe Video
What Can I Eat Nigerian Stew With?
How To Make Ahead For Meal Prep
Tips when making African Stew
Recipe
Comments
What is Nigerian Stew?
Nigerian stew, also known as Nigerian tomato stew, is a popular West African cuisine, made with fresh tomatoes (or tomato paste), red bell peppers, and scotch bonnet peppers (or habanero peppers). The vegetables are simmered in olive oil, peanut oil, or red palm oil.
It is usually made with animal protein like fish, goat meat, beef, lamb, or chicken drumsticks. This stew is native to Nigeria and some other countries in West Africa.
Is Nigerian Stew Spicy?
Nigerian stew is often spicy since it is made with scotch bonnet peppers or habanero peppers. These hot peppers help cut down on the acidity of the tomatoes and improve the flavor of the stew. You can use more or less pepper depending on your preference.
Ingredients used for this stew
You only need a few simple ingredients for this recipe.
Olive oil: To fry the tomatoes and pepper mixture. Another popular choice is peanut oil or palm oil.
Vegetables: Tomatoes, red bell peppers, habanero pepper, and onions. The traditional Nigerian beef stew is made with scotch bonnet peppers but a good substitute is habanero pepper which is similar in heat and flavor. For the tomatoes, it is best to use plum tomatoes (also known as roma tomatoes). These are best for Nigerian stews because they are denser and have less juice. You can also use yellow onions or red onions for this African stew.
Spices: Bouillon powder (or maggi cubes), thyme, black pepper, curry powder, and salt.
Broth/stock: To enhance the flavor. You can use beef or chicken stock or water, if you don't have any.
Beef cuts: This is my choice of animal protein for this recipe.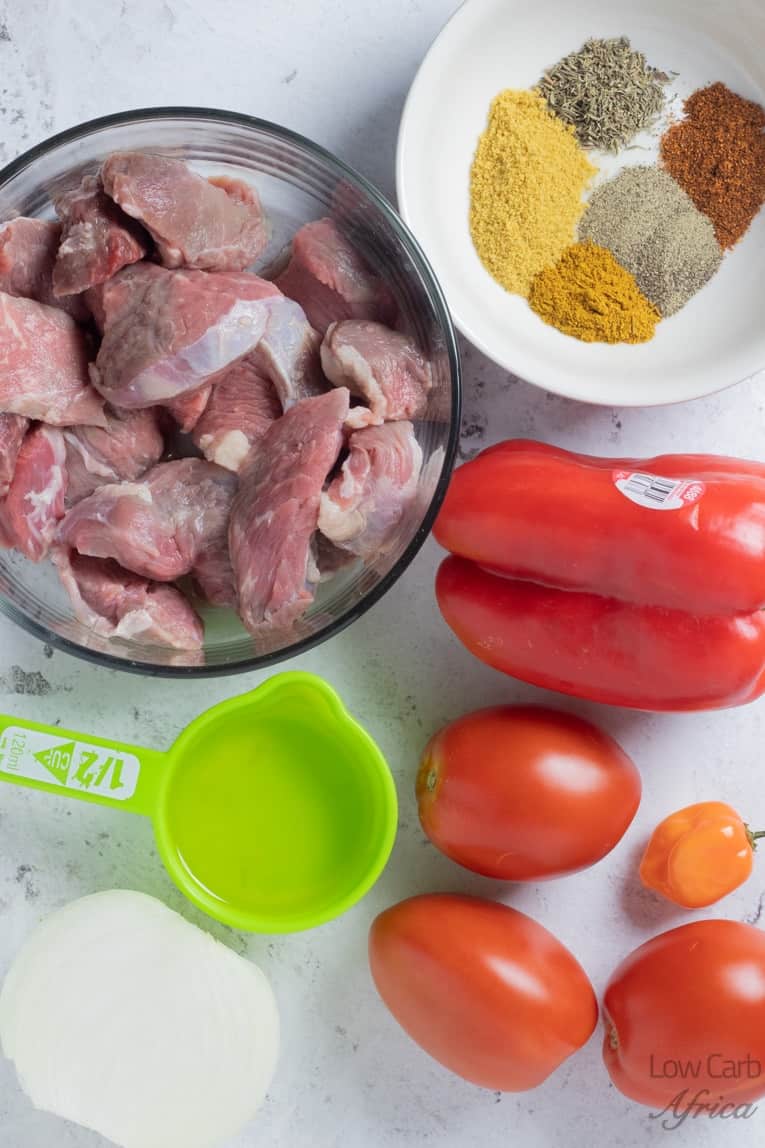 What Is The Best Beef Cut For Nigerian Stew?
For this Nigerian stew recipe, it is better to go for tougher, less expensive cuts of beef.
Tougher cuts have lots of collagen-rich connective tissue which becomes nice and chewy after cooking.
Read more: Kimchi Jjigae (Kimchi Stew with pork)
The best cut for this beef stew is the chuck which includes the shoulder, neck, and upper arm muscles of the cow.
How To Make This Recipe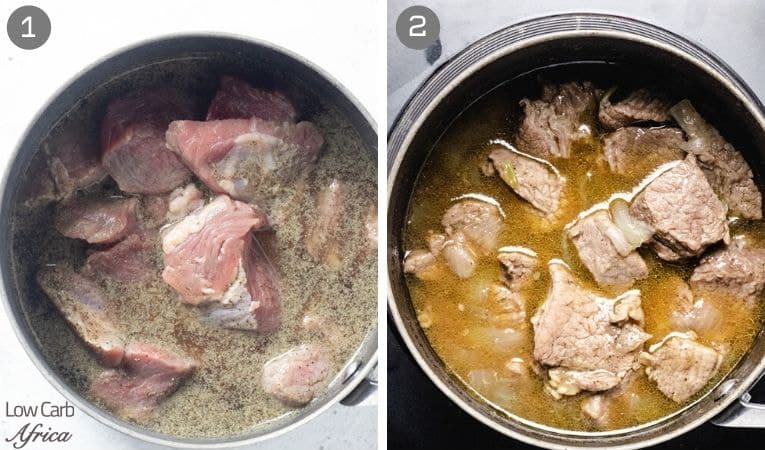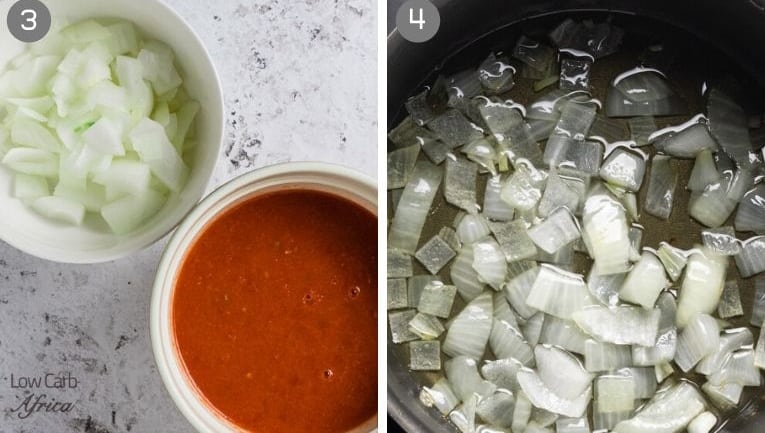 This African beef stew is quite easy to make.
Start by preparing the beef. If not already pre-cut, cut the beef into bite-size pieces, wash and drain. Place in a pot and add enough water to cover it, then add salt and black pepper.
You don't need to add a lot of spices here. You need just enough to bring out the flavor but remember spices will still be added to the stew. Let it cook for roughly 20-25 minutes. You can let it cook a bit longer if you want it more tender, or a bit shorter if you want it tougher.
Blend the tomatoes, bell pepper, habanero pepper, and half of the onion in a food processor. Chop the other half onion and set it aside.
When the beef is ready, drain it out from the stock, but save the stock. We'll still need it later to add flavor to the stew.
Add olive oil to a large pot. When heated, add the chopped onions and stir until it just begins to wilt. Pour in the tomato mixture, add black pepper, and stir. I don't add other spices just yet because I will be adding the stock later on, and I don't want to run the risk of the stew being too salty. Let it simmer for about 5 minutes.
Add in the beef and some of the stock. I add half a cup of stock first and possibly add a little more if I need to. Add the thyme, bouillon powder, and curry. Taste for salt before adding any.
Cover and let simmer for 10 minutes on medium-high heat. Your beef stew is ready to eat!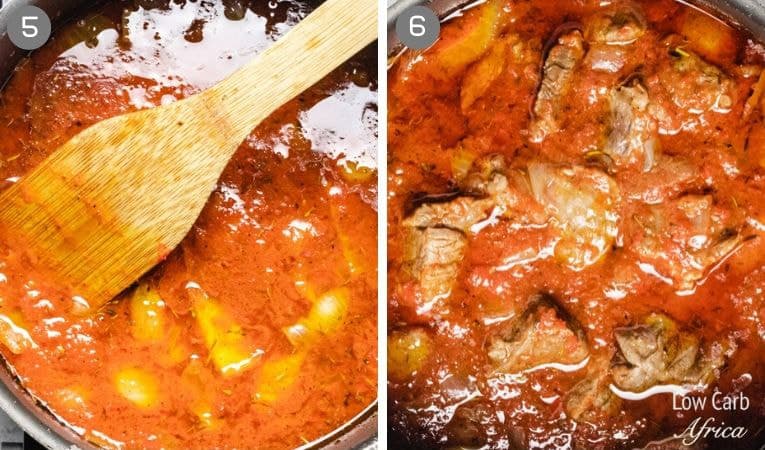 Each serving contains 3 net carbs and serves 8. It can be kept in the fridge for up to a week and still taste really fresh!
Recipe Video
Click on the image below to watch me make this recipe from start to finish on YouTube!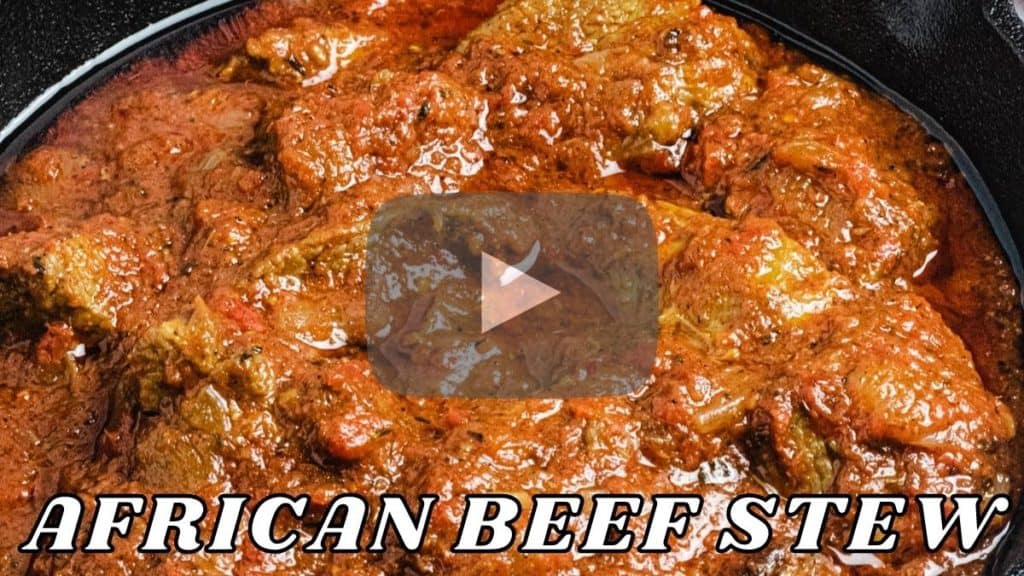 What Can I Eat Nigerian Stew With?
This Nigerian stew is a side dish that can go really well with a lot of dishes. It is usually eaten with white rice or jollof rice. On a low carb diet, I eat my Nigerian stew with cauliflower rice, shirataki noodles, or skinny rice.
How To Make Ahead For Meal Prep
This Nigerian beef stew is perfect for meal prep and can be made ahead in case you're short on time.
One way to do this is to blend the tomatoes and peppers ahead of time and freeze them in sizable portions. Before you freeze, boil the blended mixture for about 10 minutes to reduce the moisture content so it lasts longer.
This stew base can remain frozen for many months. Let it thaw overnight before you use it to make stew.
You can also make a pot of stew and freeze it in proportions and take it out as needed.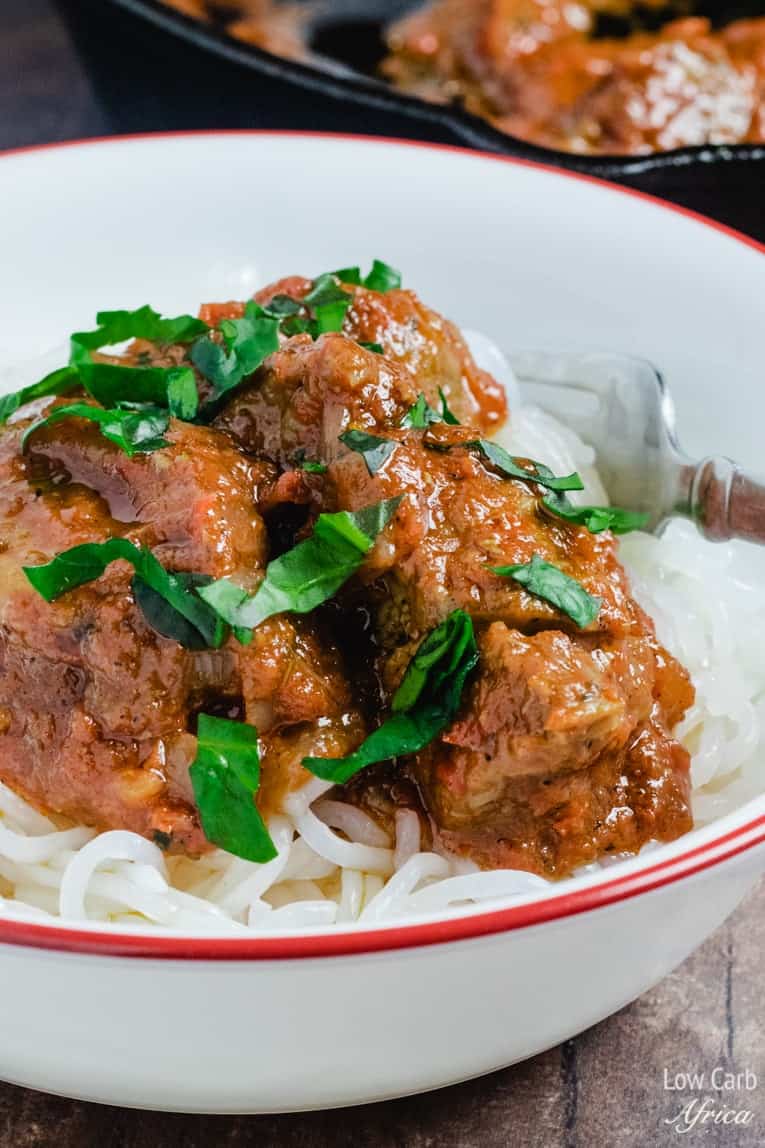 Tips when making African Stew
When blending the vegetables, it helps to blend the tomatoes first because it releases enough moisture which helps to blend the other vegetables. After the tomatoes are well pureed, add the bell peppers, habanero pepper, and onions and blend again.
Nigerian beef stew tastes much more flavorful if the blended mixture does not contain a lot of water. If it turns out watery when you blend it, pour it into a pot and let the excess water evaporate over medium-low heat.
Use fire-roasted tomatoes for a smoky flavor.
This recipe calls for one habanero pepper. If you think it might be too spicy for you, use half a habanero pepper. Do not omit it as the taste will be drastically different if you do.
If it is still too spicy, remove the core and seeds of the habanero pepper before using it.
Alternatively, you can add an extra tomato or two, to tone down the heat of this Nigerian stew.
Enjoy these other Nigerian stews!
African Fish Stew
Read more: The list of 14 beef stew by ina garten
Nigerian Chicken Stew Recipe
Ofada Stew (Green Bell Pepper Stew)
Efo Riro (Nigerian Spinach Stew)
Mafe (African Peanut Stew)
Nigerian Turkey Stew
Need more African spicy foods? Try these!
Asun (Peppered Goat Meat)
Peppered Gizzard
Fumbwa (Congolese Spinach Stew)
African Goat Stew
Instant Pot African Lamb Stew
Read more: Camp Dutch Oven Beef Stew Recipe | The Perfect Campfire Comfort Food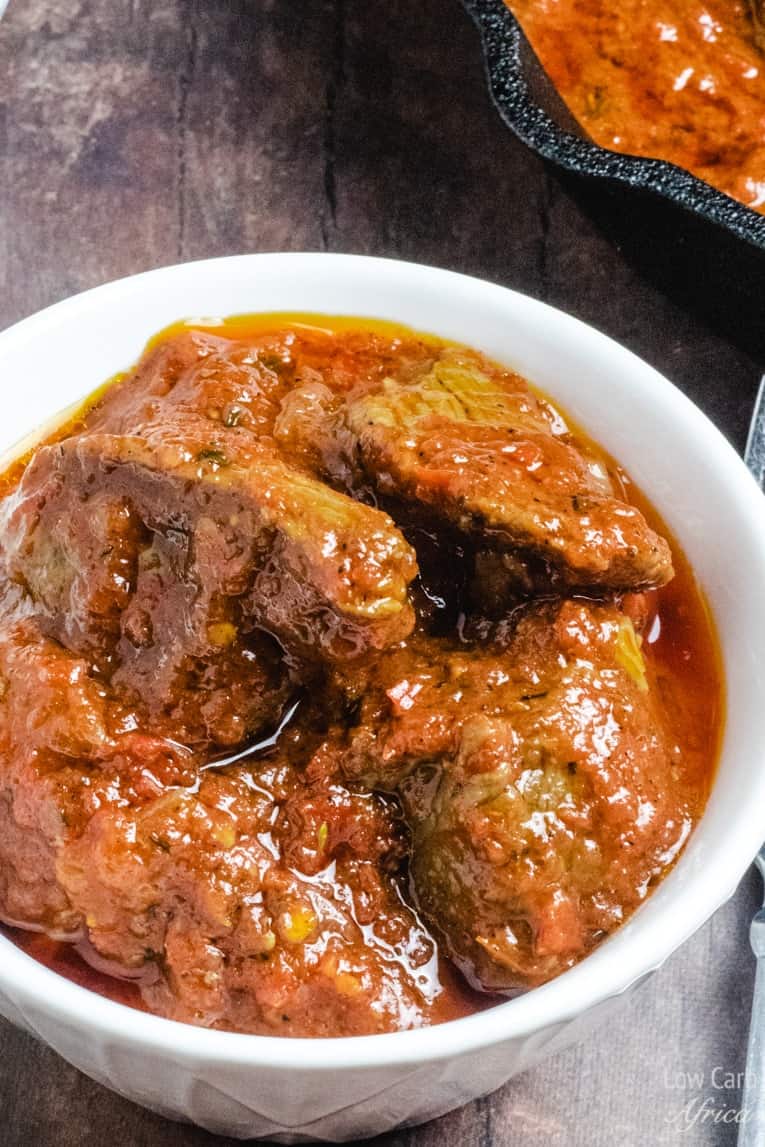 Recipe
Through this article, we hope to help you understand How to make nigerian stew