This post may contain affiliate sales links. Please see my full disclosure policy for details.
If you're a fan of strawberry desserts, then you're in for a treat with this no-bake Strawberry Delight. It's a layered dessert that combines the refreshing flavors of fresh strawberries, creamy no-bake cheesecake, and homemade whipped cream. Perfect for those hot summer days or any special occasion.
Embracing the No-Bake Trend
As someone who loves creating unique no-bake desserts, I realized that I was missing out on a strawberry-inspired masterpiece. So, it's time to grab some fresh strawberries and let's dive into this delightful recipe.
Exploring the World of Strawberry Delight
This dessert goes by different names – dessert lush, lasagna, or dessert salad. But no matter what you call it, every bite of this layered dessert will leave you feeling delighted. It starts with a graham cracker base, followed by a layer of fresh strawberries. The next layer is a creamy no-bake cheesecake, enhanced with strawberry flavor. Finally, it's topped off with a generous dollop of homemade whipped cream.
Ingredients to Gather
To create this strawberry sensation, here's what you'll need:
Graham cracker crumbs (store-bought or homemade)
Unsalted butter
Fresh strawberries (about 2 lbs)
Heavy whipping cream
Powdered sugar (for the whipped cream)
Full-Fat Cream cheese (at room temperature)
Granulated sugar (for the cheesecake filling)
Lemon juice (to balance the sweetness)
Pure vanilla extract
Instant powdered strawberry Jello (for added strawberry goodness)
A Step-By-Step Guide
Let's walk through the process of making this heavenly dessert:
Step 1: Prep the Strawberries
Thoroughly wash and dry all the strawberries, removing the stems. Slice some strawberries into small pieces, and chop the rest lengthwise. Pat them dry with a paper towel.
Step 2: Make the Crust
Grind the graham crackers into a fine crumb using a food processor or blender. Combine the crumbs with melted butter until coated. Press the mixture into a 9×9 pan and refrigerate.
Step 3: Make the Whipped Cream
Chill the mixing bowl and beaters for 5-10 minutes, then beat the heavy cream until soft peaks form. Add powdered sugar and continue beating until stiff peaks form. Set aside.
Step 4: Make the Cheesecake Filling
Beat the cream cheese, sugar, and vanilla extract until smooth and creamy. Mix in the whipped cream until well combined.
Step 5: Divide the Filling
Divide the cheesecake mixture in half. To one half, add the strawberry Jello and finely chopped berries, mixing to combine.
Step 6: Assemble
Layer the sliced strawberries over the graham cracker crust, overlapping and filling the gaps. Spread the plain cheesecake filling over the strawberries, followed by the strawberry cheesecake filling. You can either decorate with a second batch of whipped cream or store it in the refrigerator and add the topping later.
Step 7: Chill
Allow the dessert to set in the refrigerator for 4-6 hours before serving. It's also a great make-ahead dessert, perfect for preparing the night before.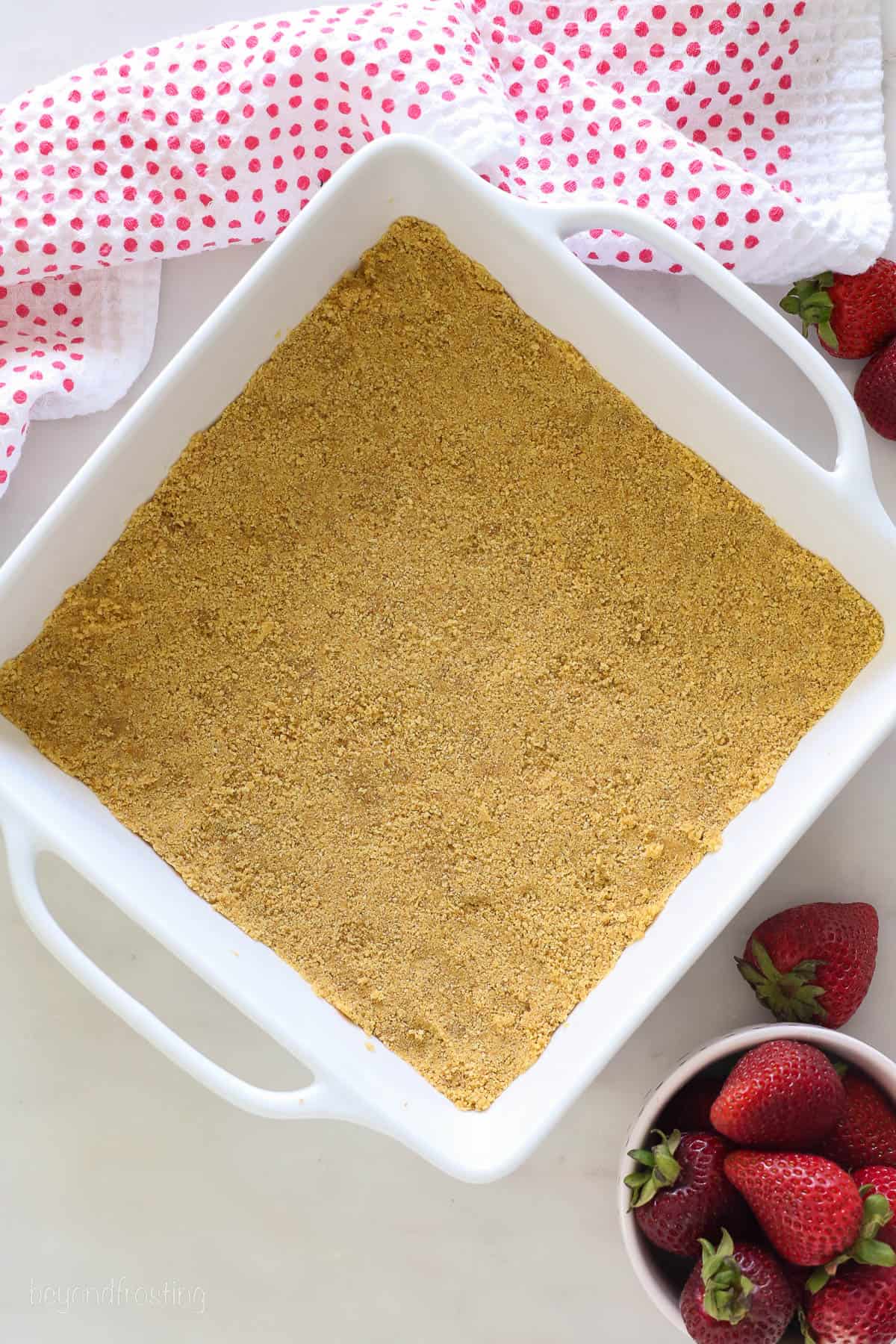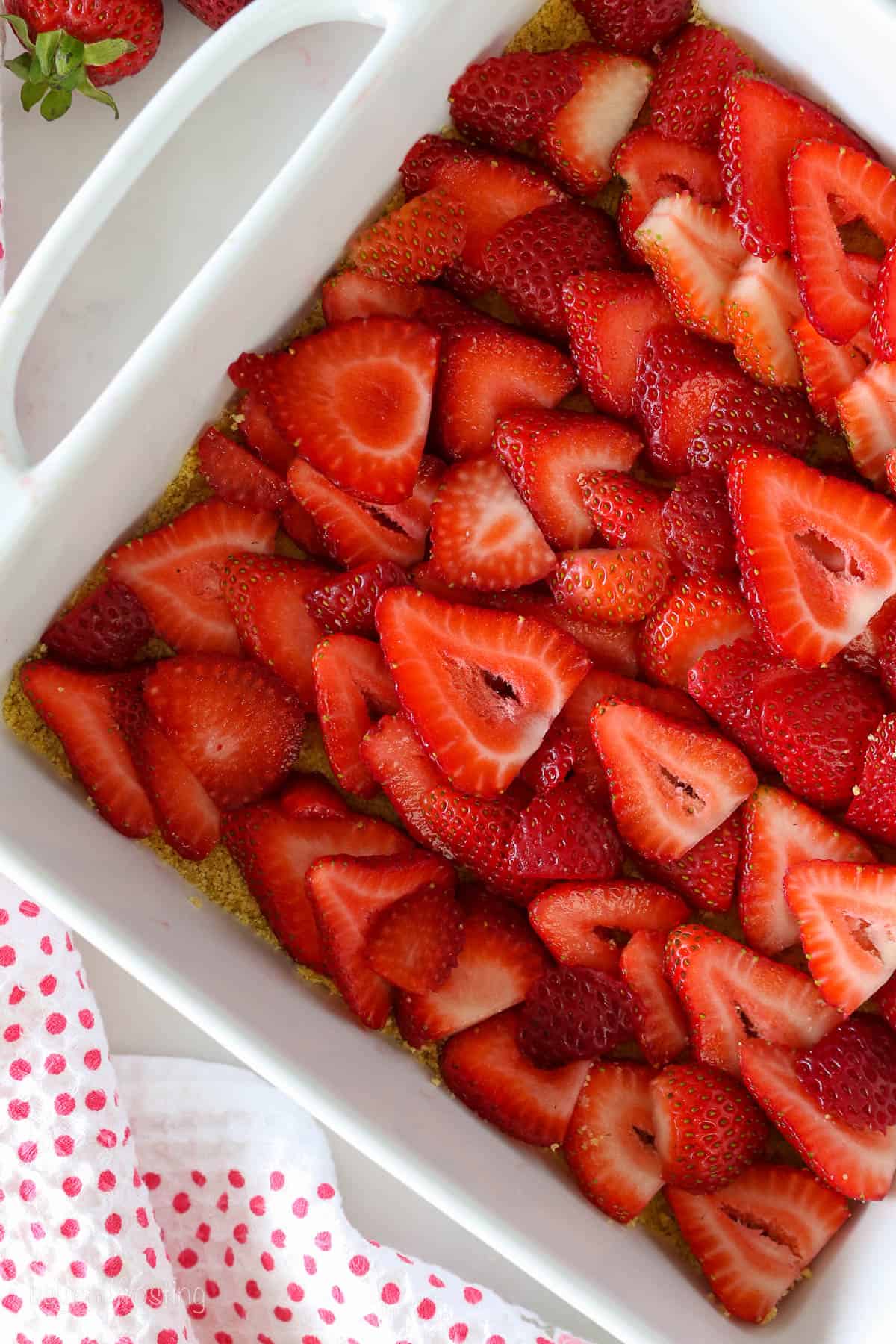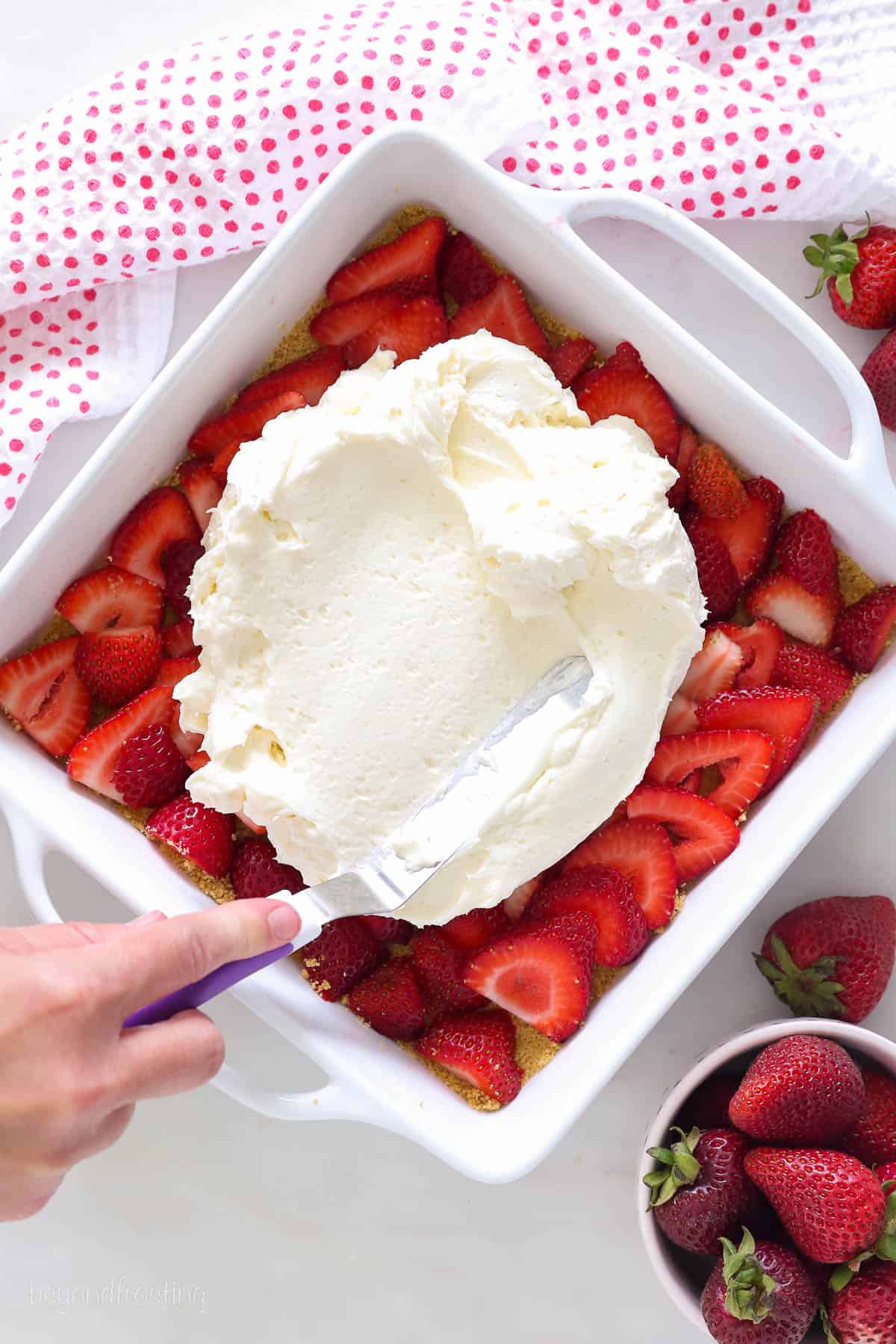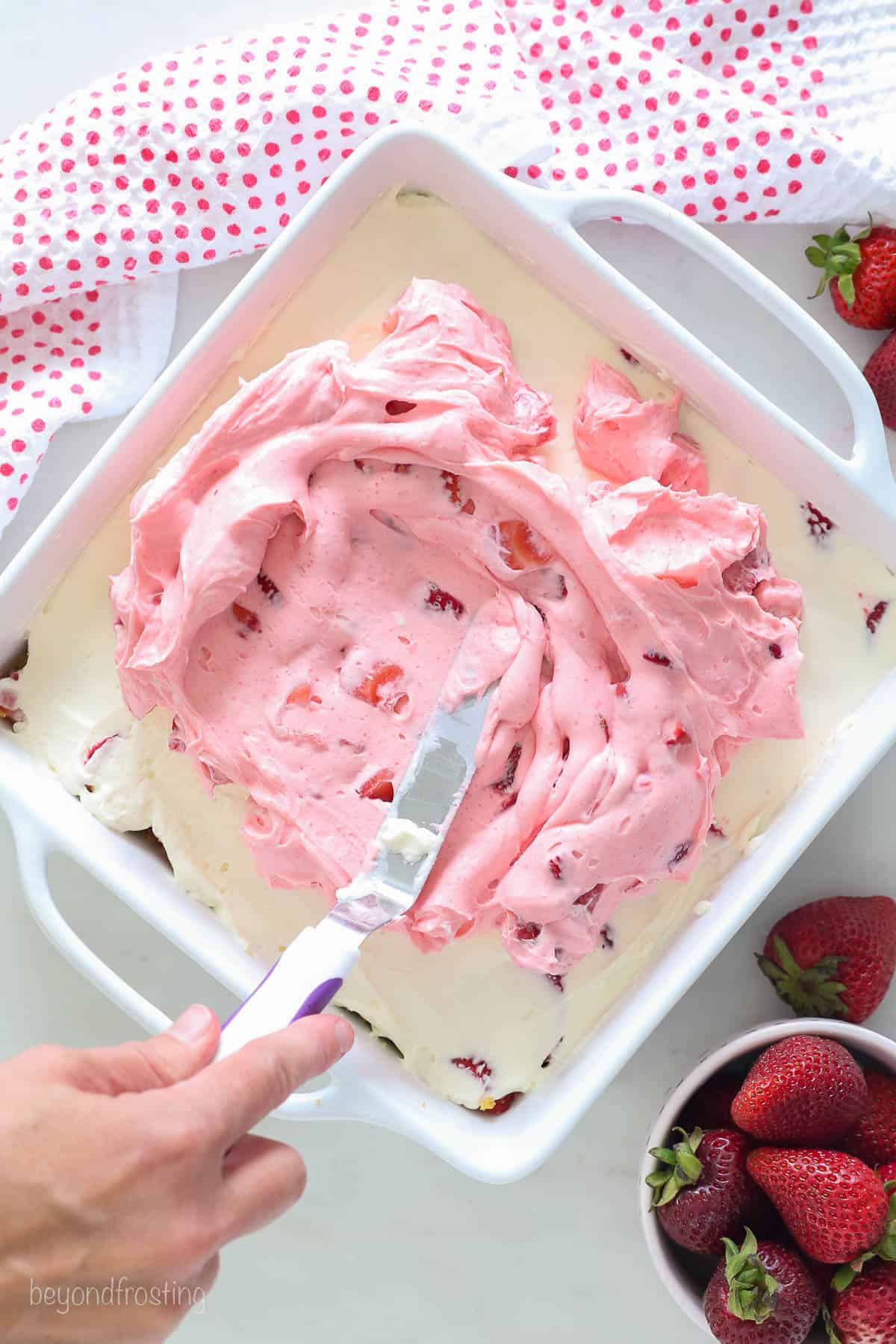 Tips and Tricks
Here are a few tips to ensure your Strawberry Delight turns out perfectly:
Thoroughly dry the strawberries to prevent excess moisture in the dessert.
For an extra burst of strawberry flavor, consider topping it with strawberry whipped cream.
You can use Cool Whip for convenience, but homemade whipped cream adds a special touch.
If you can't find strawberry Jello, substitute freeze-dried strawberries for a delightful twist.
If preparing in advance, add the topping right before serving to keep it fresh.
Storage and Freezing
Once prepared, store your Strawberry Delight in an airtight container in the refrigerator. It's best enjoyed within the first 3 days but should last up to 5 days. Keep in mind that the crust may become softer after 2 days. If you want to freeze it, omit the layer of fresh strawberries in the crust and add them as a garnish when serving. Make sure to tightly cover the dessert to prevent freezer burn.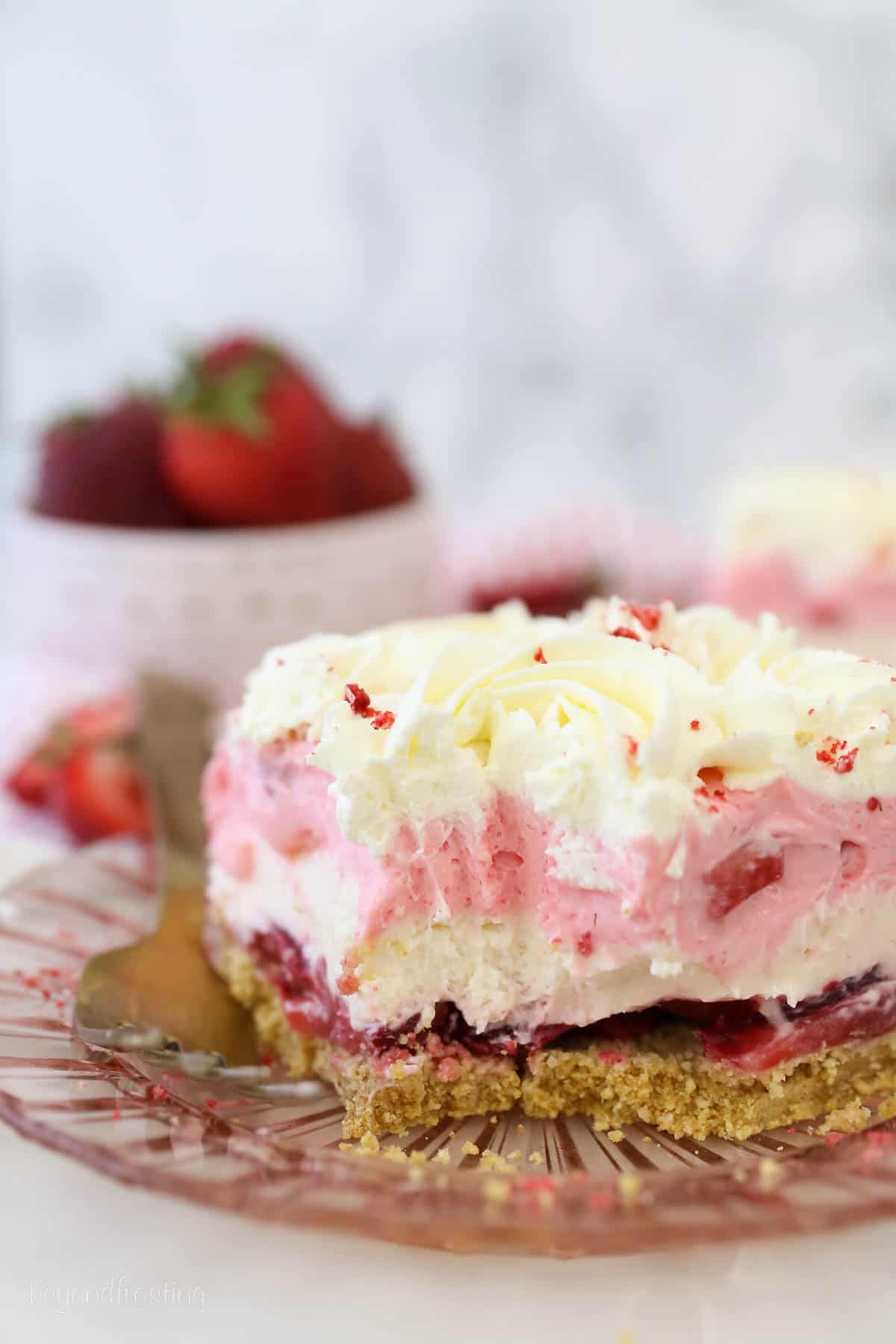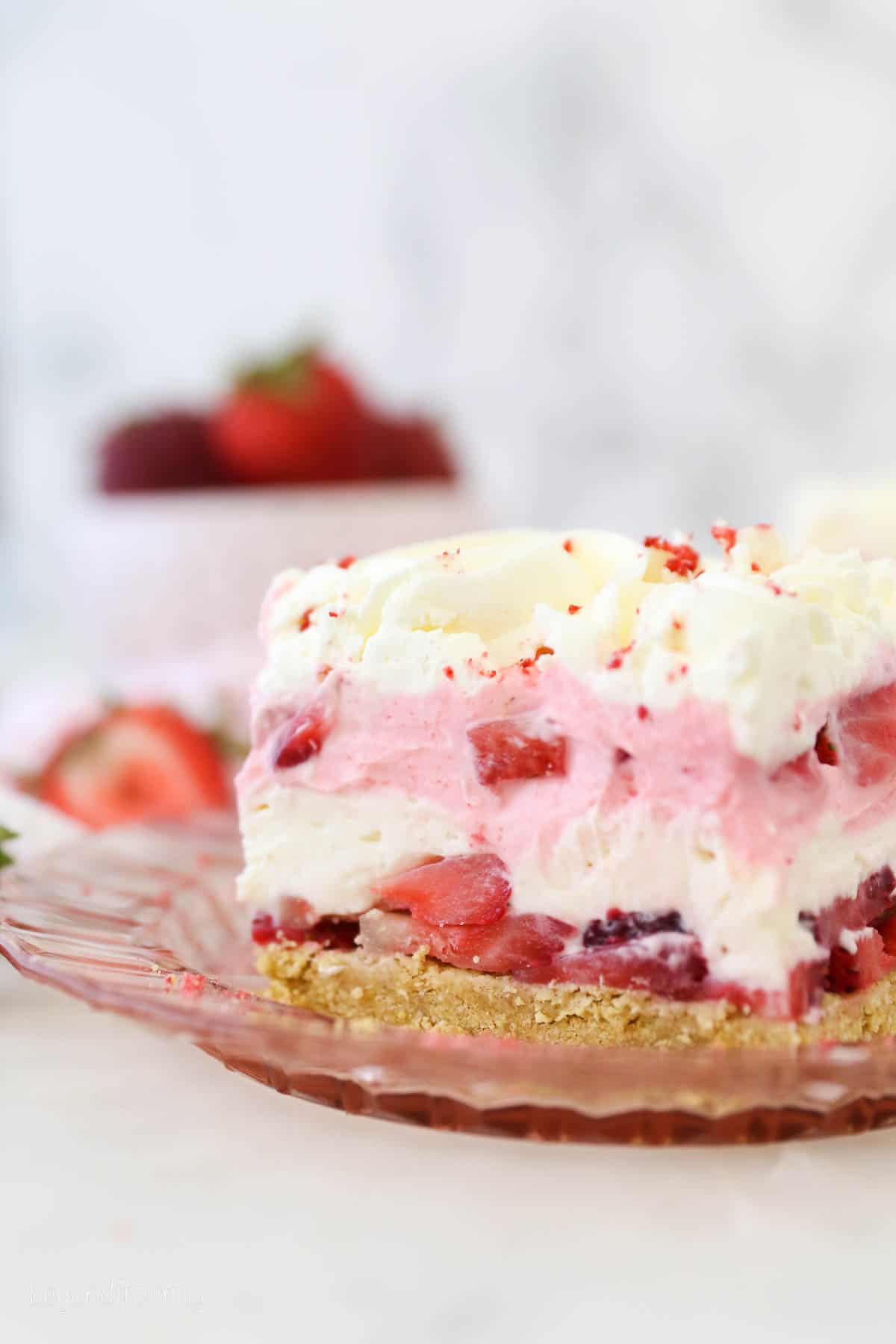 Enjoy the Sweetness of Summer
Indulge in the luscious flavors of strawberries with this delightful no-bake dessert. Whether you're hosting a gathering or craving a sweet treat, Strawberry Delight is sure to impress. So, gather your ingredients, follow the simple steps, and savor the taste of summer.
For more mouth-watering recipes and culinary inspiration, visit Family Cuisine.