This vegan chickpea salad sandwich is a great lunchbox option conveniently packed with plant-based protein and comes together in just ten minutes.
This Vegan Tuna Salad Sandwich is easy, quick, nutritious and absolutely delicious!
It's so tasty, it's become one of our most favourite chickpea recipes.
Did I mention it takes just 5 minutes to prepare? Yay!
This is a wonderful simple vegan chickpea salad that can be served many ways:
It's great alone, simply scoop it with a spoon!
Serve it between two slices of wholegrain bread for a nutritious sandwich.
Add a few spoonful over a bed of salad leaves, arugula or fresh baby spinach leaves.
Mix it with cooked quinoa, couscous, barley, farro or rice for a full balanced meal.
Serve it as a dip with crackers, tortilla chips, pita chips, or vegetable sticks (bell pepper, carrot, cucumber, celery).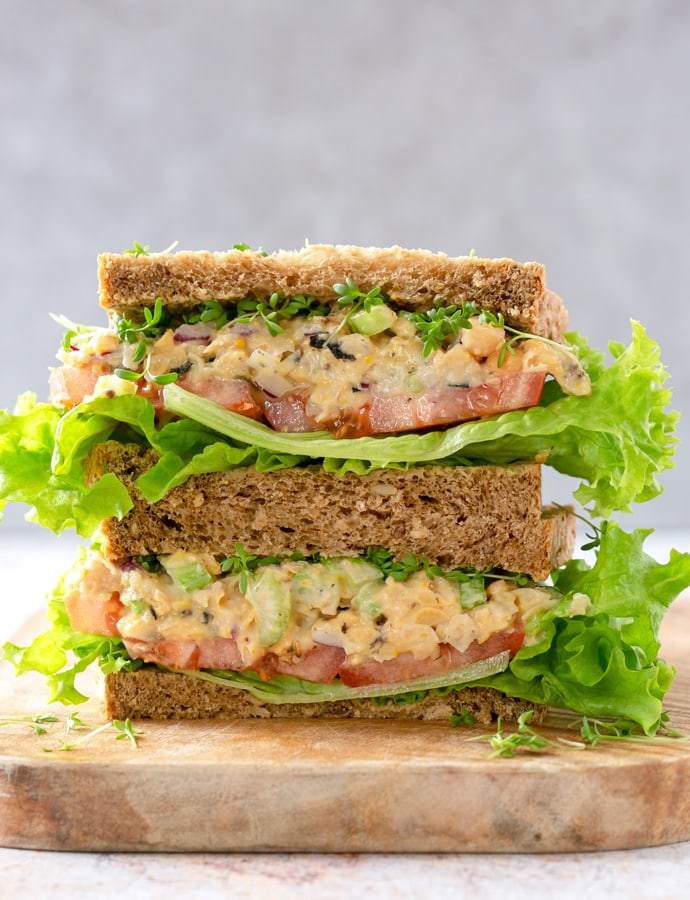 INGREDIENTS
This vegan tuna salad is easily customizable, and you can sub or omit ingredients if needed, and still have a delicious salad!
Here is everything you will need:
Chickpeas – You can use canned chickpeas or freshly cooked chickpeas .
Celery – Adds a refreshing crunchy texture to the salad.
Red onion – You can sub with green onion, yellow onion or shallots.
Capers – I love capers preserved in dry sea salt rather than brined, in both cases, make sure to rinse them and pat them dry before chopping them.
Vegan mayo – go for store bought or make homemade vegan mayo.
Dijon mustrd – you can sub with whole grain, or English mustard.
Nori sheet – finely chopped, it adds the tuna flavour to the salad.
HOW TO MAKE VEGAN CHICKPEA SALAD SANDWICH
This vegan salad sandwich couldn't be easier to make:
STEP 1 -You start by mashing the chickpeas with a fork or potato masher.You can leave some of them whole for added texture.
STEP 2 – Add in the chopped nori, celery, onion, capers, mustard, and mayonnaise.
Then mix all ingredients until combined.
STEP 3- Build up your sandwich, by adding some lettuce, tomatoes, over your sliced bread.
Add a spoonful of chickpea salad, top with another slice of bread, and your sandwich is ready!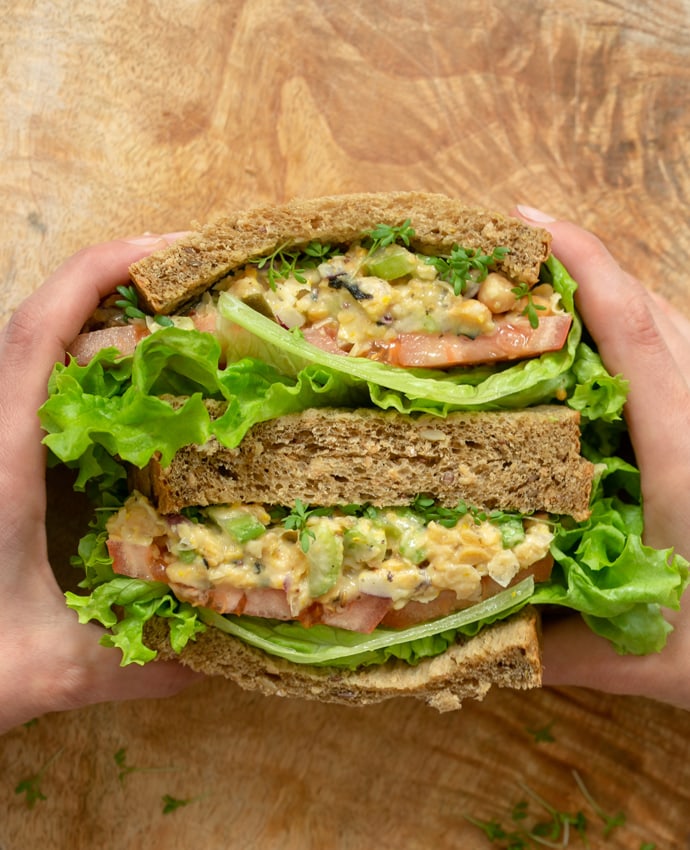 HOW TO STORE
You can store this vegan chickpea salad in an airtight container, it will keep well in the refrigerator for up to 3 days.
I do not recommend freezing leftovers.
THE VEGAN BEAN COOKBOOK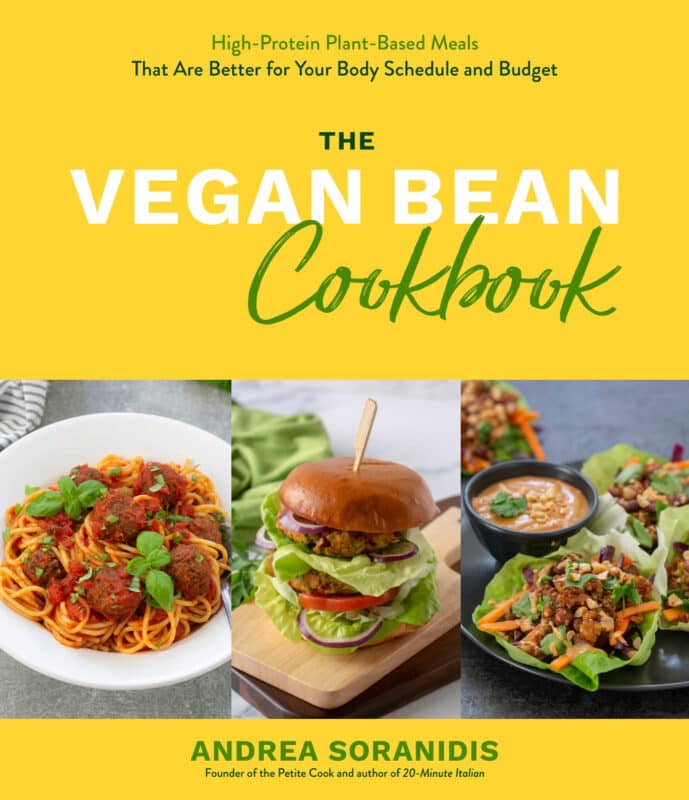 This recipe is also part of the 60+ vegan recipes featured in my new cookbook "The Vegan Bean Cookbook"!
The goal of the book is to show vegan and non-vegan readers that beans are not boring AT ALL!
Beans are conveniently cheap, packed with protein, and incredibly versatile.
There's so much you can do with the humble bean! From simple and nourishing pasta dishes to fun and incredible desserts, and I will show you all in this new exciting cookbook.
DID YOU TRY THIS RECIPE?
Please let me know how you liked it! Leave a comment below, share a picture on Instagram and tag @thepetitecook!
Looking at your pictures always makes me smile *and super hungry*!
YOU MAY ALSO LIKE
For more information, please see more information about Vegan tuna salad no chickpeas
Detail: 🔗