Warm, hearty, comforting lamb stew made from bone broth perfect for dunking crusty bread or to pour it over rice. Either way you'll love it.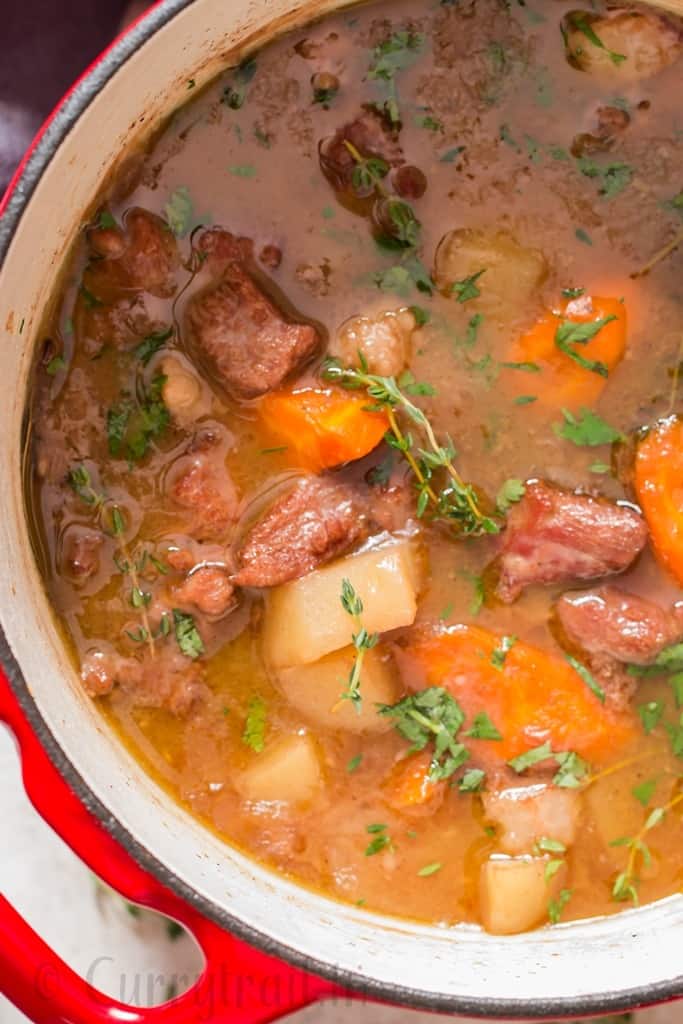 Think of making Irish lamb stew for St. Patricks Day or Easter. It's perfect for those occasions. Easter is not just about eggs. It's mostly about lamb isn't it! So this lamb stew is perfect meal for Easter. And with Easter just around the corner, you need to put this Irish lamb stew recipe on your list of Easter recipes to try!
If you are my regular reader here, it's no more secret that I love stew. Just check out the number of stew recipes on the blog! Well, if I ate beef, you would have definitely had the recipe of that as well on the blog, but no. I don't eat beef so sorry guys in case you went searching for beef stew as soon as you read these lines!
But don't fret, there are so many other versions of stews on the blog, you'll definitely love the variations and I highly recommend you guys go try all the other stew recipes! You'll be amazed! It's a promise! Especially if you are some one like me who loves stews!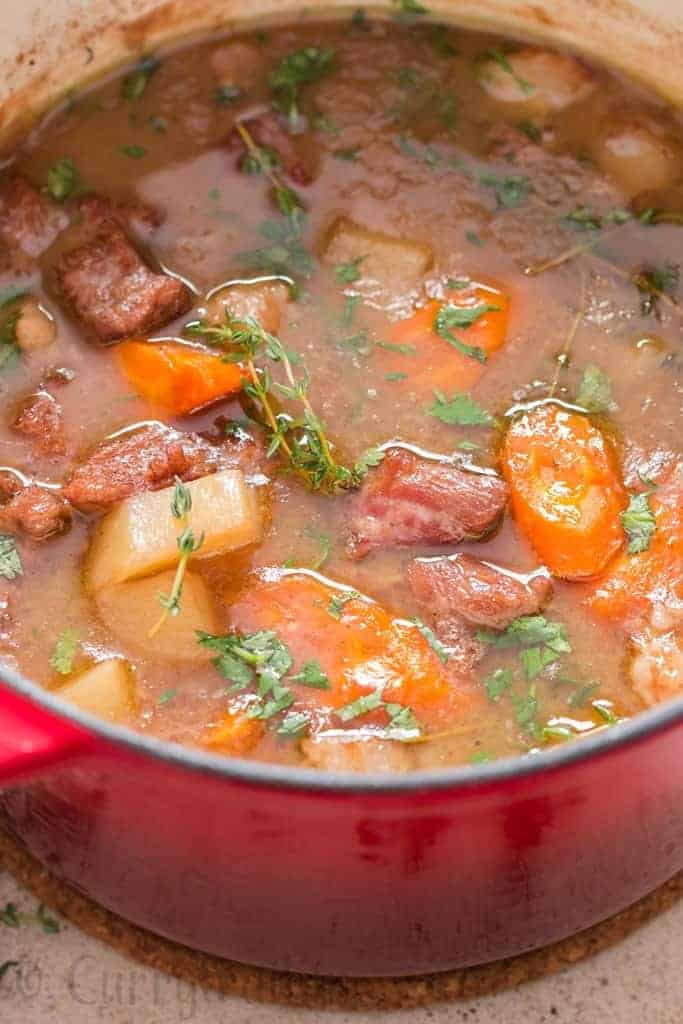 This hearty and most comforting stew is a meal in itself and it's so filling and satisfying. All you need is crusty bread to dunk it in the ridiculously delicious stew or plain steamed rice! That's rice, I don't mind serving lamb stew with steamed rice. I guess I love this combo just because I'm a huge rice fan, love eating rice all days of the week.
What I love about this stew, chicken bone broth along with other flavouring agents is all thickened slightly from the flour used to coat lamb and sear it brown in the pan. Thus the thickened braising liquid is more like a gravy rather than watery broth. And that's why this lamb stew recipe can be perfect with steamed rice, if you ask me.
If you're not in mood to try lamb stew recipe with rice, don't! Just serve this lamb stew with you favorite crusty bread. Cooking at home should be as per your preferences and conveniences. Do what you enjoy!
Meltingly tender meat of lamb cooked with carrots, onions, potatoes in deeply flavored gravy or broth…IRRESISTIBLE!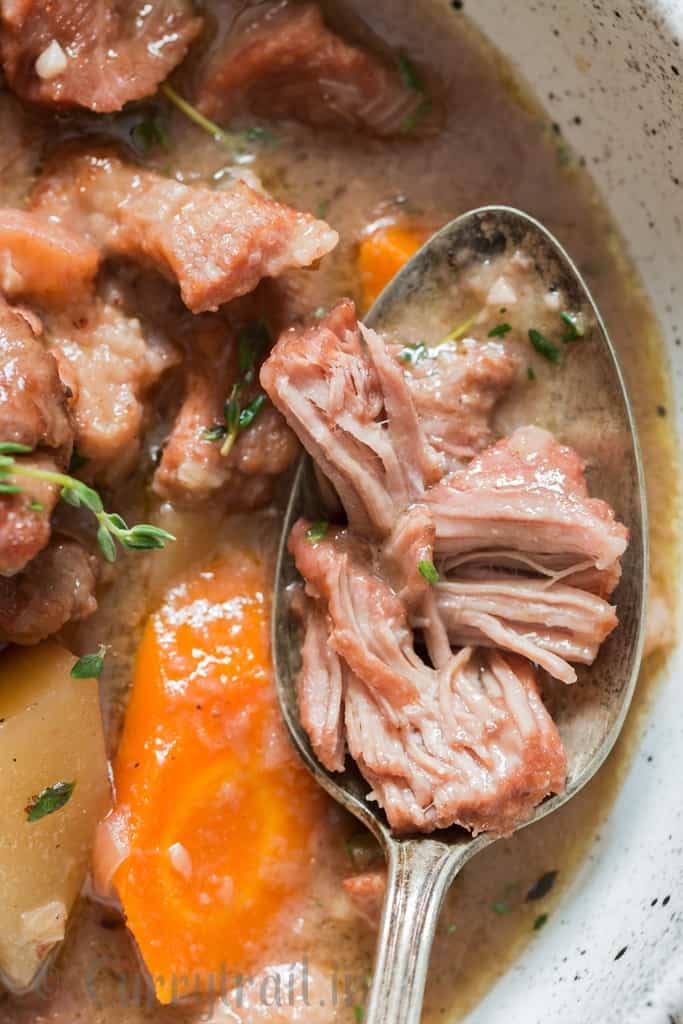 Yes, we know you hate cleaning up dishes, that's why we made this lamb stew recipe in one pot! So it's easier and convenient for you. And when you cook in one pot, you don't loose on any flavors!
The flavors from frying bacon in the pot, then searing lamb coated in flour in the same pot in bacon fat, sautéing onions in the browned bottom pan to extract all the flavors, you see the flavors just keep becoming better and better at each level. We trap in all the flavors and cook with all the flavors. So your lamb stew recipe is just perfect and bagged with flavors.
I've seen some recipes which uses a shallow pan to brown the bacon and lamb in seared in bacon fat. Then onions are browned. Finally all this is added into stew pot. Though you will scrap out most of the fat and flavors from the shallow pan into the stew pot, I can still see some of the flavors loosing out in the shallow pan.
If you know me well, I love flavors! And I hate to miss even a tiny bit of flavor. Those little time brown bits left over in the shallow pan- those are GOLDEN! Don't loose those.
No need for two pans, simply use a stew pot and so all the sauteing, simmering in it. So you trap in all those wonderful flavors.
We made lamb stew recipe on stove top. You can make instant pot lamb stew or slow cooker lamb stew using the recipe mentioned below.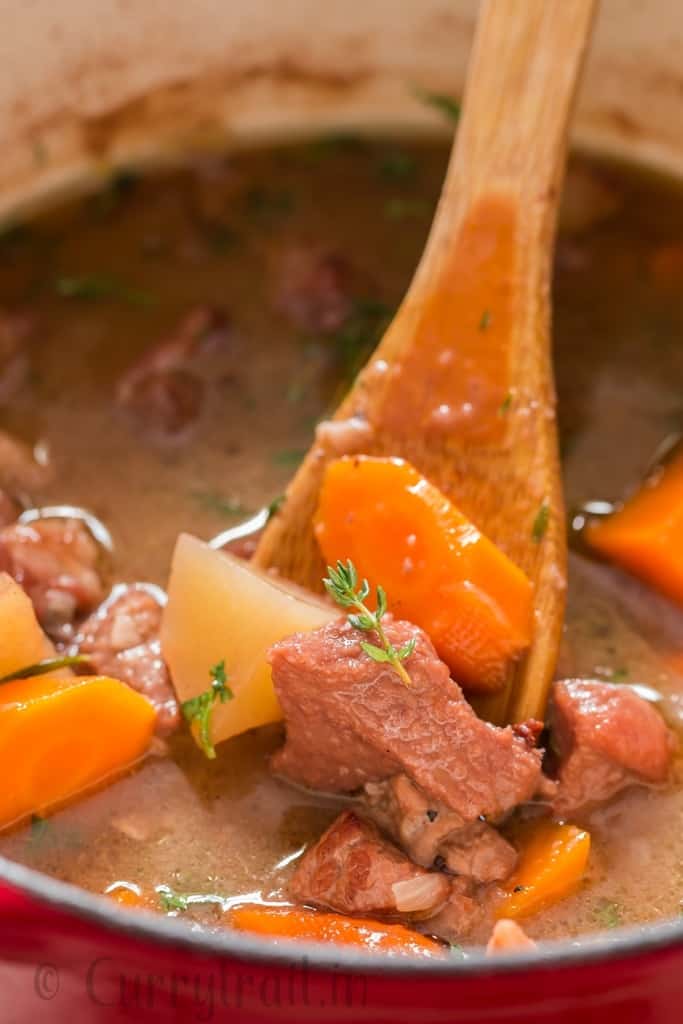 Which Cut Of Lamb is Best For Making Lamb Stew
Many butcher shop usually sells lamb stew meat separately. It's usually leg of lamb or shoulder of lamb meat cut into cubes. You'll find in the butcher shop either leg of lamb pieces, or shoulder of lamb pieces or mix of both sold separately. Go for that. In case you don't get lamb stew meat sold separately in butcher shop, you can buy leg of lamb and chop the meat into small cubes.
The longer you cook lamb meat it turns tender. But please remember you need to cook the stew on very low flame for hours to get tender meat.
How To Make Lamb Stew (Stove Top Method)
Heat up a Dutch oven on stove top.
To hot pan, add bacon bits. Brown the bacon pieces on medium flame.
Using a slotted spoon remove browned bacon into a bowl leaving bacon grease in the pot.
While bacon cooks, season lamb meat with salt, pepper and flour. Coat lamb meat evenly in flour.
Add lamb meat in hot bacon grease in one single layer. Cook it for 3-4 minutes or until browned well on all sides.
Remove browned lamb meat onto a plate. If you're doing in batches brown all lamb meat.
Into the Dutch oven add little canola oil if the pan is dry. Saute onions, garlic in the pan. Add ¼ cup stock and scrape down all the brown bits sticking to the pan bottom. The brown bits are full of flavors, you don't want to miss.
Pro-Tip : Along with onions and garlic, add in half of fresh thyme and rosemary mentioned in the recipe. Sauteing fresh herbs along with onions and garlic will release out amazing flavors of the herbs.
Tip: You can use red wine instead of broth to de-glaze the pan and scrape out all the brown bits.
Add back fried bacon and browned lamb into the pan. Pour in all the broth.
Cover it with lid and lit it simmer for 1 ½ hour. Make sure flame in simmered.
Now add in all the vegetables along with fresh thyme, fresh rosemary, bay leaf and red wine. Continue to cook in low flame covered for another 40 minutes.
By now lamb meat will with so melting tender.
Note : I did not finish off the stew in oven in the last. I found the consistency of the meat was melting in mouth and the gravy was wonderfully thick and gravy like with loads of flavors. I was happy. If you find lamb meat not cooked enough and not tender enough, you can pop finally the pan into pre-heated oven at 375 degree F for about 45 minutes.
Serve this melting in mouth lamb meat stew garnished with fresh thyme leaves, fresh parsley along with crusty bread on the side.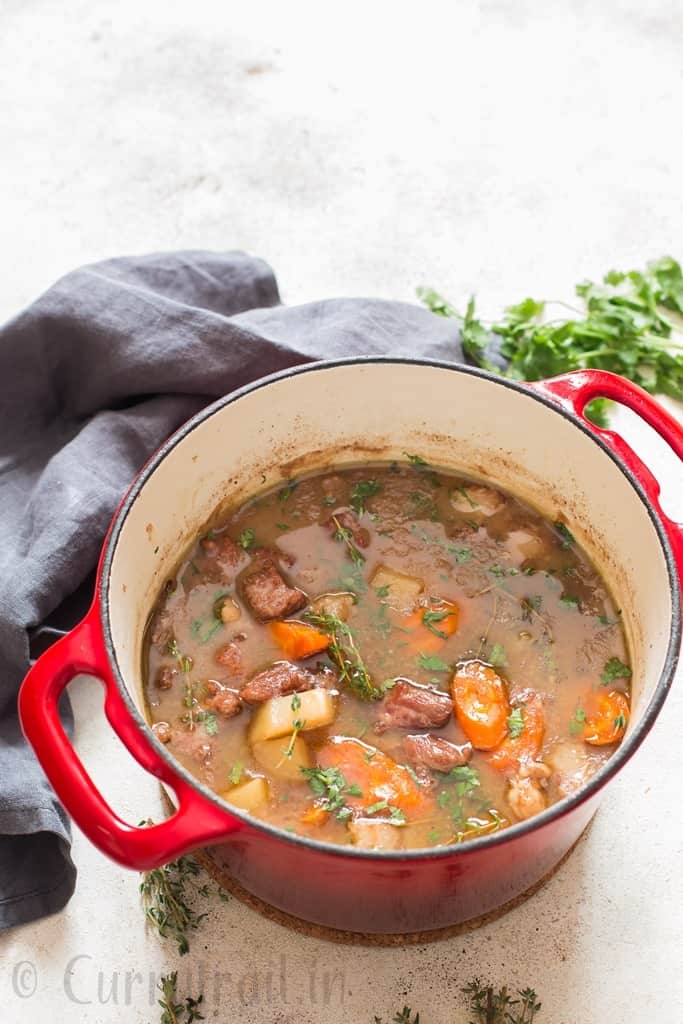 Instant Pot Lamb Stew Recipe (How To Make Lamb Stew In Instant Pot)
The only difference in Instant pot lamb stew recipe is using a pressure cooker instead of Dutch oven to make stew. And with pressure cooker, the stew don't have to be simmered for longer time like the stove top method. The rest remains the same, including ingredients list and quantities.
Select saute mode on instant pot. Add bacon bits and fry until browned. Remove fried bacon with slotted spoon leaving behind bacon grease.
While bacon cooks, season lamb meat with salt, pepper and flour. Coat lamb meat evenly in flour.
Add lamb meat in hot bacon grease in one single layer. Cook it for 3-4 minutes or until browned well on all sides.
Remove browned lamb meat onto a plate. If you're doing in batches brown all lamb meat.
Add onions, garlic, fresh thyme, fresh rosemary and saute for few minutes. Add back bacon and browned lamb meat. Pour in all broth. Stir and mix well.
Put the lid on the Instant Pot and lock the lid. Switch it to the Stew/Meat setting and program it for 20 minutes.
While stew cooks, prep the vegetables. Peel carrots and potatoes. Dice them up into roughly 1 inch pieces.
Once 20 minutes cooking time is over, manually release all steam with quick release.
Add vegetables, remaining herbs like fresh thyme, fresh rosemary, bay leaf, red wine and salt and pepper as required. Cover with lid. Select manual mode and set cooking time to 10 minutes.
Once 10 minutes cooking time is over, let the pot release all it's steam manually (unless you are in a rush to serve stew immediately).
Serve stew warm with crusty bread.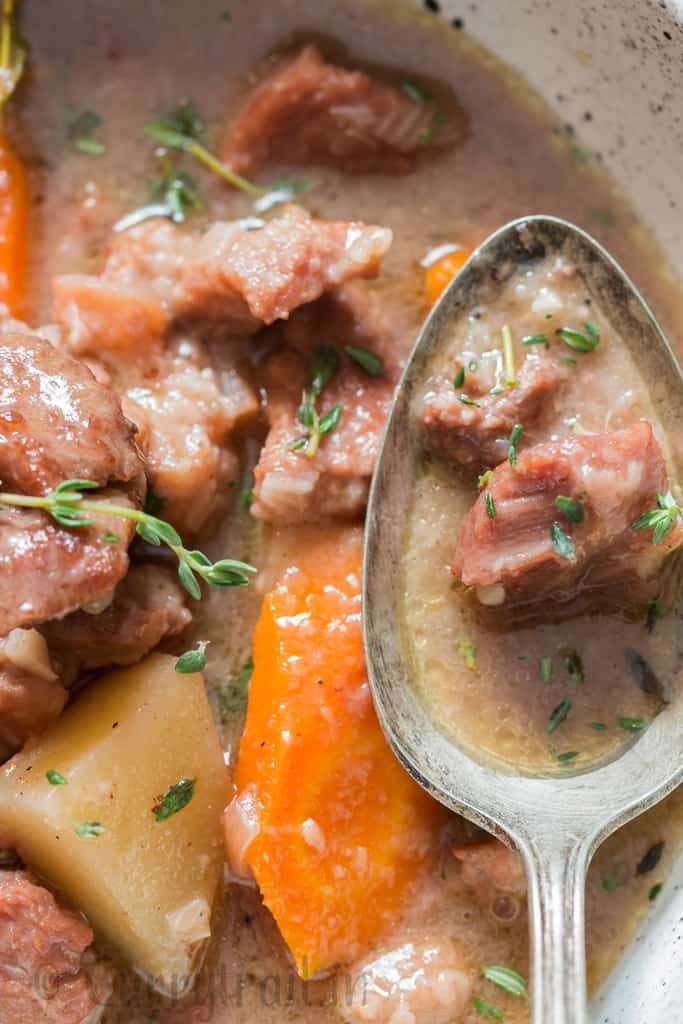 How To Make Lamb Stew In The Crock Pot
Season lamb with salt, pepper and flour. Coat flour evenly. Heat canola oil in a dutch oven. Brown seasoned lamb meat in oil. Remove browned lamb into slow cooker.
Add onions, garlic, diced carrots, potatoes, fresh thyme, fresh rosemary, bay leaf . Pour in broth. Cover and cook for 6 hours stir occasionally.
Serve with crusty bread.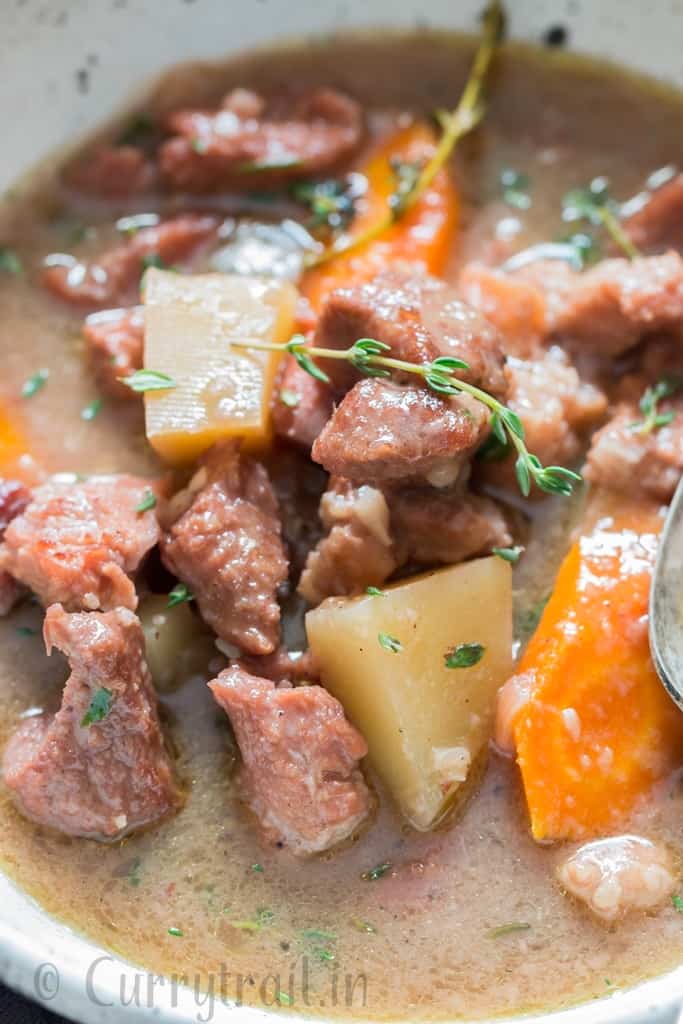 About This Irish Lamb Stew
This lamb stew recipe is essentially stove top simmering for hours on low flame. To get thick flavorful stew, with lamb meat literally meltingly delicious.
Typically lamb stew recipe calls for searing the lamb which is coated with flour. Do not, I repeat do not skip this step. This is the key to more flavorful stew.
Do not add vegetables in the beginning. This will make vegetables in the stew mushy and fall apart. It's not a pleasurable experience! Always add vegetables after cooking lamb meat. I cook lamb in broth for 1 ½ hour and then add in vegetables to cook it further for another 30-40 minutes.
I've used chicken bone broth to make lamb stew. Feel free to use beef stock.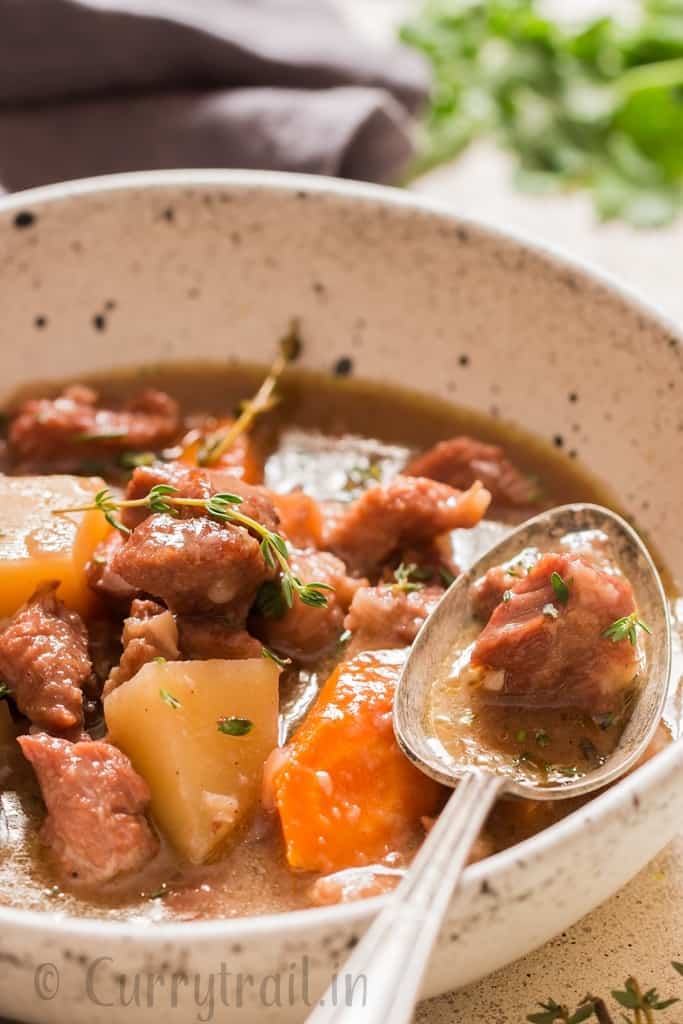 LOVE STEW? WE GOT A COUPLE OF DIFFERENT STEW RECIPES ON THE BLOG. DON'T FORGET TO TRY IT-
Instant Pot Chicken Stew – Our Readers Favorite
Egg Stew
Radish Lentils Stew
Seafood Stew Casserole
Goan Chicken Stew
Kerala Style Vegetable Stew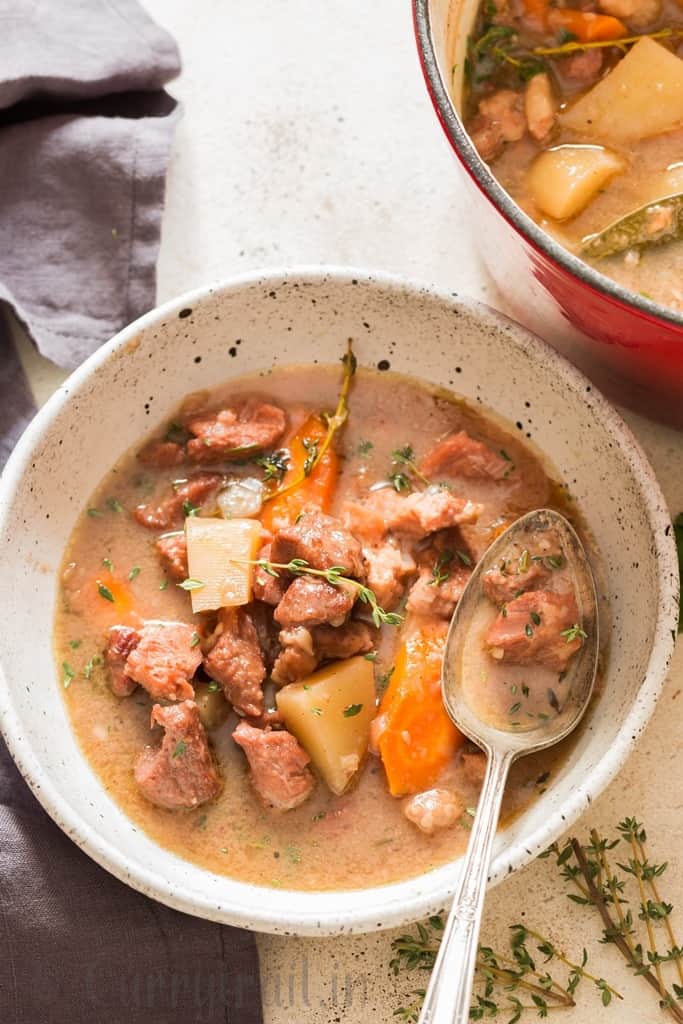 LOOKING FOR MORE EASTER RECIPES? TRY THESE-
Egg Nests Easter Rice Krispie Treats
No-Bake OREO Truffles Eggs
Don't forget to Subscribe to CurryTrail Recipes below to get our newest recipes delivered straight to your inbox.
LOVE THIS RECIPE? KEEP IN TOUCH AND DON'T MISS OUT ON ANY OF CURRYTRAIL RECIPES! FOLLOW ME ON INSTAGRAM, PINTEREST, FACEBOOK, TWITTER.
For more information please see the list of What to make with lamb stew meat
Detail: 🔗