One-pot low-carb leftover chicken recipe with spinach is my family's original one-pot wonder with rotisserie chicken, spinach and canned beans. This easy 5-ingredient recipe is ready in just 15 minutes, and I've got lots of ideas for toppings and substitutions!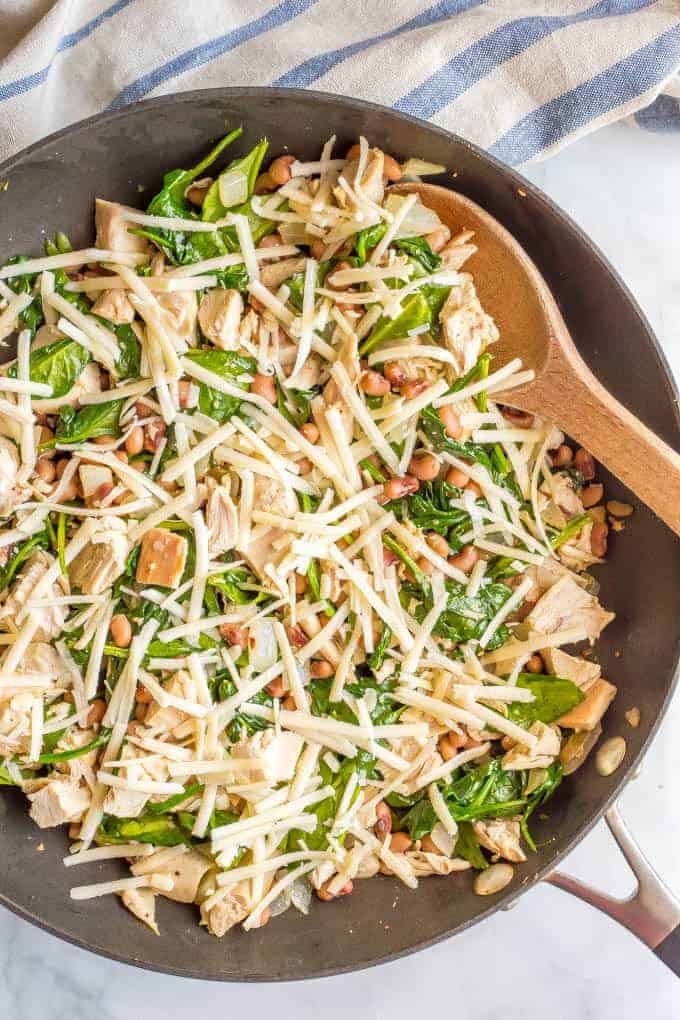 Happy New Year!
I'm still reeling over the fact that it's 2018, and still recovering from the holiday season, but it's been nice to get back to our regular work + school routine this week.
We had such a great Christmas and a fun New Year's — complete with an early countdown and a cookie-and-milk toast for the kids with some neighbor friends — and I feel recharged and ready to tackle a new year!
Hoping that lasts more than just the first couple weeks… 😉
Today's recipe comes from my parents. And more my Dad than my Mom this time.
Which is why I call this low-carb leftover chicken recipe our family's original one-pot wonder.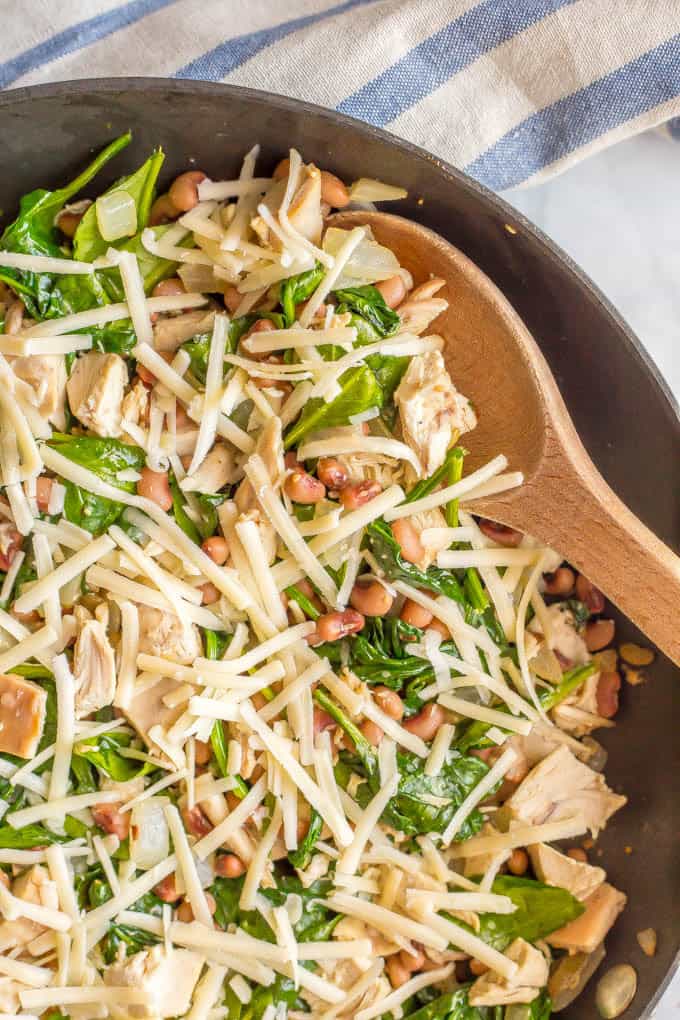 (Though now that I think about it, it is similar to my Southern New Year's Day dinner skillet that has chicken, collard and black-eyed peas. And I've since made a leftover Thanksgiving edition: one pot turkey and white beans with spinach is fast and delicious.)
But this recipe is kind-of my Dad's go-to dinner if my Mom is out for the night. It's simple, it's quick and it has two of his favorite things: chicken and spinach. 💚
And years ago they shared this recipe with me and I've been making it ever since, especially on nights when I don't know what else to make or don't really feel like cooking.
You know the nights I'm talking about right?
This is just 5 basic ingredients, it's low-carb and gluten-free and it takes about 15 minutes start to finish. 🙌
It's also super satisfying!
And while it's a really simple recipe, I've also got lots of tips and ideas on ways you can change it up and customize it.
Cause then you can make it week after week and it'll seem new every time! 🙌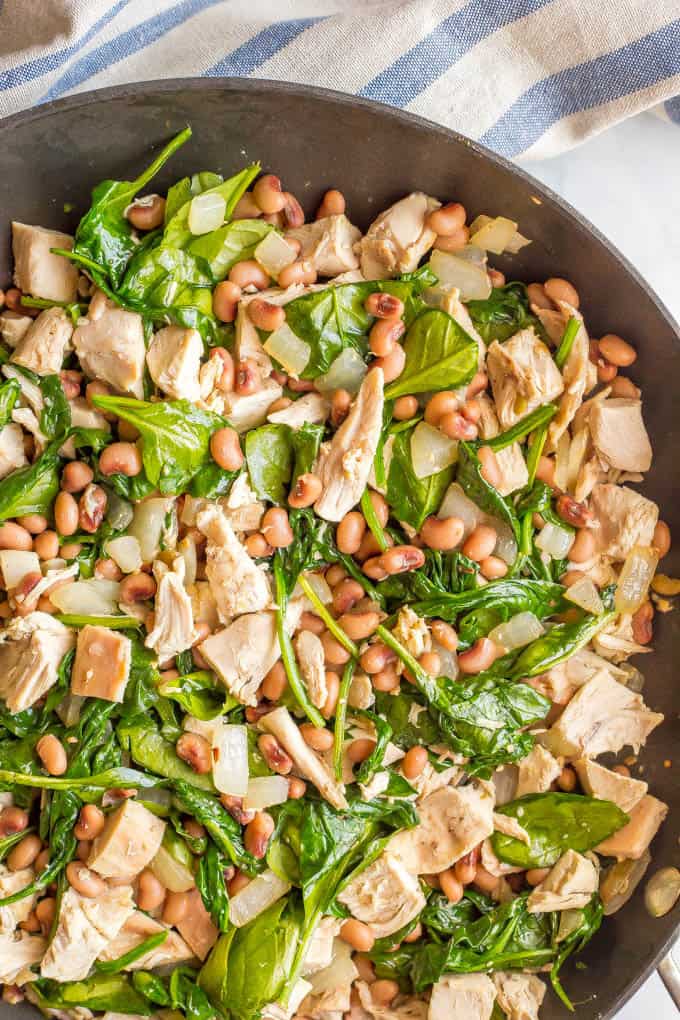 Notes on one-pot low-carb leftover chicken:
We always make this with store-bought rotisserie chicken to make it super easy, but you could substitute any leftover roasted or grilled chicken you have.
We generally use field peas with snaps (it's sold in a can with the other canned beans) but you can substitute crowder peas, black-eyed peas, pinto beans, black beans or any favorite bean.
The recipe below is our go-to standard, but you can customize it or change it up by switching out the beans you use and throwing in any extra veggies (it's a great one for cleaning out the veggie bin in the fridge). Zucchini, mushrooms and peppers all work great here.
Other great ways to change this up is with some seasonings. I love adding some chili powder and cumin, maybe a little paprika too. It's also great topped with hot sauce!
Speaking of toppings… (cause you know I love them!)
Topping ideas for low-carb chicken and veggies:
Feel free to load this up with any or all of your favorite toppings!
Shredded cheese, salsa, diced avocado or just some chopped fresh herbs would all work great here.
I hope your year is off to a good start and that 2018 brings you tons of happiness.
And that you have an arsenal of quick + easy dinners to make the evenings a little easier 😉
Enjoy!
XO,
Kathryn
P.S. Love easy, healthy recipes? Me too. Sign up for my free e-newsletter and you'll get my FREE e-cookbook, Easy Weeknight Dinners, as a thank you.
And if you want some other easy recipes using leftover or rotisserie chicken, here's a few favorites:
One-pot creamy chicken and mushroom pasta with peas (Family Food on the Table)
Easy healthy chicken pot pie with a biscuit top (Family Food on the Table)
Teriyaki chicken and rice (Amanda's Cookin')
Chicken broccoli rice casserole (My Gluten-Free Kitchen)
Through this article, we hope to help you understand Keto leftover roast chicken recipes
Detail: 🔗