Oreo Fluff (also called Oreo Fluff Salad) is a creamy, sweet, and cookie-packed dessert "salad." This fluff salad requires no baking and is the perfect dish to bring along for potlucks, get-togethers, parties, or picnics!
The midwest is known for its dessert "salads." A few other favorites: this Watergate Salad, this Raspberry Fluff (my personal favorite!), or this creamy Grape Salad.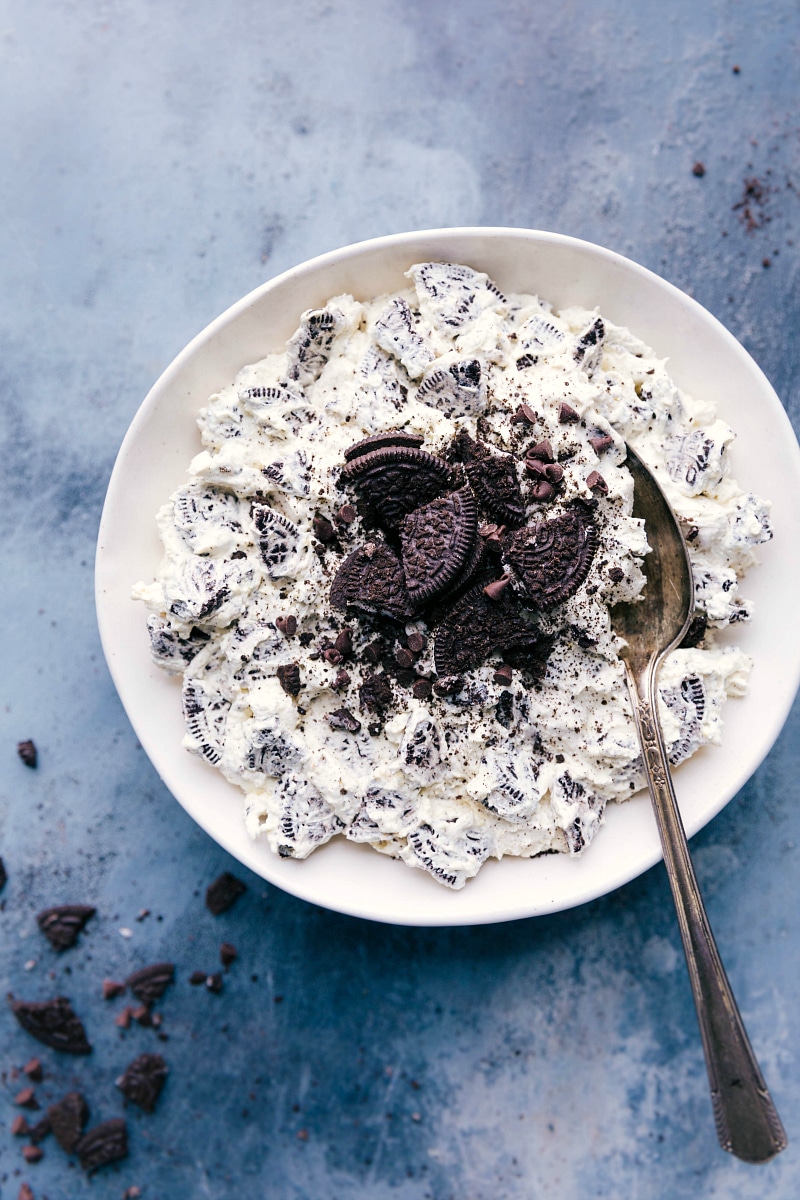 Oreo Fluff: What it is and what it tastes like!
If you're not familiar with "fluff salads," they're a dessert that Midwesterners like to pass off as a side salad/side dish. And you'll never find me complaining — I can fill half my plate with this Oreo Fluff AND still have dessert. 🙂
This particular fluff salad is made with vanilla pudding, chopped Oreo® cookies, whipped topping, and miniature marshmallows. It has a very creamy texture with a lot of lightness (or fluffiness) to it. The best way I could describe it is like cookies and cream mousse.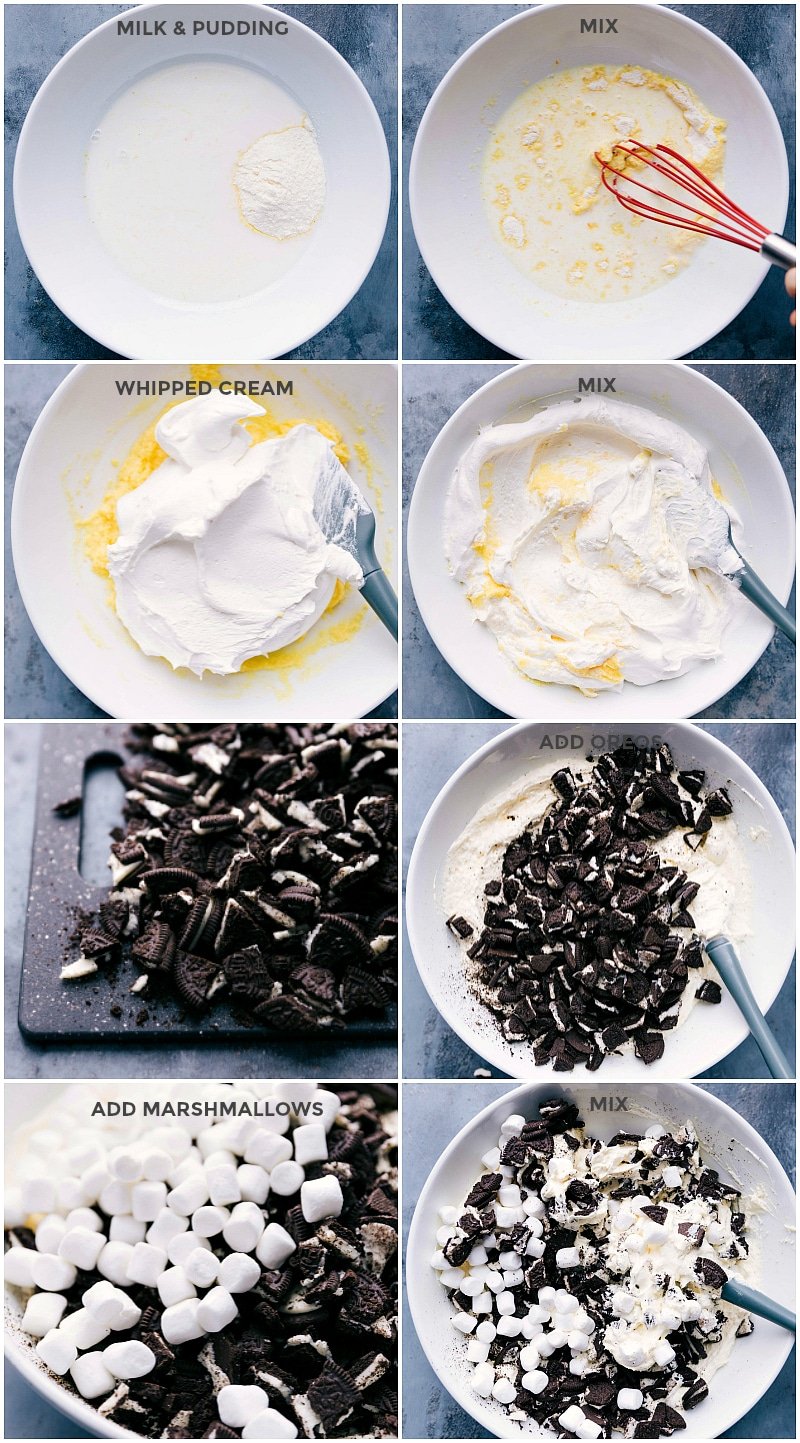 Variations
We love this salad as the recipe is written, but below are some different ideas to change it up!
Double cream version: Replace regular Oreos with Double-Stuffed Oreos.
Mint version: Use mint Oreos and a few drops of green food coloring.
Chocolate version (pictured below): Use chocolate pudding instead of vanilla; for even more chocolate you could use chocolate stuffed Oreos.
Cheesecake version: Use cheesecake pudding instead of vanilla.
White chocolate version: Use white chocolate pudding instead of vanilla.
Oreo Fluff Pie: Pile this "salad" into an Oreo crust and chill it for a few hours until firm. Cut into slices and serve!
Oreo Fluff with buttermilk: Replace the milk with buttermilk for a tangier salad.
Use heavy cream: More on this below!
As a dip: This fluff salad also works as a fun dip; dunk with fresh berries, graham crackers, or (gasp) more Oreos!
How to use heavy cream instead of whipped topping
If you prefer to make your own whipped topping, you can use heavy cream instead. (I've tested it both ways and prefer the ease of the frozen stuff since there isn't a huge flavor difference. The Oreos and pudding mix are definitely the prominent flavors here.)
To substitute heavy cream: Whip 1 cup heavy cream with 2 tablespoons powdered sugar, and 1 teaspoon vanilla extract in a stand mixer. Whip until you get soft peaks and then use that in place of the frozen whipped topping.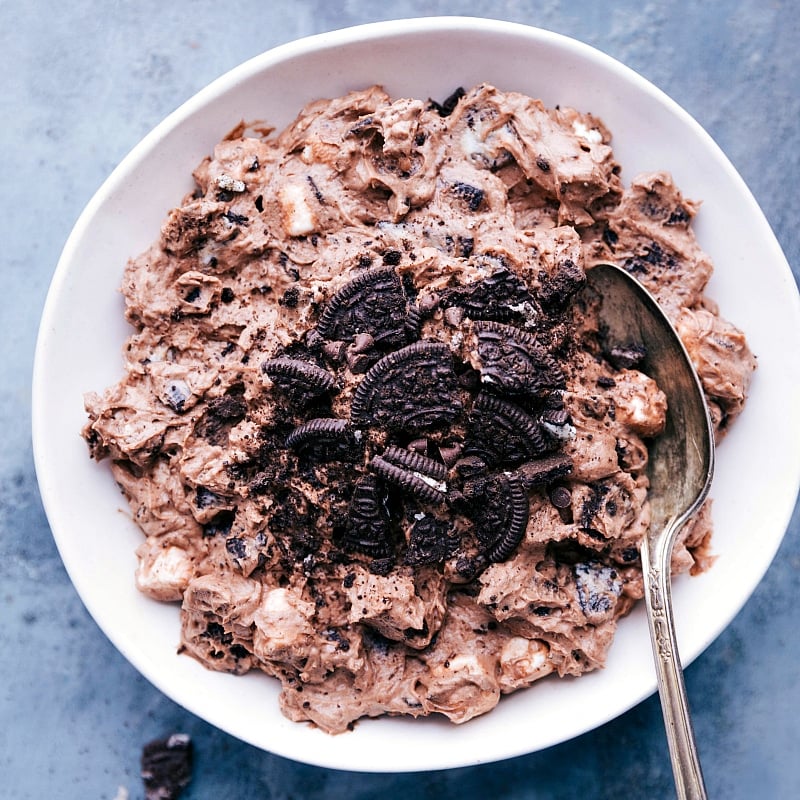 Making Oreo Fluff ahead of time
This salad can be made up to a day in advance. When making it in advance, the cookies completely soften and melt into the salad more. If you do plan on making it ahead of time, I recommend chopping the Oreos even smaller or pulsing them in a blender.
How to chop Oreos for this salad
Knife and cutting board: Coarsely chop the cookies with a sharp knife.
Rolling pin: Add the whole Oreos to a large plastic bag and use a rolling pin to crush them down a bit
In a blender or food processor: Pulse whole cookies a few times to coarsely chop them.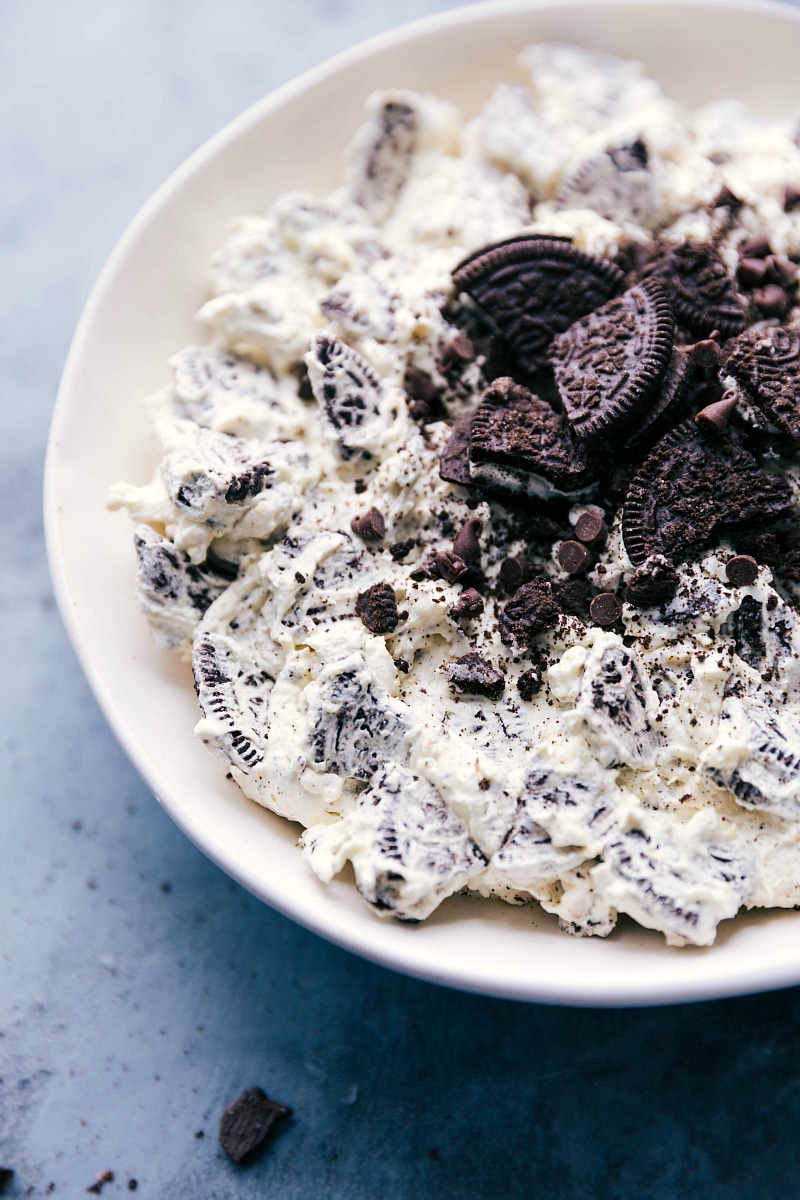 Oreo Fluff tips
Use full-fat frozen whipped topping. Low-fat or lite whipped topping will work, but the salad is less flavorful, less thick, and tends to get a bit watery. (The Weight Watchers® recipe for fluff calls for sugar-free pudding and fat-free whipped topping and reduced-fat cookies. While this works, we like this best with full-fat/sugar ingredients).
Allow the whipped topping to thaw completely before adding it to the salad; otherwise, the texture isn't quite right.
Serve chilled. We think this fluff is best cold. It's like a light Oreo mousse!
Coarsely chop the cookies. You don't want any large pieces of Oreo throughout, so chop them into fairly small pieces.
More simple recipes
Oreo Balls also known as Oreo truffles
White Chocolate Chex Mix no baking required
Ice Cream Sandwich Cake only four ingredients!
Easy Chocolate Fondue reader favorite recipe!
A whole list of Midwestern potluck salads here 🙂
Please see more list about Recipe for oreo cookie salad
Detail: 🔗