Best Beef Recipes is an Amazon Associate. We receive compensation for purchases made through affiliate links.
My Oven Baked Chuck Roast Recipe is a perfect family dinner or special occasion meal. It's easy to prep in just 15 minutes, then cooks low and slow in the oven all in one pot. Fall-apart tender and complete with carrots and potatoes, this easy pot roast for dinner is a meal you'll want to make for your family again and again.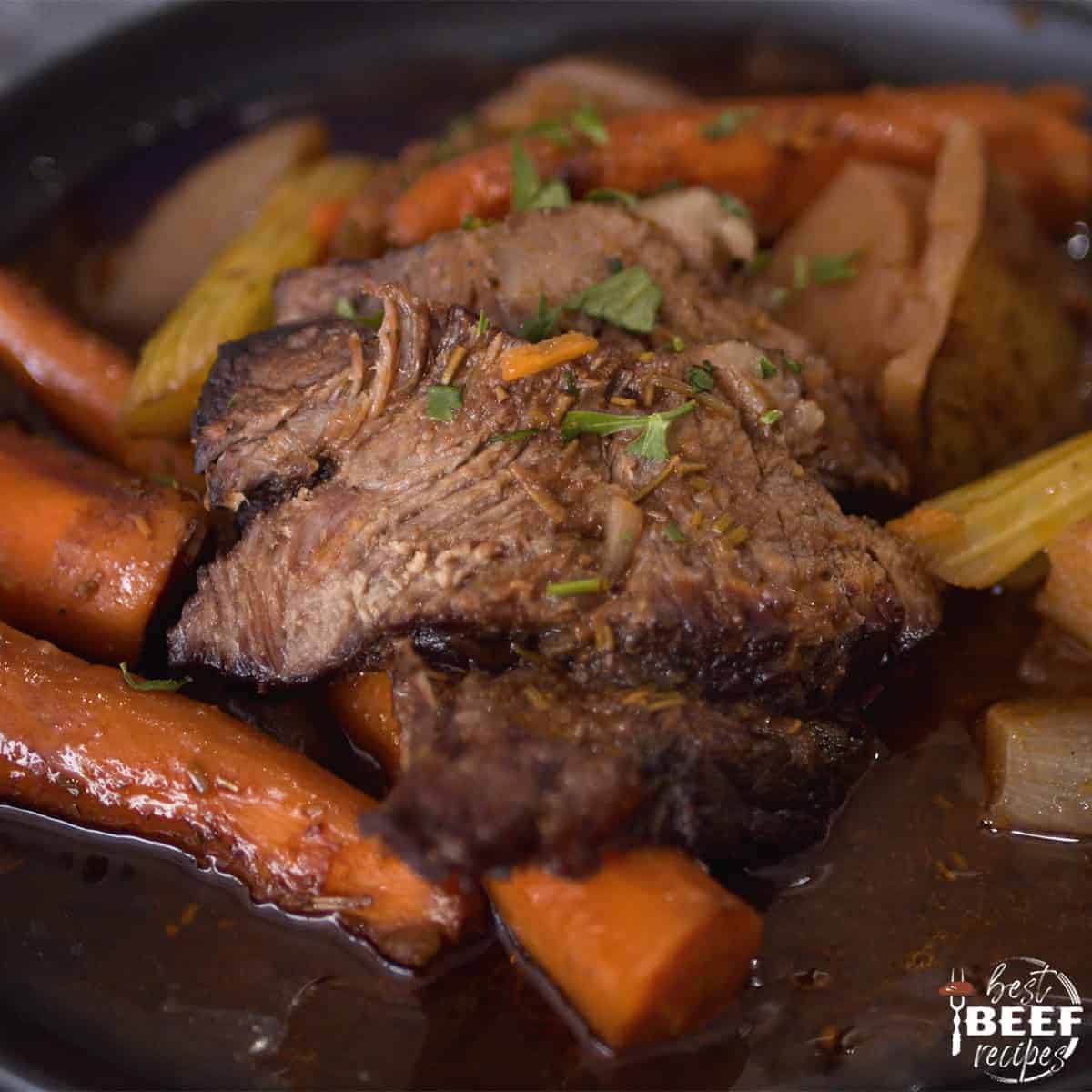 Jump to:
Cooking Chuck Roast in the Oven
Chuck Roast Recipes
Beef Chuck Roast Recipe FAQs
How to Cook a Roast in the Oven
Shoulder Roast vs. Chuck Roast
Best Roast for Pot Roast
How Long to Cook a Chuck Roast in the Oven
Pot Roast Internal Temp
Pot Roast Recipe Tips
📌 Pin it for later!
📋 Recipe
💬 Reviews
Cooking Chuck Roast in the Oven
If you're reading up on what to do with boneless chuck roast, you've come to the right recipe. My recipe for beef chuck roast in the oven is an easy comfort food meal you can rely on. It uses simple ingredients, preps in minutes, and cooks all day without you so you can serve dinner with hardly any effort.
My family loves this chuck roast oven recipe. I made it all of the time when my kids would come home from football practice and games needing a filling dinner after a day of hard work.
It's just so simple to make if you're working a busy schedule and still want to put an incredible dinner on the table for your family to enjoy. I've tried so many different pot roast recipes in the oven, and this one will always be my favorite.
Cooking a roast beef in the oven is so easy. I'm excited to show you how to make tender roast beef in the oven, step-by-step!
I will never use the crockpot again for roast!!! This recipe is amazing!!!!

Tanya on Pinterest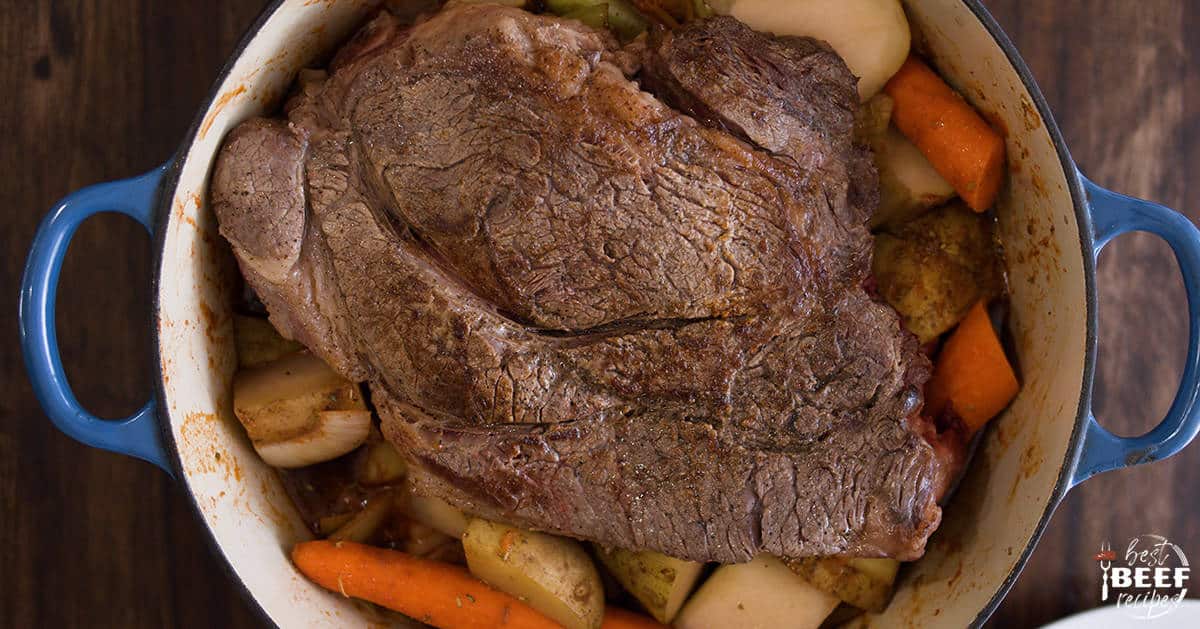 Chuck Roast Recipes
Try more of our roast beef recipes using chuck beef:
Slow Cooker Roast Beef
Smoked Chuck Roast
Beef Birria used to make incredible Birria Tacos!
Dutch Oven Pot Roast
Instant Pot Beef Stew
Mississippi Pot Roast
Instant Pot Roast Beef
Beef Chuck Roast Recipe FAQs
How to Cook a Roast in the Oven
Preheat oven to 350˚F. Season the beef on all sides with salt and pepper.
In a large Dutch oven, place the butter and vegetable oil over medium high heat. Once hot and the butter is melted, add the seasoned beef and sear until golden brown on all sides. Remove to a plate and set aside.
Toss together the onion, garlic, carrots, celery, potatoes, and rosemary in the pan. Allow to cook, stirring occasionally, until browned.
Stir in the tomato paste and continue to cook for another 2-3 minutes.
Deglaze the pan with the red wine, scraping up the brown bits from the bottom of the pan, and continue to cook for another 2-3 minutes.
Place the seared beef back in the pan and top with the beef stock and add bay leaves.
Cover and transfer to the preheated oven. Cook until the beef is tender and shreds easily, about 5-6 hours.
Season with more salt and pepper if needed. Remove the bay leaves before serving. Serve hot with desired sides.
I tried it! It came out perfect!

Lea on Pinterest
Shoulder Roast vs. Chuck Roast
The shoulder roast is leaner than the chuck roast, making it better for cutting into slices. Chuck roast has a "pulled" texture and shreds with a fork, making it perfect for roast beef with potatoes and carrots.
Best Roast for Pot Roast
Chuck is from the front portion of the animal. This is my favorite cut for pot roast. I like to look for chuck roast, shoulder steak, boneless chuck roast, chuck shoulder pot roast, or beef chuck arm.
Brisket is from the breast or lower chest. There are two sections, the flat cut which is leaner, and the point cut which has more fat. My favorite brisket recipes are slow cooker brisket and smoked brisket.
Round is from the rear leg area of the animal. Look for eye round, rump roast or bottom round. I love making a delicious eye of round roast.
How Long to Cook a Chuck Roast in the Oven
Follow this easy guide to roasting chuck roast according to the size of your cut of beef. Our Beef Cooking Chart has more info!
Cook a 3 pound roast for 3-3.5 hrs
Cook a 4 pound roast for 3.5-4 hrs
Cook a 5 pound roast for 4.5-5 hrs
Pot Roast Internal Temp
When it's ready, the chuck roast will read about 190 to 200 degrees Fahrenheit on a meat thermometer. However, rather than checking the internal temp of chuck roast in the oven, check for its tenderness according to whether it's fork-tender. If you can shred it easily with a fork, it's done.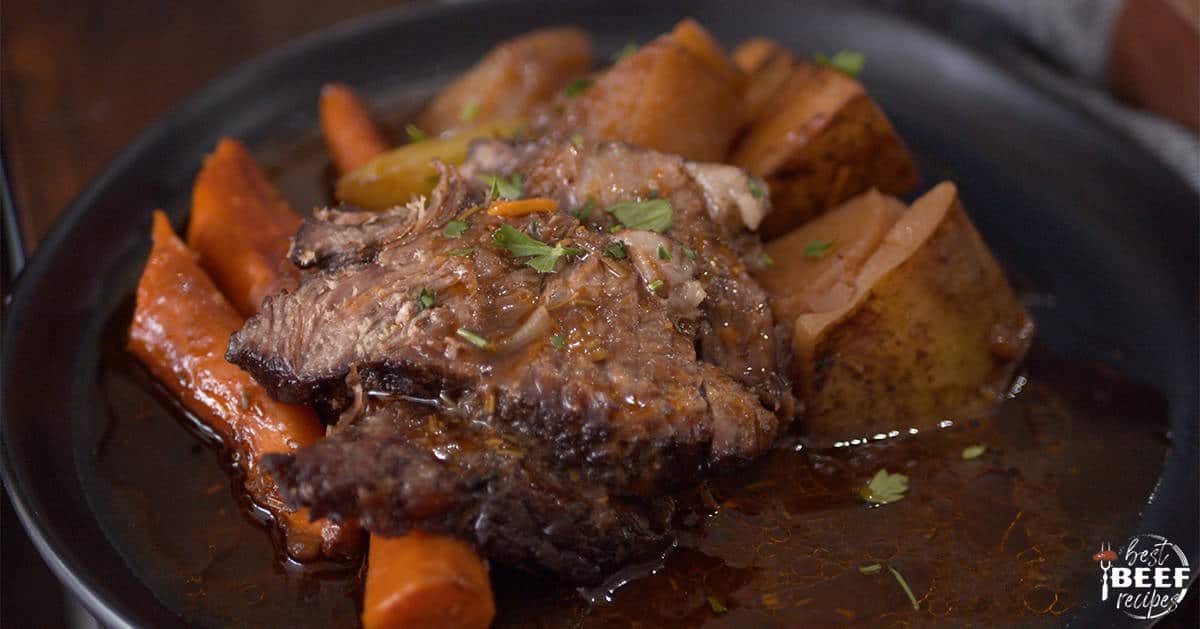 Our Roast Beef Temperature Chart will guide you on the perfect temperature for your pot roast.
This is an amazing dish. Will definitely make it again. So much more flavor than same cooked in crock pot

Megan on Pinterest
Pot Roast Recipe Tips
To make a thicker gravy:

Combine 2 tablespoons flour with 2 tablespoons cold water until smooth.
Remove beef and vegetables from the Dutch Oven and set them aside to rest.
Bring the broth in the Dutch Oven to a boil, and whisk in the flour mixture a little bit at a time until thick.
Season with salt and pepper to taste if desired.

Replace wine with more beef broth or grape juice if desired.
Try using my roast beef seasoning
I love easy cuts of beef and another one of my favorites is brisket. My smoked brisket recipe will have your entire family drooling when you make it. It takes a bit of time on the smoker but boy is it worth it.
Try more of our best beef recipes, especially this amazing sous vide prime rib!
Save the Video Pin
Did you try this oven baked chuck roast recipe? Leave a comment and a rating below to let us know what you think! We love to hear from you!
📋 Recipe
Please see more list about Roast beef with potatoes and carrots in oven
Detail: 🔗