With the fresh burst of lemon juice, this oven roasted asparagus will become one of your absolute favorite veggie side dish ideas. It's made with just a few simple ingredients yet elegant enough for a dinner party. The recipe can be used to cook frozen asparagus or fresh spears.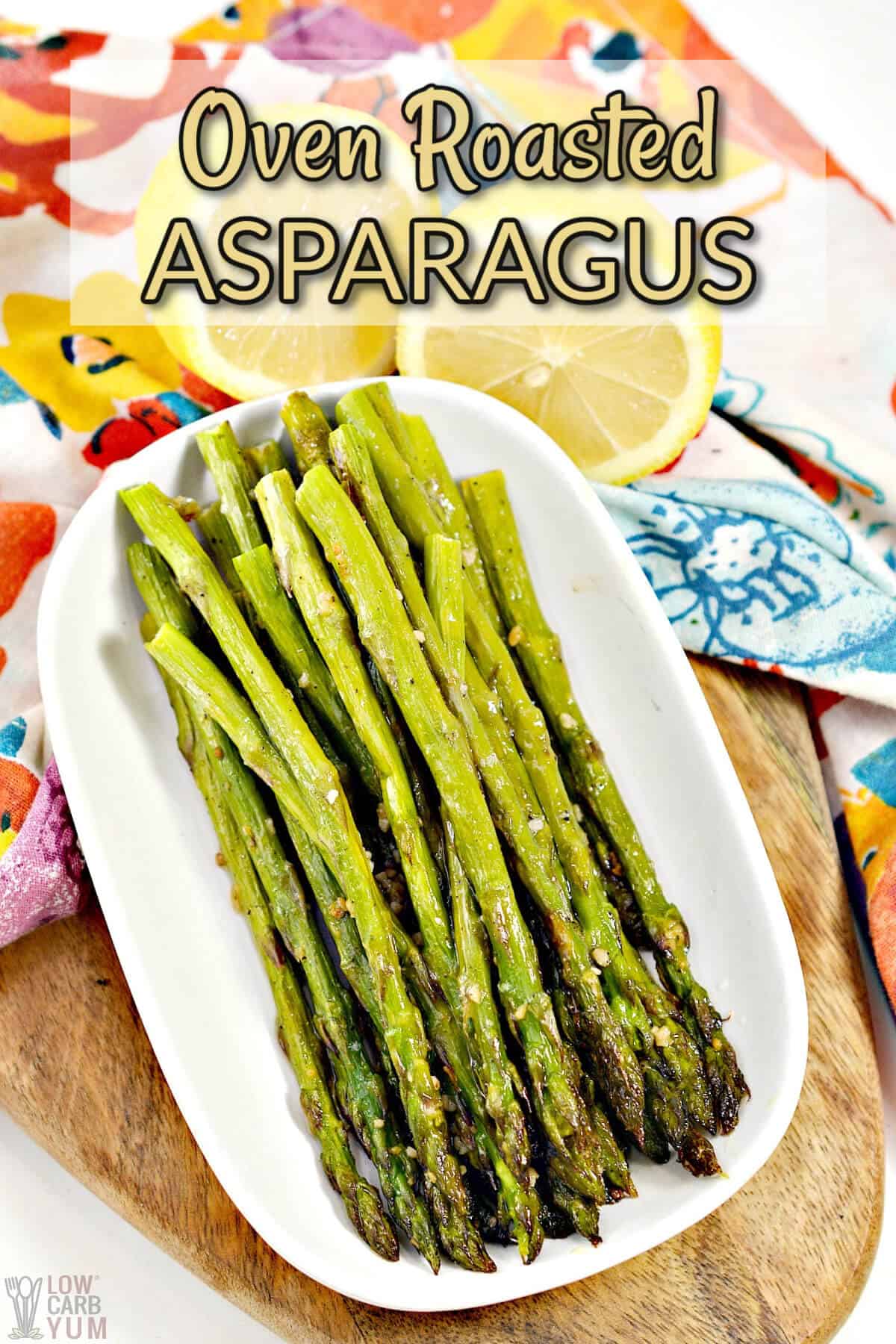 Jump to:
📋 Ingredients
💭 Quick Tips
🔪 Instructions
🍽️ Serving suggestions
🙋 FAQs
📚 Related recipes
📖 Recipe
Asparagus is one of the easiest vegetables you can make. It's also really versatile!
There are so many different ways you can prepare it. You can:
Steam it
Wrap it in prosciutto
Grill it
But, I have to say-this recipe is one of my favorites.
It's so easy to make that I use it as a go-to when I am too busy to think of something really creative. Thankfully, it tastes so flavorful and the texture is perfect – it doesn't taste like you didn't try, even though it's effortless.
📋 Ingredients
This oven roasted asparagus recipe is made with just a few simple ingredients. So it's easy to memorize. This also means it's easy to customize and change too.
I used an entire bunch of asparagus. Before I even roasted them, I cut the thicker, woody parts off the ends. You can do this all at the same time with a knife or pop the ends off with your hands.
For the salt and pepper, I just used regular table salt and pepper, but this is where you can get creative. Add some red pepper flakes if you want it to have a bit more bite.
Using fresh minced garlic will have the most flavor. If you want to speed up the food-prep process, you can use jarred minced garlic. Garlic powder doesn't taste exactly the same, but you can use it in a pinch.
Finally, lemon is perfect for the asparagus. I love just using juice from a lemon I cut in half. If you have a jar of lemon juice, that will work too.
Please note: Check out the recipe card at the bottom for a full list of ingredients used to make this low carb recipe.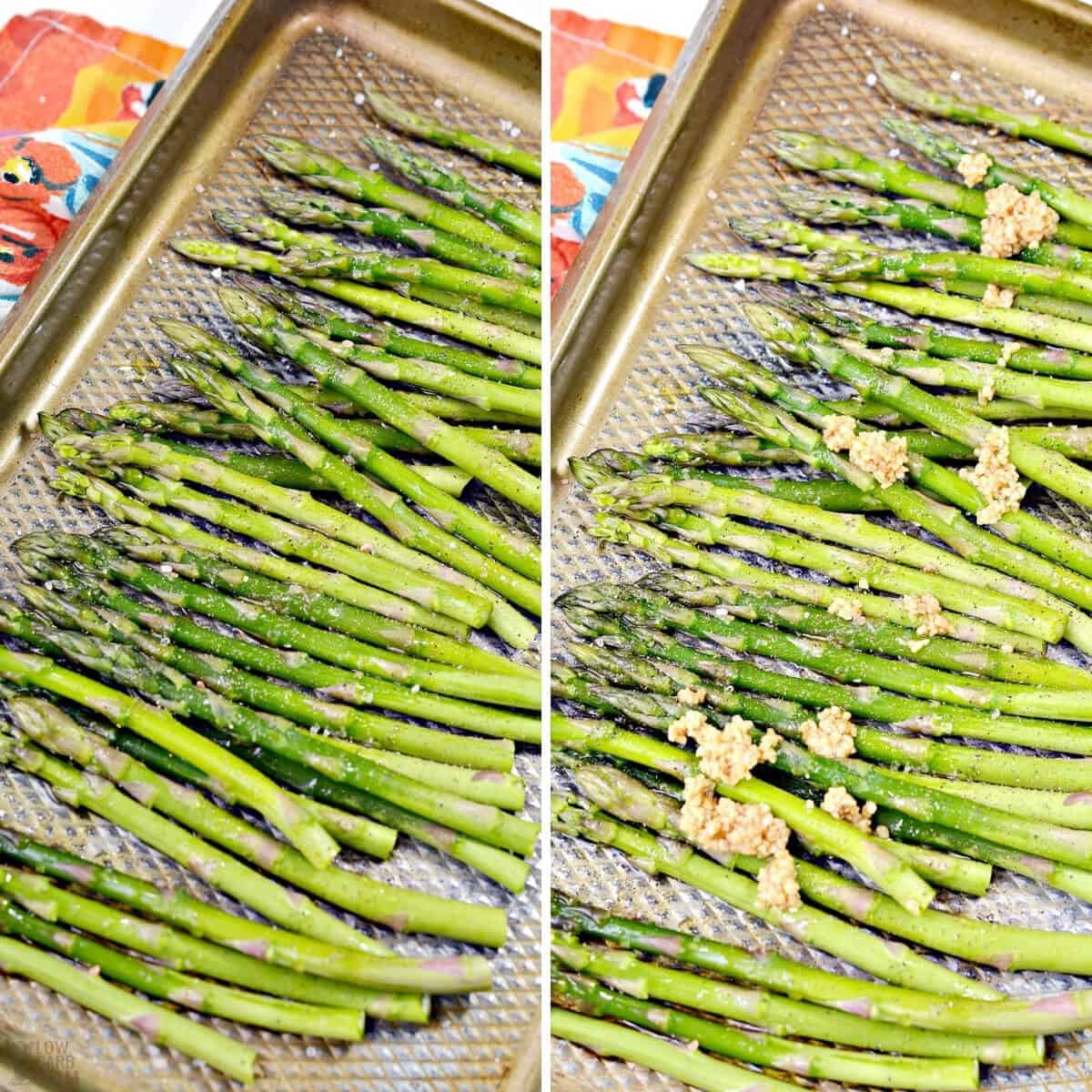 💭 Quick Tips
If you are afraid your oven roasted asparagus will stick to your sheet pan, line it with parchment paper or aluminum foil first. This also makes clean-up a lot faster too!
The cooking times for roasting asparagus will change depending on the size of your spears. You'll know when the asparagus is completely cooked when you can easily pierce it with a fork. It could take anywhere from 10 minutes for thin ones to 20 minutes for really thick ones.
🔪 Instructions
If you want all the ingredients with the instructions in one place, scroll down to the printable recipe card. First, here is some more information about the steps for this easy side dish.
Before you even begin prepping the asparagus, preheat the oven to 400°F degrees. In order for it to cook the asparagus evenly, you need to start with a hot oven.
Next, prep the asparagus stalks by trimming off the woody ends. You can skip this step if you are pressed for time, as long as you remember not to eat the ends. They are tough to chew.
Then, you will drizzle it with a little olive oil and sprinkle some seasonings on it. I used basic salt and pepper. I also added some freshly minced garlic on top.
Roasting asparagus in the oven takes about 15 minutes. It's done when it pierces with a fork easily. Then, spritz with lemon juice before you serve it. You can also sprinkle on a little parmesan cheese for added flavor.
That's it! It's so easy.
🍽️ Serving suggestions
Asparagus is a very light vegetable that pairs with most meats and other main dishes, but it is most often enjoyed with fish. It will taste amazing with this Instant Pot salmon. It also tastes delicious with some keto fish tacos!
You can also serve oven roasted asparagus with some chicken or pork. This lemon chicken recipe has a lot of the same flavors so it would pair nicely. Bacon-wrapped pork chops are perfect with it too!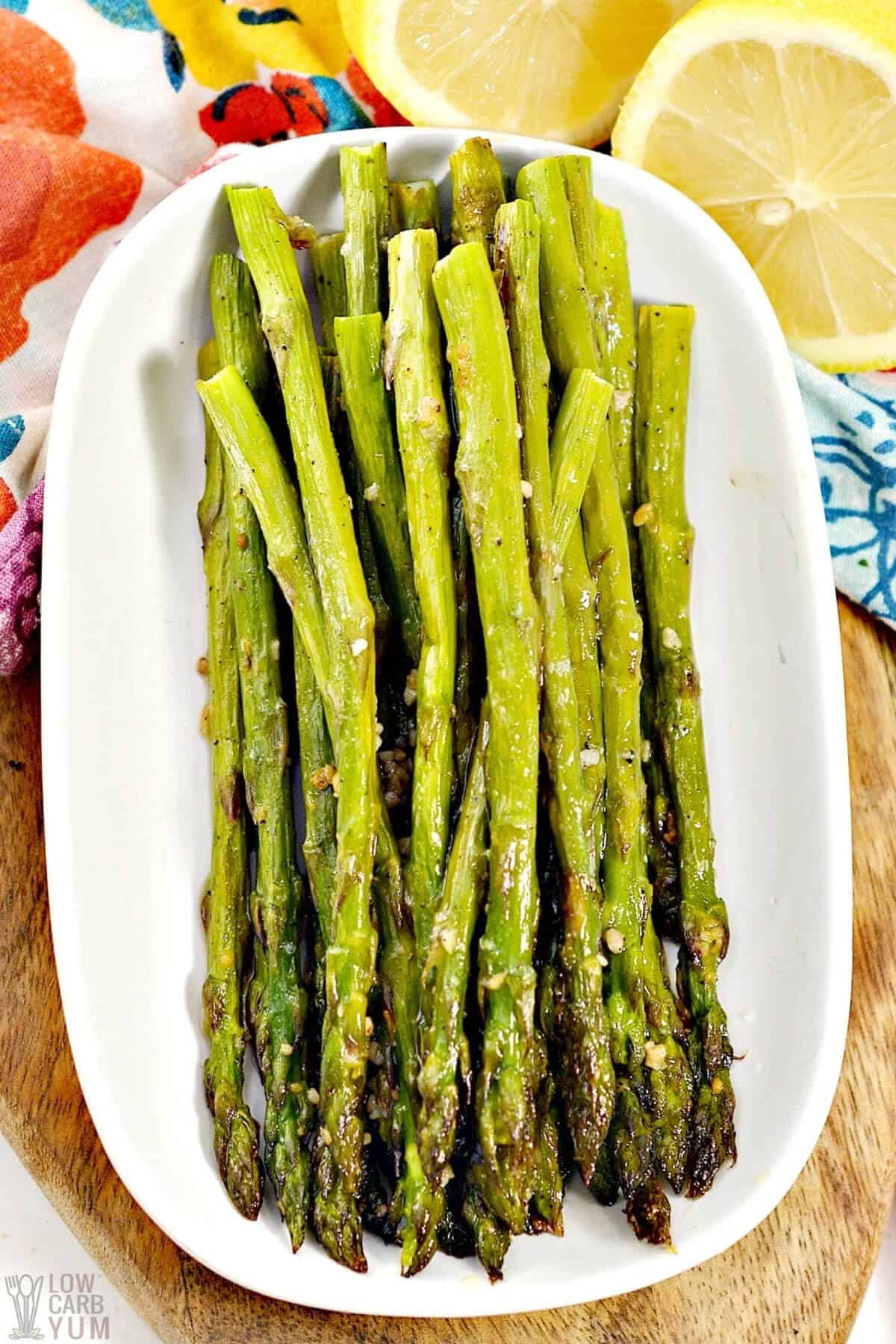 🙋 FAQs
Before scrolling down to the printable recipe card, here are some questions I get asked about asparagus.
Can you roast frozen asparagus in the oven?
Yes, you can roast frozen asparagus in the oven too. You don't have to use fresh asparagus. The steps are all the same, you don't even have to thaw it first.
The cooking times are pretty much the same too!
How do you know when asparagus is done roasting?
You know the roasted asparagus is done when you can easily pierce it with a fork. You might also see the tops of the asparagus (the crowns) turning a darker color.
How do you keep raw asparagus fresh in the refrigerator?
The best way to keep raw asparagus fresh in the refrigerator is to keep it bunched up and store it in a glass mason jar that is filled halfway with water.
It will look like a bouquet of asparagus. Keeping it like this will prevent the ends from withering.
Your asparagus should last about a week like this.
How do you store leftover roasted asparagus?
Roasted asparagus always has the best texture and taste fresh out of the oven.
If you have leftovers, store them in an airtight container in the refrigerator. They will last about 3-5 days.
I do not recommend freezing roasted asparagus. When it thaws, it isn't the same texture at all. Instead, buy frozen asparagus from the store and then just roast them following the steps in this recipe.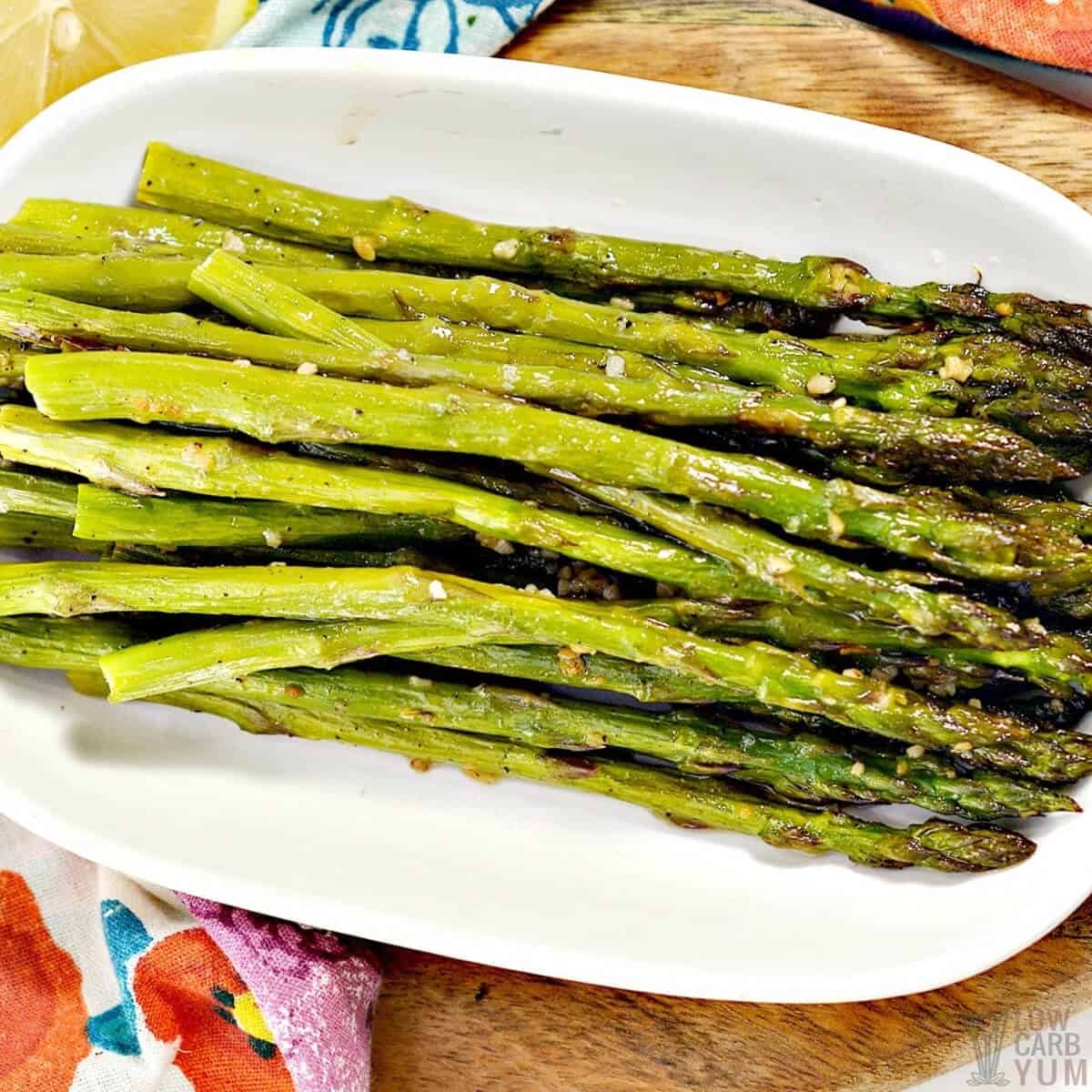 You are going to love how simple this oven roasted asparagus recipe is. Keep this dish in your back pocket for those busy nights when you only have 15 minutes to put dinner together. It's such a breeze!
📚 Related recipes
There are lots of ways that you can serve vegetables with your meals. These are some of my favorite keto side dishes that are really quick and easy.
Sauteed Green Beans and Mushrooms are packed with nutrients and you can make it on the stovetop in just minutes.
Zucchini Au Gratin has all the flavors of au gratin potatoes without the carbs.
Roasted Radishes are a colorful side dish with a delightfully different flavor.
Keto Broccoli Salad has both bacon and cheese in it – making it popular even with people who don't normally enjoy broccoli.
Mashed Turnips are a really easy low-carb mashed potatoes replacement. They have a really smooth texture and a mild flavor.
★ FOLLOW ME ON FACEBOOK, PINTEREST, AND INSTAGRAM FOR MORE EASY KETO RECIPES.
📖 Recipe
For more information, please see more information about Can you roast frozen asparagus
Detail: 🔗